Istanbul in one Day: A 24 hour Istanbul Itinerary
This post is a 24 hour Istanbul itinerary with the ultimate travel guide about what to see in Istanbul in one day. Istanbul is a modern and dynamic city, but at the same time it has a history that goes back 3000 years. It was once the capital of the Roman empire, the Byzantine empire and is now the capital of Turkey.
It will be a challenge to see everything in Istanbul in one day. Istanbul is now Europe's largest city. With 15 million people there is always something to do on top of the large number of top tourist attractions. It is not impossible though and if you plan vour visit well, you can see the best things to do in Istanbul in one day.
Istanbul in one day
I arrived late in the evening on a flight from Tehran and had a full day before flying back to Amsterdam. It was a crazy day, but because I prepared my Istanbul itinerary beforehand I managed to see the most important sights.
This post is more than an itinerary, it will help you make the best out of your day in Istanbul. If you have more time consider yourself lucky. You can never be bored in Istanbul and I can recommend this 4 day itinerary.
A one day Istanbul itinerary
1. The blue mosque
There are a lot of mosques in Istanbul and if you have to choose only one mosque in your Istanbul itinerary, make it the blue mosque.
I already visited the blue mosque in the evening when I arrived and the surroundings were peaceful and quiet. Even tough the mosque is closed at that time it is nice to walk in the courtyard without the crowds.
The blue mosque was the first thing to see on my Istanbul itinerary the next day. Despite getting up early, it was already very busy. Once you are inside it is easy to understand why. What an exquisite beauty that can only leave you in awe.
2. Hagia Sophia
The next stop on my Istanbul itinerary was the Hagia Sophia. This was my biggest priority to see in Istanbul. A church built-in the Byzantine time turned into a mosque and now a museum. It has Istanbul's history packed into an amazing architectural wonder.
When I entered the Hagia Sophia I was overwhelmed by the majesty and beauty of this structure. I just stood there a couple of minutes to let it sink in. Then I walked through and looked at the details. An interesting mix of muslim architecture with christian mosaics and paintings that are still visible
3. Topkapi palace
The palace where the sultans of the Ottoman empire resided for generations was another priority for me to visit and was next on my Istanbul itinerary.
I did not expect to spent so much time at Topkapi, but the palace was much bigger than I thought. There are three nice courtyards with several beautiful buildings that all have different purposes. Before I knew, I spent two hours walking around.
The Topkapi palace was also very busy, but I tought it was definitely worth it. If you have the museum pass you should also visit the harem. If not, you should pay an additional entrance fee for this area, which in my personal opinion is not really worth it.
4. Archeological museum
One advantage of having the Museum pass is that several museums are included that I would have otherwise skipped. The archeological museum was one of them. Because it was close to the Topkapi palace I decided to make a quick visit and I was positively surprised by their interesting collection. This is a must visit for history lovers.
5. Galata bridge & Galata tower
After all the museums and mosques I was hungry. I took the tram to the Galata bridge over the Bosphorus to try out the famous balik ekmek (a fish sandwich). Unfortunately I did not have time to enter the Galata tower and instead I ate my sandwich while watching the boats on the Bosphorus river and the fishermen on the bridge.
6. Grand bazaar
How else could I end my Istanbul itinerary then with some last-minute shopping in the grand bazaar. After visiting the bazaars in Iran, such as Tehran bazaar, I missed the beautiful ceilings and left over details from the past. The bazaar in Istanbul lacks the authenticity you find in Iran. That said, it is still an excellent place to go shopping for spices, tea and delicious sweet turkish delight.
7. The cats of Istanbul
Obviously the cats of Istanbul were not planned in my Istanbul itinerary. However, even if you are just one day in Istanbul you will meet lots of them.
What I really liked is that the people in Istanbul take really good care of them. People pet them and even leave food for them. It's always a joy to see happy cats wandering around a city.
The beautiful movie Kedi about the cats of Istanbul is great to watch before visiting the city.
Where to eat in Istanbul in one day
The food is one of the main reasons I would like to go back to Istanbul. Turkish food is delicious and there are so many local dishes I had to miss out on, because I had no time. I only have one stomach and there is only so much you can eat and try in 24 hours.
Honestly, finding good local food is not easy. Most restaurants cater for tourists and serve the same menu's of kebab. I havent found a special hidden gem that day, but really enjoyed the balik ekmek (fish sandwich) on the street at the Galata bridge and the turkish delights I tried in the Grand bazaar.
You always need a reason to come back to a city and for me the food will be one of them.
Where to stay in Istanbul for one night
I stayed in the Stanpoli Hostel in the dormitory. I tought it was a good hostel with an excellent breakfast buffet on the top floor with a wonderful view on the Bosphorus and the city.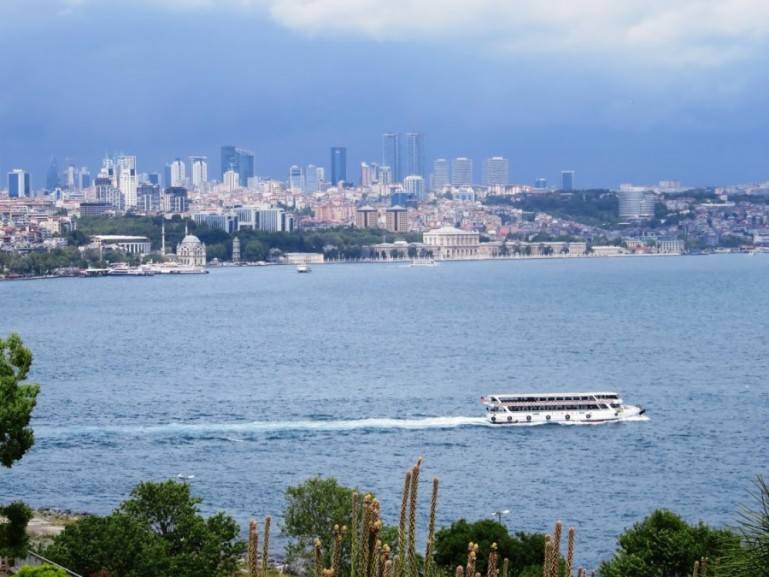 Istanbul in one day on a budget
The city of Istanbul is big and to keep it cheap you should consider buying these cards, even when visiting for a day.
Istanbul card – This card allows you to travel on public transport and get a 40% discount on the fares. There is an extensive network of metro, tram and ferries. You can buy the card at the airport and then travel from the airport to Sultanahmet by metro, already saving you a lot of money.
Sultanahmet is where most sites like the Hagia Sophia, Blue mosque and Topkapi palace are and a good place to stay with several hostels and guesthouses. It is easy to explore Sultahnamet on foot, but if you want to explore other parts of the city the card comes in very handy.
Museum card – If you want to visit both the Hagia Sophia and the Topkapi palace it is worth to buy the Museum card. It is slightly cheaper and allows you to visit several other museums as well. One other advantage is that you only have to stand in line once to buy the card. This will save you a lot of time, because the lines at the Hagia Sophia and Topkapi palace are long.
How to make the most out of Istanbul in one day
Seeing Istanbul in one day is a challenge. With so many things to do you will really need to focus on the highlights and even then it will be a fully packed day.
The following tips will help you make the most out of your day.
1. The museum card : skip the long lines to get in the Haga Sofia and the Topkapi palace by buying the museumcard. If you visit both, the museumcard is even slightly cheaper than buying seperate tickets
2. Get up early: beat the crowds by getting up early. Istanbul is at its best when the sun is setting over the Bosphorus and the city is slowly coming to life
3. Prepare your Istanbul itinerary: Decide what you really want to see when you are. It is a huge city and my one day Istanbul itinerary not only includes the highlights, but also made sense logistically as the places were quite near each other.
If you have only one day in Istanbul and you don't want to spend your time stuck in traffic, find out how you can travel between the places you want to visit beforehand. Public transport is cheap, but distances are big and traffic can be crazy.
When to visit Istanbul
Istanbul really is a year round destination. Summers can get pretty warm so therefore spring and autumn are best. Even though winters are cold this is also a great time to be in Istanbul. It will be more quiet, cheaper and seeing the city covered in a blanket of snow is magical. Read here everything about Istanbul in winter.
Is it safe in Istanbul?
When I arrived late in the evening at my hostel I was greeted by several cats in the window. While I was paying attention to the cats the owner of the hostel came outside to greet me by my name. I was surprised he knew who I was, but it turned out I was the only guest that day. With recent terrorist attacks the tourist numbers have gone down and most tourist establishments are struggling with the decline of income.
The chances of you accidentally being in the wrong place at the wrong time are still very small and therefore I can still recommend Istanbul to anyone. For me, I felt safe, even as a woman travelling alone. Istanbul is a big city and like any other city, you have to be on your guard for pickpockets and tourist scams. These scams are more likely to bring you into trouble than terrorism. Click here for an article on the most common tourism scams in Istanbul.
Disclaimer: This post about Istanbul in one day contains affiliate links. If you buy any service through any of my links, I will get a small commission at no extra cost to you. These earnings help me to keep Backpack Adventures alive! Thanks for your support!
---
---