Abyaneh Iran: a beautiful day trip from Kashan
This post is about Abyaneh in Iran. Abyaneh is one of the most popular ancient villages in Iran. It lies only 80 kilometers south east from Kashan at the foot of mount Karkas. Almost every hotel in Kashan organizes day trips to this scenic village. As a result, most foreigners end up going there. The question is should you?
In this post I will share with you my experiences in Abyaneh Iran, whether it is worth visiting and how to organize your day trip from Kashan to Abyaneh.
Why visit Abyaneh Iran?
Abyaneh claims to be one of the oldest villages in Iran. It dates back to the Sassanid period around the year 300 when it was a Zoroastrian village. What makes Abyaneh unique is that many elements of the Sassanid culture were preserved up till the present day.
The older people in Abyaneh still speak a Sassanid dialect. Once the main language in the region, it disappeared elsewhere in Iran a long time ago. People also still wear their traditional clothes. A black coat and wide bottomed trousers for men and colorful dresses and white head scarves with flowers for women.
Abyaneh is also famous for its red soil and traditional red mud brick homes. The traditional architecture resembles that of the stepped villages in Masuleh and Palangan, but also has unique features. Wooden balconies, carved wooden doors and lattice windows are some of the beautiful details to look out for.
Abyaneh is an extremely picturesque village and it's location is equally spectacular. Most of the journey from Kashan to Abyaneh is through the dry desert with the Karkas mountain range in the background. Once you reach Abyaneh you are truly in the mountains and the village lies 2100 meters above sea level.
My experience in Abyaneh Iran
From my description of Abyaneh above, you must think that it is a truly magical place. But for all that it promises, I was slightly disappointed after my visit. Yes, it was extremely scenic and I made a lot of beautiful pictures. But, I also felt like I was in an open air museum rather than in a living village.
I soon learned that very few people actually still live in Abyaneh. Currently there are only 160 families left and most of them only live there during the summer. On top of that, most of these people are from the older generation as the younger ones prefer to move to the bigger cities of Isfahan and Tehran.
I was there in April and I had left very early in the morning. To me, the village almost felt deserted at 8 o'clock in the morning. In the 2 hours that I wandered through the alleys and backstreets I met only a few of the Abyanaki women in their traditional clothes. They were on their way to open their souvenir shops.
I was glad I left that early, because at the time I was heading back to Kashan I could see two large tour buses arrive. At the entrance to the village, several Abyanaki women were now setting up shop selling souvenirs.
I was wondering what would happen once the older generation was gone. Would the younger generation return to continue the traditions of this village? Will they do this to preserve their cultural heritage or to earn money from tourism?
Personally I would still recommend a visit to Abyaneh. It's location is spectacular and the architecture of the red brick mud homes is quite beautiful. It's history is also quite fascinating and its isolated position has preserved many of its ancient structures so well. Be warned though that Abyaneh is quite touristic.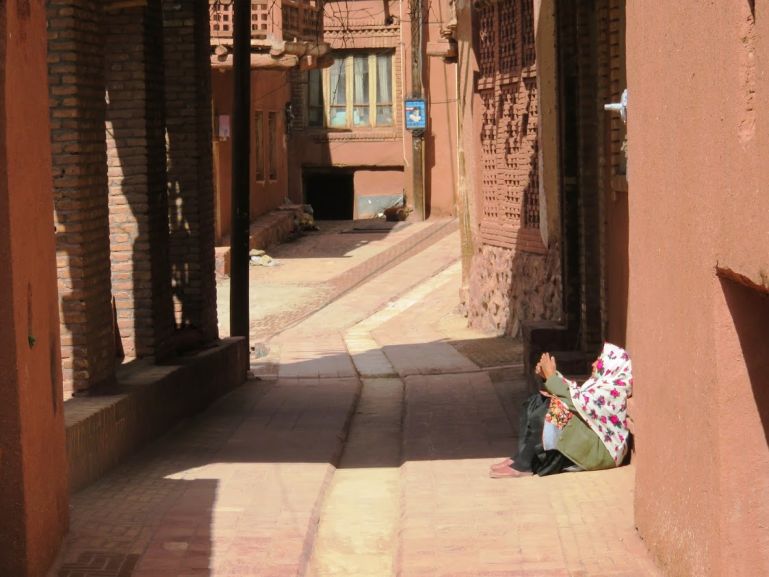 The best things to do in Abyaneh Iran
Abyaneh is a small town and 3 to 4 hours is enough to see everything. The best thing to do in Abyaneh is to simply wander through the alleys, but there are several things to look out for.
Traditional homes
Abyaneh is full of old traditional homes. You will soon notice the similarities in its architecture. What makes them particularly beautiful are its balconies, latticework windows and carved wooden doors.
As you will see, most doors have two knockers. The round shaped ones were for females and the long shaped ones for males. This way people knew who should open the door.
Jame mosque
One of the main attractions in Abyaneh is its Jame masjid. There are several mosques in Abyaneh, but this one is the oldest dating back to the Seljuk period in the 11th century.
At first sight it looks a bit unremarkable, but its beauty lies in its details. First of all, its arched door is beautifully decorated. Second of all, the mosque has a beautiful carved wooden mihrab inside to indicate the direction of Mecca. It's still the original and the date inscribed indicates it's from 1084. It's also worth looking up to see the beautiful ceilings with painted ornaments.
Hajatgah mosque
There are two other mosques in Abyaneh. The Hajatgah mosque lies in the western part of the village and is from the Safavid era (around 15th or 16th century). It's a simple mosque with a nice courtyard and balcony with beautiful views on the surrounding mountains.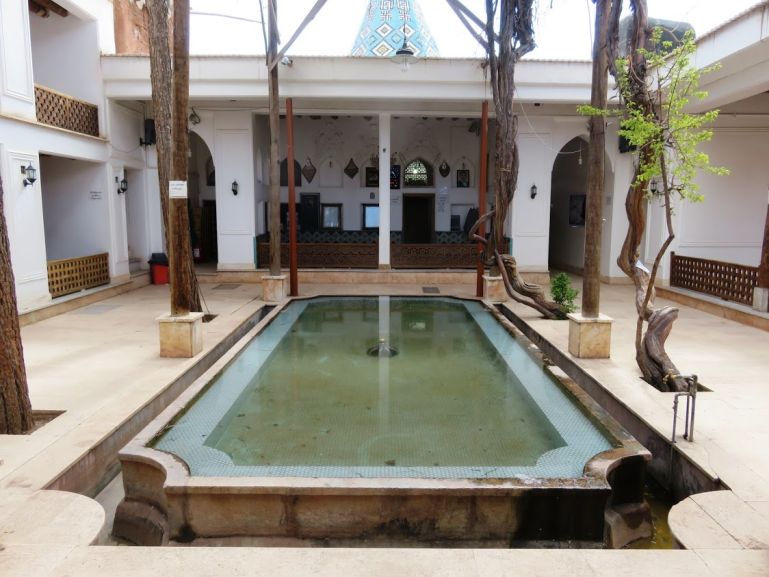 Porzaleh mosque
The Porzaleh mosque lies near the Herpak temple and is another ancient mosque from the Safavid era. It's a rather simple mosque with a small prayer hall and no courtyard. This mosque claims to have the oldest door in Abyaneh as the door from the Jame masjid was renovated in 1933. It has beautiful floral patterns.
Ziaratgah Shrine
The Ziaratgah is a local shrine that attracts local pilgrims. Apparently it is dedicated to the two sons of the 7th Shiite imam. It is a peaceful spot with a nice veranda and courtyard with a pool.
Harpak fire temple
The Harpak fire temple is a Zoroastrian temple and the oldest building in Abyaneh. It is still from the Achaemenid period and used to be the most important religious building in the village untill people accepted Islam. Nowadays, the structure is somewhat unremarkable. It's on the main alley and you might pass by without knowing its importance.
However, it's one of the few buildings made of stone and mortar. It has three floors and a roofed alley that you can walk through. Look up at the domed stone ceiling and you can get a sense of how old it is.
Hinza temple
The Harpak temple is not the only Zoroastrian temple left in Abyaneh. Southeast of town lies the ancient Hinza temple. A dilapidated structure that was once dedicated to the goddess of water. Some also believe it was the refuge for the daughter of the 7th Shiite imam. It is an active pilgrimage site for locals that believe miracles still happen here.
Ab anbar water reservoir
An ab anbar is an ancient water reservoir that was used throughout Iran. These domed structures often had impressive entrance gates to the stairways that led to the water. Sometimes the structures also had wind towers to keep the water cool.
It is very common to see these structures in Yazd, Qazvin and Nain where some of them are still in use today. Abyaneh also has a small traditional water reservoir. It is a typical mountain ab anbar and rather than a dome it has a flat roof that used to be covered with wood and thatch.
The best things to do near Abyaneh Iran
Zardkouh Fortress
Around Abyaneh there were several forts and castles built to protect the village from enemies. The ruins of the Zardkouh fortress lie just above Abyaneh. What is left of this castle leaves much to the imagination. However, it is an easy climb up offering nice views on the village below.
Palahamooneh Fortress and panorama viewpoint
The most spectacular views on Abyaneh are from the Palahamooneh fortress on the opposite side of the village. It is also called Takht e Haman fort or Abyaneh old castle. This fort is more than 200 years old and only its outer walls are preserved.
To get here you have to go down, cross the Barz-rud river and then climb up again towards the fort. The higher you get, the better the views on Abyaneh. Don't be tempted to only look at the views. It's an interesting area to explore.
First of all, it's a great place to escape the tourist crowds. Truthfully, there is not much left of the castle itself. It reminded me a bit of the Khorezm fortresses in Uzbekistan.
However, if you look good you will see some other ruins of cave homes as well. And the views on the surrounding mountains are just as spectacular as the view on the village. If I had more time, I would have loved to do a bit of hiking here.
Hanjan castle
Hanjan castle actually does not lie in Abyaneh, but is on the road from Kashan to Abyaneh. It is 500 years old and better preserved than the forts and castles around Abyaneh itself. That said, the structure is sadly in a very bad state and not maintained at all.
Most taxi drivers will stop for a quick photo stop, but if you really want, you could ask your taxi driver to drive up to Hanjan village to explore a bit of the castle.
Buy souvenirs
Abyaneh has lots of souvenir shops and not a bad place to buy souvenirs if you want. Just make sure you negotiate well in order not to be ripped off. You will see lots of beautiful scarves and traditional clothes. One of the crafts that Abyaneh is famous for are giveh, or handmade leather shoes and carpet weaving.
Food wise Abyaneh is also known for its good quality of fruits and walnuts. Dried fruits and fruit leather therefore make great souvenirs to bring along.
Abyaneh Travel tips
Where to eat in Abyaneh Iran?
Because of tourism there are some restaurants in Abyaneh. At the entrance you will find two traditional restaurants called domiloon and reyhoon. Inside Abyaneh is also the small cafe Korshid that is perfect for a short coffee or tea stop.
Just be aware that the restaurants in Abyaneh are focused on tourism and are therefore slightly overpriced.
Where to sleep in Abyaneh Iran?
Most people go to Abyaneh as a day trip from Kashan or as a stop on their way from Kashan to Isfahan. It is possible to see everything in Abyaneh in and around 3 hours.
If you do want to spend more time in Abyaneh, because of its spectacular and peaceful location, there are some options. The Harpak traditional residence is one of the cheapest places to stay. There is a nice rooftop terrace with beautiful views, but facilities are basic. For more comfort you can choose between the Abyaneh hotel or Viuna hotel.
If you are staying in Kashan I can recommend Ehsan house. Ehsan House is a very good hotel with a delicious breakfast buffet included. The prices are reasonable for backpackers, especially if you stay in the dormitory. It is best to make a reservation, especially for double rooms.
Kashan is full of traditional houses converted into a hotel. Other places I heard good stories about from other travellers are Noghli house, Kamal Al Molk house, Sayeh Saray & Manoucheri house.
Booking hostels in Iran online is rather difficult. Because of the sanctions, most regular sites like Booking.com or Airbnb won't work. To book your hotel beforehand you either need to contact them directly or use 1stQuest
When to visit Abyaneh Iran
The best time to visit Abyaneh in Iran is during the spring (April to June) and autumn (September to November) seasons when the weather is mild, and the temperature is comfortable for outdoor activities. During these months, the days are sunny, and the nights are cool, making it ideal for exploring the village and its surroundings.
Summer (July to August) can be hot and dry, with temperatures reaching over 30°C (86°F), and winters (December to February) can be cold and snowy, making it difficult to move around the village.
Safety in Abyaneh
Iran, including Abyaneh, is generally a safe destination for travelers, and millions of tourists visit Iran each year. The city has low crime levels. However, it is always important to exercise caution and take necessary safety precautions while traveling.
Update 2023: A wave of protests erupted throughout Iran in 2022 and 2023. Although this is not a reason to avoid Iran, it is good to know that these protests can become violent. Due to the political situation, it is even more important to be aware of your surroundings. Avoid political demonstrations, expressing strong political opinions and respect the local rules of law. As a foreigner it is better to be safe than sorry.
For solo female travellers I wrote a post with tips and advice about traveling as a woman in Iran.
How to get to Abyaneh 
Abyaneh lies 80 kilometers south of Kashan and the journey takes about 1.5 hours. There is no direct public transport from Kashan to Abyaneh, but every hotel can organize a taxi for you.
A roundtrip taxi tour including waiting time comes around 30 – 50 USD. Make sure you agree on the price and amount of waiting time beforehand to prevent paying more in the end.
Obviously the more stops you like to make on the way (Fin garden in Kashan or Hanj castle on the way) and the more time you want in Abyaneh itself, the higher the price. About the waiting time, I would say 3 hours is a good amount of time without having to rush things. If you like to do some hiking around the village you might even want to have some more time.
You can share this price with other people which are not too difficult to find in your hostel in Kashan and some hostels help pairing up travellers to share a taxi. This way a day trip to Abyaneh could cost you less than 10 USD.
Because Abyaneh is more or less midway between Kashan and Isfahan, some hotels can organize a taxi from Kashan to Isfahan with a stop in Abyaneh. This will cost you around 50 USD per taxi. Not a bad option if you can split the cost with other travellers.
Note that these prices do not include the entrance fees. Everybody needs to pay an entrance fee of 50,000 rials to enter the village. They will give you a nice looking ticket and booklet
Disclaimer: This post about Abyaneh Iran contains affiliate links. If you buy any service through any of my links, I will get a small commission at no extra cost to you. These earnings help me to keep Backpack Adventures alive! Thanks for your support!
---
---