How to get from Amman to Petra in Jordan
How to get from Amman to Petra is one of the most important questions for those that visit Jordan. Petra is Jordan's number one tourist attraction and therefore many look for a way to travel from the current capital to Petra, the ancient capital of the Nabateans and a World UNESCO Heritage site.
The town of Wadi Musa that is the gateway to Petra lies 240 kilometer south of Amman. The journey can be as short as 4 hours or a couple of days depending on what road you take and where you stop along the way. From Amman to Petra there is a lot to see and do.
Therefore carefully consider your options if you want to travel from Amman to Petra. There are three different highways you can take and each of them have their own advantages
How to get from Amman to Petra
The Desert highway – the cheap and fast option
If you book a direct bus from Amman to Petra it will take the Desert highway. This is the fastest and cheapest option to travel. The Desert highway is the only one that has direct public transportation from Amman to Petra.
As the name suggests, the highway runs through the desert. The road is in excellent condition, but there is not much to see and do along the way and the scenery is not that spectacular. This option is for those on a budget or with limited time.
From Amman to Petra by minivan (cheapest)
The cheapest option is by taking a minivan from Amman's southern bus station, the Wihdat bus station or the Mujama Janobi station. Minivans cost around 5 JD and take between 4 and 5 hours, depending on the amount of stops to pick up and drop off local passengers on the way. There is no schedule and minivans leave once full. There should be frequent departures especially in the morning.
From Amman to Petra by bus (fastest)
A slightly more comfortable option is the daily Jett bus. This bus is the fastest option as it travels directly from Amman to Petra without any stops in between. Jett promises you to bring you to Petra in less than 4 hours. It leaves at 6:30 from Amman's JETT bus station and arrives in Petra at 10:30. Tickets cost 11 JD.
The King's highway – the most scenic option
The Kings highway runs along the edge of the great Rift Valley. The winding mountain roads are slow, but offer superb scenery. A journey along the Kings highway could easily take up a full day or more as you stop at archeological ruins, biblical sites, ancient castles, panorama viewpoints and spectacular nature reserves.
The kings highway is one of the oldest roads in Jordan. For more than 5000 years it was a trade route that went all the way from Heliopolis in Egypt to Damascus in Syria. It was used by the Nabateans, the Romans, the Byzantines and the Arabs. Nowadays it connects the north of Jordan with the south. Although no longer the fastest route, it is the most scenic way to travel from Amman to Petra with a lot of interesting stops along the way.
This option is for those with an interest in history and nature. The kings highway will take a bit more time and money than the Desert highway, but the effort it takes is more than worth it. Interesting stops along the way include the mosaic town of Madaba, Kerak castle, The Wadi Dana Nature reserve and Shobak castle.
As an independent budget traveller, there are not many places where I would recommend a taxi or car rental over public transportation. I find public transport one of the best ways to meet local people and see a country. However, the Kings highway really has so much to offer that it is best done by your own transport.
Public transport on the Kings highway
There is no direct public transport from Amman to Petra along the King's highway. Which means you will have to change buses in between and the story is not that straight forward.
There is a minibus from Amman's Southern bus station to Kerak. In Kerak there is another bus around 1 PM that goes to Tafilah. From Tafilah's south bus station there are buses to Ma'an that is actually a detour from the Kings highway. From Ma'an you can take a (shared) taxi or minivan to Wadi Musa.
If you are really planning to go with public transport I recommend you to stretch your trip out over several days with an overnight stop in Kerak. The cost will be around 6 – 8 JD.
Another reasonably priced option that does allow you to travel the Kings highway in a single day is the tourist bus from Mariam hotel in Madaba. This bus runs from Madaba to Petra with stops at the Wadi Mujib viewpoint and Kerak castle. If there are 3 people or more it will only cost 18 JD per person. It is easy to get from Amman to Madaba by minivan (30 minutes).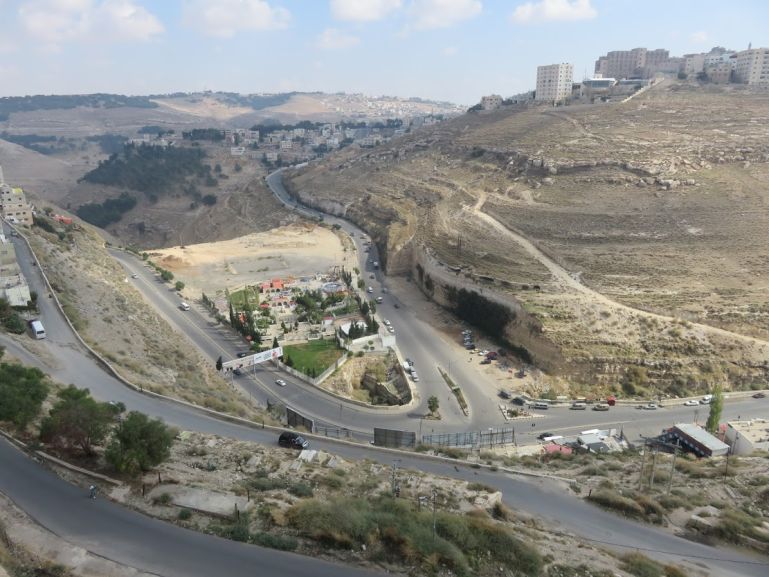 From Amman to Petra by taxi with driver
The best way to travel from Amman to Petra is by hiring a taxi with a driver for the day. This will allow you to take the Kings highway and make stops wherever you like. You can read my post about the best stops on the Kings highway for some inspiration. It will be a long, but rewarding day. The journey is almost as beautiful as the destination.
The cost of this will be around 70 – 90 JD, depending on the amount of stops and negotiation skills. Do keep in mind that this is per car. You can save some money if you can share the cost with other people. Hostels in Amman are a great place to meet other travellers. Because a lot of people will want to travel this road it shouldn't be too difficult to find a group.
From Amman to Petra by car rental
If you feel confident to drive yourself, you can also consider renting a car. This will give you the maximum amount of freedom. I met several travellers that rented a car and they said they felt safe driving in Jordan. The roads are in a good condition and you can really stop wherever you like as long as you like.
When you hire a car with a driver for a day, it means the amount of stops you can make is limited. With your own car you can easily plan in some longer stays. For example, I can really recommend an overnight stay at the Dana Biosphere reserve to hike the Wadi Dana trail. Other interesting stops are the mosaic town of Madaba, the Roman ruins of Umm ar Rasas, Wadi Mujib and Shobak castle.
The cost of car rental would be 30 – 40 JD per day. Again, it would be best if you can share this cost with other people.
The Dead Sea highway – the less explored option
Most people will travel from Ammman to Petra through the Desert highway or the Kings highway. Very few travel along the Dead Sea highway. There is no public transportation that allows for fast and cheap travel. Neither does it offer the history and scenery of the Kings highway.
Travellers should not completely disregard the Dead sea highway though. First of all, it is one of the lowest highways in the world and you will be driving below sea level. Second, it runs along the dead sea with nice views over the deep blue waters and Israel on the other side. At last, there are some interesting stops to make too.
The Dead Sea Highway is one of the best ways to experience the Dead Sea. Probably, swimming, or actually floating, in the Dead sea is on your bucket list. Unfortunately most of the shoreline is taken over by luxurious resorts that demand hefty entrance fees. There are only a few free swimming spots and to find them you need to take the Dead Sea highway.
Worthwhile stops on the Dead Sea highway include the biblical site of Bethany beyond the Jordan and the Wadi Mujib Nature Reserve.
Dead Sea Highway by rental car
Exploring the Dead Sea highway unfortunately requires your own transport as there is no public transportation. You either need a taxi with a driver or you need to rent a car.
I would recommend you to rent a car. This way you could take both the Kings highway and the Dead Sea highway. You could travel from Amman to Petra on the Kings highway and then return by taking the Dead Sea highway.
Accomodation from Amman to Petra
Amman: Amman has plenty of places to stay. If you are staying only one day in Amman I recommend to choose a centrally located option. Cliff hostel and the Jordan Tower hotel are long standing backpackers favourites. For slightly more comfort you also have the Zaman ya Zaman boutique hotel and the boutique hotel Amman.
Madaba: On the way you could also decide to stay in Madaba. Right next to the Saint George's church is the Pilgrims guest house. Its central location and extensive breakfast buffet makes it a very convenient choice. Mariam hotel is slightly more expensive than the pilgrims guesthouse, but has good reviews. They also organize a bus from Madaba to Petra with stops along the Kings highway.
Dana: If you plan to stay in Dana you can choose between the Dana Tower Hotel that is the most popular option in town or the Dana Moon hotel and the Dana Panorama hotel.
Petra: Petra has lots of accomodation options. If money is no issue you should certainly check out the extraordinary Petra Bubble Luxotel, the scenically located Infinity Lodge or the seven wonders luxury camp. Because of Petra, prices in Wadi Musa are slightly higher than the rest of Jordan, but if you do your research there are still some budget options too. I ended up staying at the Petra Gate hotel. The facilities were basic, but the owners super friendly.
Disclaimer: This post about how to get from Amman to Petra in Jordan and how to plan a Kings highway road trip contains affiliate links. If you buy any service through any of my links, I will get a small commission at no extra cost to you. These earnings help me to keep Backpack Adventures alive! Thanks for your support
---
---