As Salt Jordan: a beautiful day trip from Amman
You might not have heard about As Salt in Jordan yet. Despite its scenic location in the hills of the Jordan valley and its beautiful Ottoman architecture, As Salt is a town that is often overlooked by travellers. What makes this even more of a surprise, is the fact that As Salt is only 35 kilometers from Amman.
For me, As Salt in Jordan was on my radar, because I had an extra day in Amman and wasn't sure what to do. I had already seen everything in the capital as well as the roman ruins in Jerash. I wanted something off the beaten path and As Salt seemed like a nice place. Little did I know that As Salt was to become one of the highlights of my trip to Jordan.
Why visit As Salt Jordan?
Like everything in Jordan, As Salt or simply Salt, is an ancient city. It's history goes all the way back to Alexander the Great. For the Romans, Byzantines and Mamluks, Salt was an important trading village on the Kings highway. However, it was in the 18th and 19th century that Salt truly developed as a wealthy city under Ottoman rule.
The Ottomans even made Salt the regional capital at a time that Amman was still a small village with mostly exiles from the northern Caucasus. As Salt grew into a multicultural city where people from different faiths lived and traded peacefully together.
As Salt's glory days were over when Amman finally took over as the capital of independent Jordan in 1946. Salt remained a charming and authentic town though that is far away from the tourist crowds. With its elegant yellow limestone buildings, traditional merchant homes and lively bazaar it is well worth a visit. In fact, it makes for a perfect day trip from Amman and one of the few that is easy with public transport.
In recent years several projects developed to preserve As Salt's rich cultural heritage in a sustainable way. Community tourism is part of this and people are very welcoming to those that show interest in their city. Jordan has now even nominated Salt to become a UNESCO World heritage site.
The best things to do in As Salt
As Salt Archeological Museum
When you arrive by bus the first museum you come across is the As Salt archaeological museum. It is located in the 19th century Touqan house, one of the traditional Ottoman homes of the city. Therefore, the architecture is just as interesting as the collection of archeological findings from the area.
Historical Salt Museum (Abu Jaber House)
The Abu Jaber house is another traditional heritage home. It was beautifully renovated to house the Historical Salt museum and the As Salt information center. The focus here is to show what it was like to live in one of the mansions of the wealthy merchants in town. This is a great place to start your day trip in As Salt as you can find lots of information about the culture and history of the town.
As Salt Harmony Trail
The Historical Salt Museum is also the start of the Harmony trail by the ministry of tourism and antiquity. This trail is only 1 kilometer, but in 2 to 3 hours it leads you along the city's top attractions. These include several ancient mosques, churches, shrines and heritage homes. The aim of the trail is to show the atmosphere of tolerance and coexistence of people from different backgrounds and faiths.
You can book a guided tour at the As Salt information center that includes lunch with a local family or follow the trail on your own. Highlights are the evangelical hospital, the great mosque, the latin church and the Al Khader shrine.
The trail will also bring you to some nice viewpoints and picturesque backstreets where you can witness the traditional architecture of the town with its domed roofs, arched windows and wooden doors.
As Salt Great Mosque
The As Salt Great mosque is the oldest and biggest mosque in Salt. If you wish to enter, note that you should take off your shoes. Women can enter, but must cover their head.
Evangelical Hospital
The evangelical hospital was an important building in Salt and was used for religious, medicinal and educational purposes. It was the first hospital in Jordan and treated patients during the two world wars. There is a very small museum inside that is open to visitors.
Al Khader & Virgin Mary church
The Virgin Mary orthodox church was one of the first churches in Jordan and also housed one of the first private schools in Salt. Just next to the Virgin Mary church lies the Al Khader church. A holy shrine from the 17th century where both Muslims and Christians come to pray.
Al Khalili house
The Madafat Al Khalili house is one of the oldest heritage homes in Salt. It was once a grain mill, but is now a guesthouse run by the Al Khalili family.
Latin church
The latin church was designed by an Italian architect in the 19th century. It has a school that accepts christian as well as muslim students.
Al Ain plaza
The Al Ain plaza looks rather new and it's at the heart of the city. It's here that people come to meet each other and where old men gather to play the traditional game manqala.
Hammam street
Hammam street is the most lively street in Salt and it was my favourite part of the city. It's here that you will find a thriving and colourful market as well as the town's most important stores. You will find fresh fruits and vegetables as well as traditional crafts, clothing, footwear and household appliances
Panorama viewpoints
As Salt is a compact city that is easy to explore by foot, but because it is built on three hills it does require climbing up some stairs. As a result there are several places that offer a beautiful panorama viewpoint.
One of them is from the Evangelical hospital and if you walk towards the ancient Qaqish home you come across the so called Harmony viewpoint
As Salt Travel tips
As Salt is an upcoming destination where tourism is still in its infancy. The lack of tourists is part of the charm, but this might soon change. Developments are underway and there is already a good choice of places to eat and sleep.
Place to sleep in As salt
While its possible to visit Salt on a daytrip from Amman, you might decide to do it the other way around. As Salt is a more quiet and authentic place to stay. Your best option is the Beit Aziz guesthouse that is in one of the traditional homes and has a nice rooftop restaurant with sweeping views over town. Another good option is the Jordan Heritage madhafa hotel that is also built in traditional style architecture.
Places to eat in As Salt
As Salt also has many great places to eat. For sweets or a cup of tea I can recommend the Iskander cafe in Hammam street. For lunch I chose the Al Salam restaurant. It looked a bit funny with its ridiculously low ceiling on the second floor, but the huge portions of hummus and falafel were delicious.
How to get from Amman to As Salt
As Salt is only 35 kilometers from Amman and it is easy to reach Amman by public transport. There are frequent buses from Amman's northern bus station or the University of Jordan. Shared taxis to As Salt leave from Ragadan. As Salt has only one bus station that is within walking distance from the historic center.
How to get around
As Salt is a small town and the best way to explore the town is by walking. The Harmony trail guides you along the biggest highlights.
When to visit
As Salt is a year-round destination, but the best time to visit is from March to May (spring season) and from September to November (autumn season). During these months, the temperature is moderate, and the weather is pleasant for outdoor activities.
In the summer months (June to August), the temperature can reach up to 40°C (104°F), and the heat can be intense. If you can tolerate the heat, then you can visit during these months. However, it is recommended to avoid the midday sun and stay hydrated.
In the winter months (December to February), the temperature can drop below freezing, and there may be occasional rainfall. While the winter season is not as popular as the spring and autumn seasons, it can be a great time to visit if you enjoy cooler weather and fewer crowds.
Disclaimer: This post with a travel guide about As Salt Jordan contains affiliate links. If you buy any service through any of my links, I will get a small commission at no extra cost to you. These earnings help me to keep Backpack Adventures alive! Thanks for your support!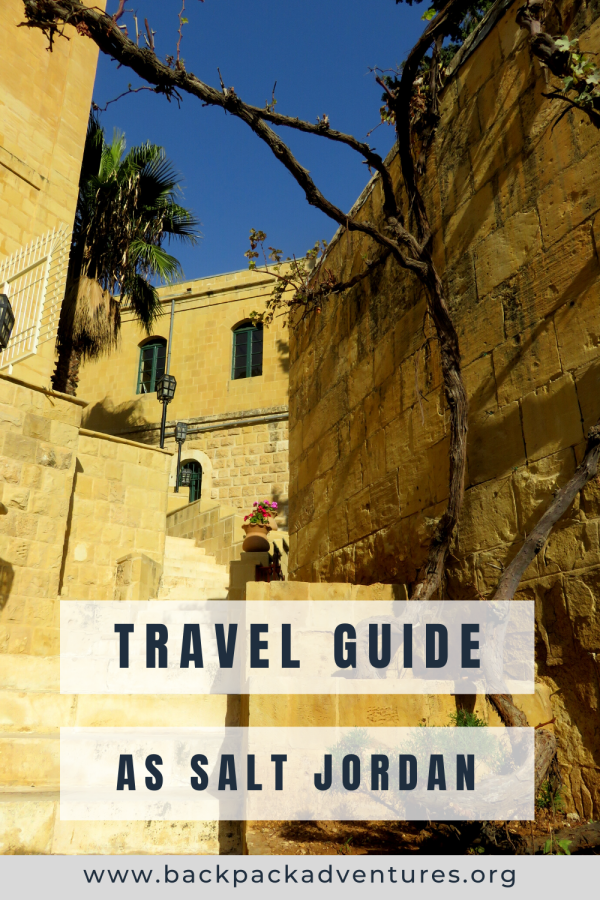 ---
---