Top things to do in Astana: city of the future
This post is about the best things to do in Astana. The new futuristic capital of Kazakhstan built by former president Nursultan Nazarbayev.
What can i say about Astana. It is a strange city and even after two visits I am still not sure whether I like it or not. For sure it is the opposite of what you might have seen in Borat. There are plenty of things to do in Astana. The city is super modern and one of the newest capitals in the world. Sometimes also dubbed the Dubai of the steppes in Central Asia.
Astana and Nazarbayev
To get a better understanding about Astana it might be good to talk about Nursultan Nazarbayev. Former president of Kazakhstan since 1991 after Kazakhstan declared its independence from the Soviet Union. There was no opposition and in the few elections Kazakhstan held he won always more than 90% of the votes. It seemed he was going nowhere, but then unexpectedly resigned in March 2019.
However, even though he resigned as president, he still has considerable power as head of the party, head of the Security Council and as his self proclaimed legal title of Leader of the Nation. As he said in his resignation speech: "I am staying with you".
It is surprising how little we hear in the West about this lucky guy. Nazarbayev remains one of the most powerful leaders of the ninth biggest country in the world with large resources of oil and gas. On top of that most countries don't care much and let him be. In fact most world leaders even seem to like him.
When I was there in 2019, Astana was renamed into Nursultan. However, recently the influence of Nazarbayev seems to be getting less. New President Tokayev restored the former name of Astana in 2022.
Astana: Kazakhstan's new capital
One of Nursultan Nazarbayevs projects was Astana. In 1997 he moved the capital to what was a small village called Akmole in the middle of nowhere. And with the large steppes of Kazakhstan you can take that quite literally. He built his vision of a modern capital showing off the power and wealth of Kazakhstan.
The result is a city full of large parks and boulevards surrounded by fancy and shiny new futuristic buildings and shopping malls. All meant to give its people a decent standard of living and enough entertainment not to question the regime.
Astana: The city of the future
If you love modern architecture this is paradise and there will be a lot of things to do in Astana. The most futuristic designs are built to withstand the +40 degrees in the summer and the -40 degrees in the winter. Astana is one of the coldest capitals in the world and is home to a pyramid that can expand, a tower with a golden egg and a shopping mall in a tent structure.
If you love history and culture Astana is a nightmare and you will much more appreciate Almaty or Shymkent. Astana feels empty and soulless. As i was walking from Bayterek tower to the palace there are hardly any people outside except for workers keeping everything clean and people in military uniforms. It's like a big show, only the spectators are missing.
Is Astana worth a visit?
Astana has potential and i can see that young Kazakhs might like it. Everything is there from free museums to concert halls and a good public transport network.
Nazarbayevs construction mission is not over yet. Every year new futuristic buildings pop up. Since my last visit in 2017 there was a new wavy bridge and the new expo building. Astana was also bit more lively on my second visit. The city is developing quickly with a variety of new things to do in Astana that makes it a fascinating place.
I will always prefer Almaty over Astana, but I can still recommend a visit to Astana. There are a lot of things to do in Astana and it will give you a much better understanding of Kazakhstan and its politics. If you have the time my advice is to spend 1 or 2 days in Astana and more if you want to make daytrips into the steppes.
The best things to do in Astana
1. Khan Shatyr
The Khan Shatyr is an ordinary fancy shopping mall with the latest chain stores. On top of that, there is a monorail and a beach on the top floor with sand from the Maldives. Go inside and you could think you are in a shopping mall in Dubai. Not really my cup of tea. So what is really so special about this place and makes this one of the top things to do in Astana?
Kazakhs were once nomads riding their horses through the steppes of Kazakhstan and living in tents called yurts. The Khan Shatyr is built to resemble a yurt and is currently the largest tent structure in the world. The translucent tent is made out of ethylene tetrafluoroethylene to absorb heat so that inside there is a constant temperature in the twenties even if it is -30 outside.
2. Park of lovers
Opposite the Khan Shatyr you will find the park of lovers with the I love Astana sign. As you can expect this park is popular with Nursultan's young couples. But there is more to the park. If you pay attention you will find some interesting art objects here.
It is also the start of the 2 kilometer long Nurzhol Boulevard ending at the Ak Orda Presidential Palace. From here you have an interesting view on some of Astana's futuristic buildings. In front of you is the large building of KazMunayGaz and KazTransOil serving as some kind of archway towards the Bayterek tower.
3. Bayterek Tower
The Bayterek tower is another architectural wonder mixed with Kazakh's cultural identity and is one of the top things to do in Astana. The observation tower symbolises the tree of life with the golden egg of Samruk. The mythical bird of Kazakh happiness.
The observation deck is almost 100 meters above the ground and gives you a beautiful panoramic view over Astana. You can also make a wish by putting your hand inside the golden hand print of former President Nazarbayev while looking at his former palace.
4. Ak Orda Presidential Palace
the Ak Orda Presidential palace is the official workplace of Kazakhstan's president. The building with a blue and gold dome stands at the end of the Nurzhol boulevard and was built by a construction company of the former president of Kosovo.
You can't visit the Presidential Palace and I wasn't allowed to take a picture either. If you walk in this area it is better to keep your camera in your pocket.
5. Presidential Park
Behind the Ak Orda palace at the other side of the river is a rather empty park that you will have to cross if you want to walk to the Palace of Peace and Reconciliation and the Independence Square. Both times when I visited the park I saw very few other people about. From here you have a nice view on Astanas skyline with the presidential palace.
6. Palace of Peace and Reconciliation
This pyramid was specifically built to host the yearly congress of Leaders of World and Traditional Religions. Inside there is also an opera house, museum and university of civilization. It prides Kazakh's history of cultural and religious tolerance.
You can visit the pyramid if you have the time. It's fun, but to be honest, you will not miss much if you skip it and just watch the architecture from outside.
7. Independence Square & Kazak Eli Monument
Independence square is another place with some interesting architectural buildings. There is the Palace of Independence that is used for official state functions, but also several interesting museums (Modern Art Gallery, Gallery of applied history, Museum of City History Astana).
The Kazakh National University of Arts looks like a stranded UFO. At the center of the Independence square is the Kazak Eli monument. The statue of the golden warrior on top was an 18-year-old Scythian warrior that was buried in a golden suit of armor near Almaty.
8. National Museum of Kazakhstan
Astana has plenty of museums showing pride in Kazakh's history and former President's Nazarbayev's contributions to Kazakh's bright future. It would probably be impossible to visit them all and with the same propaganda themes the similarity between the museums is striking.
If you have time for just one museum I can recommend the National Museum of Kazakhstan. It does a pretty good job of covering Kazakh's history from ancient to modern times and the Hall of Ethnography gives a good insight into Kazakh's nomadic culture.
9. Hazrat Sultan mosque & Nur Astana mosque
Kazakhstan is a muslim country and Astana has two brand new mosques. The Nur Astana mosque is from 2008 and the Hazrat Sultan mosque, the second biggest mosque in Central asia, opened in 2012.
The Hazrat Sultan mosque can accommodate up to 10,000 worshippers and is worth a visit. Inside there are shops selling religious artefacts, beauty salons, barbers and a restaurant serving decent food.
10. Old Town of Astana
On the right bank of the Yessil river lies the "Old Town". The part that already existed before Astana became Kazakhstan's capital. At that time there were just 275,000 people living there. Personally I preferred this part of town much more than the futuristic skyscrapers on the left bank of the river.
There still is a Soviet ambiance lingering around and in general the area is more lively. There are a lot of nice local restaurants with great food and some interesting things to do.
11. Military Historical museum of the Armed Forces
I was actually looking for the Presidential Cultural Centre that my travel guide said had an excellent free museum about Kazakh's culture. The yurt shaped building no longer has a cultural centre but is now the Military Historical Museum of Armed Forces. It was still free tough and as I was there anyway I decided to have a look.
It was just another museum priding Kazakh's heroic past and present. Nevertheless I did learn more about Kazakh's history of nomadic warriors. One hall was solely dedicated to the second World War and Kazakh's participation in the Soviet army. This museum is definitely not a must see, but if you are in the area a quick visit can't hurt.
12. Museum of the First President
Another free museum high on propaganda is the Museum of the First President. This museum is all about Nazarbayev's contributions to the development of Kazakhstan. There is an extensive gift collection and a short exhibition about Nazarbayev's childhood. Again this museum is not a must see, but an interesting place if you are nearby.
13. Fountain Circus
Astana' s circus looks like an alien spaceship ready to take off. It is near the Central Park and worth a look if you are in the area.
14. Central Park & Atameken
The Central Park is another rather empty park. Nearby is the Duman Entertainment Center with an oceanarium and a ferris wheel. The Atameken is also worth a visit to see all the major attractions of Kazakhstan in a miniature model.
15. Keremet Banya
One of my favourite things to do in Astana was a visit to the Keremet Banya. This large sauna complex is where the locals go to bathe. You can easily spent 2 to 3 hours here trying different sauna's. Only in the Russian sauna are people allowed to use the oak leaf branches to hit each other.
The other sauna's are more quiet, but also more clean. There is also a nice pool to cool down. There are several ladies giving peelings and massages. For me this was one of the more interesting and relaxing experiences in Astana and I tought the banja here was more authentic than the Arasan baths in Almaty.
16.Yesil river embankment and the new foot bridge
One great place to watch Nursultan's futuristic buildings is the Nurzhol boulevard and another is the Yesil river embankment.
Frozen solid in winter it is a beautiful sight and in summer it is a great place to stroll around and watch the view.
In 2018 a new pedestrian bridge opened for Nazarbayevs 78th birthday. There are also plans for water taxi's and river cruises
17.Astana by night
Astana is a different city once it gets dark and all the futuristic buildings are illuminated. This is when you feel you are truly in a city of the future. Either walk along the Nurzhol Boulevard or take bus number ten around it to see Astana by night in all its glory.
The best things to do near Astana
18. Alzhir Malinovka
I was stunned to learn about Kazakhstans history during the Soviet time. Collectivisations, deportations, famines and gulags meant that millions of people died in this vast country. Kazakhstan was Soviets trashcan for enemies of the state and their families.
Alzhir was the labour camp for the wives of Traitors of the Motherland. About 8000 women from all over the Soviet Union were sent to this special gulag in the village of Akmol. Now there is a Memorial and an impressive Museum of Victims of Repression. It gives insight into the harsh life that the women faced in the camp. From Nursultan's bus station near the old train station there are frequent buses to the village of Akmol.
19. Korghalzyn Nature Reserve
Korghalzyn is the largest National Park of Kazakhstan and lies 100 kilometers from Nursultan (Astana) . The wetlands attract a number of different birdspecies including pelicans and pink flamengoes. The Association for the Conservation of Biodiversity of Kazakhstan organizes excellent weekend tours with experienced nature guides.
From Astana's bus station near the old train station there are frequent buses and shared taxi's to the village Korghalzyn where there is a visitors centre. Trying to arrange a guide from there to bring you to the reserve can be costly and will probably not be cheaper than booking a tour from Astana.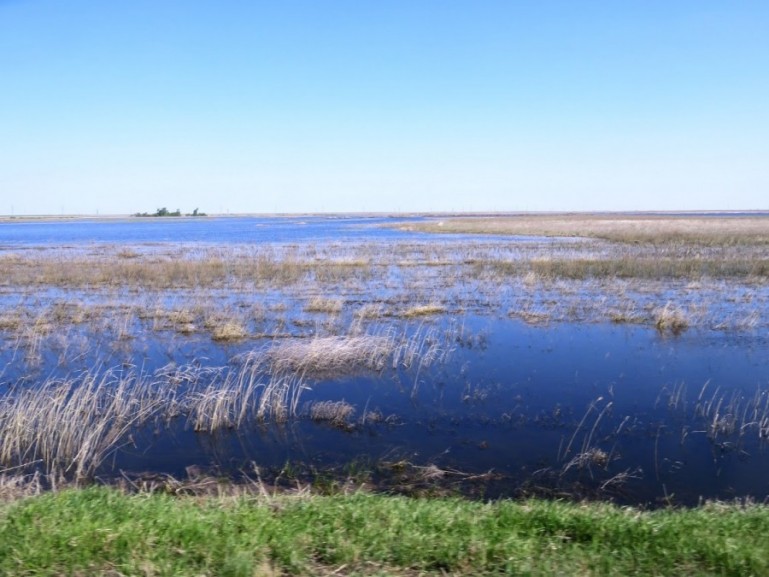 20.Burabay National park & Lake Borovoe
Unfortunately I haven't been able to make the trip to Lake Borovoe, but it is the best weekend getaway from Astana. Beautiful lakes surrounded by pine tree forests makes this place popular among Nursultans citydwellers that want to get a taste of Kazakhstan's nature.
You can either take a tour from a travel agency or travel independently by taking the marshrutka to Borovoe. I have been told that Borovoe itself is a bit of a resort town and that the real nature beauty lies beyond.
It is a great place to start exploring the area though. There are several guesthouses, restaurants and places where you can rent a bicycle. Read more about Burabay and Borovoe in the guide from Sandy's feet.
The best budget restaurants in Nursultan (Astana)
1. Samovar (Kenesary Street 24)
A nice Russian restaurant very popular with locals. The food is good and prices are very reasonable. It is near the Museum of the First President.
2. Kusselita Coffee (Respublika Avenue 5)
On Respublika Avenue are several nice and cozy coffeeshops that also offer decent food options. Kusselita Coffee was one of my favourites with an excellent breakfast. It is near the Museum of the History of Armed Forces.
3. Eagilik Bookstore (Kenesary street 61/1)
Eagilik Books & Coffee is the best place to buy or rent english language books in Nursultan. They also have a nice coffeeshop with delicious cheesecakes and pastries. Just take one of the books from the store and read up on Kazakhstan's history while drinking coffee with some cakes.
4. Izbushka (Khan Shatyr & Dostyk Street 1)
Izbushka offers excellent Russian fastfood for very cheap prices and is therefore very popular with locals. The blini's are excellent and they have fresh lemonades. The main dishes are also good and the pictures will help you decide what to try. Izbushka translates as small hut in Russian and they have one branch in the foodcourt of the Khan Shatyr and a bigger canteenstyle restaurant at Dostyk Street
5. Dastarkhan (Dostyk street 12)
Another canteenstyle restaurant serving a combination of Russian, Kazakh and other Central Asian dishes. It's cheap and serves decent food.
6. Rumi (Zelthoksan 2/2)
Rumi serves excellent Uzbek and Middle Eastern food in a nice atmosphere. It is not as cheap as Samovar, Izbushka and Dastarkhan, but prices are still reasonable.
The best budget hostels in Nursultan (Astana)
1. Hostel Nochleg (Sarayshik 38)
Astana can be expensive if it comes to accomodation, but more and more hostels are opening up. I stayed in Hostel Nochleg and found it very good. Staff is very friendly and both breakfast and dinner are good value. All beds have curtains and own electricity sockets. The location near the Bayterek tower is also very convenient. It's a 5 minute walk from the Bayterek tower and the bus station where bus number ten (train station – Respublika avenue – Bayterek – Khan Shatyr – airport) stops.
2. Hostelland Astana
During my second visit I stayed in hostelland Astana. A good hostel with friendly staff, but a bit far from the centre. It is easy to get there by bus though.
The best time to visit Astana
Astana has an extreme climate with temperatures of over 40 degrees in summer and minus 40 degrees in winter.
In winter it is one of the coldest capitals in the world and the city will be covered in snow and ice.
From March/April the snow will melt and temperatures improve, although spring also sees a lot of rain and the weather can be unpredictable.
The best time to visit Astana is from May till September.
How to get around in Astana
Astana has an excellent public transport network that is not too difficult to understand. Bus number ten is good to remember. This busline runs every 10-15 minutes from the Train station to the Airport making stops along Respublik Avenue (Old Town, Museum of the First President, Museum of the History of Armed Forces) and Konayev street (Bayterek, Khan Shatyr).
The public transport routes of Astana are not yet in Google maps, but 2GIS is a very useful app to navigate through Astana and other cities in Kazakhstan. You can download the maps including information about public transport routes to use them offline.
For places nearby Astana it is best to travel by bus. The bus station is near train station number 1 (old station) and has frequent buses to Malinovka (45 minutes)/Korghalzyn (3 hours) and Borovoe (3 hours).
How to get to Astana
Several airlines fly to Astana. Budget airline Wizz air flies straight from Budapest and they can offer a cheap way to get to Astana
For national travel it is best to use the train. From the train station there are high speed night trains to most places in Kazakhstan, including Almaty (13 hours) and Shymkent (20 hours).
To read more about how to travel in Kazakhstan by train read my post on Kazakhstan by train.
You can find more practical information in my post about travel in Kazakhstan and my Kazakhstan itinerary.
Disclaimer: This post about the best things to do in Astana contains affiliate links. If you buy any service through any of my links, I will get a small commission at no extra cost to you. These earnings help me to keep Backpack Adventures alive! Thanks for your support!
---
---