Backpacking Jordan: the ultimate travel guide
This post is a travel guide about Backpacking Jordan with all the practical information you need to know.
Backpacking Jordan might sound like a scary idea to some. Bordering Israel, Iraq and Syria, the region had its fair share of problems. For many the Middle east is associated with fanatic muslims, war and conflict. In short, an area to be avoided.
I found Jordan to be very different from this picture. What stays with me after my 3 week trip are its friendly people, the welcoming hospitality and the delicious food. And not once, did I feel unsafe as a female traveller.
This is not a surprise if you read more about Jordan's history and current political situation. Jordan has always been a safe haven in the troubled Middle East. It's a bit like Switzerland, because of its neutrality and friendly relationships with all of its neighbours.
The Hashemite family has ruled Jordan since 1921 and the royal family is relatively popular. One of the reasons is that the Hashemite Kingdom managed to keep Jordan's stability, despite the poor economy and the influx of thousands of refugees looking for peace.
Backpacking Jordan is very well possible and will probably change all the stereotypes you might have about the Middle East.
Why Backpacking Jordan?
Backpacking Jordan was a wonderful experience. It is not only peace and stability that Jordan has to offer, but also some of the most well preserved historical sights in the world, one of the most spectacular desert landscapes and a welcoming culture of hospitality. In fact, Jordan is a perfect backpackers destination. Snorkelling, diving, canyoning and hiking. Jordan has it all.
Jordan is most famous for its long and rich history at the crossroads of Christianity, Islam and Judaism. Even though Jordan is now muslim, the country is dotted with biblical sites such as Mount Nebo where Mozes looked out over the Promised Land or Bethany beyond the Jordan where Jezus was baptized.
These sites might be of religious significance, but are not the real highlights of backpacking Jordan. It is the ancient city of Petra and the vast desert of Wadi Rum that will really take your breath away. Furthermore, Jordan has some beautiful Roman Ruins that are better preserved than those in Rome and some exciting hiking opportunities in spectacular nature reserves such as Wadi Dana and Wadi Mujib.
Add in some of the friendliest people, lively bazaars, delicious food and incredible landscapes and you will understand why backpacking Jordan is such a rewarding experience.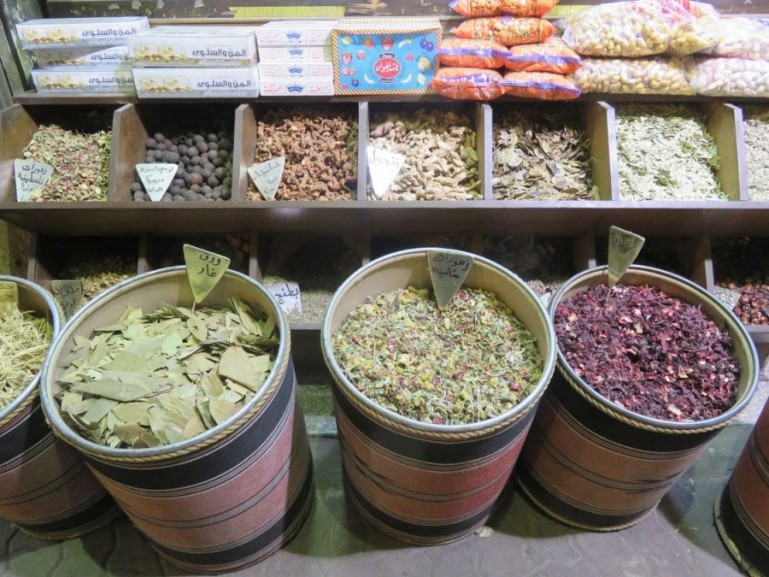 Visa requirements for backpacking Jordan
Most nationalities can get a visa on arrival that costs 40 Jordanian Dinars if you fly into Jordan. A few countries do need to get a visa beforehand. You can check the list of nationalities on the Jordan Tourism Board.
If you travel to Jordan overland the situation differs a bit. It is possible to get a visa on arrival at some border crossings, but not so at others. Check the information below about how to travel to Jordan overland.
Insider tip: If you get the Jordan Pass the entry visa is included and you don't need to pay the 40 JOD. If you plan to visit Petra and Wadi Rum the pass is worth buying for your backpacking Jordan trip, because you already save money by not having to pay for your visa.
How to travel to Jordan
Travel to Jordan by plane
Flying to Jordan is easy these days with budget airlines serving both Amman and Aqaba. If you come from Europe, Ryan Air has cheap flights from Belgium, Italy and Poland to Amman and from Germany and Italy to Aqaba. Easyjet flies from the UK to Aqaba
Travel to Jordan overland
If you travel to Jordan overland you are probably coming from Israel. There are three border crossings from Israel to Jordan. Some offer visas on arrival, while other's don't so this might influence your choice of which border to cross.
King Hussein bridge is the most convenient border crossing if you travel between Jerusalem and Amman. However, there is no visa on arrival and you need to have your Jordanian Visa beforehand.
The Wadi Araba border crossing between Eilat and Aqaba is most convenient if you want to travel onwards to Wadi Rum and Petra. There is a free visa on arrival if you stay more than 3 nights in Jordan.
The Sheikh Hussein border crossing in the north is less convenient location wise. In Israel you need to get from Jerusalem to the border by bus and taxi. The nearest city in Jordan will be Irbid and Jerash that is north of Amman. Even though the King Hussein bridge is more straightforward, the Sheikh Hussein border crossing does have visas on arrival for 40 JOD.
In case you travel from Syria there is a border crossing in Jaber that is 870 kilometers away from Amman. From Iraq there is the remote Al Karamah border crossing. With Saudi Arabia there are also three remote border crossings.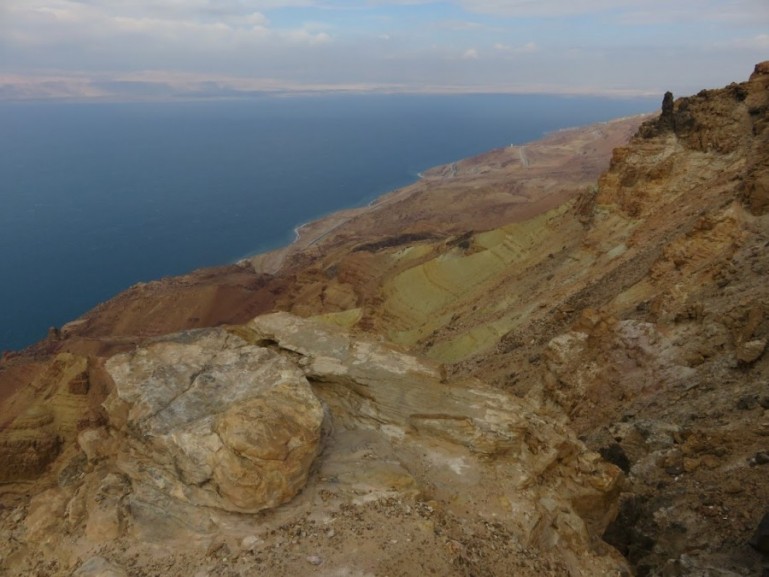 Places to visit in Jordan
In this travel guide on backpacking Jordan I will only give a brief overview of the highlights that are easy to visit for independent budget travellers. Jordan really has a lot to offer and there are many places to visit in Jordan besides Petra.
Amman
Amman is Jordan's vibrant capital. Most people focus on the south of Jordan and never make it north to Amman. I agree that if you visit Petra or Wadi Rum first, Amman might be a bit underwhelming and nothing more than a chaotic city. However, Amman really has its charms and it is a very nice introduction into the country.
My recommendation is to start your backpacking Jordan trip in Amman. The capital is an excellent base from where you can explore Jerash, some of the best preserved Roman Ruins in the Middle East. In addition, there are a number of exciting day trips that also include lush pine forests, olive groves, ancient crusader castles and caves.
Amman itself has some nice attractions as well. There is an ancient Roman amphitheatre and citadel right in the centre of the city. The interesting museums will give you some background information on what you get to see in Jordan and the lively bazaar is a perfect place to stock up on fruits, spices or nuts.
However, the real highlight of Amman is the food. You can spend days trying traditional Jordanian food in some of the best restaurants in the country and if you have enough time there are cooking classes that teach you how to make them at home.
Things to do: Roman citadel, Roman amphitheatre, Jordan Museum, Rainbow street, king Abdullah mosque, the Bazaar
Things to see nearby: As Salt, Jerash, Umm Qais, Ajloun Castle, Ajloun Nature Reserve, caves of Iraq al Amir
Madaba and the Dead sea
Madaba is another city that is often overlooked by travellers or only visited as a day trip from Amman. If you have limited time, a day trip will do, but it is definetly worth it to spend at least the night in Madaba. I spent two nights and liked the atmosphere in this pleasant small town.
Madaba is famous for its religious tolerance and has one of the largest christian communities in Jordan. It is full of ancient Byzantine era mosaics and churches that are spread out in the compact city centre. Near Madaba you will also find some of the most important biblical sites in Jordan such as Mount Nebo and Bethany beyond the Jordan.
At last, Madaba serves as the gateway to the Dead sea that is much easier to visit from here then from Amman. It was our hotel in Madaba that recommended the Dead Sea Panorama complex and this was really one of the best views we had in Jordan.
Another interesting day trip from Madaba leads to the ruins of Um er Rasas. These extensive ruins from the Roman, Byzantine and early Muslim periods hold some very beautiful Byzantine mosaics.
Things to do: Church of the Beheading of John the Baptist, Saint George's church (includes the famous Mosaic Map of Palestine), Church of the Apostles, Madaba Archeological Park, Madaba museum
Things to see nearby: Mount Nebo, Bethany beyond the Jordan, Moses spring, Castle of Herodotus the Great, the Dead sea & the Dead Sea Panorama complex
The Kings high way
If you travel from Amman to Petra you basically have three options. The first is the Dead sea highway that runs, as the name suggests, along the coast of the Dead sea. This actually sounds more scenic than it is. The coast is lined with luxury resorts often obscuring your view that is anyways much better from the hills above you.
Then there is the Desert highway between Amman and Ma'an. This the only option to travel by public transport. All buses leaving Amman from Wihdat bus station to Wadi Musa (Petra) take this route.
At last there is the famous King's High way. This is the most historic and scenic route that also offers some interesting stops along the way such as the gorges and canyons of Wadi Mujib, the ancient Karak castle, Shobak castle and the beautiful Dana Nature Reserve.
The King's highway actually starts in Madaba rather than in Amman. In theory, it would be possible by public transport if you plan things well, but to fully enjoy this route it is best to travel by private taxi like I did.
Things to see on the way: Wadi Mujib, Karak castle, Shobak castle, Dana nature Reserve
Dana Nature Reserve
While most stops on the King's highway will suffice with a short break, Dana Nature Reserve does not. This off the beaten path place is getting more popular and for good reasons.
Dana Nature Reserve is one of the best places to go hiking in Jordan and the charming Ottoman stone village is a journey back in time. There are several hiking trails into the Biosphere Nature Reserve that is the largest in Jordan. Even if you are not into hiking the views into the valley are enough to warrant a stay here.
I did the 16 kilometer Wadi Dana trail towards the Feynan eco lodge. A lovely easy going hike in which at the end I even passed a nomadic Bedouin village.
Things to do: Dana village, Great Panorama views, Hiking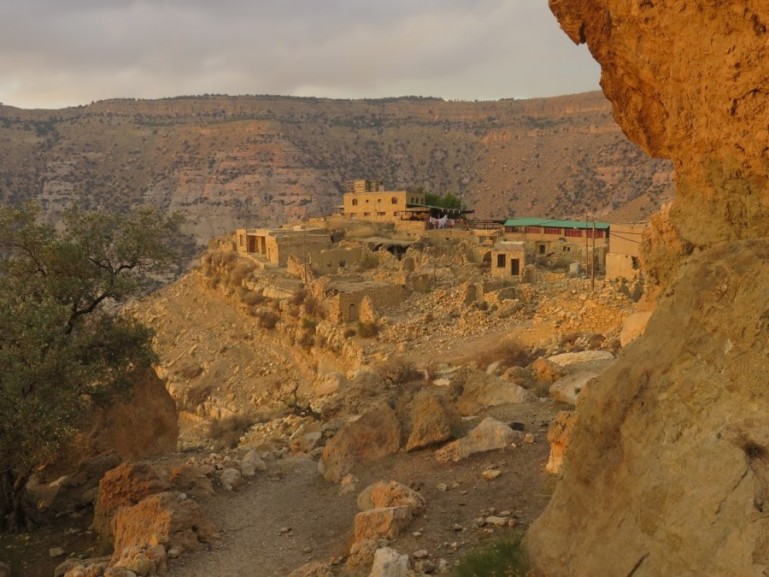 Petra
The Nabateans established Petra as early as the 4th century BC. The trading post developed into a wealthy city that was protected by its rugged mountainous terrain. What made Petra so unique was that the city was carved out of the rocks and had a complex water infrastructure that allowed for water storage in time of droughts and prevented floods in times of rain.
The Greeks could not conquer the city, but the Romans did. They ruled Petra for 250 years untill the Byzantines took over after a massive earthquake. However, Petra was never restored to its former glory and was left abandoned in the 8th century.
Bedouins still used the ruins as shelters for centuries, but outside of Jordan the lost city of Petra was forgotten. It was only in 1812 when a Swiss explorer saw and described the ruins in his travel journey when it gained interest in the Western World.
Now Petra is the number one destination in Jordan attracting thousands of visitors per year. For me this was also definetly a highlight of backpacking Jordan. I was glad I hads the 3 day pass as it was easy to spend days in Petra hiking around the historical buildings. The colours are out of this world and the carved out rock temples never fail to impress.
Things to do: Hike through the Siq to the Treasury, The Royal Tombs, High Place of Sacrifice, Little Petra, Hiking to the Monastery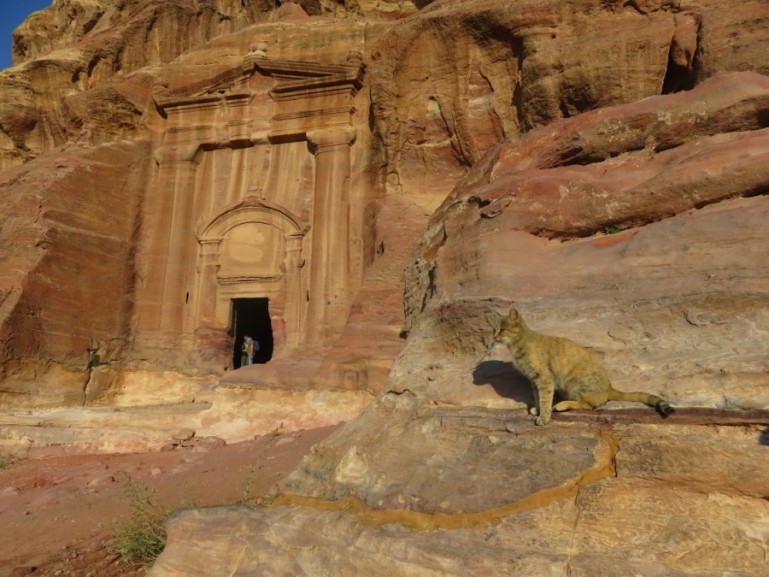 Wadi Rum
I have been to deserts before in Rajasthan, Egypt and Iran, but not one desert was as beautiful as Wadi Rum. For me this was the highlight of Jordan, even better than Petra.
Sleeping in the desert was an unforgettable experience for me. I can really recommend at least one night in a desert camp to get a full experience of Bedouin hospitality. With the day trips from Aqaba and Wadi Musa (Petra) you only get to see a glimpse.
I stayed even two nights and spent two full days in the desert. On my first day we stopped at the standard touristic hot spots, but on my second day we were able to see some more desolate parts of the desert.
Things to do: Camel rides, Hiking mountains, Al Hasany dunes, Rock carvings, Burdah rock bridge, Lawrence Spring, Khazali Canyon
Aqaba
We ended our trip in Aqaba to do some snorkelling in the Red sea. It was a good way to end our backpacking Jordan trip and get a last few days of relaxing at the beach. And that is what Aqaba is all about.
I normally dislike touristy beach towns, but Aqaba has a very friendly atmosphere and it is easy to arrange your marine activities. From glass boat trips to diving and snorkelling.
I went snorkelling from one of the resorts and as a casual swimmer I got to see lots of corals and colourful fish.
Things to do: Aqaba bazaar, Aqaba Fort, Snorkelling, Diving
When to visit Jordan
April and May are considered to be some of the best months to visit Jordan. It is no longer as cold as winter, but not as hot as in Summer. Furthermore, in spring the flowers bloom in the semi-arid regions. September and October are other popular months. These months are peak tourist season so you won't be the only visitor and it is necessary to book things in advance.
November is a transition month, but sees a lot of rain and the risk of flash floods in the country. After that it will be winter and it might surprise you, but from December till March it can get pretty cold in Jordan. There can even be snow.
However, that doesn't mean winter is not a good time to travel to Jordan. Because it is off season places are less crowded and prices are lower. For hiking the weather is perfect and you will avoid the stifling summer heat. Just don't forget to bring some warm clothes and keep in mind that many indoor places have no heating.
Summer runs from June till August and brings suffocating heat that makes travelling an uncomfortable business.
Backpackers Accommodation in Jordan
In recent years Jordan has worked a lot in attracting tourism, but is focusing a lot on couple travellers that are willing to spend a bit on luxury and comfort.
Budget hostels for the independent traveller are not as common as they should but with a bit of research it is definetly possible to find some budget options.
Amman: Hostel Amman, Cliff Hostel (near Citadel) or Hostel 1930 (Rainbow street)
Madaba: Pilgrims Guest house or Madaba Hotel
Dana: Dana Tower Hotel
Petra: Petra Gate Hotel or Majido Hostel
Wadi Rum: Rum stars
Aqaba: Dar Seitti
What and where to eat in Jordan
Jordanian cuisine is influenced by its neighbouring countries, but also by its Bedouin culture. It has all the Middle eastern classics and on top of that some unique specialities. Therefore food in Jordan has a lot of variety.
So let's start with breakfast. Fuul is a popular warm bean mixture with lemon and olive oil that is often eaten with bread. Another traditional breakfast consists of a flatbread called manakeesh. They can have different types of toppings, but my favourite is cheese or Zaatar. A spice mix of wild thyme, sumac and sesame that you will find in a lot of other Jordanian dishes too.
Lunch is the main meal for the day and usually involves rice and meat. Mujadara is a simple recipy of rice with lentils and caramelized onions. More elaborate is Makluba, that literally means upside down. Rice, and some vegetables are cooked in one pot with chicken at the bottom. Once ready it is turned upside down and topped with some nuts and fresh herbs like parsley and mint.
The Bedouin dish Mensaf is actually only for special occasions and consists of rice with lamb cooked in yoghurt. While most Jordanian dishes are available everywhere in the Middle East, Mensaf is pure Jordanian. Another Bedouin dish is Zarb. A barbecue of meat and vegetables that is cooked underground for hours
For a quick snack you can get a Falafel, Shawarma or a plate of Shish Kebab with Hummus.
At last, Jordanians love their sweet deserts. Bakeries offer a variety of baklava. One sweet and filling desert that is quite popular is Knafeh. It is basically cheese in sugar syrup topped up with crushed pistachio's and cashews.
Where to eat in Jordan
One reason you need to start your journey in Amman is because you will get a good introduction into Jordanian cuisine. You will find most regional dishes here that might be difficult to find elsewhere.
Amman is the best place to try traditional dishes like Mensaf and Makluba or Knafeh. To read more about food in Amman I absolutely love this article about the history of Amman in 10 dishes.
Outside Amman it is sometimes difficult to get anything else than falafel, shawarma, shish kebab or chicken with rice. Although Wadi Musa (Petra) and Aqaba also have a number of restaurants with traditional dishes geared towards tourists. In Aqaba you must try Sayadieh. A local recipy of fish with spices and onion.
In more remote places like Dana Nature Reserve or Wadi Rum you are dependent on your hotel. They often have an extensive buffet for breakfast and dinner. The Bedouin camps in Wadi Rum will most likely serve you the traditional Bedouin Zarb barbecue.
If you want fresh fruits or delicious nuts, all you need to do is head to the nearest bazaar.
Language and culture in Jordan
Jordan is mostly inhabited by Arab Sunni muslims that speak Arabic. Christians only make up 4% of the population and live mostly in Madaba.
Jordanian culture is highly influenced by the Bedouin culture. Bedouins were nomadic desert dwellers and are considered to be the original inhabitants of Jordan. Most have now settled, although some do continue a nomadic lifestyle herding sheeps, goats or camels.
Throughout history Jordan has welcomed refugees into their country resulting in several ethnic minorities like the Circassians, Armenians and Palestinians. More recently Jordan saw an influx of Syrian refugees.
How to travel in Jordan
Jordan is not necessarily an easy country to travel in for backpackers as cheap public transport is not as widespread as you would like. Amman and Irbid are the transport hubs of the country. If you plan to travel to bigger cities like Jerash, Madaba, Wadi Musa (Petra) and Aqaba only it is possible to travel by public transport.
However, if you prefer to take the more scenic Kings highway and stop at more off the beaten path places like Dana, Wadi Mujub, Karak, Shobak or the Dead sea things get more complicated.
Travel in Jordan by bus
Public transport in Jordan is either by local small minivans with no timetable or the Jett company air conditioned buses that do have a schedule. Jett has daily buses from Amman to Petra (through the desert highway), Aqaba and the King Hussein bridge.
Frequent minivans run from Amman to Jerash, Umm Qais and Madaba. It is possible to travel with minivans along the King's highway, but it requires a lot of stops and changes. You can get to Karak where you have to change for a minivan to Tafilah. There you can hop on a minivan to Qadsiyyah for Dana, Shobak for Shobak castle, or Ma'an for Wadi Musa (Petra).
This is by far the cheapest way to travel in Jordan, but requires a bit of ime and patience. I travelled by minivan to Jerash and Madaba and loved to meet with the curious and helpful locals.
Taxi's in Jordan
If you want a bit more flexibility and freedom it is best to travel by private taxi. For solo travellers this can be pricey, but most hotels help in getting a group of people together on popular routes like the King's High way including the regular touristic stops on the way. Alternatively you can try to find other people yourself to share the costs for a private taxi.
A private taxi from Amman to Petra along the Kings highway including stops should cost between 80 and 90 JOD. From Madaba it is slightly cheaper and costs between 70 and 80 JOD.
Renting a car in Jordan
As an independent traveller it simply never came into my mind to rent a car, but I met so many other travellers that did. I must say that if there is one country where it is worth it to splurge a bit on renting a car it is Jordan.
It will make travelling a lot easier and you are able to stop in so many beautiful places that are otherwise hard to get to. I noticed that even though the traffic in cities can be pretty chaotic, driving outside of them is also very easy and safe.
Rather than hiring a private taxi for getting to the Dead Sea, then getting to Dana and then again for getting to Petra it would have been cheaper if I had rented a car. Renting a car is already available from $30 dollars per day.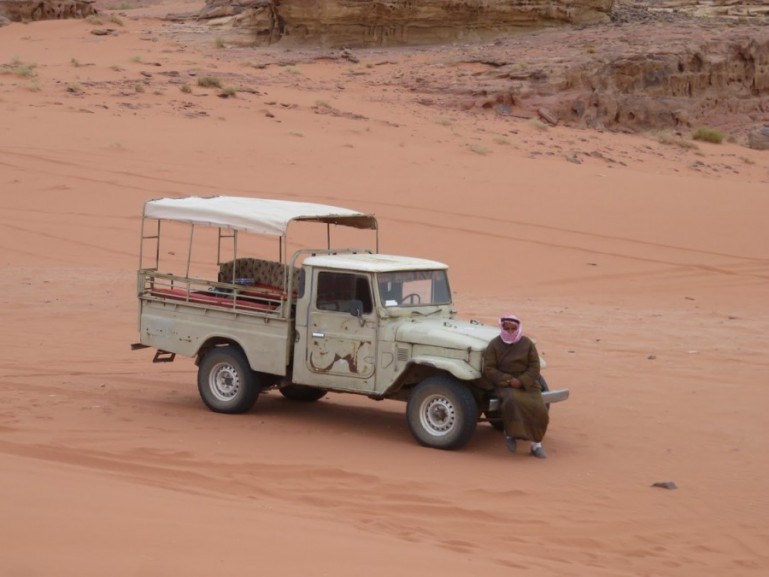 Useful Apps for Backpacking Jordan
Maps.me: use maps.me for offline navigation. Helpful if you go hiking in Jordan or need to find your way in Amman.
Careem: the Middle Eastern version of uber also works in Amman. It is an easy way to order a taxi or get an idea of how much a taxi should cost on a certain route.
Backpacking Jordan: Money Matters
Jordan uses the Jordanian Dinar. In Amman, Madaba, Wadi Musa and Aqaba there are enough ATM's. You can also exchange Euro's and dollars.
Once you go outside of the cities it is best to bring enough money with you in Jordanian Dinars.
Jordan and the Middle East in general is not as cheap as other destinations like India or South East Asia. Expect to pay around 50 dollars a day if you travel on a budget.
accomodation – less than 15 dollars for a bed in a dormitory, around 20 to 30 dollars for a double private room.
food – less than 3 dollars if you stick to fastfood snacks like falafel or shawarma rolls, around 10 dollars if you go to a more midrange restaurant.
transport – Travelling by mini van is very cheap, expect to pay 1 or 2 dollars. The Jett air conditioned bus from Amman to Petra costs around $15 dollar. A private taxi from Amman to Petra costs around 100$ per car.
For more detailed information I can recommend this post about Jordan travel costs.
How to save money when backpacking Jordan
Jordan is not the cheapest backpackers destination. Here are some tips to save costs while backpacking Jordan.
Meet up with other people: Traveling by taxi becomes way cheaper if you manage to find other people to share the costs with. Hostels are a great place to meet with other travellers. I was very lucky in Dana to find people that indeed had the same idea to travel to Petra, but had a rental car and were happy to give me a ride.
Jordan Pass: If you are eligible for a visa on arrival, stay more than three nights in Jordan and plan to visit Petra you will save a lot of money by buying the Jordan Pass. The discount program includes your entry fee to Petra, 40 other popular tourist attractions such as Wadi Rum and Jerash as well as your visa fees.
Another good thing about the Jordan Pass is that it saves you a lot of time waiting in line to buy entrance tickets. Just keep a print out of the Jordan Pass with you and you are good to go.
Indulge in Falafel and Shawarma: For a quick and filling snack have a falafel or shawarma sandwich. They cost between 1 to 3 dollars and are a cheap and delicious way to fill your stomach. Avoid the touristy restaurants in Petra, because they tend to be overpriced.
Is it safe to travel in Jordan?
Jordan is a very safe country to travel in if you take the normal precautions. As a female traveller I was always treated with respect and if I needed help in finding my way, people were always friendly and helpful.
In Jordan it is not conflict, terrorism or islamic fundamentalism you need to worry about. Rather you need to pay attention to mundane things like natural hazards, the weather and petty theft.
Crime
Crime towards foreigners is rare, but it sometimes happens in crowded places like bazaars. Keep your valuables safe and don't flash around with expensive items.
Extreme weather
Then the weather. The sun gets pretty strong in Jordan in the desert. Always bring sunscreen, sunglasses and a hat. even if you travel in winter. In summer you need to be prepared to deal with the heat to avoid a heat stroke and drink plenty of water.
Natural Hazards
At last, natural hazards. Jordan is prone to both earthquakes and flash floods. I travelled in November when it rains a lot and flash floods can happen. My mother even warned me and as usual I promised her I would take good care of myself.
I was super lucky with the weather and for two weeks I had clear blue skies. When I arrived in Petra it was the first day that dark clouds gathered in the sky and it started raining. It wasn't raining a lot, so I still went to see Petra's vistor centre.
I will never forget the roaring sound. I thought it was an earthquake, but the ground did not shake. It took me moments before I realized what I saw. A wall of mud water raging down from the mountains through the river bed heading towards Petra. They were the worst flash floods in years and killed 12 people. Sirens went off, ambulances rushed to the entrance and Bedouins on their horses went in to save people.
This was the scariest moment I had in Jordan. Unfortunately this is not something you can really prepare for, except taking warnings seriously.
Solo Female Travel in Jordan
As a female traveller Jordan is a safe country to visit. However, you might get some unwanted attention, especially in Petra.
Petra is quite notorious for its romance scams in which young Bedouin men try to get the attention of solo female travellers. They promise them the world, take them around for free to beautiful viewpoints, invite them over for dinner with their families and once the victim is head over heels in love, the requests for money start to get in.
As a female traveller it is good to keep in mind that nothing is for free. To avoid unwanted attention it is best to keep a distance in your interaction with men and dress modestly. If you want more tips about travelling as a woman in the middle east you can read my post on solo female travel in Iran.
Online Resources about Backpacking Jordan
Jordan Backpacker Traveler Facebook group
This Facebook group is full of experts and experienced travellers with a passion for Jordan. If you have any questions left you will find or get an answer here. It is also a great place to meet fellow travellers to share a taxi with.
Books about travel in Jordan
Lonely Planet Jordan
The Lonely Planet is an excellent resource for backpacking Jordan.
Marguerite van Geldermalsen – Married to a Bedouin
This book tells the romantic lovestory of a young woman who travelled to Petra and fell in love with a Bedouin men. They got married, had children and lived in a cave for years. They now live in the Bedouin village of Umm Sayoon, just outside of Petra.
Even though the book tells her personal story of her marriage and life in Petra it offers a good insight into Bedouin culture and the recent history of Petra.
Disclaimer: This post about backpacking Jordan contains affiliate links. If you buy any service through any of my links, I will get a small commission at no extra cost to you. These earnings help me to keep Backpack Adventures alive! Thanks for your support!
---
---