Backpacking Karnataka: the ultimate travel guide
This post is a travel guide about backpacking Karnataka in India. Karnataka is one of India's most underrated states. With Goa to the north and Kerala to the South it is often overlooked.
Many travellers simply pass through, but there are many reasons to travel in Karnataka. In fact, it is a very worthwhile destination on its own. Backpacking Karnataka is a very rewarding experience.
Why Backpacking Karnataka?
Why Backpacking Karnataka? The answer is simple. Karnataka has it all. Palm fringed beaches, green rolling hills with coffee plantations, jungles teeming with wildlife and ancient temple ruins.
Karnataka has a long history with a rich cultural heritage. The ancient city of Hampi might be the most popular tourist destination. However, the Hoysala temples are older and more beautiful.
At the same time, Karnataka is home to the country's most progressive and liberal cities. Bangalore is the state capital, but for culture it is hard to beat Mysore. Mysore with its royal palaces is a city of arts and crafts as well as delicious food.
Rural Karnataka is just as interesting. The 280 kilometer long coastline has small fishing villages and picture perfect beaches. They are great for a quiet and peaceful retreat. So are the scenic hill stations in the Western ghats mountain range.
Karnataka is not only for culture and history lovers, but also for nature and outdoor enthusiasts. There are great hiking opportunities as well as the chance to see wild animals. The Nilgiri Biosphere Reserve includes a number of wildlife sanctuaries and national parks. Karnataka has the biggest elephant population in India and is second if it comes to the amount of tigers.
As you can see there are plenty of things to see and do if you go backpacking Karnataka. Don't make the misstake to overlook this state full of history, culture and nature.
Visas for Backpacking Karnataka
For backpacking Karnataka everybody needs a valid passport and visa for India. Most nationalities can request an e-visa online. Some can only get a visa through an embassy.
If you are from Pakistan things are more complicated and you need a government clearance as well.
How to travel to Karnataka
Travel to Karnataka by plane
For international visitors it is probably best to fly into Bangalore Kempegowda international airport. From Bangalore you can continue your journey in Karnataka by train or bus.
Travel to Karnataka by train
Karnataka has an excellent train network that connects it with the rest of India. Trains run from the main cities in Karnataka to Mumbai, Chennai, Madurai and beyond.
Places to visit when Backpacking Karnataka
Bangalore
Bangalore is Karnataka's capital city. Because of its IT technology it is also known as the Silicon valley of India and is one of the most liberal cities in the country. People from all over India come and flock to the city to find a job in technology
As a result, Bangalore is multicultural and dynamic. Even though it is one of the fastest growing urban areas in India, Bangalore remains a pleasant place to live in. It is also known as the Garden city of India and is surprisingly green with beautiful parks and gardens.
Bangalore is a great place to get to know modern India and join its young people in trendy cafes, pubs and beer breweries. The food scene in Bangalore is great too with restaurants serving every regional cuisine imaginable.
Recommended time: Bangalore lacks any major tourist attractions. One day in Bangalore should be enough to see the few historic sights and enjoy some of the city's best culinary highlights.
Accomodation: Locul central is close to Cubbon Park and is a clean and professional hostel if you don't mind staying in a dormitory. Locul uptown from the same owner is near Bangalore palace and has both dormitories as well as private rooms.
Mysore
Bangalore might be the biggest city in Karnataka, but Mysore remains its cultural capital. The kingdom of Mysore has a long history as a center of art and culture in southern India. It started as a vassal state from the Vijayanagara empire, but steadily gained more autonomy and eventually ruled most of Karnataka.
The Mysore kings from the Wodeyar family fought several wars including the four Anglo-Mysore wars. in 1799 Mysore lost and the British transformed it into a princely state. Even after independence, The Wodeyars kept a prominent position in politics.
Mysore still is a city full of royal palaces, colonial mansions and elegance. It is without doubt one of the most beautiful cities in Southern India. The age old traditional crafts of Mysore include silk weaving, sandal wood carving, rosewood inlay, sandal soap making and the famous Mysore paintings.
Recommended time: One day in Mysore should be enough to see the Mysore palace, explore the deva raja market and visit the Chamundeshwari temple.
Mysore has lots of interesting day trips too. For example, you can visit the former capital of Srirangapatna, the Ranganathittu bird sanctuary, the ancient Hoysala temple at Somnathpur and the Tibetan settlement of Bylakuppe. Therefore I recommend at least 3 days in Mysore.
Accomodation: In Mysore I can recommend Mansion 1907. Most of all because of its great location near the bus station, Mysore palace and Devaraja market. This hostel has friendly owners, a great breakfast menu and female only dorms. During the tourist season they have free yoga classes in the morning and you can rent bicycles to explore Mysore and its surroundings. There are other hostels in Mysore as well such as Zostel and Sonder hostel.
Hampi
Hampi was the 14th century capital of the Vijayanagara empire. A center of arts, culture, literature and philosophy and one of the richest cities of India.
The Vijayanagara empire was one of the last great hindu kingdoms in Southern India. What remains is a large site with over 1600 monuments including forts, temples, shrines and palaces.
Hampi is one of the highlights of India. The main reason to come are the ancient temple ruins. The monuments of Hampi are a UNESCO World heritage site and remarkably well preserved. It has a scenic location too. The Tunghabadra river and the rocky terrain is great for outdoor activities like bouldering and rafting.
Recommended time: the archeological complex of Hampi covers a large area and it would be impossible to see all that remains. You need at least 3 days in Hampi to see the most beautiful structures such as the Virupaksha temple, the stone chariot, the elephant stables, the monkey temple and sanapur lake.
Accomodation: the best place to stay in Hampi is a homestay. Homestays with good reviews in this area include Srinivasa homestay, Saanvi homestay, Arjun homestay and Vinayaka homestay
Gokarna
Gokarna is a small village. For a long time it were only Hindu pilgrims that visited this sleepy temple town. However, it is becoming increasingly popular as one of India's best beach destinations.
Gokarna has plenty of beaches to choose from. Some are so remote that they can only be accessed by boat or on foot. The Golden trail is an 8 kilometer long hiking path connecting Gokarna's beaches with each other. Most of the trek is along the shore of the Arabian sea with beautiful views on the ocean.
Part of the charm of Gokarna is that it is still off the beaten path, but with enough facilities to enjoy. There are enough hotels, restaurants and yoga retreats to keep you happy, but it doesn't feel crowded. For many, Gokarna is a more quiet and peaceful alternative to Goa.
Recommended time: Gokarna is about relaxing and for me 3 days was enough to do so. Besides the stunning Gokarna beach trek you can visit the temples in Gokarna town and simply relax at one of its palm fringed beaches.
Accomodation: The Namaste yoga farm is not necessarily a budget option, but it's scenic location in a lush green garden at Kudlee beach make it well worth the price. For backpackers there is HosteLIT with clean dormitories. There is also the Zostel hostel near Gokarna town on the cliff overlooking Gokarna's main beach and in walking distance from Kudlee beach. Zostel is a popular option and it's best to make a reservation, especially during the weekends.
Mangalore & Udupi
Mangalore and Udupi are not the most beautiful cities in Karnataka. They are still worth a visit though. These coastal towns are the gateway to great food and pristine beaches that see even less tourists than Gokarna.
I ended up in Udupi because of my studies in global health that included a seminar at the nearby Manipal university. The main attraction in Udupi is the Krishna temple that is an important pilgrimage center for Hindus. There are no other obvious tourist sights but the area's lush green nature does not dissapoint.
I mostly fell in love with the food. The udupi thali is a set meal with a number of vegetarian curries and is famous all over India. Mangalore has spicy seafood dishes and delicious curries based on coconut and tamarind. Spending your days trying the local cuisine and exploring beaches that you have all to yourself is the charm of Mangalore and Udupi.
Recommended time: 1 or 2 days is enough to see Udupi and Mangalore
Accomodation: In Mangalore I can recommend Rahul Residency or Urban Retreat Homestay
Belur & Halebid temples
The Belur and Halebid temples are by far the most stunning temples in Karnataka. Hampi might impress you by the vast amount of temples and ruins. It is Belur and Halebid though that will impress you by its beauty and detail.
The Belur and Halebid temples are also much older. They are some of the best examples of the ornate and intricately carved Hoysala temples. The Hoysala empire ruled much of South India prior to the Vijayanagara empire that established it's capital in Hampi.
Belur and Halebid are quite close to each other and both towns were once the capital of the Hoysala kingdom. Belur is the oldest temple and it took 103 years to complete. The result is one of the most intricately carved temples in all of India. Halebid has the largest Hoysala temple and its carvings are equally stunning.
Recommended time: The Belur and Halebid temples are easy to see in a day. It will be a very long day trip from either Mysore or Bangalore. It is recommended to combine the temples with the nearby scenic hill station of Chikmagalur with its green nature and coffee plantations.
Accomodation: There are not a lot of options to stay in Belur or Halebid itself. They are also not very good value for money. I would recommend staying in the scenic hill station of Chikmagalur. I slept at the clean and professional Chalukya comforts in the center of the city. If you have your own transport you can also opt for one of the homestays close to nature such as blue bell homestay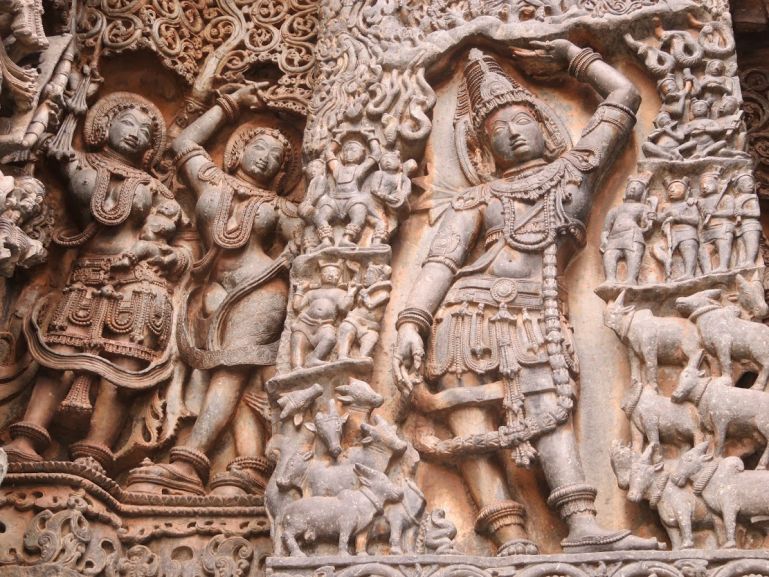 Coorg
Coorg with its rolling hills and gushing waterfalls is one of the most scenic hill stations in Karnataka. Because of its misty mountains and green landscape it is also known as the Scotland of India
Coorg or Kodagu is a great place for hiking. You can climb mountain peaks, walk through coffee and spice plantations or trek to beautiful waterfalls. Whatever trail you follow, there will be beautiful views and lush greenery all around you.
Recommended time: 2 or 3 days is enough time to see the Kodagu area. This gives you time to visit the Abbey and Iruppu waterfalls and do one of the hiking trails such as the Thandanmole trek. It is also possible to make a day trip to the Tibetan settlement of Bylakuppe.
Accomodation: Stay Simple spice farm is a great place to stay in Kodagu. For budget travellers there is the Backpackers United hostel
Nilgiri Biosphere Reserve
Karnataka has no less than 5 national parks, 18 wildlife sanctuaries and 9 bird sanctuaries. Most of them are situated in the Nilgiri Biosphere Reserve, the largest protected forest area of India that covers the Whestern ghats.
The Nilgiri Biosphere Reserve is a unique ecosystem. It is home to the largest elephant population in India as well as a large number of wild cats such as tigers and leopards. This makes Karnataka a great place for wildlife and nature lovers.
In Karnataka the Nilgiri Biosphere includes Nagarhole and Bandipur National Park, the Brahmagiri Wildlife sanctuary and BR Hills tiger reserve. Going on a safari in any of these parks is a highlight when backpacking Karnataka.
Accomodation: Nagarhole and Bandipur are the most popular places for a wildlife safari. In Bandipur Dhole's den is a very good option. Kabini Lake view is also a great place to see wildlife. BR hills is a more budget friendly safari destination. One of my top recommendations in BR Hills is the Gorukana Resort. They offer eco cabins and a tree house in the forest.
When to travel in Karnataka
The best time to visit Karnataka is between October and March. In October temperatures cool down and you might have a chance to join the festivities for Dussehra and Diwali. India's biggest festival that sees large celebrations in Mysore.
Temperatures remain pleasant till March. In April and May it becomes extremely hot. In June it is the start of the monsoon that lasts till September and will see lots of rainfall. Kodagu is one of the wettest areas in India.
Backpackers Accommodation in Karnataka
Accomodation in India is cheap and there are lots of options in different price ranges. New hostels with clean and professional dormitories are opening up throughout India. Zostel Hostel is a chain with clean and good quality dorms. They have branches in Bangalore, Mysore, Gokarna or Coorg.
Oyo rooms are a great option to look for accommodation if you prefer private rooms. They have different price classes and are not necessarily the cheapest, but they sometimes have very good deals available.
If you want to visit the national parks beware that there are not a lot of budget options. The safari lodges are well worth the price though and often include an all inclusive package with food and safaris.
If you are looking for off the beaten path homestays I can recommend NotonMap. as you can guess these places are remote and small scale. You stay with local families in rural India and therefore it is a great way to learn more about India's diverse cultures.
Food in Karnataka
Don't make the same mistake I did by underestimating the variety of food in India. There is actually no such thing as Indian food. Every region has its very own cuisine and the indian thali ( a set meal ) will be different from place to place, even in Karnataka itself.
The Udupi thali is famous all over India. Coorg is known to be one of the few places in India where pork is on the menu. Mangalore and Udupi have great seafood dishes with spiced curries and fried fish.
The origin of the dosa was also in Udupi, but has found regional varieties throughout Karnataka. There are butter dosas in Bangalore and masala dosas in Mysore. Both Bangalore and Mysore are great food destinations with excellent restaurants to try Karnataka food.
One of the things that characterize the food in Karnataka is the use of ragi. In rural areas ragi (finger millet) is just as common as rice. Curries are mopped up with little pieces of ragi mudde.
Restaurants in Karnataka do not serve Karnatakan food exclusively. It is very easy to find popular south indian dishes like idli, appam and sambhar. North Indian food is also quite common with chicken butter masala and paneer curries.
Language and culture in Karnataka
Karnataka's history was defined by the Hoysala and Vijayanagara empires. Both eras saw a rich culture in which arts, literature, philosophy and religion flourished. The Hoysalas left behind hundreds of intricately carved temples.
Karnataka's rich cultural heritage is visible in its unique folk art. Most famous is the Dollu Kunitha, a dance performance with drums. Karnataka also played an important role in the development of South Indian classical music. Purandara Dasa was a 16th century philosopher. He composed over 75,000 songs and is the father of carnatic music.
Karnataka also has some beautiful crafts. Mysore is famous for its Mysore paintings and silk weaving as well as sandalwood carvings. Ivory carving is also typical of Karnataka and is practised throughout the state.
Karnataka has multiple languages, but Kannada is the most widely spoken and official language of the state.
How to travel in Karnataka
Backpacking Karnataka by train
The best way to travel through Karnataka is by train. There are convenient night trains between Bangalore and Hampi as well as Bangalore and Gokarna. Trains between Bangalore and Mysore are frequent and the Mysore express only takes 2 hours.
The only disadvantage is that trains do get full and it is better to reserve seats beforehand as soon as possible.You can book train tickets online directly through the Indian railways (IRCTC). Unfortunately this is not always a straightforward process. For a small extra fee you can use 12goAsia or Makemytrip.
If you plan to buy your tickets online at the last minute I can recommend Confirmtkt that gives an indication how high the chances are that a possible waiting list ticket will become an actual ticket.
If you prefer not to book tickets online I strongly advise you to go to a train station on your first day.
I always travelled in sleeper class. For me, this is ok, but if you like more privacy it is better to book a compartment. In theory seats are reserved, so there should not be more people in the train than there are seats. In practice though there will always be a surplus of human beings. If you find one or more persons on your seat, just be firm about your reservation and that the whole seat is yours.
Backpacking Karnataka by bus
If trains are full and you could not get a ticket. Don't panic. There are also frequent buses between the major cities in Karnataka. You can check timetables and book tickets through Redbus. Some places in Karnataka like Coorg can only be reached by bus.
Useful Apps for backpacking Karnataka
Ola
Taxis and tuk tuks are cheap in India, but the use of a taxi hailing app makes negotiating a price much easier for travellers. Uber works in Karnataka as well, but it's useful to have both. I used Ola a lot in Mysore and Bangalore.
Ola also has a tuk tuk option that is one of the best and most affordable way to travel for shorter distances. I never had to wait long for a Ola or Uber to come and most of the time when I ordered the pool option I had no other passengers.
Travelkhana
Are you on the train and hungry and don't feel like eating the somewhat dubious food on the train? With travelkhana you can order food that will be delivered to you on the next station in your Karnataka itinerary
Money matters for Backpacking Karnataka
There are ATMS in most major cities like Bangalore, Mysore and Mangalore. However, In India, you never know. I would not solely rely on ATM's. Especially in smaller towns, the ATMS might not work or run out of money. My advice is to also bring cash in euros or dollars.
Travelling in Karnataka is cheap. If you stay in budget guesthouses and eat local food you can easily get by on less than $20 dollar a day. For 30$ a day you can travel comfortably throughout Karnataka, staying in somewhat better places.
Costs of travel in Karnataka
Accommodation: Less than 10 euro for a dormitory and less than 15 euro for a basic private room
Food: Street Food is available for 2 – 3 Euro. A complete meal in a budget restaurant will be less than 5 Euro. Probably a little bit more in a mid range restaurant in Bangalore or Mysore.
Transport: Around 4 EURO for a bus journey from Mysore to Kushalnagar (for Bylakuppe) or 2 – 3 EURO for a train ticket from Mysore to Bangalore.
Tours: Tours will be your biggest expense if you opt for them. The most expensive tours in Karnataka are the wildlife safaris in Nagarhole or Bandipur National Park. In general these places aren't really budget friendly for backpackers. There are few affordable accommodation options and you need tours if you want to see and do something.
Safety when Backpacking Karnataka
In general, Karnataka is a safe place for travellers. Crime is rare and people are friendly. With common precautions you can save yourself a lot of troubles. Opportunity theft does happen. Don't flash around with your wealth and keep your valuables safe.
The biggest risks in Karnataka are related to your health. Diarrhoea is the most common health issue among travellers. Bring a water filter with you and a hand sanitizer to minimize the risk.
Be careful with street food and dodgy restaurants. If it comes to street food I always look where the local people go. If a place is busy it is probably safe to try. The times I got an upset stomach was mostly due to mid range tourist restaurants where you can't see what is happening in the kitchen. Ask if they use filtered water to clean vegetables and watch out with salads.
Karnataka has lots of sunshine and in April and May it can get really hot. To protect yourself from heat stroke or sunburn bring adequate protection such as sunscreen, a hat and sunglasses.
Solo female travel in Karnataka
With all the news about sexual violence in India you are probably wondering if it's still safe to travel as a female. My short answer is yes and I travelled on my own throughout India several times without any real problems.
The good news is that in my experience South India is easier than North India. Bangalore is a very modern and liberal city. But also in smaller towns like Mysore or Gokarna I felt absolutely safe. Karnataka was a very welcome change from the male attention you get in, for example, Rajasthan.
Unfortunately sexual violence remains a real problem and although less prominent in Karnataka, it does exist. As a woman travelling alone you might be stared at or get some rude comments. Below I will give some advice to prevent worse and you will most likely be safe.
female travel tips
Dress Modestly: Leave your bikini, short skirts and tank tops at home. Make sure your shoulders and legs are covered. Best is to buy a shalwar kameez. They are very comfortable, lightweight and easy to wash.
Keep your distance with men: Don't accept any invitation from a single man or let them take you somewhere quiet. This includes shopkeepers wanting to show you something special in the back of their store. In your interactions with men it is best to stay polite, but keep your distance. Getting too friendly is sometimes interpreted as an invitation for more.
Look as if you know where you are going: Even if you are completely lost, look self-assured and act as if you know where you are going. Make it a rule that once it gets dark your back at your hotel, unless you are with other people. If you feel someone is following you, try to look for other woman in the street and ask for help. Often informing passersby of a dodgy situation will scare away a possible offender.
Avoid crowds: It's best to avoid crowds, especially during festivals like Holi. As the day progresses men often get drunk and intoxicated and they become rowdy and annoying. A safe way to enjoy festivals in India is to find a safe spot from where to witness the celebrations or stay close to other women and families if they are around.
Use your instinct: When I travel I always use my instinct. If you don't trust a situation, get out of there. This works the other way around as well. Most people in India are very friendly and have good intentions.
Resources about Backpacking Karnataka
Lonely Planet: Besides the huge Lonely Planet of India there is a separate Lonely Planet for South India and Kerala that I recommend if you wish to visit only Southern India. Lonely Planet remains one of the best guides for backpacking Karnataka.
Rough Guide: the rough guide is a good alternative to the lonely planet. They also have a seperate guide for South India that includes Karnataka.
If you are interested in travel in other Indian states I can recommend my posts about Backpacking Rajasthan and Backpacking Kerala.
Disclaimer: This post with a Karnataka travel guide about backpacking Karnataka contains affiliate links. If you buy any service through any of my links, I will get a small commission at no extra cost to you. These earnings help me to keep Backpack Adventures alive! Thanks for your support!
---
---