Backpacking Kazakhstan: the ultimate travel guide
This post is a travel guide about Backpacking Kazakhstan with all the practical things you need to know. There was not much information about backpacking in Kazakhstan when I first visited the country in 2016. Therefore I was surprised by its diversity and how easy it was to travel in Kazakhstan.
Backpacking Kazakhstan is maybe not on everyone's bucketlist, but it should. I absolutely fell in love with Kazakhstan. I liked it so much that I came back a second time to see more of the country.
Even though the amount of tourists is growing I was still wondering why people know so little about this huge country that has so much to offer for backpackers?
Why Backpacking Kazakhstan?
When I told people I was going to travel in Kazakhstan, I received surprised reactions. Kazakhstan was unknown to most of my colleagues. Some saw the movie Borat and thought it was a dangerous and uncivilized place.
Honestly I didn't know much about Kazakhstan either and that was maybe part of the appeal. All I knew was that it was a country of nomads with a grim Soviet past.
What I found was the complete opposite of Borat and my own misconceptions. Kazakhstan was weird at times, but it is also the most developed country in the region and there are lots of things to see and do. It is perfect for nature, history, obscure tourist attractions and off the beaten path places.
Kazakhstan is the ninth biggest country in the world with beautiful mountains, vast steppes, incredible wildlife, deep blue lakes, modern cities and friendly people. It is a country of extremes that is full of surprises and unexpected things. Backpacking Kazakhstan can be challenging at times, but in the end you will always be rewarded with a great experience.
Visa and Registration for backpacking Kazakhstan
Kazakhstan has recently opened its doors. Gone are the days of expensive visas, paperwork, bureaucracy and registrations with the local police. Backpacking Kazakhstan is now easier than ever.
Visa requirements: Many nationalities no longer need a visa for travel in Kazakhstan and for those who do, things are much simpler than before. Check the latest visa requirements on the Kazakhstan visa guide on Caravanistan.
Registration : Whether you need a visa or not, everyone does need to register with the police. This is done automatically if you fly into one of the international airports, but not necessarily if you cross the border over land.
When you arrive in Kazakhstan you will get a migration card. It is very important to keep the migration card with you. You need it again when you leave the country. It is also important that it has two stamps, the second stamp means you are registered.
Check your migration card immediately and if there is no second stamp you can ask for it at the border (an easy process) or register within 5 days at the migration police (a more difficult process). Registration should be free.
Update: Since January 2020 registration for foreigners is apparently no longer mandatory. As these rules tend to change quickly in Kazakhstan I would check if this really is still the case when you go.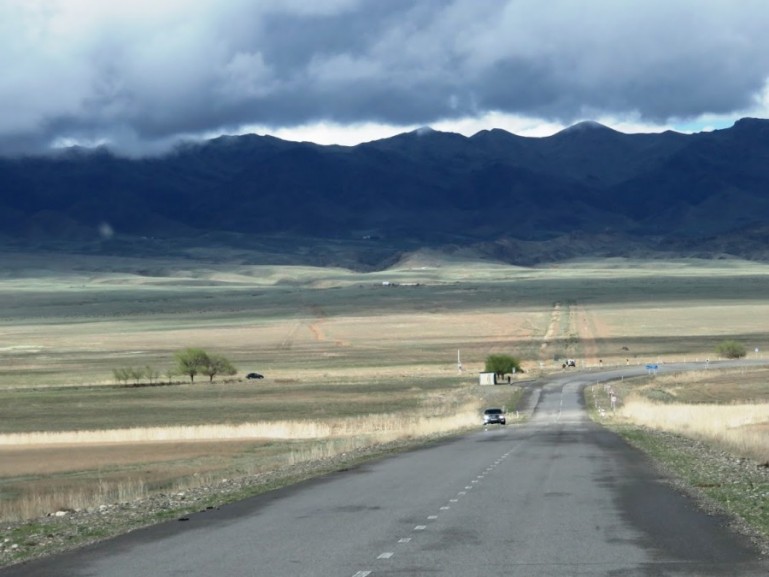 How to travel to Kazakhstan
by plane: Flying to Kazakhstan is easy these days with budget airlines serving both Nursultan (Astana) and Almaty. Wizz Air has cheap flights from Budapest to Nur-sultan. For Almaty you can check flights with Air Baltic and Pegasus.
By Train: Entering Kazakhstan by train is possible from Russia, Uzbekistan and China. From Russia you can either take the train from Saratov to Uralsk, Orenburg to Aktobe or Omsk to Nur-sultan (Astana). For Uzbekistan there is the train from Nukus to Atyrau and Tashkent to Shymkent. China has a train connection between Urumqi and Almaty.
Overland: From Kyrgyzstan it is best to cross the Kordai border from Bishkek. You can even travel to Kazakhstan from Azerbaijan. If you are adventurous and you have a lot of patience you can take the Caspian sea ferry from Baku to Aktau.
Places to visit in Kazakhstan
In this travel guide on backpacking Kazakhstan I will only give a brief overview of the highlights that are easy to visit for independent budget travellers. I am aware that for a country like Kazakhstan this list is far from complete.
For example, there are the beautiful Altay mountains in the east. The underground mosques of Mangystau in the west. Central Kazakhstan offers a glimpse into the Aral sea disaster and Baikonur. Unfortunately these are really off the beaten path destinations. Still, if you are an adventurous backpacker getting to these remote regions is part of the fun.
Also keep in mind that for each city there are a number of exciting trips you can make. Nursultan (Astana), Shymkent and Almaty are surrounded by beautiful mountains and national parks. Mentioning all of them would be impossible. However, if you want more inspiration I would recommend my posts on each of these cities. You can also check my post about planning your Kazakhstan itinerary with examples for 2 to 3 week trips.
Astana
Kazakhstan's quirky capital is high on odd and strange tourist attractions that make it one of the most weirdest and futuristic cities in Asia. Nur-sultan is a great introduction to Kazakhstan, not because it is very representative for the rest of the country, but because it gives you a better understanding of its politics.
The city is the mastermind of former president Nursultan Nazarbayev. He founded the city in 1997 and used it to show off the wealth that came from the vast oil and gas reserves in the country. When Nazarbayev resigned in 2019 the capital was renamed into his first name.
Things to do: Biggest mosques in central Asia, The Khan Shatyr, Bayterek and other futuristic architecture
Things to see nearby: Malinovka, Korghalzyn National Park & Burabay National Park for Lake Borovoe
Where to sleep: Hello Inn Budget Hotel Astana
Read more about the background of Astana in my post on Top things to do in Astana.
Karaganda
Karaganda is a great place to visit for those that like some dark tourism attractions. First of all there is Temirtau. The former mining town is now famous for its steelplants that make it one of the most polluted cities in Kazakhstan.
Second of all, there is the Dolinka Karlag. A labour camp during communist times for political prisoners that came all over the Soviet Union. This included a high number of Volga Germans that were deported to Karaganda by Stalin.
Things to do: Soviet murals, Gagarin monument and Ecological museum
Things to see nearby: Dolinka Karlag, Temirtau, Karkaraly mountains, Kyzylarai mountains
Where to sleep: Hotel Chaika (where the Soviet cosmonauts used to stay)
Read more about the best things to do in Karaganda
Almaty
Almaty is by far my favourite place in Kazakhstan. The city itself is a dynamic mix of its Soviet heritage and a more recent modernization spree. But most of all, its the snowcapped peaks of the Tien Shan mountains visible from the city that makes me love Almaty so much.
The region around Almaty has some of the most spectacular nature in Kazakhstan. The steppes in this area has a high variety of landscapes with mountain lakes, stunning rock formations, singing sand dunes and wild Przewalski horses.
Things to do: Koktobe hill, Panfilov Park, Zenkov cathedral, Arasan baths, Green market, Medeu, Shymbulak, Big Almaty lake
Things to see nearby: Lake Issyk, Charyn Canyon, Kolsai Lakes, Kaindy Lake, Altyn Emel National Park, Kapchagay Lake, Tamgaly petroglyphs
Where to sleep: Almaty Backpackers hostel (great place to meet other people)
Read more about the best things to do in Almaty
Shymkent and Turkestan
Shymkent and Turkestan were both at the heart of Kazakhstan's silk road. Although there is not much history left in Shymkent, it is a pleasant city. It is the perfect place to visit the nearby national parks and historical towns of Turkestan and Sayram.
Turkestan provides a glimpse of the Islamic architecture you see in Uzbekistan. The city is home to one of Kazakhstan's most important architectural and spiritual landmarks, the Mausoleum of Khoja Ahmed Yasawi. This mausoleum is a UNESCO World Heritage Site and represents one of the best-preserved examples of Timurid architecture in Central Asia.
Things to do: Shymkent bazaar, central park, Alley of Glory, Mausoleum of Khoja Ahmed Yasaui
Things to see nearby: Turkestan, Sayram, Aksu Zhabagly National Park, Sayram Ugam National Park
Where to sleep: Shymcity Hostel (great location, friendly people) or Hostel Sweet home
Read more about the best things to do in Shymkent
When to visit Kazakhstan
Kazakhstan has an extreme climate. Winters are bitterly cold and summers unbearably hot. The best time to go backpacking Kazakhstan is spring and autumn.
Spring: Spring is generally a pleasant time to visit Kazakhstan, as the weather starts to warm up, and nature comes to life after the winter. From the 21st of March till the 23rd of March is Nowruz. The new years spring festival celebrated in Iran and Central Asia.
In April and May you can see the wild tulips in Aksu Zhabagly National Park and bird migrations in Korghalzyn National Park.
Summer : During the summer from June till August it can get hot in Astana and the steppes, but this is the perfect time to go trekking in the Tien Shan mountains near Almaty or the Altay mountains in the northeast of Kazakhstan.
Autumn: Autumn is another favorable time to visit Kazakhstan, as the weather is still relatively mild, and the landscapes take on stunning colors. It's a great time for trekking and hiking in the mountains or visiting cultural sites.
Winter: Winter can be extremely cold in Kazakhstan, particularly in the northern and central regions. However, if you enjoy winter sports like skiing and snowboarding, the ski resorts in Almaty and East Kazakhstan offer excellent opportunities for winter recreation.
Backpackers Accommodation in Kazakhstan
With Tourism on the rise in Kazakhstan, hostels for backpackers are opening up all over the country. If you want to learn more about Kazakh culture, I can also recommend to sleep in a homestay. The Kolsai lakes, for example, are an excellent place to stay with a Kazakh family.
What and where to eat in Kazakhstan
Let me be honest. Kazakh food or Central Asian food in general isn't exactly haute cuisine. On top of that, most cheap places to eat serve bland versions of the classic dishes available. But wait till you had some homecooked dishes in a homestay or got a lucky choice of restaurant and you will be craving that experience back home.
What to eat in Kazakhstan
With its nomadic heritage most Kazakh food is centred around horse meat and there is a mix of Russian and Central Asian cuisine available. Beshbarmak is the national dish which is a noodle soup with horse meat. Other common central asian dishes worth trying are plov (rice with carrot), laghman (noodle soup with vegetables), kuurdak (potato stew with meat), shaslyck (central asian kebab), manty (dumplings), baursaki (fried dough snacks) and samsa (samosa snacks).
You can also try Kymyz (fermented horse milk) and Shubat (fermented camels milk). Kymyz is believed to have healing properties and every year on the last saturday of may is the World Kymyz Muryndyk festival in Taraz.
Where to eat in Kazakhstan
Bazaars and roadside cafe's are a great place to try local food on a budget. Hygiene and quality varies so look which places get the most customers to get the best and prevent getting sick.
Stolovaya's are in the budget range and have a buffet with a wide range of salads, soups and meat dishes you can choose from. Kaganat is a popular stolovaya chain throughout Kazakhstan. Stolovaya's are also great for vegetarians that might have a hard time elsewhere. The quality ranges between mediocre lukewarm meals to surprisingly good dishes. The soups are always good.
In the major cities you have plenty of choice between budget and mid range restaurants. Cities like Nursultan (Astana) and Almaty also offer a nice respite from central asian food with Japanese, Italian and other international restaurants.
Language and culture in Kazakhstan
The official languages in Kazakhstan are Kazakh (a Turkic language) and Russian. Both use the Cyrillic alphabet.
Even though it is not necessary, it will be useful to learn the Cyrillic script before you go backpacking in Kazakhstan. It is not too difficult and will be helpful in reading street names and place names.
The Kazakh people are descendants of Turkic tribes with a nomadic heritage that still dominates their culture today. Though Kazakhs are muslim they are very liberal and are not strict in following religious rules. When I visited during ramadan most restaurants were still open.
Kazakhstan is a very multicultural and diverse country, mostly because of the result of the Soviet Union and the deportations of political prisoners and whole ethnicities to Kazakhstan.
Kazakhstan's largest minority are the Russians and the Russian influence is strong. However, in recent years many Russians left Kazakhstan and this trend has accelerated after president Nazarbayev resigned. This makes Kazakhstan more Kazakh than ever.
How to travel in Kazakhstan
by train: The best way to travel in Kazakhstan is by train. With huge distances through the vast steppes they are an affordable and comfortable way to see the country. Read more about backpacking Kazakhstan by train in my post on how to travel by train in Kazakhstan.
by Marshrutka's: For shorter trips and day trips from the cities marshrutkas are the way to go if you are backpacking Kazakhstan. The minivans leave once they are full and operate on demand.
Malinovka, Borovoe, Dolinka, Turkestan, Aksu Zhabagly and Sayram Ugam are all possible to visit by marshrutka. Do keep in mind that most cities have multiple bus stations, each serving different destinations. Make sure you know which station you need to have.
Marshrutka's are the cheapest way to travel in Kazakhstan. For example, a marshrutka from Shymkent to Tulkibas (for Aksu Zabagly) costs 500 tenge (as of March 2019).
Shared taxi's: Shared taxi's are another way to travel in Kazakhstan. As a general rule of thumb they are twice the cost of a marshrutka, but also much faster.
For destinations where the demand is low, shared taxi's might be your only option. They leave once they are full, unless you pay for the vacant seats. Depending on the time of the day and where you go, taxi's fill up quickly or test the limits of your patience.
Shared taxi's to a certain destination are often on a specific location in the city that might not be obvious. Ask at your hostel to make sure you get to the right place.
When negotiating the price make sure you want a shared taxi and not a private taxi. Drivers might encourage you to buy the other seats so that you can leave immediately. Depending on the price and how quickly the car fills up you can consider this. Otherwise, let the driver know you are happy to wait for other passengers.
Hitchhiking: Hitchhiking is quite common in Kazakhstan and is a safe way to travel around for both travellers and locals. You will often see people at the side of the road waiting for a ride.
Cars happily stop so they can share the costs of their fuel and any car can become a taxi this way. Therefore you should keep in mind that hitchhiking is not free in Kazakhstan. It is expected that you pay the driver something at the end. The amount would be the equivalent to the cost of a shared taxi.
Renting a car: Renting a car is not the cheapest way to travel in Kazakhstan and the distances are huge, but it will give you a lot of freedom. The main reason for considering to rent a car is that it will allow you to visit some of the more remote destinations in Kazakhstan.
With public transport you are limited to the main cities and some of the easier day trips. By car, however, you can visit the Altay mountains, Altyn Emel National park and other off the beaten path places. The list of possible exciting destinations becomes endless if you have your own car.
Renting a car can even be cheaper than taking a tour through a travel agency. For example, I ended up renting a car in Almaty during my second visit to see the Kolsai lakes and Altyn Emel. It was way cheaper than the prices I was quoted for a tour to both parks.
Useful Apps for Backpacking Kazakhstan
2Gis: this app has city maps of most cities in Kazakhstan including information on public transport. You can download the maps offline and then simply tell the app where you need to go. It will show you which buses you can take or how far it is to walk.
Yandex: the Russian version of uber also works in Kazakhstan. It is an easy way to order a taxi or get an idea of how much a taxi should cost on a certain route.
Backpacking Kazakhstan: Money Matters
Kazakhstan uses the Kazakh Tenge. In Nursultan (Astana), Almaty and Shymkent there are enough ATM's. You can also exchange Euro's, dollars and Russian roubles. Kyrgyz and Uzbek som are best exchanged at the border, because it is unlikely you can still exchange them in the next city. Look for obmen valyuty for an exchange office.
Once you go outside of the cities it is best to bring enough money with you in Kazakh tenge. Kazakhstan can be both a cheap destination and rather expensive, depending on how and where you travel. Compared to the other Stans, Kazakhstan is on the higher side. Expect to pay between 30 dollars a day if you travel on a budget.
accomodation: around 10 dollars for a bed in a dormitory, around 30 dollars for a double private room.
food: less than 5 dollars if you stick to stolovaya's or the bazaar, around 8 – 10 dollars if you go to a more midrange restaurant.
transport: expect to pay about 2 or 3 dollars for a marshrutka ride of an hour. Shared taxi's are often double the price of a marshrutka, but faster. A train ticket from Astana to Almaty costs between 25 and 35 dollars on the new high speed train and between 10 – 15 dollars in the older soviet trains.
For a more detailed information I can recommend this post about Kazakhstan travel costs
How to save money in Kazakhstan
Kazakhstan is still not an expensive country. Public transport and local food in simple restaurants are extremely cheap.
However, tourism infrastructure outside of the cities is almost non existent. Therefore visiting some of the more remote national parks such as the Altay mountains, the Charyn Canyon or the Kolsai Lakes are not that easy and require tours that can add up to your budget.
A pity, because Kazakhstan has such beautiful nature that is well worth the effort. Here are some tips to save costs while backpacking Kazakhstan.
Kazakhstan budget tips
Meet up with other people: Tour companies often let you pay per minivan with driver. This means that you can divide the costs per person. The more people, the cheaper the price. Hostels are a great place to meet with other travellers.
Plan your trips in the weekends: Some tour companies offer shared trips in the weekends. These services are also used by expats and locals and therefore considerably cheaper. Local agencies like Steppe spirit and Campit.kz advertise their tours on their instagram sites in Russian. You can contact them for assistance in english. Almaty Backpackers Hostel also has trips to Charyn Canyon and Kolsai Lakes and Qazway tours has daytrips to Borovoe NP in the weekends.
Hitchhiking: Hitchhiking is quite common in Kazakhstan. You often see people standing next to the road and cars happily stop to share the costs of fuel. It might require a bit more time and patience, but it would be much cheaper than a tour and an adventure in itself. Do keep in mind that it is is not free. It is expected you pay something to the driver in the end.
Is it safe to travel in Kazakhstan?
Kazakhstan is a very safe country to travel in if you take the normal precautions. During my two trips backpacking in Kazakhstan I did not encounter any problems and people have always been very friendly and helpful, including authorities.
Corruption & bribes: Corruption is no longer as rampant as it used to be, but still a problem in Kazakhstan. However, as long as you are not breaking any laws, you are unlikely to be confronted with bribes as a tourist. Always carry your ID and in the rare case that the police stops you and does try to extort money pretend not to understand.
Crime in Kazakhstan: For travellers the biggest risk in Kazakhstan is petty theft and pickpocketing. Although crime towards foreigners is rare, it sometimes happens in crowded places like bazaars. Keep your valuables safe and don't flash around with expensive items.
Solo Female Travel in Kazakhstan: I travelled as a solo female traveller around the country for a month using public transport and trains. In my experience Kazakhstan is a very safe country for backpackers, whether you travel alone or not and whether you are male or female.
Kazakhstan is a muslim country and even though most people identify with islam, they rarely follow strict religious rules. Kazakh people are very friendly and helpful towards travellers. If anything, they might be curious why you are traveling alone as a woman.
That said it is better to dress modestly. Make sure you cover your shoulders and knees. Especially outside of the city where people are more conservative.
Sustainable Travel in Kazakhstan
Kazakhstan is seeing more tourists every year. While Tourism is a welcome source of income it can also have negative consequences. Traveling sustainably in the country, involves conscious choices that minimize your environmental impact and support the local community.
Support the local community: You can support the community by purchasing goods and services from local vendors, artisans, and restaurants. It is better to try Kazakh cuisine that uses local ingredients rather than imported foreign foods. Kazakh food is not very vegetarian friendly, but there are a few vegetarian restaurants in the capital of Astana and Almaty.
Stay in small scale sustainable hotels: It is also better to stay in locally-owned guesthouses or homestays to support the local economy directly. These accommodations often have a more positive impact on the environment compared to large hotels. Where possible, I can recommend staying in a homestay for an authentic cultural experience. You might want to bring a small book with pictures of your family to break the ice.
You can try to look for guesthouses or homestays that prioritizes sustainable practices. That said, environmental awareness is still low. It's up to you to use water sparsely, turn off lights, air conditioning, and heating when leaving your accommodation.
Use public transportation: Kazakhstan has a well-developed public transportation system with buses. Opt for public transport, whenever possible, instead of taxis or private cars to reduce carbon emissions. Avoid internal flights. The journeys on road might be long, but the views are spectacular.
Leave no Trace principle: Kazakhstan has lots of natural beauty and mountains. When hiking, stick to designated trails when they are there, avoid disturbing wildlife or picking plants, and leave no trace of your presence. Ensure you take all your trash back with you and dispose of it responsibly.
To avoid single-use plastics, invest in reusable items. For example, you can bring your own water bottle with a filter that you can refill at your accomodation. At last, use biodegradable and eco-friendly personal care products to minimize pollution of water sources.
Respect the culture: Besides environmental concerns it is also important to respect the culture. Kazakhstan is an Islamic country with a nomadic past that is just opening up to tourism. Therefore, learn about the local customs and traditions beforehand and be mindful of your behavior.
People will appreciate it, if you dress modestly, especially at religious sites. Learning a few basic phrases in Kazakh or Russian, can go a long way in building meaningful connections and to learn more about the local culture. Not everybody is happy to have their picture taken. When in doubt, ask permission.
Resources about Backpacking Kazakhstan
Caravanistan: Caravanistan has a wealth of information about Kazakhstan and other countries along the Silk road.
Travel to Eastern Europe Facebook group: This Facebook group is full of experts and experienced travellers with a passion for Eastern Europe and Central Asia. If you have any questions left you will find or get an answer here.
Backpacking Central Asia Facebook group: This Facebook group has a wealth of information about backpacking central Asia. It is also a great place to meet other travellers.
Books about travel in Kazakhstan
Bradt guide: The most comprehensive travelguide about Kazakhstan that is very strong on background information.
Lonely Planet Central Asia: The most popular travel guide doesn't have a guide for Kazakhstan in particular. However the central Asia Lonely Planet has a good section on Kazakhstan.
Christopher Robbins – In search of Kazakhstan, the land that disappeared: This book is fun to read before or during your trip to Kazakhstan. It is not too critical about the government and is a bit simplistic in that regard, but then it is not a book about Kazakh politics. The travel stories bring you along some of Kazakhstan's most interesting places.
Joanna Lillis – Dark Shadows Inside the secret world of Kazakhstan: An excellent book that will give you a better understanding about the politics of Kazakhstan through the stories of Kazakh people. In my opinion a must read and one of the best books about the country.
Erika Fatland – Sovietistan: An anthropologists journey in central Asia. Her travel stories come with the right amount of background information about the ex soviet countries. Her new book The Border:A journey around Russia also includes Kazakhstan and I enjoyed it just as much as Sovietistan.
Disclaimer: This post about backpacking Kazakhstan contains affiliate links. If you buy any service through any of my links, I will get a small commission at no extra cost to you. These earnings help me to keep Backpack Adventures alive! Thanks for your support!
---
---