Backpacking Kerala: the ultimate travel guide
This post is a travel guide about backpacking Kerala in India. Kerala's tourism board promotes this small state in the South of India as God's own country.
I don't often agree with such promotion slogans, but backpacking Kerala was indeed coming pretty close to my image of paradise on earth. The palm-fringed backwaters, pristine beaches, incredible nature and delicious food all make Kerala a great destination for travellers.
Why Backpacking Kerala?
India can be intense. You either love it or hate it. For some, the culture shock is simply too much. I know people that told me they would never visit India again. For sure they haven't been to Kerala yet and I always tell them to give India a second chance in Kerala.
Backpacking Kerala makes for a gentle introduction in India. It isn't completely immune to India's chaos, but in general things are cleaner, more relaxed and better organized. It is not only the most beautiful state, but also the best developed with the highest literacy rates and life expectancies in the country.
Many say Kerala is not like the rest of India and I must say that it was indeed a very different experience from my trips to Rajasthan or Karnataka. In some ways it reminded me more of Sri Lanka. Cities are not as big and congested, people are more respectful and Kerala's natural beauty is simply stunning.
Kerala is full of peaceful and quiet places such as the tranquil backwaters, the hill stations and the beautiful coastline. It's also the perfect destination for birdwatchers and wildlife spotters. If you love the outdoors, you will love Kerala.
Kerala is mostly about nature and you won't find the temples, palaces and forts you find in places like Rajasthan. However, Kerala does have a rich cultural heritage with traditional art and dance performances such as Kathakali.
Consider yourself lucky if you happen to be in Kerala when a local festival is going on. There seem to be a lot of festivals and they often come with folk music and dance performances.
Visas for Backpacking Kerala
For backpacking Kerala everybody needs a valid passport and visa for India. Most nationalities can request an e-visa online. Some can only get a visa through an Indian embassy.
If you are from Pakistan things are more complicated and you need a government clearance as well.
How to travel to Kerala
Travel to Kerala by plane
For international visitors it is probably cheapest and best to fly into Trivandrum international airport or Cochin international airport.
From Trivandrum or Cochin you can continue your travels to Kerala by train or bus.
Travel to Kerala by train
Kerala has an excellent train network that connects Kerala with the rest of India. Trains run from the main cities in Kerala to Bangalore, Mysore, Chennai, Madurai and beyond.
Places to visit when Backpacking Kerala
Trivandrum
I started my Kerala itinerary in Trivandrum, or Thiruvananthapuram. It took me a while before I learned pronouncing the latter. To be honest, there is not that much to see in Trivandrum. If it doesn't fit naturally in your Kerala itinerary you don't miss much by skipping it.
Trivandrum serves more like the gateway to Varkala and Kovalam. Kerala's most popular beach destinations. If you do find yourself for some time in Trivandrum the Shri Padmanabhaswamy Temple makes a nice visit to get a taste of Dravidian style temple architecture.
For a cheap lunch or dinner I can recommend the Indian coffee house, also known as the Maveli cafe. With its spiralling interior and waiters in traditional costumes it is quite the experience.
Transport: From Trivandrum it is easy to hop on a bus or train to Kovalam, Varkala, Alleppey or Cochin
Where to sleep: Rather than staying in Trivandrum I suggest that you already make your way to nearby Varkala for a more scenic location and better selection of accommodation options. However, if you do find yourself in Trivandrum I can recommend La Casa Homestay or the friendly Mary Land homestay.
Varkala and Kovalam
Varkala and Kovalam are Kerala's most popular beach destinations. The question is which one to visit and the answer depends on what you are looking for.
I visited both and preferred Varkala. It's more laid back and the scenery around Varkala is extremely beautiful. It reminded me of Gokarna as it is a pilgrim town for Hindus as well. From Varkala you can rent a scooter to explore the scenic fishing villages surrounded by coconut groves or organize boat tours in the backwaters around Kappil or Anjengo.
That said, Varkala is also a holy temple town for the locals and it is important to dress modestly. It is not the kind of beach where you can soak up the sun and swim in the sea. If that is what you are looking for, Kovalam is a better option.
For me, Kovalam lacked the charm of Varkala though and it isn't as picturesque. Still,I had a great time in both places. Kovalam has some great resorts to choose from and spending a day at lighthouse beach is quite nice.
Transport: Both Varkala and Kovalam are easy to reach by bus from Trivandrum
Accomodation: In Varkala I stayed in Bamboo village at the north side of the cliff, close to black beach and kappil beach. In Kovalam I can recommend the Mookambike beach house.
Kerala's backwaters
Most people come to Kerala to see the famous backwaters. A network of palm fringed waterways that stretches inland from the Malabar coastline and that features in many romantic bollywood movies.
Alleppey is often seen as the gateway to the backwaters in Kerala, but it is certainly not the only place to see them. In my opinion they are not even the most scenic backwaters in Kerala and there are lots of alternatives. More beautiful and more quiet than the somewhat overly touristy Alleppey.
I already mentioned the Kappil and Anjengo backwaters near Varkala. My personal favourite were the backwaters at Munroe island and also around Cochin you can organize canoe tours into Cochin's backwaters.
To spread tourism more evenly and to have a unique experience I can definitely recommend to consider one of these more off the beaten path backwater destinations in Kerala.
Munroe island
Munroe island was one of the highlights of my Kerala itinerary and I feel it deserves it's own place here. It's backwaters are the most serene and navigating the narrow palm fringed canals allows you to see some of the most stunning sceneries in Kerala.
Munroe island is in my opinion one of the best places in Kerala to see the backwaters, but also to get a taste of local life. Munroe island has a number of excellent and friendly homestays where you can see daily life on this peaceful and relaxed island full of coconut grooves and spice plantations.
Transport: Either take a taxi or train from Kollam
Accomodation: one of the first homestays on the island is Vijeesh's homestay that I can truly recommend. It was the highlight of my trip.
Alleppey
Alleppey is Kerala's main tourist attraction. It is also called the Venice of India and it attracts thousands of tourists every year. I already said there are more scenic backwaters in Kerala, but that doesn't mean you shouldn't visit Alleppey.
Nothing can beat the range of options you have in Alleppey, especially if you want to stay in a houseboat. From multiple-day tours on luxurious houseboats to day trips on canoe orthe public ferry.
If you have a really tight budget, Alleppey offers the cheapest way to explore the backwaters. You could spend days taking public ferries to the small towns in the area. Even if you do have the money to treat yourself on a unique houseboat experience or a canoe day trip I would still recommend to take a public ferry at least once. It is a great way to see a bit of local life away from the tourist crowds.
Besides the backwaters there is not much to do in Alleppey. It is a friendly town though and the Alappuzha beach also isn't too bad.
Transport: Alleppey has easy train connections with Trivandrum and Cochin.
Accomodation: I stayed in the new Allepey 3 palms guesthouse. It is basic and a bit difficult to find, but a nice and cheap place to stay.
Periyar NP
Most people come to Kerala for its backwaters, but it is also a great destination for birdwatching and wildlife. One of Kerala's most accessible national parks is Periyar in the Cardamom hills. It is home to elephants, the bengal tiger, sambar deer, Indian bison, the Nilgiri tahr (a mountain goat) and lots of birds.
In Thekkady you can organize all kinds of activities. Think jeep safaris, jungle treks, bamboo rafting and river cruises on Periyar lake. The natural beauty in the park is outstanding and if you love nature I would certainly include Periyar in your Kerala itinerary.
Transport: Thekkady serves as the gateway to Periyar NP. It can be reached by bus from either Alleppey or Cochin.
Accomodation: In Thekkady you will find lots of nice homestays such as Spice Cottage homestay and Forest View Homestay
Cochin
Cochin is one of Kerala's most important cities. It consists of the new and modern Ernakulam and the old part called Fort Kochi. The latter is the main reason Fort Kochi is a must visit when backpacking Kerala. It's a journey back to colonial times when it's port was at the heart of the worldwide spice trade.
The town is still full of old pastel-colored colonial mansions, churches and palaces built by the Portugese and Dutch who dominated the spice trade. It's laidback and peaceful streets are still home to stores selling the best quality of spices you can find in India as well as other souvenirs.
Fort Kochi has a relaxed atmosphere and it is a nice place to stay for a few days. There are great homestays, boutique hotels, restaurants and cafes to keep you occupied while you explore the scenic alleys of Fort Kochi. Don't miss the chinese fishing nets and a sunset cruise.
Transport: Fort Kochi is accessible by ferry boat from Ernakulam. Ernakulam has a train station and it is easy to reach
Where to sleep: Fort Kochi has great accomodation options. For budget travellers I can recommend one of the many homestays. In Fort Kochi I stayed in Mother Tree B&B and I had a very pleasant stay here with Shyam and his family. Other homestays with good reviews are Kevin homestay, Dream catcher homestay and Aaron's homestay
Munnar
The small town of Munnar was the most popular hill station in Kerala for the British elite who sought refuge from the heat and chaos in India. Munnar lies in the mountain range of the Western ghats that stretches through Karnataka, Tamil Nadu and Kerala.
Even though Munnar is no longer a British resort, it remains a popular destination among travellers for its spectacular scenery of lush and green rolling hills dotted with tea plantations. With its unpredictable weather it is also still a welcome change from the scorching sun on Kerala's coastline. The fog that often rolls over the hills and the afternoon rains add to the charm.
As popular as Munnar might be under backpackers, it is actually not that backpacker friendly. Munnar itself is not that appealing and for its tranquil natural beauty you have to head out of town. Activities like visiting the tea plantations and tea factories require tours, often organized by your guesthouse.
Munnar is the kind of place where it really pays off to do your research and maybe pay a bit more for a nice place to stay with good reviews. If you want things cheap with all the facilities nearby, stay in town, but don't expect to be surrounded by nature. For the stunning mountain vistas stay out of town.
Transport: Munnar has no train station and the way to get there is by bus. There are daily buses to Cochin and Thekkady. The road from Thekkady to Munnar was one of the most scenic journeys in Kerala. It reminded me of the scenery from the famous Kandy to Ella train in Sri Lanka.
Where to sleep: Munnar is a place to carefully select your accommodation. Do you want to stay out of town in nature, but without facilities or the less scenic option in the midst of noisy Munnar town.
It is good to be aware that Munnar often refers to a pretty large area. To make things more confusing you have Old Munnar and New Munnar town.
There is no shortage of accommodation options, but the more remote, the more dependent you are on your hotel for transport, activities and food. Therefore it's best to choose wisely.
For tranquil nature choose Green Tea View, Thoppil homestay or Green Valley Vista. A good option in old Munnar town is Greenview holiday inn.
Wayanad NP
Wayanad in the north of Kerala is also part of the Western ghats mountain range. It is not only home to scenic tea, coffee and spice plantations, but also one of Kerala's most beautiful national parks with a lucky chance to see elephants, nilgiri tahr or tigers.
Unfortunately wildlife safaris aren't as well organized as in Periyar and, like Munnar, Wayanad isn't very backpacker friendly. There are lots of things to see and do, but you will either need your own transport or a tour.
That said, Wayanad has beautiful resorts in the midst of nature and because it is a bit remote, more quiet and peaceful than Periyar.
Transport: Muthanga and Tholpetty is where one can arrange a jeep safari into the park. Both can be reached by bus from other destinations in Kerala.
Accomodation: the Three Roots resort in Sultan Bathery is a good budget option.
When to travel in Kerala
The best time to visit Kerala is between October and March. In October temperatures cool down and you might have a chance to join the festivities for Dussehra and Diwali. India's biggest festivals.
Temperatures remain pleasant till March. In April and May it becomes extremely hot. In June it is the start of the monsoon that lasts till September and will see lots of rainfall. Floods are not uncommon in Kerala during this period.
Backpackers Accommodation in Kerala
Accomodation in India is cheap and there are lots of options in different price ranges. New hostels with clean and professional dormitories are opening up as well throughout India such as Zostel Hostel that has branches in Cochin, Alleppey, Varkala or Vagamon.
Oyo rooms are a great option to look for accommodation if you prefer good quality private rooms. They have different price classes and are not necessarily the cheapest, but they sometimes have good deals available.
Kerala is also a great place to pamper your body and soul if your budget allows. There are top class beach resorts and serene ayurvedic spas as well as yoga retreats.
If you are looking for off the beaten path homestays I can recommend NotonMap. as you can guess these places are remote and small scale. You stay with local families in rural India and therefore it is a great way to learn more about India's diverse cultures.
What and where to eat in Kerala
Don't make the same mistake I did by underestimating the variety of food in India. There is actually no such thing as Indian food. Every region has its very own cuisine and the indian thali ( a set meal ) will be different from place to place.
Keralan food is influenced by its abundance of coconut grooves and spice plantations. Some essential ingredients in a lot of dishes are coconut milk, curry leaves, mustard seeds, tamarind, black pepper, cinnamon and turmeric.
Kerala is great for vegetarians. A true veggie feast is a sadya. A complete meal with sometimes more than 20 different curries, pickles, snacks and desserts. It's served with rice on a banana leaf.
Meat is also popular and unlike the rest of India beef is on the menu too. Famous is the Malabar paratha. A layered bread that is eaten with beef curry.
With its long coastline Kerala is also one of the best places in India for seafood. Favourites are fish moilee (fish stew made with coconut milk) or prawn curry.
Restaurants in Kerala alse serve popular south indian dishes like dosa, idli, appam and sambhar as well as north Indian food.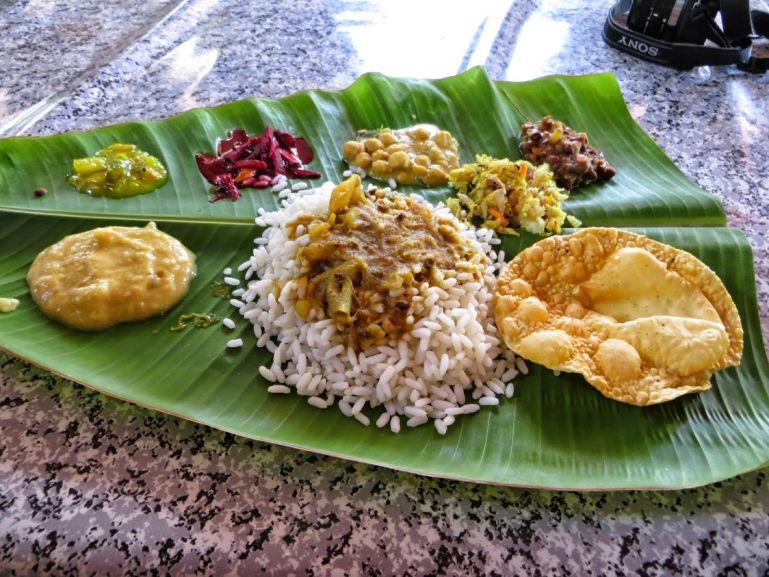 Language and culture in Kerala
Kerala is inhabited by the Malayali people who are part of the Dravidian cultures in South India. Throughout the years their culture has been influenced by its neighbours as well as the people they traded with. The port city of Cochin exported spices for more than 5000 years to the Arabs, the Portugese, the Dutch and others.
Kerala's rich cultural heritage is visible in its unique traditional folk art. Most famous is Kathakali, a vivid dance performance in colourful costumes and masks. Kathakali is not the only dance form out there though, more tribal and ritual dances exist with equally difficult names.
Kerala's folk tales often play a significant role in its dance performances and festivals. The biggest festival in Kerala is Onam, a harvest festival that sees ten days of celebrations with traditional music and dance.
Kerala is also home to the oldest and most comprehensive system of martial arts in the world. Kalaripayattu is impressive to watch. It is based on control of mind and body and any training includes lots of knowledge based on the principles of ayurveda and yoga.
Ayurveda has a long history in Kerala and still plays an important role in Keralan culture. As the ancient science of living it promotes a balanced life to prevent ailments. Some say that it is in Kerala that one can find the most pure and authentic ayurveda treatments.
Kerala speaks over 16 languages, but Malayalam is the most widely spoken and official language of the state.
How to travel in Kerala
Backpacking Kerala by train
The best way to travel through Kerala is by train, especially for the longer distances. The only disadvantage is that trains do get full and it is better to reserve seats beforehand as soon as possible.
You can book train tickets online directly through the Indian railways (IRCTC). Unfortunately this is not always a straightforward process. For a small extra fee you can use 12goAsia or Makemytrip.
If you plan to buy your tickets online at the last minute I can recommend Confirmtkt that gives an indication how high the chances are that a possible waiting list ticket will become an actual ticket.
If you prefer not to book tickets online I strongly advise you to go to a train station on your first day.
I always travelled in sleeper class and think it is ok. In theory seats are reserved, so there should not be more people in the train than there are seats. In practice though there will always be a surplus of human beings. If you find one or more persons on your seat, just be firm about your reservation and that the whole seat is yours.
Backpacking Kerala by bus
If trains are full and you could not get a ticket. Don't panic. There are also frequent buses between the major cities. You can check timetables and book tickets through Redbus. Some places in Kerala like Munnar can only be reached by bus.
Backpacking Kerala by boat
With its intricate maze of backwater canals it is also possible to travel in Kerala by boat. From Alleppey there are public ferries going to places like Kollam and Kottayam.
Taking a public ferry is more about the experience, the scenery and getting to know local life than speed, comfort or efficiency. For example, the ferry from Kollam to Alleppey takes 8 hours.
The public ferries are by far the cheapest way to see the backwaters in Kerala and go off the beaten path. You could spend a day in Alleppey taking a public ferry to small towns where few tourists come.
I took the public ferry from Alleppey to Kottayam to get to Periyar NP which took about 3 hours and I really loved the journey.
Useful Apps for backpacking Kerala
Ola
Taxis and tuk tuks are cheap in India, but the use of a taxi hailing app makes negotiating a price much easier for travellers. Uber works in Kerala as well, but it's useful to have both.
Travelkhana
Are you on the train and hungry and don't feel like eating the somewhat dubious food on the train? With travelkhana you can order food that will be delivered to you on the next station in your Kerala itinerary
Money matters for Backpacking Kerala
There are ATMS in most major cities like Cochin, Alleppey and Trivandrum. However, In India, you never know so I would not solely rely on ATM's. Especially in smaller towns the ATMS might not work or run out of money. My advice is to also bring some cash in euros or dollars.
Travelling in Kerala is cheap. If you stay in cheap guesthouses and eat local food on the streets you can easily get by on less than $20 dollar a day. For 30$ a day you can travel comfortably throughout Kerala, staying in somewhat better places.
Costs of travel in Kerala
Accommodation: Less than 10 euro for a dormitory room and less than 15 euro for a basic private room
Food: Street Food is available for 2 – 3 Euro. A complete meal in a budget restaurant will be less than 6 Euro and probably a little bit more in a mid range restaurant.
Transport: Around 4 EURO for a bus journey from Alleppey to Munnar or 2 – 3 EURO for a train ticket from Alleppey to Cochin.
Tours: Tours will be your biggest expense if you opt for them. An overnight houseboat tour in Alleppey is available from 70 Euro onwards. Canoe tours are much cheaper and cost around 15 Euro per person for a full day group tour. There are lots of options in between. Always compare and check what is and what is not included in the price.
Safety when Backpacking Kerala
In general, Kerala is one of the safest states in India. Crime is rare and people are very friendly. With common precautions you can save yourself a lot of troubles. Opportunity theft does happen so don't flash around with your wealth and keep your valuables safe.
The biggest risks in Kerala are related to your health. Sanitary conditions in Kerala are better than elsewhere in India, but still diarrhoea is the most common health issue among travellers. Bring a water filter with you and a hand sanitizer to minimize the risk.
Be careful with street food and dodgy restaurants. If it comes to street food I always look where the local people go. If a place is busy with locals it is probably safe to try. The times I got an upset stomach was mostly due to mid range tourist oriented restaurants where you can't see what is happening in the kitchen. Ask if they use filtered water to clean vegetables and watch out with salads.
Kerala has lots of sunshine. To protect yourself from heat stroke or sunburn bring adequate protection such as sunscreen, a hat and sunglasses.
Solo female travel in Kerala
With all the news about sexual violence in India you are probably wondering if it's still safe to travel as a female. My short answer is yes and I travelled on my own throughout India several times without any real problems.
The good news is that in my experience South India is easier than North India. From all my journeys I felt most safe in Kerala and that was a welcome change from the attention you get in, for example, Rajasthan.
Unfortunately sexual violence remains a real problem in India and although less prominent in Kerala, it does exist. As a woman travelling alone you might be stared at or get some rude comments.
Below I will give some advice to prevent worse and you will most likely be safe.
Solo Female travel tips
Dress Modestly: Leave your bikini, short skirts and tank tops at home. Make sure your shoulders and legs are covered. Best is to buy a shalwar kameez. They are very comfortable, lightweight and easy to wash.
Keep your distance with men: Don't accept any invitation from a single man or let them take you somewhere secluded or quiet. This includes shopkeepers wanting to show you something special in the back of their store. In your interactions with men it is best to stay polite, but keep your distance. Getting too friendly is sometimes interpreted as an invitation for more.
Look as if you know where you are going: Even if you are completely lost, look self-assured and act as if you know very well where you are going. Make it a rule that once it gets dark your back at your hotel, unless you are with other people that you know. If you feel someone is following you, try to look for other woman in the street and ask for help. Often informing passersby of a dodgy situation will scare away a possible offender.
Avoid crowds: It's best to avoid crowds, especially during festivals like Holi. As the day progresses men often get drunk and intoxicated and they become rowdy and annoying. A safe way to enjoy festivals in India is to find a safe spot from where to witness it or stay close to other women and families if they are around.
Use your instinct: When I travel I always use my instinct. If you don't trust a situation, get out of there.
Resources about Backpacking Kerala
Lonely Planet: There are so many things to see and do in Kerala that besides the huge Lonely Planet of India there is a separate Lonely Planet for South India and Kerala that I recommend if you wish to visit only Southern India.
The God of small things by Arundhati Roy: A well written fiction book by Indian writer Arundhati Roy. It's about the childhood experiences of fraternal twins and how small things affect their life and behaviour. It's set in Kerala and a wonderful book to read.
Disclaimer: This post with a Kerala travel guide about backpacking Kerala contains affiliate links. If you buy any service through any of my links, I will get a small commission at no extra cost to you. These earnings help me to keep Backpack Adventures alive! Thanks for your support!
---
---