Backpacking Uzbekistan: the ultimate travel guide
This post is a travel guide about Backpacking Uzbekistan with all the practical things you need to know.
For years backpacking Uzbekistan wasn't that easy. An expensive letter of invitation, a bureacratic visa procedure and former president Karimov's human rights standards made me choose Kyrgyzstan and Kazakhstan over backpacking Uzbekistan. But then in 2019 the new president introduced a visa free regime for most nationalities and I decided that now was the time to go.
It might surprise you to hear that Uzbekistan is actually quite touristic, despite the earlier difficulties of getting in. Organized tour groups with wealthy middle aged tourists that limited their time to Khiva, Bukhara and Samarkand were more than welcome. It was individual backpackers that Uzbekistan was suspicious about.
Tour groups still invade the cities of Khiva, Bukhara and Samarkand, but beyond these cities is a country that is still untouched by tourists. Uzbekistan understands its potential and the new focus is to make it much easier for foreigners to visit their country.
Why Backpacking Uzbekistan?
My expectations for backpacking Uzbekistan were pretty high. Probably because it was on my bucketlist for so long. In my mind Uzbekistan became this magical place with all the glories of the ancient silk road cities.
I had a one month Uzbekistan itinerary. This was actually pretty long for backpacking Uzbekistan, but I also wanted to visit some off the beaten path destinations. I had a great time, but obviously the image in my head was different from reality.
Friendly people
In some ways, Uzbekistan surpassed my expectations. One thing that really made my month backpacking Uzbekistan so special were the people. Uzbek people are very friendly and it is very easy to travel off the beaten path. The less touristic a place, the more curious and welcoming the people.
Delicious food
Another positive surprise was the food. After backpacking Uzbekistan I can say that their cuisine is the best in Central Asia. Of course there is plov, but there is so much more to Uzbek cuisine. From the regional specialities like pumpkin dumplings in Khiva to cold noodle salads with horse meat in Tashkent. Some recipies are quite unique and Uzbekistan's colourful and vibrant bazaars are the best places to try them.
Soviet heritage
What is also unique about Uzbekistan is the interesting mix of its Islamic and Soviet past. Not that Uzbekistan does much to preserve its communist heritage. Modernization projects are quickly changing the face of many cities for better and for worse. Old neighbourhoods must make place for new and shiny appartments and Soviet traces are erased.
Tashkent is probably the best place to see Soviet architecture in Uzbekistan. When in 1966 an earthquake caused significant damage in the capital, the USSR saw their chance to rebuild the city in Soviet style. The Lenin statues might be replaced by new national heroes like Amir Timur, but brutalist buildings such as the State History Museum and the Istiklol palace still stand strong.
Questionable Islamic architecture
Of course there is also the one of a kind Islamic architecture in Khiva, Bukhara and Samarkand. But again, Uzbekistan had an interesting take on the preservation of its Islamic Heritage. Here it is the Soviets that are to blame for their rather agressive approach in renovating these cities. Khiva felt like one big open air museum that leaves you wondering if things were really that beautiful in the ancient Silk Road days.
My romantic and nostalgic mind would like to say it was, but more than once I realized I was looking to a completely new building that was more the result of Soviet imagination than historical accuracy. I felt that somewhere along the way the cities lost their authenticity, no matter how beautiful the results.
Visa and Registration for backpacking Uzbekistan
Uzbekistan has only recently opened its doors. Gone are the days of expensive visas, paperwork and bureaucracy.
Visa requirements: Since the beginning of 2019 Many nationalities no longer need a visa for backpacking Uzbekistan and for those who do, things are much simpler than before. Check the latest visa requirements on the Uzbekistan visa guide on Caravanistan.
Registration : Whether you needed a visa or not, everybody should make sure their registrations are in order. Basically you need a slip of paper that accounts for every night you stayed in Uzbekistan. The good news is that this is done for free by your hotel or hostel.
Most likely nobody will ever ask you to see the registration slips. However, if they do at the border and you can't show them, you might be in for some big problems. Definetly not worth the risk.
Registration is free so it is a simple task of not forgetting to ask for the registration slips if the hotel hasn't already given them to you. If you were in a night bus or night train keep your ticket.
How to travel to Uzbekistan
By plane: Aeroflot, Turkish Airlines and Air Astana have direct flights to Tashkent International Airport.
By train: Entering Uzbekistan by train is possible from both Russia and Kazakhstan. From Russia you can take the train from Moscow to Tashkent. It runs eventually through Kazakhstan and you will cross the border at Beyneu. Another route from Kazakhstan is the train from Almaty to Tashkent.
By bus: It is also possible to travel by bus from Kazakhstan. The easiest option is the bus from Shymkent to Tashkent. The journey takes about 5 hours.
When you travel from Kyrgyzstan it is possible to go from Osh to Andijon in the Fergana valley. From Tajikistan you can either cross the border from Khujand to Kokand in the Fergana valley or cross the border from Penjikent to Samarkand.
Places to visit in Uzbekistan
In this travel guide on backpacking Uzbekistan I will of course include the famous cities of Khiva, Bukhara and Samarkand, but also off the beaten path places like Tashkent, Karakalpakstan and the Fergana Valley.
I stayed for almost a month in Uzbekistan. I love slow travel, but even I admit that this is quite long. The most ideal time period to explore the country is 2 to 3 weeks.
You can check my detailed Uzbekistan itinerary if you like some ideas when planning your own. Also check my more elaborate post about the best places to visit in Uzbekistan.
Tashkent
Tashkent is the largest city in central Asia with more than 2 million people. Most people will come through Tashkent at some point in their Uzbekistan itinerary, but few give the city the attention it deserves.
True, there are no obvious tourist attractions and you will not find the Islamic buildings you see in Khiva, Bukhara or Samarkand. However it is one of the best cities in the country to see Soviet architecture. One of these Soviet legacies is the metro and the Tashkent metro stations are among the most beautiful in the world.
Tashkent is also a great place for those that love food. My favourite was National food in Tashkent with its extensive menu of Uzbek specialities.
My travel guide on the best places to visit in Tashkent will show you that there is enough to see and do for at least 2 days.
Things to do: Tashkent metro, Hotel Uzbekistan, Amir Timur square, Independence square, Hast Imom complex, Chorsu bazaar, State History Museum, Navoi Park.
Things to see nearby: Chimgan mountains and Charvak lake
Where to sleep: Art Hostel (clean and proffesional near Kosmovtlar metro station), Top Hostel (clean dormitories) & Bukhara Gold Hostel (near Tashkent train station)
Karakalpakstan
Remote Karakalpakstan is far from everything else. With its barren desert landscapes it's a different world from the rest of Uzbekistan. The Karakalpak people that live here actually have more in common with their Kazakh neighbours than the Uzbeks.
Nowadays it's hard to believe that this place wasn't always this desolate. In the days of the silk road many camel caravans passed through the Kyzyl Kum desert. The land was more fertile at that time with the Amu Darya river and the Aral lake that supported the nomadic Karakalpaks.
One decision changed their lives forever. The Soviets made Uzbekistan the cotton basket of the USSR and the irrigation needed for the cotton plantations drained the Aral sea.
The main reason to visit Karakalpakstan is to see the devastating effects of the Aral lake disaster in Moynaq. A sad town that had once a wealthy fishing industry, but is now struggling to survive.
Is it worth the long journey to get here? If you love off the beaten path desinations it definetly is. There is a certain beauty in the desert that is not as lifeless as it looks at first sight.
Three times a week there is a nighttrain from Tashkent to the Karakalpak capital of Nukus where art lovers will enjoy the Savitsky art museum.
Things to do: Nukus, Savitsky Art museum, Mizdakhan, Moynaq, Aral lake, Sudochie Lake
Where to sleep: Jipek Joli & Jipek Joli inn (Nukus)
Khiva
Khiva reminded me a lot of Kashan and Yazd in Iran. A scenic desert town that lets you travel back in time to the days of the Silk Road. The old center with its thick city walls almost feels like one big open air museum with mosques, madrassah's and traditional sand stone buildings.
During the day the city is taken over by tourists, but in the mornings and evenings its a magical place. Khiva is at it's best during sunrise and sunset and you will understand why photographers call this the golden hour.
Khiva is officially still part of Karakalpakstan and a good place from where you can also explore the Khorezm fortresses. The ruins of these ancient desert castles were a highlight of my trip to Uzbekistan.
My travel guide on the best things to do in Khiva will help you to get the most out of this city.
Things to do: Ichan qala, Kuhna Ark, Kalta minor minaret, Pahlavon Mahmud mausoleum, Tosh Hovli palace, Juma mosque, Islam Hoja minaret, former slave market
Things to see nearby: Khorezm fortresses
Where to sleep: Islambek Khiva (in old town of Khiva)
Bukhara
Bukhara is more than 2000 years old and was a centre of trade, scholarship and religion on the ancient Silk Road. It was always in competition with nearby Samarkand for being the capital of whatever empire ruled this part of the world.
Renovations have been modest in Bukhara and therefore it feels much more authentic than Khiva or Samarkand. Most of what you see today is from the 18th and 19th centuries when Bukhara was the capital of the Emirate of Bukhara.
My travel guide on the best things to do in Bukhara will help you to get the most out of this city.
Things to do: Lyab i Hauz, Chor minor, Covered bazaars, Ulugbek madrassah, Kalyon complex, Ark of Bukhara, Bolo Hauz mosque
Things to see nearby: Chor Bakr, Sitora i Mokhi palace, Naqsbandi complex
Where to sleep: Parviz guesthouse (near Chor Minor)
Samarkand
Samarkand claims to be one of the oldest cities in central Asia. It was once the capital of the Sogdian empire and one of the richest silk road cities in the world. The Mongols destroyed Samarkand in the 13th century, but not for long.
Amir Timur made Samarkand the capital of his empire in the 14th century and the city developed once again in a center of arts and religion. The Timurid monuments still define the city today, although they are heavily restored by the Soviets. The results are without doubt impressive.
Samarkand was one of my favourite cities in Uzbekistan. What I liked most is that all the shrines and mausoleums are not mere tourist attractions, but still active places of worship for the locals where Islam is intertwined with much older traditions and rituals.
Read more about the best things to do in Samarkand to make sure you visit the most important and most beautiful sights in the city.
Things to do: Registan, Gur-e Amir mausoleum, Bibi Khanum mosque, Shah-i Zinda mausoleum, Afrosiyob settlement, Siob bazaar
Things to see nearby: Shahkrisabz, Nuratau mountains
Where to sleep: Timur the Great (extremely friendly owners and delicious breakfast near registan) & Trip LE hostel (budget option near Registan).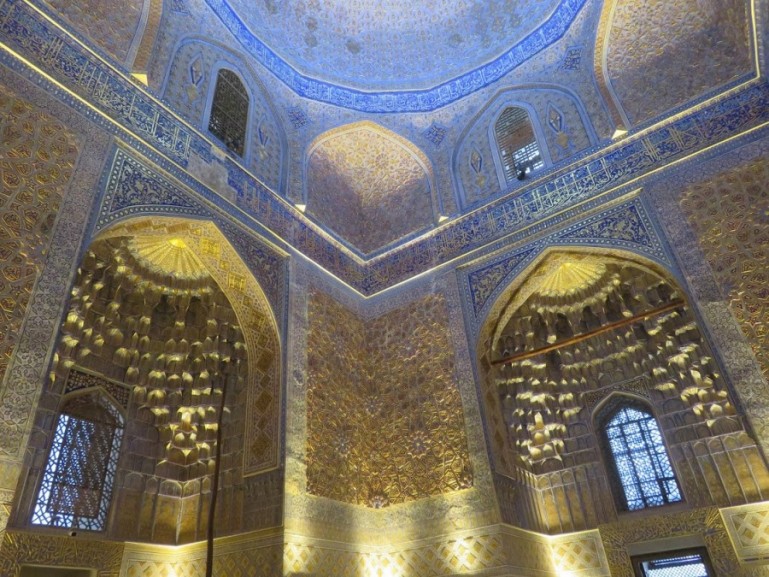 Fergana Valley
The Fergana valley is one of Uzbekistans most controversial and most important provinces. With its fertile soil and pleasant climate it is the industrial and agricultural heartland of the country, but also an area of resistance, religious fundamentalism and ethnic tensions.
For travellers there are no obvious tourist attractions, but I found plenty of charm in the Fergana valley. Colourful bazaars with friendly people and traditional towns where you can wander through scenic neighbourhoods.
Fergana valley is most famous as a center for handicrafts. Margilon is specialized in the production of silk and Rishton in the art of pottery. Because the area receives few visitors the factories and workshops are happy to give you a free tour.
Read more about everything there is to see and do in my Fergana Valley travel guide.
Things to do: Margilon, Rishton, Kokand, Namangan, Andijon
Where to sleep: Sakura Inn (Fargona), Valentina's guest house (Fargona), Ikat house (Margilon) & Ahmadkhon hotel (Kokand).
When to visit Uzbekistan
Uzbekistan has an extreme climate. Winters are cold and summers unbearably hot. The best time to go backpacking Uzbekistan is spring and autumn.
I visited Uzbekistan in spring and it really was a wonderful time with the trees blossoming and the festivities of Nowruz going on. This spring festival runs from the 21st of March till the 23rd of March and is celebrated all over Iran and Central Asia.
While I still had a little bit of wet snow in Nukus at the beginning of my journey, it was already getting pretty warm in Bukhara and Samarkand. During the summer from June till August it can get unbearingly hot in Uzbekistan.
From September and early October temperatures go down and this is another great time to visit the country. This is also the harvest season and the bazaars are full with fresh fruits and vegetables.
Backpackers Accommodation in Uzbekistan
With Tourism on the rise in Uzbekistan, hostels for backpackers are opening up all over the country. In Tashkent, Khiva, Bukhara and Samarkand you have plenty of choice in backpacker hostels.
In more off the beaten path places like Karakalpakstan and the Fergana Valley you are limited to hotels and guesthouses. They are slighly more expensive than a hostel, but still very reasonably priced.
What and where to eat in Uzbekistan
People generally don't travel to central Asia for the food. After Kazakhstan and Kyrgyzstan my expectations weren't that high, but Uzbekistan was a positive surprise. In my opinion, Uzbekistan has the best and most varied cuisine in the region.
What to eat in Uzbekistan
If there is one national dish in Uzbekistan it is plov. It became so popular that you can find this dish all over Central Asia and even in Russia. The basic ingedrients include rice, carrots and meat cooked in sheeps fat. Sometimes it includes nuts or raisins. A well prepared plov is a feast, but most roadside restaurants serve a bland mushy version.
Plov is everywhere in Uzbekistan, but Uzbek cuisine is much more than that. Influenced by its neighbours you can find all the classic Central Asian dishes such as laghman (noodles with vegetables), manti (dumplings), shaslyck (grilled meat) and samsa (filled pastries from a tandoor oven), but also Turkish dishes like dolma (stuffed vegetables) and dimlama (vegetable stew).
Something that is uniquely Uzbek is Naryn. A cold noodle salad topped up with slices of Kazy (horse meat sausage). Regional specialities include dograma (karakalpak version of beshbarmak or noodles with horse meat in broth), Shivit oshi (Khivan green spaghetti) and Tuxum Barak (egg dumplings from Khorezm).
A big favourite were the soups. You can never go wrong with ordering soup as a starter. Mastava (Uzbek rice soup), Manpar (soup with pasta) and Chuchvara (dumpling soup) come recommended.
You can check this Uzbekistan food guide for 16 dishes you should try in Uzbekistan
Where to eat in Uzbekistan
In the major cities you have plenty of choice between budget and mid range restaurants. Tashkent offers a nice respite from central asian cuisine with Japanese, Italian and other international restaurants. For the best Uzbek cuisine in Tashkent head to National Food.
Khiva is also a great city if it comes to food with some regional specialities like Tuxum Barak (egg dumplings) and Shivit oshi (green spaghetti) that you won't find anywhere else in Uzbekistan. Head to Terassa or the Khorezm art cafe to try them.
Outside of the city your choices are sometimes limited to bazaars and roadside cafe's. They are a great place to try local food on a budget, but they can be hit and miss. Hygiene and quality varies so look which places get the most customers to get the best and prevent getting sick.
Language and culture in Uzbekistan
The official languages in Uzbekistan are Uzbek (a Turkic language) and Russian. Nowadays Uzbek is using the latin alphabet, but especially in Tashkent you will also still see cyrillic. The Karakalpak language has an official status in Karakalpakstan and although this is also a Turkic language it is more close to Kazakh than to Uzbek.
Uzbekistan is a very multicultural and diverse country. The largest minorities are the Tajiks, Kazakhs, Russians and Karakalpaks, but due to the Soviet deportations you will even find small communities of Koreans and Ukrainians in the country.
The Uzbeks are one of the largest Turkic ethnic groups in the area. Their genetic heritage shows influences from both Iranian people and the Mongols.
The Uzbeks are closely related to other Turkic people in Central Asia. However, unlike the nomadic Kazakhs and Karakalpaks that were forced to settle down during the Soviet Union, the Uzbeks gave up their nomadic life quite early in history and developed villages and towns along the Amu Darya and Sir Darya rivers. They were to become the most wealthy cities on the ancient Silk Road.
The Uzbeks converted to Islam during the Arab conquest in the 8th century. Nowadays more than 90% follow Sunni islam. Although more religious than its neighbours in the north, Uzbekistan still has a rather liberal interpretation and Islamic fundamentalism is frowned upon by the government.
How to travel in Uzbekistan
Travel in Uzbekistan by train
The best way to travel in Uzbekistan is by train. With huge distances through the desert and new high speed trains between Tashkent, Khiva, Bukhara and Samarkand they are an affordable and comfortable way to see the country.
Read more about Uzbek train travel in my post on how to travel by train in Uzbekistan.
Shared taxi's and Marshrutka's in Uzbekistan
Besides the train, the most common way to travel in Uzbekistan is by shared taxi or marshrutka. The latter is an, often white, minivan that leaves once uncomfortably full. As a general rule of thumb shared taxi's are twice the cost of a marshrutka, but also much faster.
For destinations where the demand is too low for marshrutka's, shared taxi's might be your only option. They too leave once they are full, unless you pay for the vacant seats. Depending on the time of the day and where you go, taxi's fill up quickly or test the limits of your patience.
Shared taxi's to a certain destination are often on a specific location in the city that might not be obvious. Ask at your hostel to make sure you get to the right place.
When negotiating the price make sure you want a shared taxi and not a private taxi. Drivers might encourage you to buy the other seats so that you can leave immediately. You might consider this if the price is not too much or the taxi fills up very slowly. Otherwise let the driver know you are happy to wait for other passengers.
Useful Apps for Backpacking Uzbekistan
2Gis: this Russian app has city maps of most cities in Russia including information on public transport. You can download the maps offline and then simply tell the app where you need to go. It will show you which buses you can take or how far it is to walk.
They are now also developing maps of cities in central Asia. Kazakhstan and Kyrgyzstan are already included and since 2019 they also have maps for Tashkent. Other cities will hopefully follow as this app was extremely helpful backpacking in Kazakhstan.
Yandex: the Russian version of uber also works in Tashkent and Samarkand. It is an easy way to order a taxi or to get an idea of how much a taxi should cost on a certain route.
Google Translate: not everybody speaks english in Uzbekistan and google translate has allowed us to still have some kind of conversation with the friendly and curious people that we met.
Backpacking Uzbekistan: Money Matters
Uzbekistan uses the Uzbek som. Because of the huge inflation the largest note used to be 10,000 som (about 1 US dollar). Luckily they released a 50,000 som banknote in 2017 and even a 100,000 som bank note in 2019.
Getting money in Uzbekistan has become more easy, but can still be a bit complicated. Even though there are plenty of ATM's in Tashkent, Samarkand, Bukhara and Khiva most don't work with foreign bank cards or are empty.
How to find an ATM that works in Uzbekistan?
Most ATM's that work with foreign bank cards are in the luxury 5 star hotels in the cities. For example, in Tashkent we managed to get money in the Grand Mir Hotel.
Visa card rules in Uzbekistan and if you have a master card it is even more difficult to find ATM's that work. It also matters when you try your luck. In weekends ATM's often run out of money.
Because ATM's can be unreliable it is important to bring enough cash with you in either US dollars or Euro's. Look for obmen valyuty for an exchange office. Kazakh tenge or Tajik Somoni are best exchanged at the border, because it is unlikely you can still exchange them in the next city.
Once you go outside of the cities it is best to bring enough money with you in Uzbek som.
Costs of backpacking Uzbekistan
Uzbekistan is a very affordable destination and expect to pay between 30 dollars a day if you travel on a budget.
accomodation: less than 10 dollars for a bed in a dormitory that often includes breakfast, around 20 dollars for a double private room (as of April 2019).
food: less than 3 dollars if you stick to roadside restaurants or the bazaar, around 5 – 7 dollars if you go to a more midrange restaurant.
transport: expect to pay about 1 or 2 dollars for a marshrutka ride of an hour. Shared taxi's are often double the price of a marshrutka, but faster. For example, a shared taxi from Khiva to Bukhara costs $15 dollar (6 to 8 hours).
The train is the cheapest way to travel and to give you an idea, the train from Khiva to Bukhara costs $8 dollar onwards, depending on your class of travel.
Is it safe to travel in Uzbekistan?
Uzbekistan is a very safe country to travel in if you take the normal precautions. During my one month backpacking in Uzbekistan I did not encounter any problems and people have always been very friendly and helpful, including authorities.
Corruption & bribes
Corruption is no longer as rampant as it used to be, but still a problem in Uzbekistan. However, as long as you are not breaking any laws, you are unlikely to be confronted with bribes as a tourist.
Crime in Uzbekistan
For travellers the biggest risk in Uzbekistan is petty theft and pickpocketing. Although crime towards foreigners is rare it sometimes happens in crowded places like bazaars. Keep your valuables safe and don't flash around with expensive items.
Solo Female Travel in Uzbekistan
In my experience Uzbekistan is a very safe country for backpackers, whether you travel alone or not and whether you are male or female.
Uzbekistan is a muslim country and even though most people identify with islam, they rarely follow strict religious rules. Uzbek people are very friendly and helpful towards travellers. If anything, they might be curious why you are traveling alone as a woman.
That said it is better to dress modestly and make sure your shoulders and knees are covered, especially outside of the city where people are more conservative.
Sustainable travel in Uzbekistan
Uzbekistan is seeing more tourists every year. While Tourism is a welcome source of income it can also have negative consequences. Traveling sustainably in Uzbekistan, involves conscious choices that minimize your environmental impact and support the local community.
Support the local community: You can support the community by purchasing goods and services from local vendors, artisans, and restaurants. Uzbekistan is famous for its beautiful handicrafts such as ikat silk and pottery. It is better to try Uzbek cuisine that uses local ingredients rather than imported foreign foods.
Stay in small scale sustainable hotels: It is also better to stay in locally-owned guesthouses or homestays to support the local economy directly. These accommodations often have a more positive impact on the environment compared to large hotels.
Uzbekistan has a number of community based tourism initiatives with excellent homestays. Where possible, I can recommend staying in a homestay for an authentic cultural experience. You might want to bring a small book with pictures of your family to break the ice.
You can also try to look for guesthouses or homestays that prioritizes sustainable practices. That said, environmental awareness is still low. It's up to you to use water sparsely, turn off lights, air conditioning, and heating when leaving your accommodation.
Use public transport: Uzbekistan has a well-developed public transportation system with shared taxis and marshrutkas. Opt for public transport, whenever possible, instead of private cars to reduce carbon emissions. Avoid internal flights. The journeys on road might be long, but the views are spectacular.
Leave no trace principle: Uzbekistan has mountains and nature too. When hiking, stick to designated trails when they are there, avoid disturbing wildlife or picking plants, and leave no trace of your presence. Ensure you take all your trash back with you and dispose of it responsibly.
To avoid single-use plastics, invest in reusable items. For example, you can bring your own water bottle with a filter that you can refill at your accomodation. At last, use biodegradable and eco-friendly personal care products to minimize pollution of water sources.
Respect the culture: Besides environmental concerns it is also important to respect the culture. Uzbekistan is an Islamic country that is just opening up to tourism. Therefore, learn about the local customs and traditions beforehand and be mindful of your behavior.
People will appreciate it, if you dress modestly, especially at religious sites. Learning a few basic phrases in Uzbek or Russian, can go a long way in building meaningful connections and to learn more about the local culture. Not everybody is happy to have their picture taken. When in doubt, ask permission.
Online Resources about Backpacking Uzbekistan
Caravanistan: Caravanistan has a wealth of information about Uzbekistan and other countries along the Silk road.
Against the Compass: Against the Compass is one of my favourite travel blogs with some excellent posts on central asia and other off the beaten path destinations. I can recommend his Uzbekistan travel guide with 75 useful travel tips for traveling in Uzbekistan.
Travel to Eastern Europe Facebook group: This Facebook group is full of experts and experienced travellers with a passion for Eastern Europe and Central Asia. If you have any questions left you will find or get an answer here.
Backpacking Central Asia Facebook group: This Facebook group is all about backpacking central Asia and is a great place to meet other travellers.
Books about travel in Uzbekistan
Bradt guide: The most comprehensive travelguide about Uzbekistan that is very strong on background information.
Lonely Planet Central Asia: The most popular travel guide doesn't have a guide for Uzbekistan in particular. However the central Asia Lonely Planet has a good section on Uzbekistan.
Sovietistan – Erika Fatland: A wonderful book about an anthropologists journey in Central Asia including Uzbekistan.
Hamid Ismailov: Hamid Ismailov is an excellent Uzbek writer and journalist. Several of his books are translated in english.
Disclaimer: This post about backpacking Uzbekistan contains affiliate links. If you buy any service through any of my links, I will get a small commission at no extra cost to you. These earnings help me to keep Backpack Adventures alive! Thanks for your support!
---
---