How to visit the Belur and Halebid Temples in India
This post is a travel guide about the Belur and Halebid temples in Karnataka, India. After visiting the Somnathpur temple near Mysore I wanted to see more Hoysala architecture. That's when I read about the Belur and Halebid temples.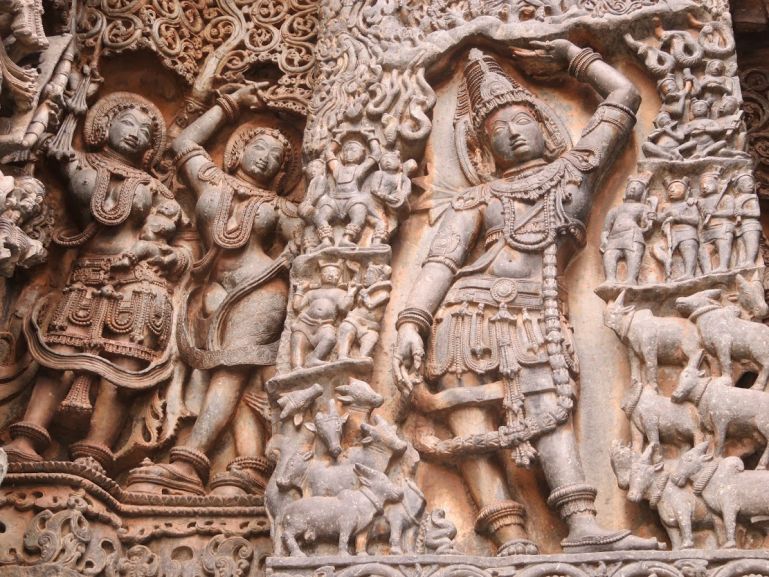 The Belur and Halebid temples
The Hoysala architecture comes from the time that the Hoysala kings ruled south India. This was a period in which arts, literature, philosophy and architecture flourished. From the 11th till the 14th century, the Hoysalas built more than 1500 temples in Karnataka alone.
The Belur and Halebid temples are the most beautiful temples left of the Hoysala temple art. Both Belur and Halebid, which are only 16 kilometers apart from each other, were once the capital of the Hoysala empire.
The empire covered a large part of South India. It weakened after several wars with Muslim rulers from the north. After decades of fierce resistance, the Hoysala king was killed in the battle of Madurai in 1343. After that, the Vijanagara empire, famous for the Hampi monuments, took over the region.
A lot of Hoysala monuments fell into decline. The Belur and Halebid temples too were damaged and renovated several times throughout history. Still, they have remained the finest examples of the Hoysala temple architecture and belong to the most intricateLy carved temples in all of India. Both have become UNESCO World Heritage sites.
Why visit the Belur and Halebid temples?
The Belur and Halebid temples are still relatively unknown among foreign tourists, despite the fact that they are much older than the more famous Hampi and much more impressive.
In my opinion, the Belur and Halebid temples belong to some of the most beautiful temples in Karnataka. What struck me most is the rich decorations with intricate and detailed carvings. They cover most of the interior and exterior temple walls. The Hoysalas used soapstone. A soft stone that is easy to carve in, but hardens over time.
The Belur and Halebid temples are truly a superior work of art. Each sculpture and carving is unique. Even in the small horizontal bands with hundreds of sculpted animals and humans you can see that they all have a different posture or facial expression.
The Belur and Halebid temples also have hundreds of stories to tell. All the carvings and statues together depict ancient hindu legends and battles from the Ramayana and Mahabaratha. The Belur and Halebid temples might not be as big as Hampi, but you could easily spend more time here looking at all the details.
Belur temple
Belur, or Beluhur, was the first capital of the Hoysala empire. King Vishnuvardana ordered the construction of a Vishnu temple at the banks of the Yagachi river.
Not long after the start of the construction of the Chennakeshava temple in Belur, the king moved the capital to Halebid. There he started to build another temple dedicated to Shiva.
Vishnuvardana kept sponsoring the Chennakeshava temple in Belur too. It took 103 years to build and as a result it is one of the most beautiful Hoysala temples and one of the most intricately carved temples in India.
The Chennakeshava temple in Belur made sure it remained a sacred city and a center for religion and philososphy. Although no longer the capital it was still an important place for religious pilgrims.
Halebid temple
Halebid means the Old City and it was the capital of the Hoysala empire for more than 150 years. The Hoysaleswara temple is a Shiva temple and among the largest temples built by the Hoysalas. It is a twin temple which means there are actually two temples. One has a shrine to king Hoysaleswara and the other to the queen goddess Shantaleswara.
There are also two shrines with a nandi bull facing a Shiva lingam. There are traces of more shrines on the temple complex. However, the Halebid temple was damaged several times in it's history and a lot of shrines were lost in time.
The outer walls are full with carvings, sculptures and reliefs. The lower bands depict animals such as swans, horses, swans, elephants and other mythical creatures. Even though these bands cover more than 200 meter, each figure is unique.
I wish I knew more about Hindu mythology as the stories are displayed in such fine details. There are hundreds of sculptures and reliefs of Hindu gods and goddesses. The warrior scenes are obvious as well as images from the Kama Sutra.
Arsikere Temple trail
The Belur and Halebid temples are not the only Hoysala temples in the area. About 40 kilometers from Halebid is the small town of Arsikere where you can visit several temples that get even less foreign visitors. The temples might not be as well maintained as Belur and Halebid, but they are certainly worth a visit if you are in the area. For more information you can check this post about the Arsikere temple trail.
How to get to the Belur and Halebid temples
The Belur and Halebid temples are only 16 kilometer apart from each other. From Bangalore or Mysore it is possible as a day trip, but it will be a very long day. You can also make it into a weekend getaway like I did, and combine it with Chikmagalur. Chikmagalur is famous for its scenic hilly landscape and coffee plantations and is a great base from where you can explore the temples.
Belur temple
Belur temple is the easiest to get to with direct KSRTC buses to and from Mysore, Bangalore or Chikmagalur. If you missed the direct bus to Belur, you can also take one of the more frequent buses to Hassan and get another bus there to Belur. If you opt to visit Halebid temple first there are also frequent buses between Halebid and Belur.
It is also possible to take the train from Bangalore or Mysore to Hassan. Then go to the bus station and catch the bus to Belur. You can check time tables and book your tickets online directly through the Indian railways (IRCTC).
Unfortunately this is not always a straightforward process. For a small extra fee you can use 12goAsia or Makemytrip.
Halebid temple
There are no direct buses from Mysore or Bangalore to Halebid. However, there are buses from Hassan or Belur.
It is also possible to take the train from Bangalore or Mysore to Hassan. Then go to the bus station and catch the bus to Halebid.
Because Halebid is slightly more difficult to reach, my recommendation is to visit Halebid first. From Halebid it is very easy to travel to Belur and from Belur there are direct buses to Bangalore, Mysore or Chikmagalur.
Arsikere temples
From Halebid there are frequent buses to Arsikere. Arsikere also has a train station with trains to Bangalore and Mysore
Belur and Halebid temples travel tips
Where to stay
There are not a lot of options to stay in Belur or Halebid itself and they are not very good value for money. I would recommend staying in the scenic hill station of Chikmagalur.
Chikmagalur
I slept at the clean and professional Chalukya comforts in the center of the city. If you have your own transport you can also opt for one of the homestays close to nature such as blue bell homestay
Mysore
If you visit the Belur and Halebid temples as a day trip from Mysore. I can recommend Mansion 1907. Most of all because of its great location in walking distance from the bus station, Mysore palace and Devaraja market.
This hostel has friendly owners, a great breakfast menu and female only dorms. During the tourist season they have free yoga classes in the morning and you can rent bicycles to explore Mysore and its surroundings.
There are other hostels in Mysore as well such as Zostel and Sonder hostel
Where to eat
Both Belur and Halebid have some local restaurants that serve good South Indian food. It's a great opportunity to try a South Indian thali with rice and different curries like sambhar.
Temple etiquette
The Belur and Halebid temples attract both tourists as well as religious pilgrims. Therefore it is important to dress modestly. For both men and women this means that it is best to cover your legs and shoulders.
Like most temples in India you should take off your shoes. My advice is to bring shoes that you can take off easily and that you can recognize among all the others. There will be a person in charge of the shoes and it is custom to give a few rupees (3 – 5 rupees should be enough).
You can hire a guide if you like. It will certainly enrich your experience as they can tell you the stories behind the details. Unless you are an expert in Hindu mythology they will be difficult to understand otherwise. Do negotiate a price beforehand.
When to visit
The best time to visit the Belur and Halebid temples is from September till March when the climate is pleasant. In April and May it starts to get very hot in Karnataka and in June it is the start of the monsoon season when rain becomes more frequent.
Disclaimer: This post about the Belur and Halebid temples in Karnataka, India contains affiliate links. If you buy any service through any of my links, I will get a small commission at no extra cost to you. These earnings help me to keep Backpack Adventures alive! Thanks for your support!
---
---