Jaipur Itinerary: how to spend 2 days in Jaipur
This post is the ultimate 2 day Jaipur itinerary. Jaipur is the biggest city in Rajasthan and part of the so-called Golden triangle. The Golden Triangle in India is a popular tourist circuit that includes the cities of Delhi, Agra, and Jaipur. It is called the "Golden Triangle" because of the triangular shape formed by these three cities on a map, and because they are home to some of India's most iconic landmarks and cultural attractions.
Jaipur is rightly among them. It is also known as the "Pink City," and known for its colorful architecture, traditional handicrafts, and historic landmarks such as the City Palace, Jantar Mantar, and Hawa Mahal. Although Jaipur is chaotic and crowded at first sight, the city has many hidden gems to discover. Therefore it is important to plan your Jaipur itinerary well.
Jaipur itinerary: the pink city
Jaipurs history started in 1727 when Maharaja Jai Singh wanted to develop a new city. The design and architecture was carefully planned and reflected the ruler's love for mathematics and science. He even built an astronomical observatory along with the city palace.
When in 1876 the prince of Wales came for a visit, the whole city was painted a terracotta pink. Jaipur's historic center still reflects its royal past. In addition, the bazaar is a great place for shopping and trying different kinds of street food. The city itself deserves at least one full day in your Jaipur itinerary.
However, the real beauty of Jaipur lies in the rocky Aravalli hills around the city. This is where ancient forts, temples and palaces can keep you busy for another day in your Jaipur itinerary.
My Jaipur itinerary
Back in 2007 I was travelling during the monsoon season when there were few other tourists in India. After travelling on my own through Rajasthan for almost a month I was in desperate need to meet some other travellers.
Although I am not a big fan of tours, they can be a great way to meet other people. Also, Jaipur overwhelmed me at first and I only had a 2 day Jaipur itinerary. Therefore I decided to book a city tour with the Rajasthan Tourist Office. I was looking forward to meet other english speaking tourists.
The next day I entered the tour bus to discover that the bus was full with South Indian families. I was the only foreigner so there was a lot of staring and giggling. It felt very uncomfortable at first but throughout the day I witnessed how friendly and welcoming Indian people can be.
I was quickly adopted by several families that made it their mission to look over my well-being during the day. They shared their food with me, bought me drinks and showed me around. In the end this tour was a heartwarming experience showing me the true Indian hospitality.
To be honest, I didn't like Jaipur that much on my first visit. On the tour I saw everything in one day, but it also meant that I had to rush through things. It was only on my second visit to Jaipur that I really appreciated everything it had to offer. Being able to explore the sights at my own pace made a big difference.
A 2 day Jaipur itinerary
In my opinion you need at least 2 days in Jaipur to get a good feel of the city and its sights in the Aravalli hills. I would suggest to spend one day of your Jaipur itinerary exploring the bazaar and the historic center and another day visiting the sights that are outside of Jaipur such as the famous Amber fort.
Jaipur itinerary day 1
City palace
Start the first day of your Jaipur itinerary at the Jaipur city palace. This is one of the top tourist attractions in Jaipur. Therefore I suggest to come here early before the tour groups arrive.
The city palace was one of the first buildings built by Maharaja Jai Singh when he moved the capital from Amber to Jaipur. The home of the Jaipur royal family was a work in progress and it was continuously expanded reflecting the different architectural styles that were in fashion at the time. Inside you will find beautifully decorated gates, courtyards, gardens, pavilions and lavish rooms with collections of art, jewellery, costumes and military items.
Jaipurs city palace is well worth the entrance fee. Highlights include the three entrance gates to the palace, the Diwan e Aam (Mughal hall of audience), the Diwan e Khas (hall of private audience), the peacock gate at the Pritam Niwas Chowk, the Chandra mahal (moon palace) and the Mubarak Mahal (welcome palace).
Like the Udaipur city palace, part of this complex is still used as the private residence of the former royal family of Jaipur. They continue to organize lots of special events in the palace, especially during festivals.
Insider tip: try to be here early as it can get very crowded during the day. That is also why I put this first in your Jaipur itinerary.
Jantar Mantar
Maharaja Jai Singh loved mathematics and science and he ordered the construction of five astronomical observatories. One in Delhi, Ujjain, Mathura, Varanasi and of course his own city Jaipur. The one in Jaipur is right behind the city palace and there are nineteen architectural instruments that facilitated astronomical observations.
If you are really into astronomy I recommend a guide that can explain the use of the different instruments and how they work.
Hawa Mahal
The Hawa Mahal or the palace of the winds is another top tourist attraction in Jaipur. The impressive terracotta pink facade, that is actually the back of the palace, has over 900 small windows. All of them have intricate and delicate latticework.
These windows allowed cool air to come through and allowed the royal ladies to observe everyday life in the street below without being seen.
It's possible to go inside to see the view from the top. However, you can get similar views in one of the cafes opposite the Hawa mahal, except that they also offer the best viewpoint on the Hawa mahal itself.
Therefore, the Hawa Mahal makes a perfect lunch stop. Just make sure you leave some space in your belly to try some street food in the bazaar later.
Bazaar
Spend the rest of your afternoon in Jaipur's bustling bazaar. Jaipur is famous for its high quality handicrafts and it's one of the best places in Rajasthan to go shopping. One of the famous arts in Jaipur is a block printing technique called Anokhi. Look out for the beautiful textiles that include clothes and linens such as bed sheets and cushion covers.
The bazaar in Jaipur has different sections. For textiles head to Bapu bazaar with its characteristic terracotta pink walls. Nearby Johari bazaar is one of the oldest parts of the market and this area is all about jewellery and silver. Here you will find lots of bangles as well. The Tripoli bazaar near the tripoli gate has lots of utensils and tools made from brass, copper and steel. At last the Chandpole bazaar near the Chandpole gate has miniature paintings, perfumes and spices.
Jaipurs bazaar is also a great place to try street food. Don't be scared of the Delhi belly. I can not guarantee you it won't happen, but if you look at which places are busy with locals you will most likely be fine. A lot of the stalls are specialized in just one type of street food, but have developed it into perfection over the years.
The Golcha cinema samosa stall serves for example the best samosas in town while the lassiwala on MI road shop 321 has the best lassis and Jagannath Sharma Pakodi walla has the best pakodas. Also don't miss the Kachori at Radhe Kachori wala. These crispy and flaky snacks with different fillings are delicious. Finally, head to Pandit Kulfi for the traditional Indian icecream Kulfi.
Insider tip: Be prepared to negotiate and learn the art of bargaining beforehand. As a tourist you will be quoted a higher price. The first price you hear is almost always unreasonable. But then, they won't expect you to agree immediately. Bargain well and it's still possible to score a good deal at Jaipur's bazaar.
Raj Mandir Cinema
If you are looking to do something in the evening I can recommend an outing to the famous Raj Mandir cinema to see a Bollywood movie. It is the largest cinema in Jaipur and famous for its opulent interiors.
Jaipur itinerary day 2
On the second day of your Jaipur itinerary I can recommend you to rent a tuk tuk to explore some sights that lie in the rocky Aravalli hills that surround the city of Jaipur.
There are tours, but you might find that they rush through things. Renting a tuk tuk allows you to not only see things at your own pace, but also include some off the beaten path gems.
Amber fort
Start the second day of your Jaipur itinerary at the famous Amber fort. Get here early before the tour groups do, because this is one of the most popular forts in the Aravalli hill range near Jaipur.
It was built by the local Meena tribe in the tenth century, but not much is left of the original structure. What you see nowadays comes from the hands of the Rajput Maharanas from the 16th and 17th century. The large complex has different sections, each with their own gates and courtyards.
Highlights include the beautifully decorated Ganesh Pol entrance, the Sila Devi temple and the mirror palace.
Panna Meena Ka Kund
The 16th century Panna Meena Ka Kund stepwells are only a 15 minute walk from the Amer fort, but only get a fraction of its visitors. Stepwells are quite common in the desert areas of India and were used to store the monsoon rains for the drier months. The geometric staircases allowed people to reach the pool as water levels changed throughout the year.
The Panna Meena ka Kund are not necessarily the most beautiful stepwells in Rajasthan, but being so near the Amber fort they are definitely worth a quick stop on your Jaipur itinerary.
Jaigarh Fort
Jaigarh fort or victory fort was designed to protect Amber fort and the two were closely interlinked. There is even a secret underground tunnel that connects the two. If you are up for the walk this is probably the most interesting way to get from Amber fort to Jaigarh fort. Otherwise it's a quick tuk tuk ride.
Jaigarh fort has a relatively simple design and the main reason to visit this fort is its spectacular location on top of the Aravalli hill range overlooking the village of Amer and Amber fort below.
Jal Mahal
In between Jaipur and the Amer fort lies the picturesque Jal Mahal. This yellowish sandstone building seems to float on the manmade sagar lake and there are in fact 4 levels underwater. Jal Mahal means water palace, but it was in fact the maharaja's hunting lodge. As far as I know you can not enter the palace and you will have to do with a quick picture stop at the side of the road.
Gaitore cenotaphs
The Gaitore cenotaphs or Gaitore ki chhatriyan receives very few visitors, despite its beauty. It was my tuk tuk driver that told me about this hidden gem that is just a short ride away from the Jal Mahal palace.
The Gaitore cenotaphs are the royal burial grounds for the Rajput kings. The architecture is stunning and the sandstone and marble tombs are richly decorated with onion shaped domes and intricate carvings of battle scenes and animals.
It's a very serene and peaceful spot. I was the only tourist around and I would certainly recommend to include the Gaitore cenotaphs in your Jaipur itinerary.
Nahargarh fort
Finish the second day of your Jaipur itinerary at the Nahargarh fort for a beautiful sunset. Like Jaigarh fort it is not the architecture, but the views that make it worth a visit. The rooftop terrace offers the best views over the city of Jaipur.
More than 2 days in Jaipur
If you have more than 2 days in Jaipur there are some other sights that you could include in your Jaipur itinerary.
Patrika gate
The colorful Patrika gate is a quite new addition to the tourist attractions in Jaipur. It opened in 2016 and functions as a gate to the large Jawahar circle park. It's already hugely popular on instagram. If you have some time left in your Jaipur itinerary this is definitely a place I would recommend.
Anokhi museum of hand printing
If you are interested in the Anokhi textiles that you can buy in the bazaar you should consider a visit to the Anokhi museum of hand printing. They also have a small shop that guarantees you the best quality of Anokhi textiles.
Birla Mandir temple
The white marble Birla Mandir temple is worth a quick visit if you have some time left. People come here to pray to Vishnu and Laxmi (goddess of wealth). It was built in 1988 by the Birla family who have built a number of other temples in places like Delhi, Calcutta and Hyderabad.
Galta ji monkey temple
Galta ji is a local pilgrimage place that gets few foreign visitors. It's a complex of several palaces and temples with stunning architecture and beautiful paintings inside. I loved how peaceful and serene this place was, despite its popularity among the locals.
Galta ji's location was also quite beautiful in a hidden corner of the Aravalli hills. There are lots of peacocks and monkeys as well and therefore people call it the monkey temple.
Galw bagh monkey temple
There are actually two monkey temples near Jaipur. Beautiful and clean Galtaji and the more famous, but dirty Galwh Bagh. People com e here to feed the tame monkeys. The stairs leading up to the temple are fullwith beggars, animals and dirt.
It's one of those Indian experiences you will never forget. Can I recommend a visit? The interaction between the monkeys, goats, pigs and beggars that call this temple their home is interesting to watch and the views on top of the temple are beautiful.
Chand Baori stepwells
Less than 100 kilometers from Jaipur, in the village of Abhaneri lie the oldest and largest stepwells in Rajasthan. These stepwells were used in desert areas of India for thousands of years to store the monsoon rain water. The characteristic geometric staircases leading down to the pool are visually stunning.
The Chand Baori stepwells receive few visitors. Although its maintenance is not that good there are some wonderful stone sculptures of Hindu gods. It makes a perfect day trip from Jaipur. To get there by public transportation is not that easy, therefore renting a taxi is best.
Jaipur itinerary travel tips
Where to eat in Jaipur
My favourite restaurant in Jaipur was the Al Umar restaurant. The kebabs were one of the best I had in Rajasthan. They come in gravy curries with different colours and tastes. The green coloured one (hariyali kebab) was absolutely delicious as well as the white coloured one (malai kebab).
Where to sleep in Jaipur
Vinayak Guesthouse: The clean Vinayak Guest house was one of my favourite accomodations in Rajasthan. A nice rooftop restaurant, beautiful rooms, good Wi-fi and friendly people.
Zostel Hostel: For those on a budget I can recommend Zostel Hostel. They have branches all over India including Jaipur and are good value for money.
How to get around Jaipur
Uber and Ola
Uber is a good way to get around in Jaipur, but India has its own similar business called Ola cabs that is even more popular. The good thing about both Ola and Uber is that it is cheaper than a tuk tuk and you do not need to negotiate the price or explain where you need to go. Both offer a pool option in which you share your ride with others that makes it even more affordable.
Ola also has a tuk tuk option that is one of the best and most affordable way to travel for shorter distances. I never had to wait long for a Ola or Uber to come and most of the time when I ordered the pool option I had no other passengers.
Tuk tuks
There is of course always the option of stopping a tuk tuk on the road, but be prepared to negotiate about the price.
When to visit Jaipur
The best time to visit Jaipur is between October and March. In October temperatures cool down and you might have a chance to join the festivities for Dussehra and Diwali. India's biggest festivals.
Temperatures remain pleasant till March. In April and May, Rajasthan in general, will be extremely hot. In June it is the start of the monsoon that lasts till September and will see a lot of rainfall.
Sustainable travel in Jaipur
Jaipur is beautiful, but it is also a crowded city with a lot of trash and pollution. It might sound obvious, but don't add to the litter problem. Try to avoid using plastic and use dustbins wherever possible. Bring a reusable water bottle that you can refill at places that have drinking water facilities.
If you want to hire a taxi for the day to bring you to the sights outside of Jaipur consider Sakha cabs. They are a social enterprise providing safe transport solutions for women by women while being part of a bigger civil society movement to push for women's empowerment and gender equality.
At last try to avoid elephant rides. They are still very popular in Jaipur, especially at the Amber fort. Besides the ethical concerns about elephant rides in general, the abuse of elephants in Jaipur is well documented. If you really want to spend time with elephants you can visit Elefantastic. This ethical elephant village in Jaipur tries to break the cycle of abusive tourism. They offer rescued elephants a safe place to live in with a focus on their well being.
Disclaimer: This post with a 2 day Jaipur itinerary contains affiliate links. If you buy any service through any of my links, I get a small commission at no extra cost to you. These earnings help me to keep Backpack Adventures alive! Thanks for your support!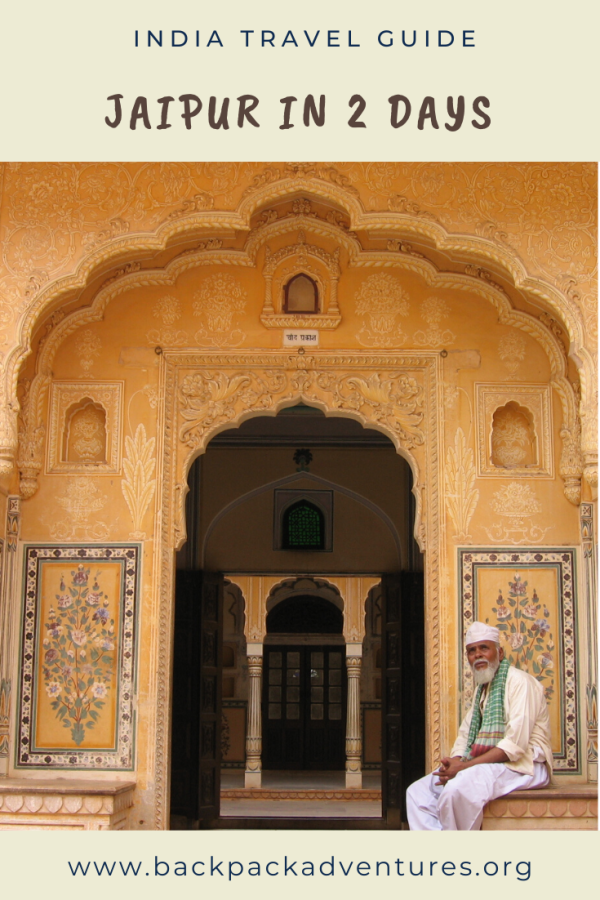 ---
---