How to travel from Bishkek to Karakol in Kyrgyzstan
Getting from Bishkek to Karakol can be very straightforward. From Bishkek there are frequent minivans throughout the day that leave for the 7 hour journey.
Then why am I writing a post about how to travel from Bishkek to Karakol ? Just like the journey from Bishkek to Osh the answer on how to get there is not that simple.
Taking a direct minivan from Bishkek to Karakol is only one option. As you will drive along beautiful lake Issyk kul there are several interesting stops. Furthermore, you can choose to take the quicker route along the northern shore or the more scenic route along the southern shore of lake issyk kul.
In this post I will not only talk about how to get from Bishkek to Karakol, but also where to stop along the way. Lake Issyk kul has a lot to offer and it would be a pity to go straight from Bishkek to Karakol.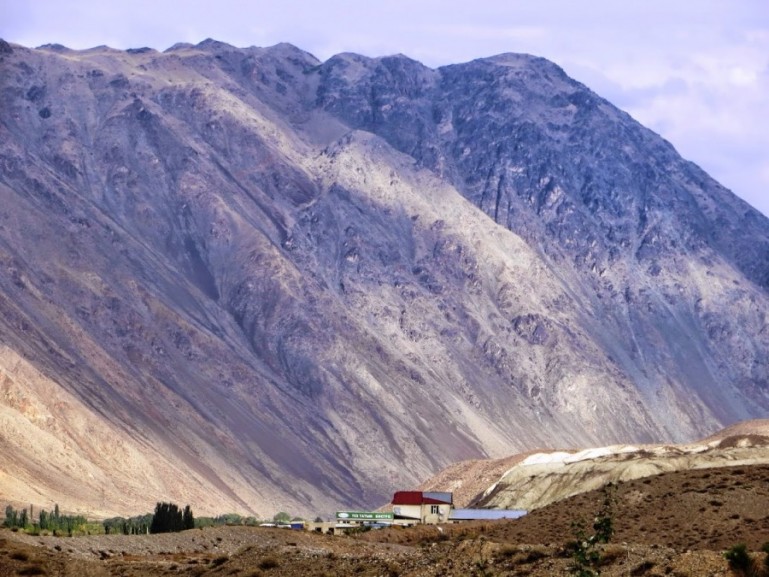 From Bishkek to Karakol by public transport
It is very easy to travel from Bishkek to Karakol by public transport even if you want to make stops along the way. From Bishkek shared taxi's and marshrutka's (minivans) leave from the western bus station to Karakol. Most take the northern route while some take the southern route.
If you want to stop along the way it's a matter of getting out and catching another shared taxi or marshrutka to your next destination. All the stops mentioned in this post are accesible by mini bus or shared taxi with the exception of the Barskoon valley. This was the only place for which I hired a private taxi.
You might wonder what is better. A shared taxi or a minibus? As a rule of thumb shared taxi's are twice as fast and twice the cost of a minibus. Minibuses can be crowded, seats are not guaranteed and you might be forced to listen to the Russian remixes of popular songs of the eighties.
Both shared taxi's and minivans leave once they are full. In my case I often took the type of transport that seemed to leave as soon as possible.
The Northern route from Bishkek to Karakol
The northern route from Bishkek to Karakol runs through Balykchy, Cholpon Ata and Ananyevo. It is the quickest way to get from Bishkek to Karakol with beautiful views on lake Issyk kul, but there is less to explore on the way than on the southern route.
Cholpon Ata
Cholpon Ata is a busy resort town in summer when the beach is full with Russian and Kazakh tourists. Personally I don't understand its popularity and couldn't find the charm in Cholpon Ata and never stayed for too long.
There are some very ancient petroglyphs in the hills above the town from the Saka civilization that used the site for sacrifices in the 8th century BC.
where to sleep: Apple hostel
Ananyevo
I got stuck in Ananyevo on my first trip to Kyrgyzstan back in 2014 when I was looking for the NABU snow leopard rehabilitation centre. I never made it there because it is high up in the mountains above the village. However, I was invited to stay at the school directors house as the only hostel in town was closed.
It was one of my most beautiful experiences of my first trip to Kyrgyzstan and I will never forget the hospitality. To be honest, there is no other reason to visit the village besides the snow leopard centre that you need to contact beforehand.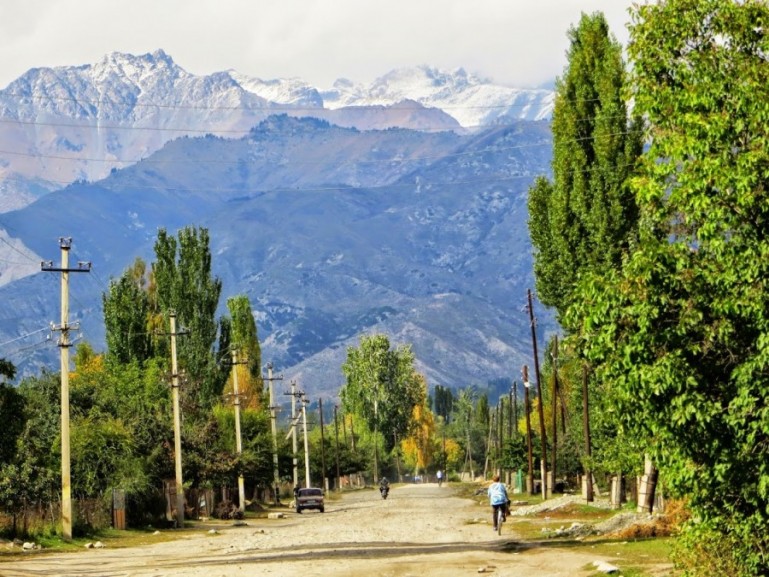 The Southern route from Bishkek to Karakol
The Southern route from Bishkek to Karakol is slightly longer, but also much more scenic with a number of interesting places to stop along the way.
Bokonbaevo
From Bishkek the first interesting place to stop on the southern shore is Bokonbaevo. A small town that has spectacular surroundings and an excellent network of homestays. It's the gateway to a number of things to see such as hot springs, healing mineral waters, yurt camps and eagle hunter demonstrations. Everywhere you go there are amazing views on lake Issyk kul.
Where to sleep: Nurgul, Guesthouse Ayim & Guesthouse Gulmira
Manjyly Ata
Manjyly Ata is just around the corner from Bokonbaevo and is a great place to go hiking. The views are beautiful as the red and brown hills contrast with the deep blue waters of the lake. Despite the spectacular landscape it sees surprisingly little tourists.
For the locals it is a place of pilgrimage as they come looking for the healing properties of the water in the sacred springs. Every spring cures a different disease from anxiety to stomach problems and depression.
A hike in the hills along the springs takes about two hours and is especially stunning around sunset.
Kadji Sai hot springs
A bit further from Bokonbaevo lies Kadji Sai. A grubby town that is famous for the secret Soviet uranium mine and for its hot springs. The mine only functioned for 3 years as the quality of the uranium was very bad but toxic waste still affects the town to this day.
Most people are unaware about the environmental concerns going on and come for the steaming hot springs. The perfect activity on a cold and rainy day.
Skazka canyon
Years of erosion has resulted in strange geological formations and rich colours. It's a fairytale landscape and therefore skazka canyon is also known as fairytale canyon. It is one of the most beautiful places along the southern shore of issyk kul and only a short hike from the main road.
Tosor
Tosor is a small little village where not much is happening. However, it does have one of the best beaches at lake issyk kul. Both times I was in Tosor it was way too cold to swim, but I stayed there for hours looking at the spectacular views.
There is now a yurt camp as well right at the beach. I slept there and had a wonderful time watching the sun set over the lake.
Where to sleep: Tosor Yurt camp
Barskoon valley
The Barskoon vallety is the only stop in this post that is not reachable by public transport. However, from Barskoon village it is not expensive to take a private taxi up to the Barskoon valley where you can visit 2 waterfalls.
The valley is so beautiful that this is where Yuri Gagarin went on holidays after he came back from space. There are now two monuments to the first man in space.
Where to eat on the way from Bishkek to Karakol
On the northern shore you will find the most restaurant options in Cholpon Ata. I had lunch in the Green pub that has decent food for reasonable prices.
On the Southern shore the best place for food is Bokonbaevo. Restaurant Argimak is right next to the CBT office. There is an extensive menu of which most items are not available. What they do serve is pretty good though.
Where to sleep on your way from Bishkek to Karakol
Bishkek has lots of affordable accomodation options. From backpackper hostels to appartments and bed and breakfasts. I recommend the options below
Bishkek: Apple hostel & Sakura guesthouse
Karakol has seen an incredible increase in hostels and guesthouses. I recommend the options below
Karakol: Guesthouse Altay & Snow leopard hostel
Safety on the road from Bishkek to Karakol
I would say that safety wise there are less concerns on the road from Bishkek to Karakol then on the road from Bishkek to Osh, but like everywhere in Kyrgyzstan people drive like crazy.
The roads are in an excellent condition and as it runs along the lake shore. It's pretty flat for most of the way. However, this also means that there is no reason for drivers to slow down their speed. We had some scary shared taxi moments. In my experience the younger the driver, the more risks they take.
For more Kyrgyzstan inspiration read my posts about the best places to visit in Kyrgyzstan or my Kyrgyzstan itinerary.
Disclaimer: This post with a travel guide about how to get from Bishkek to Karakol Kyrgyzstan contains affiliate links. If you buy any service through any of my links, I will get a small commission at no extra cost to you. These earnings help me to keep Backpack Adventures alive! Thanks for your support!
---
---