The 15 Best Things to do in Bokonbaevo, Kyrgyzstan
This post is about the best things to do in Bokonbaevo, Kyrgyzstan. Like Karakol, it is not Bokonbaevo itself that makes it a spectacular destination, but the surrounding mountains and the range of outdoor activities that are on its doorsteps. Bokonbaevo in Kyrgyzstan is not only interesting for nature lovers though and is also a great place to learn more about Kyrgyz culture.
Bokonbaevo in Kyrgyzstan is the main city along the Southern shore of lake Issyk kul. It's a small town that feels more like an outgrown village and in its suburbs you have wonderful views over farmfields and the snow capped peaks of the Ala too mountain range.
For years tourism to lake issyk kul was concentrated in the resort towns on the northern shore. With its proximity to Bishkek and Almaty the north still is a popular destination for local tourists. However, Destination south shore has done a lot to show people that the south has just as much to offer, if not more.
Where in the north local culture gave way to mass tourism, the nomadic Kyrgyz traditions are still very much alive in the south. And its not only yurts and horses, but also the practice of eagle hunting, the artistic craft of felt making and the performances of folk music and dancing.
Bokonbaevo Kyrgyzstan can be seen as the cultural capital of Issyk kul where islam is intertwined with more ancient traditions. On top of that, the landscapes are as spectacular as one can expect from Kyrgyzstan with the deep blue lake, the snow capped peaks of the Ala Too mountains and the curious red rock formations.
Things to do in Bokonbaevo Kyrgyzstan
War monument
Bokonbaevo's center is small and one or two hours would be enough to see everything. One of the most obvious landmarks is the big war memorial that was built in Soviet times to remember the soldiers that died in the Great Patriotic war (World war II).
Bokonbaevo bazaar
The small bazaar in Bokonbaevo is a great place to stock up on snacks, but don't expect a huge selection. It is actually rather small considering that this is one of the biggest markets along the southern shore of lake issyk kul. It has a convenient location right next to the CBT office and the bus station.
Lenin
Lenin still has its place in the center of Bokonbaevo. After a short walk from the bazaar you will find him in front of the municipality building.
Local Art museum
The local art museum is small, but has some interesting paintings made by people from the region. A perfect activity on a rainy day or when you have time left. The entrance is free.
Eagle hunting demonstration
The ancient tradition of eagle hunting was once widespread among the nomadic cultures in Central Asia. The eagles were trained to kill hares and foxes to provide fur and meat in the cold winter months. Hunters developed a close bond with their eagles and passed down their knowledge from generation to generation.
However, the training and care for the eagles is costly and time consuming and therefore this ancient nomadic tradition is slowly dissapearing. Bokonbaevo and the southern shore of lake Issyk kul is one of the few places left in Kyrgyzstan where you can still find expert eagle hunters.
If you are lucky there might be an eagle hunting festival in town, otherwise Both CBT Bokonbaevo and Destination South Shore can organize an eagle hunting demonstration. If you speak Russian or Kyrgyz you can also contact the local Salburun federation.
Personally I had some mixed feelings about the eagle hunting demonstration that was clearly set up for tourism and made me wonder how much this was still following the ancient nomadic traditions. There clearly is a demand among tourists to see the eagle hunting in action and the eagles are once more profitable to keep. However, not for hunting meat and fur, but to give shows.
I couldn't help to see how this could possibly lead to some ethical questions. For example, after a number of years the eagles used to be released back in the wild again, but I have heard that nowadays eagles are kept much longer than before. In addition, most demonstrations include a live rabbit.
In my case, the eagle wasn't even that interested in the rabbit. It was easy for the eagle to catch it, but he simply wasn't bothered to do so. They also used stuffed fox skins for the demonstrations which in my opinion would have been enough to see the impressive speed and hunting techniques of the birds.
Felt making workshops
Another Kyrgyz nomadic tradition is the art of felt making. Felt is both used for building yurts and the beautiful Kyrgyz carpets and rugs. The carpets have traditional patterns and are called Shyrdak. Each carpet and rug has its own stories to tell with its unique symbols.
Shyrdaks were used to cover the floors in the yurts, but even nowadays every Kyrgyz household decorates its homes with the colourful carpets. Bokonbaevo has several felt making factories producing carpets, but also souvenirs to take home.
Destination South shore & CBT can organize yurt building tours and felt making workshops
Exploring Bokonbaevo's rural suburbs
What I personally loved most about Bokonbaevo were its rural suburbs with the beautiful view over the Ala too mountains. Especially around sunset it's a joy to wander around the fields and see the colours change. You don't need to go far in Bokonbaevo to see the beautiful nature at the southern shore of Lake Issyk kul.
Things to do near Bokonbaevo Kyrgyzstan
Manjyly Ata
Manjyly Ata is just around the corner from Bokonbaevo and is a great place to go hiking. The views are beautiful as the red and brown hills contrast with the deep blue waters of the lake. Despite the spectacular landscape it sees surprisingly little tourists.
For the locals, Manjyly Ata is a spiritual and holy place known as the valley of sacred springs. It is a place of pilgrimage for those that come looking for the healing properties of the waters. Every spring cures a different disease from anxiety to stomach problems and depression.
A hike in the hills along the springs takes about two hours and is especially stunning around sunset.
How to get there: Bokonbaevo is about 10 minutes away from Manjyly Ata. Through CBT Bokonbaevo you can arrange a taxi to get you there and wait for you. Otherwise go to the Bokonbaevo bus station that is next to the cbt office and the bazaar. From there take a minibus or shared taxi heading in the direction of Karakol. Ask the driver to let you at Manjyly Ata.
Kadji sai hot springs
A bit further from Bokonbaevo and Manjyly Ata lies Kadji Sai. A grubby town that is famous for the secret Soviet uranium mine and for its hot springs. The mine only functioned for 3 years as the quality of the uranium was very bad but toxic waste still affects the town to this day.
Most people are unaware about the environmental concerns going on and come for the steaming hot springs. I was told they were perfectly safe and a perfect activity on a cold and rainy day.
How to get there: Bokonbaevo is about 15 minutes away from Kadji Sai. Through CBT Bokonbaevo you can arrange a taxi. Otherwise go to the Bokonbaevo bus station that is next to the cbt office and the bazaar. From there take a minibus or shared taxi heading in the direction of Karakol. Ask the driver to let you at Kadji Sai.
Skazka canyon
Not far from Kadji Sai is the Skazka Canyon. Years of erosion has resulted in strange geological formations and rich colours. It's a magical landscape and therefore it is also known as the fairytale canyon.
It is one of the most beautiful places along the southern shore of issyk kul and only a short hike from the main road. It makes a perfect half day trip from Bokonbaevo that is easily combined with Manjyly Ata or Kadji Sai.
How to get there: Bokonbaevo is about 20 minutes away from the Skazka Canyon. Through CBT Bokonbaevo you can arrange a taxi. Otherwise go to the Bokonbaevo bus station that is next to the cbt office and the bazaar. From there take a minibus or shared taxi heading in the direction of Karakol. Ask the driver to let you at the Skazka Canyon.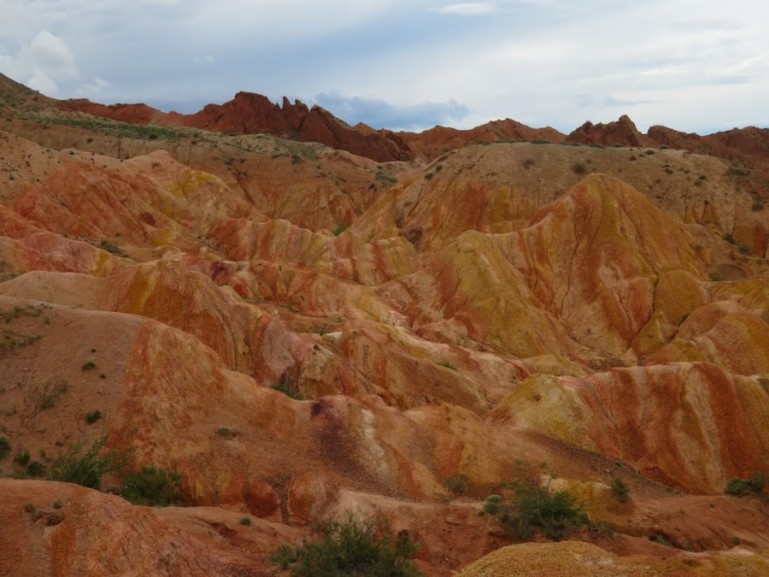 Tosor
Tosor is a small little village where not much is happening. However, it does have one of the best beaches at lake issyk kul. Both times I was in Tosor it was way too cold to swim, but I stayed there for hours looking at the spectacular views.
There is now a yurt camp as well right at the beach. I slept there and had a wonderful time watching the sun set over the lake.
How to get there: Bokonbaevo is about 30 minutes away from Tosor. Through CBT Bokonbaevo you can arrange a taxi. Otherwise go to the Bokonbaevo bus station that is next to the cbt office and the bazaar. From there take a minibus or shared taxi heading in the direction of Karakol. Ask the driver to let you at Tosor.
Stay in a yurt
What could be better than sleeping in a yurt right at the shore of lake Issyk kul. Around Bokonbaevo are several excellent yurt camps with great facilities that make the south shore one of the better places in Kyrgyzstan for your yurt experience.
There are some options just south of Bokonbaevo such as Bel Tam Yurt camp, Almaluu Yurt camp and Sonun Yurt camp
A bit further from Bokonbaevo you will find the quiet ad peaceful Tonya Yurt camp in Tosor.
Swim in lake Issyk kul
Bokonbaevo also offers the opportunity to swim in lake Issyk kul. It will be a cold experience even in summer, but where else can you swim with views on the snow capped peaks of the Ala Too mountains?
Some of the best beaches near Bokonbaevo are in either Kadji Sai or Tosor.
Shatyly panorama trek
One of the easiest hikes near Bokonbaevo is the Shatyly Panorama trek for beautiful views over lake Issyk kul. It's best to take a taxi to the Boz Salkyn valley yurt camp. From there it is a 4 kilometer hike to the Shatyly Overlook.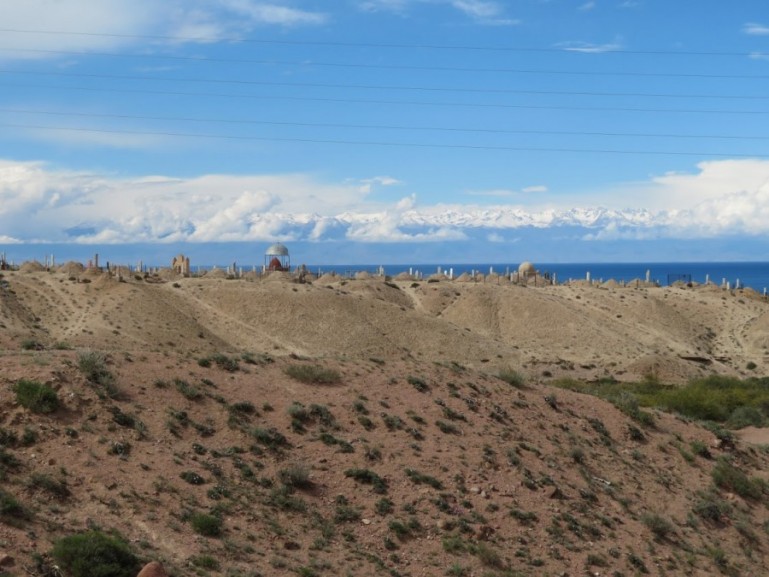 Tuz Kol Salt lake
For a miniature dead sea experience go to little Tuz kol lake where you can float around and enjoy the therapeutic muds on the shoreline. The lake is relatively new and the result of the decreasing water levels in issyk kul. Luckily issyk kul is nearby so you can was off the salty water.
How to get there: the lake is not far from the village of Kyzyl Tuu, but from the main road it is still quite far. Therefore it is best to have your own transport. Through CBT Bokonbaevo you can arrange a taxi to get you there and wait for you. They are happy to pair you up with other travellers if possible so that you can share the costs.
Bokonbaevo Travel Tips
Where to sleep in Bokonbaevo Kyrgyzstan
Bokonbaevo has plenty of accomodation with friendly homestays and excellent yurt camps. If you want to stay in a yurt on the shore of lake issyk kul just south of Bokonbaevo I can recommend Bel Tam Yurt camp, Almaluu Yurt camp or Sonun Yurt camp
However, Bokonbaevo also has a good network of very friendly homestays.
Nurgul Guesthouse: During my last visit I stayed at the friendly Nurgul Guesthouse. It's a bit in the suburbs of town, but still within an easy walking distance from the center. Recommended for the friendly and helpful lady that runs the place.
Guesthouse Guljan: During my first visit in Kyrgyzstan I stayed at Guesthouse Guljan. It was a bit far from the center, but the friendly lady and the delicious food was more than worth the effort to get there.
Furthermore, it is a nice and quiet neighbourhood near the fields where you have beautiful views on the surrounding mountains during sunset and sunrise.
Other homestays with good reviews are Guesthouse Gulmira and Guesthouse Ayim
Where to eat in Bokonbaevo
The best Kyrgyz food in Bokonbaevo is probably at your homestay accomodation. For breakfast and dinner they are simply the best.
For lunch we went to cafe Argimak right next to the cbt office. Forget the menu and ask what they have available. It took us a while before we finally mentioned something they could make. It also took some time before it was ready, but then it was pretty good.
How to get to Bokonbaevo
Shared taxis or minibuses are a common mode of transportation around Lake Issyk kul. In Bishkek you can find minibuses towards Bokonbaevo at the Western Bus Station (Zapadny Avtovokzal). From Karakol there are also frequent minibuses going to Bokonbaevo.
How to get around Bokonbaevo
Bokonbaevo is a small town and walking is the best way to get around. Taxi's are also very cheap.
Bokonbaevo is the transport hub of Issyk kul's southern shore with frequent minivans and shared taxi's in the direction of Karakol, Balykchy and Bishkek.
For any of the destinations near Bokonbaevo such as Manjyly Ata, Kadji sai, Tosor or the Skazka Canyon you can hop in a minivan to Karakol and ask the driver to let you out at your destination.
When to visit Bokonbaevo
The best time to visit Bokonbaevo is during the late spring to early autumn months, which generally fall between April and October. During this period, the weather is more favorable, and you can enjoy various outdoor activities and explore the area comfortably.
Summer in Bokonbaevo can be quite hot, with temperatures often exceeding 30°C (86°F) during the day. However, this is the best time to go trekking in the mountains or spend your time on the beaches of lake Issyk kul.
Sustainable Travel in Bokonbaevo
Bokonbaevo is still an off the beaten path destination, but tourism is growing. Traveling sustainably in While Tourism is a welcome source of income it can also have negative consequences. Bokonbaevo, involves conscious choices that both minimize your environmental impact and support the local community.
Support the local community: You can support the community by purchasing goods and services from local vendors, artisans, and restaurants. Bokonbaevo has a number of interesting community-based tourism initiatives. For example, I highly recommend staying in a homestay for an authentic cultural experience. You might want to bring a small book with pictures of your family to break the ice.
Stay in small scale sustainable hotels: You can also look for guesthouses or homestays that prioritizes sustainable practices. Most homestays in Bokonbaevo use local and organic products that they grow in their gardens or buy at the bazaar. Awareness about energy and water conservation is still limited, but some do have solar panels.
Leave no Trace Principle: Kyrgyzstan is famous for its pristine landscapes, and it's crucial to keep them that way. To avoid single-use plastics, invest in reusable items. For example, you can bring your own water bottle with a filter that you can refill at your accomodation. At last, use biodegradable and eco-friendly personal care products to minimize pollution of water sources.
Bokonbaevo is situated on the shores of Lake Issyk-Kul. When exploring the area, stick to designated trails when they are there, avoid disturbing wildlife or picking plants, and leave no trace of your presence. Ensure you take all your trash back with you and dispose of it responsibly. Even better, is when you bring something to pick up any of the trash that other people left behind.
Respect the culture: Besides environmental concerns it is also important to be sensitive of the community's way of life. Kyrgyzstan is an Islamic country with a nomadic culture that is just opening up to tourism. Therefore, learn about the local customs and traditions beforehand and be mindful of your behavior.
People will appreciate it, if you dress modestly, especially at religious sites. Learning a few basic phrases in Kyrgyz or Russian, can go a long way in building meaningful connections and to learn more about the local culture. Not everybody is happy to have their picture taken. When in doubt, ask permission.
Disclaimer: This post with a travel guide about Bokonbaevo Kyrgyzstan and the southern shore of lake issyk kul contains affiliate links. If you buy any service through any of my links, I will get a small commission at no extra cost to you. These earnings help me to keep Backpack Adventures alive! Thanks for your support!
---
---