Bosnia Itinerary: how to spend one week in Bosnia
This post is a 1 week Bosnia itinerary. Bosnia is still among the least visited countries in Europe, but its popularity is on the rise and for good reasons. It's a spectacular destination full of history, culture and nature. In Bosnia you will find multicultural cities, ancient architecture, turquoise rivers, waterfalls, green rolling hills and rugged mountains.
This post is a one week Bosnia itinerary that includes the country's most popular highlights. Here I will try to answer some of the questions you might have. What are the best places to visit if you have only one week in Bosnia? Do you need to spend more time in Sarajevo or in Mostar? And what else is there to see?
Personally, I think one week is the minimum amount of time you need and this Bosnia itinerary will help you make the most out of it. That said, there is much more to see and do in Bosnia. It is one of my favourite countries that I keep coming back to. I spent one week in its capital Sarajevo alone, but I also visited some off the beaten path destinations. Therefore I have added some suggestions to extend your Bosnia itinerary.
A one week Bosnia itinerary
This Bosnia itinerary is made for independent budget travellers. Therefore it only includes places that you can reach with public transport. Luckily there is a good bus network in Bosnia. Your only limitation will be time. If you have one week in Bosnia, the focus is mostly on Sarajevo and Mostar.
Sarajevo (3 days)
Start your Bosnia itinerary in the country's young and diverse capital. It is easy to love Sarajevo with its charming old town and scenic location in the foothills of the Dinaric Alps. Not only is it a city full of history and culture, but it is also the gateway to a variety of outdoor activities in the surrounding mountains.
Sarajevo has a rich history and belonged to different empires. The Bascarsija is a journey back in the past when Bosnia was ruled by the Ottomans. The modern center with the elegant Austrian-Hungarian buildings speak yet of a different time. Then there are the socialist flats that are a stark contrast with the hilly suburbs where it feels more like a traditional village.
Sarajevo experienced its darkest days during the Siege of Sarajevo in the civil war. Traces are still visible throughout the city, but Sarajevo's multicultural spirit could not be crushed. The city is still known as the Jerusalem of Europe and nowadays a symbol of hope and reconciliation.
How to get there: Sarajevo has an international airport, but it is often cheaper to fly into nearby Tuzla. There are also good bus connections from cities in the neighbouring countries, such as Zagreb and Belgrade.
Where to eat: Sarajevo is full of cheap restaurants serving excellent traditional Bosnian food. For some recommendations check my post about the best budget restaurants in Sarajevo.
Where to sleep: For a unique experience you can stay in the War hostel. The owner is a survivor of the siege and it's is all about experiencing what it was like during the war. Other hostels with good reviews are Hostel Kucha, Hostel Balkan Han and Hostel Franz Ferdinand.
Konjic (1 day)
Konjic is a small town between Sarajevo and Mostar. It's beauty is defined by the deep blue Neretva river that runs through it's scenic historic center. The Old stone bridge in Konjic is one of the best preserved Ottoman bridges in Bosnia.
It was here, right next to the river, but hidden from view, that Titov built a secret bunker deep under the ground. The bunker was meant to keep him and his family alive for two years after a nuclear attack. It was never used and is now open for visitors through Visit Konjic.
Konjic is also surrounded by spectacular natural beauty. The Neretva river is one of the best places in Bosnia to go rafting.
Transport: there are several buses per day to Sarajevo (1 hour) or Mostar (2 hours)
Where to sleep: Konjic has a good selection of bed and breakfasts or apartments. Apartments S & S gets good reviews and is right in the centre of Konjic.
Mostar (2 days)
Mostar is one of the most picturesque places in Bosnia Herzegovina. It is famous for its historic Ottoman town from the 15th century and its iconic bridge spanning the Neretva river.
With the excellent restoration work, it is easy to forget Mostar's gruelling past. It was, however, heavily bombed during the war. Most buildings were destroyed including the ancient bridge connecting the Bosnian and Croatian part of town.
The reconstructed bridge not only allowed people to cross the river again, but has also become a symbol of reconciliation and coexistence. The Old bridge area is once more an outstanding example of Ottoman architecture with traditional Turkish houses and mosques.
How to get there: There are frequent buses to Sarajevo (3 hours) and Konjic (2 hours). Trains don't have a very good reputation in Bosnia. However, there is one noteworthy train journey in Bosnia. The Sarajevo to Mostar train competes with the Belgrade to Bar train for being the most beautiful train journey in Europe.
Since 2017, Bosnia uses new Talgo trains for this daily journey making it a convenient 2 hour trip by train. This is probably the only route where the train is now actually faster than the bus. Both offer stunning views on the surrounding countryside. The scenery along this route makes this trip worthwhile on its own.
Where to eat: One of my favourite restaurants in Mostar is the Sadrvan restaurant. There is an extensive menu full with traditional Bosnian dishes. This is one of the best places to try Bosnian food that is not cevapcici. The delicious stews with vegetables, meat and spices are delicious
Where to sleep: there are plenty of hostels for backpackers such as Hostel David and Hostel Musala.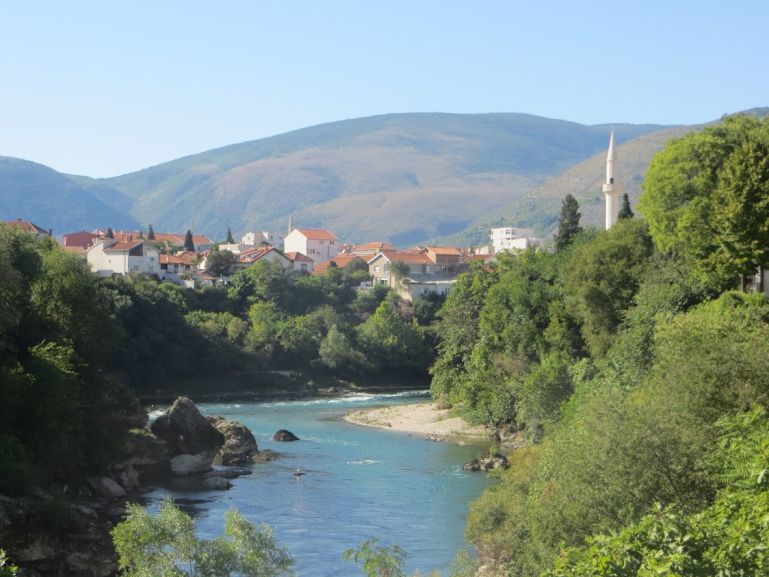 Blagaj (day trip from Mostar)
One of the most interesting day trips from Mostar is to the little village of Blagaj. The ancient Dervish monastery that sits at the foot of a steep cliff besides the spring of the Buna river is one of the most photographed attractions in Bosnia. It's a spectacular setting indeed. The 600 year old monastery is now a museum that shows you how the monks once used to live.
Blagaj has a much longer history though. There used to be an Illyrian settlement and a Roman settlement before the Ottomans arrived in the 15th century. It's then that Blagaj truly developed into a thriving town. They built several mosques, guesthouses, madrassas, mills and stone bridges.
On top of the hills above Blagaj are the remains of a medieval fortress. It is a 1 hour hike with spectacular views from the top.
How to get there: bus#10 and bus #11 leave every hour from the United World College at the Spanish square. It costs only 2.10 KM to Blagaj from where it is a pleasant walk to the dervish monastery.
Bosnia itinerary Extensions
Day trips from Mostar
Time needed: 2 days
Transport: own car or tour
Blagaj is not the only day trip you can take from Mostar. The area around Mostar is home to several scenic tourist attractions. Unfortunately they are a bit more difficult to get to and either require your own transport or a tour. The good news is that it is very easy to arrange cheap tours in Mostar.
One of the most popular day trips from Mostar is to the beautiful Kravice waterfalls. The falls are 25 meters high, surrounded by trees and there is a natural pool at the base. In summer you can go swimming there or take a boat trip to enjoy the scenic falls.
Another nice day trip from Mostar is to the small town of Pocitelj. A medieval village with a beautiful mosque and ancient fort that has an even more spectacular location than Mostar.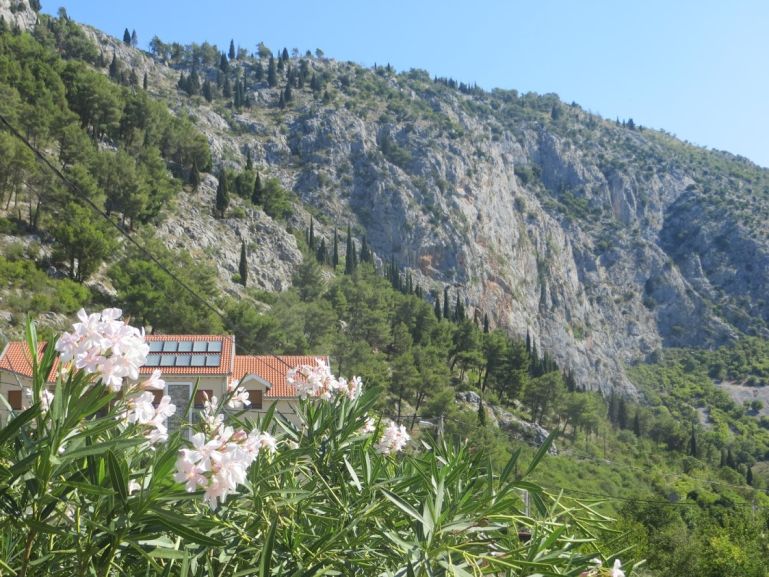 Central Bosnia: Travnik & Jajce
Time needed: 3 day round trip from Sarajevo
Transport: easy with public transport
Another great extension to this Bosnia itinerary is central Bosnia with Travnik and Jajce. Travnik is an old and colorful Ottoman town with an ancient fortress and is midway between Sarajevo and Jajce. Jajce is famous for its waterfall that is right in the city center and its traditional wooden water mills.
The good thing about this itinerary extension is that it is still easy to do with public transport from Sarajevo. If you have extra time consider adding a few days exploring central Bosnia before heading to Mostar.
Bihac and Una National Park
Time needed: 3 day round trip from Sarajevo
Transport: own car or tour
This Bosnia itinerary extension is one I can truly recommend, even though it will require your own transport. Una National Park and the Una river is one of the most beautiful areas in Bosnia.
The story goes that the Una river got its name from a Roman soldier. He was so impressed by it's beauty that he claimed it was the one and only. I can personally say that the Una is indeed one of the most spectacular rivers in Bosnia. Its deep turquoise blue and emerald green colors take your breath away.
Bihac is a pleasant city that forms the gateway to Una National Park. The park is characterized by a network of river streams, pools and waterfalls that are surrounded by lush forests. The nature is pristine and wildlife includes rare animals such as lynx, bears and wolves.
It's the perfect place for outdoor activities like rafting, kayaking, swimming, mountain biking and hiking. In addition, the park also has some cultural and historical heritage with ancient citadels, monasteries and mosques.
It's Bosnia at its best and because it is somewhat remote it receives a small number of visitors. If you are looking for a peaceful spot full of nature, Una National Park is the place to go.
Sutjeska National Park
Time needed: 3 days round trip from Sarajevo
Transport: own car or tour
Sutjeska is another off the beaten path destination in Bosnia that receives very few visitors, despite its natural beauty. It is Bosnia's oldest national park full of mountains and glacial lakes. Highlights include the Perucica reserve, one of the two primeval forests in Europe and Maglic peak, the highest mountain in Bosnia.
Sutjeska is also famous for being the location of a fierce battle in the second World War. After one month of fighting, the partisans won against Nazi Germany.
Transport in Bosnia
Most of this Bosnia itinerary is easy to do with public transport. Bosnia has a good bus network with frequent buses between the major cities.
However, if you want to include Una or Sutjeska National Park you might want to consider renting a car. Renting a car is very cheap in Bosnia. In addition, it gives you a lot of flexibility and freedom to explore off the beaten path places.
For more practical information about travel in Bosnia I can recommend my Backpacking Bosnia travel guide.
Disclaimer: This post with a one week Bosnia itinerary contains affiliate links. If you buy any service through any of my links, I will get a small commission at no extra cost to you. These earnings help me to keep Backpack Adventures alive! Thanks for your support!
---
---