BR Hills: the best travel guide to Biligiri Rangana Betta
The BR hills, or Biligiri Rangana Betta, in Karnataka are a world of nature, greenery and wildlife. Rolling hills that are often covered in a mysterious mist. Forests that are home to elephants, tigers, leopards, sloth bears, wild boars and deer.
The BR Hills are not far from either Bangalore or Mysore. Yet, few foreign visitors have ever heard of this place.
When I knew my internship for global health was going to be in BR hills I had to look it up myself. I couldn't have wished for a better place to spend three months researching access to mental health care in this unique area of Karnataka.
Why visit BR Hills
BR Hills translates as Biligiri Rangana Betta. Biligiri means white hill in Kannada.Rangana refers to the Lord Ranganathaswamy temple that is an important pilgrimage site for both Hindus from all over India and the local Soliga population.
The BR Hills are a unique ecosystem. It's where the Western ghat mountain range meets with the Eastern ghat mountain range. Being right in the middle, the area forms a natural bridge allowing animals to move in between.
The result is a rich flora and fauna with species from both areas coming together, creating an ecological hotspot of incredible biodiversity. The animals are shy and hard to see in the dense vegetation, but you can hear and feel they are never far away.
The BR Hills wildlife sanctuary is part of a network of protected areas that form the Nilgiri Biosphere reserve and that includes more famous national parks like Kabini and Bandipur. It became a wildlife sanctuary in 1974 and since 2011 it is also an official tiger reserve.
BR Hills and the Soliga
BR Hills becoming a protected area was not without controversy, because these decisions affected the Soliga. The Soliga people have lived in the BR Hills for centuries. As hunter gatherers they have an intimate knowledge of the plants and animals in the forest.
When Biligiri rangana Betta became a wildlife sanctuary the Soliga were to be evicted and relocated. For years the Soliga fought a legal battle for the rights over their ancestral lands and won.
Although the Soliga now have community forest rights there is still a long way to go for them to be more involved in conservation efforts and decision making in BR Hills.
BR Hills is thus not only about nature, but also about culture. Besides the famous Ranganathaswamy temple, there are hundreds of places within the forest that have a special meaning for the Soliga.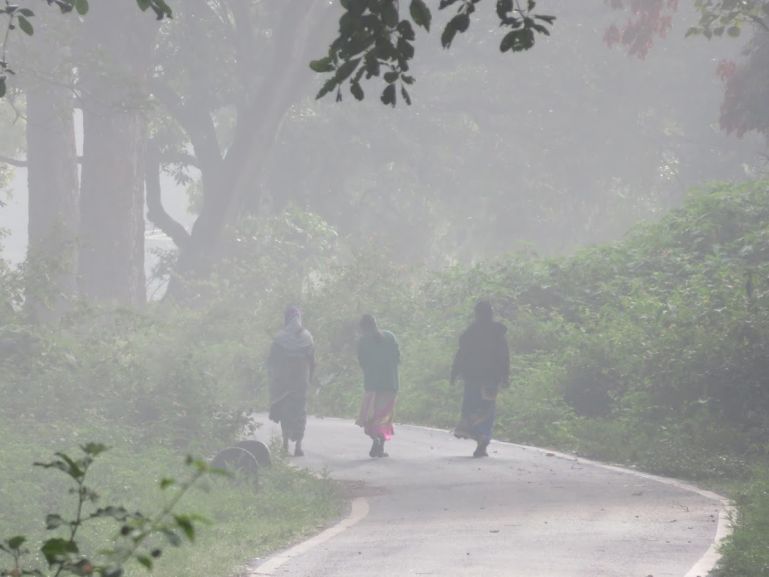 Sustainable tourism in BR Hills
Tourism in BR Hills is still in its infancy. It must be said that the Soliga have mixed feelings about the influx of visitors to their area.
As the Soliga are struggling to find new sources of income, tourism could be one of them. However, it needs to be done in a sustainable way without threatening the forest that is their home. So far, few of the benefits of tourism are going towards the Soliga as only a few hotels do make an effort to employ local people.
When you visit BR hills, do so with respect for the Soliga and the environment. Don't add to the problem of plastics and waste. Bring a water filter and leave nothing but footprints.
Things to do in BR Hills
Biligiri Rangana betta temple
The 400 year old Biligiri Ranganathaswamy temple is one of the main attractions in BR Hills. Lord Ranganatha is a Hindu deity in South India and a form of Vishnu. There are other Ranganatha temples in the area such as the one in Srirangapatna.
The temple in BR Hills for sure has the most beautiful location. On top of a hill it offers sweeping views over the forests and hills of Biligiri rangana betta. According to a Soliga folk take, Lord Ranganatha fell in love with a Soliga girl and married her. As a result, they consider Ranganatha to be their sister's husband.
The Soliga also believe that Ranganatha still wanders through the forests during the night. Every 2 years they present a new pair of large leather slippers to the temple.
Dodde Sampiga Mara
The Dodde Sampiga Mara is another sacred place for the Soliga that is even more important to them than the Biligiri rangana betta temple. They believe that the old champak tree is more than 2000 years old and is home to a number of deities.
The Soliga worship the tree and also come to celebrate many of their festivals. In february during Shiva ratri the soliga pray and dance around a fire.
BR Hills Wildlife sanctuary
For many tourists, the main reason to come to BR Hills is nature. The lush and green forests are home to elephants, tigers, sloth bears, wild boars, deers and squirrels as well as birds and butterflies.
Because of the confluence of the Western and Eastern ghats it is a truly unique ecosystem that connects with a number of protected areas in the Nilgiri Biosphere Reserve. The best way to explore the BR Hills Wildlife sanctuary is by trekking with a local guide or a jeep safari.
The best guides come from the Soliga community as they know all about the animals and plants in the forests, including the use of medicinal plants. Jeep safaris are arranged at the K gudi wilderness camp and last about two hours
Spotting Wildlife at BR Hills
Spotting any wildlife in BR Hills requires both luck and planning. Although BR Hills has one of the largest numbers of wild elephants and tigers east of the Western Ghats, you would be very lucky to see one.
Your chances of seeing animals in BR Hills depend a lot on the time of the year and day that you plan your jeep safari or trek. The early morning and late afternoon just before sunset are the best times to spot wildlife.
When to visit BR Hills
The winter season from October till March brings good weather. The best time to see animals comes in the dry season from February till March.
The vegetation will be less dense and animals are forced to come out of the forest to drink water. Be patient and wait at one of the watering holes and you have a good chance you will be rewarded.
The monsoon runs from June till September. This will bring lots of rain and mist to BR Hills. Therefore it will be difficult to see anything, although the lush greenery has a certain beauty of its own.
My wildlife experiences
I was in BR Hills for 3 months during the monsoon when I went on a jeep safari once. Unfortunately, I didn't spot any animals during the actual jeep ride. It being a misty morning after days of rain was probably one of the reasons. However, if you hang out at K Gudi camp in the early morning you are very likely to see wild boar, spotted deer (chital) and barking deer.
I stayed in a place that was actually quite close to the main road. I loved to go for short walks in the early mornings and this is when I saw the most birds such as woodpeckers and the crested hawk eagle. Often there was also a small barking deer that was grazing in the garden next to my room.
During my stay I often heard elephants at night, but never saw them up until my very last day when I was leaving BR Hills. As I was in the local bus to Yelandur, there were three elephants right next to the road.
Where to stay in BR Hills
K.Gudi Wilderness camp
For the best wildlife sightings and nature immersion you have the jungle lodges of K.Gudi wilderness camp. Their packages start at 6000 rupees per person per night. This does include lunch, dinner, breakfast and two jeep safaris.
K.Gudi lies somewhat remote and is difficult to get to without your own transport. From the Biligiri rangana betta temple it is 18 kilometers to the K.Gudi camp.
Gorukana Wellness Resort
One of my top recommendations is the Gorukana Wellness Resort offering luxurious eco cabins and a tree house in the midst of the forest.
They are one of the few hotels that make an effort to train and employ the local Soliga in the hospitality business. Part of their profit also goes to VGKK, a non profit organization working on development projects in the area.
The Gorukana resort is not far from the main road and therefore easy to reach with public transport. Gorukana can arrange community walking tours, nature walks, forest safaris and the K.Gudi jeep safaris for you.
Giridarshini Homestay
Giridarshini homestay is all about location. Next to the main road and within walking distance of the Ranganathaswamy temple you are in the center of action. Although the rooms offer views into the forest, this is one of the most populated areas within BR Hills.
This is not the best option if you are looking for a true nature getaway. However, it is one of the cheaper places to stay in BR Hills. Therefore it is very convenient if you come with public transportation and don't have the money to stay at Gorukana. They can also organize jeep safaris and nature treks.
BR Hills Travel tips
Where to eat
There are not a lot of restaurants in BR Hills. Close to the Ranganatha temple are a few basic facilities, but otherwise you are dependent on your hotel. Places like K.Gudi and Gorukana therefore offer all inclusive packages that include food.
Safety in BR Hills
Consider yourself lucky if you spot any of the big animals in BR Hills, but do remember that these are wild animals and walking in the jungle is not without its risks.
Animal attacks are rare, but do happen if you don't take care. Walking along the main roads on your own is fine, but don't wander off in the jungle or after dark. At last, always keep a safe distance from the animals you see and be very wary if you see a mother tiger with cubs or a mother elephant with her young. Elephants are easily provoked and can run pretty fast if they want.
That said, the biggest safety concern is getting ill. Travellers diarrhoea is the most common problem and therefore bring some kind of water purification system (filter, steri pen).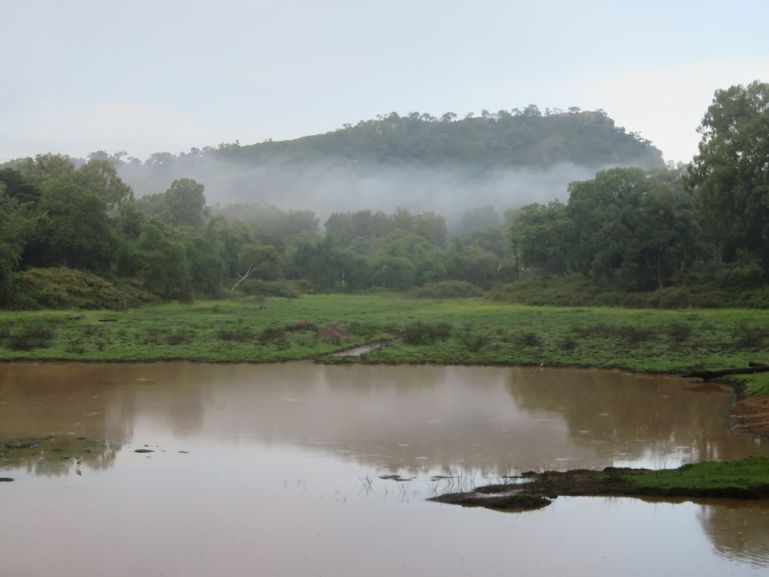 BR Hills packing list
Sturdy shoes or hiking shoes: If you plan to do some nature walks in BR Hills it is good to bring some sturdy shoes. Professional hiking boots are not necessary.
A sunhat and sunscreen: There will be a lot of shade in the forests, but because you will be outside a lot it is still important to protect you from the sun.
Anti mosquito repellent: There are a lot of mosquitoes and although dengue and malaria are rare there are occasional outbreaks. Wear long sleeve pants and use mosquito repellent.
Water purification system: Bring enough water with you. There is no need to add to the plastic waste problem. You can easily fill up your bottle with tap water. However, do use some kind of water purification system (filter, steri pen). Giardia and other microbes are very common
Clothes in Green, brown or grey colours: To improve your chances of seeing wildlife avoid wearing bright colours. Clothes in green, brown or grey colours allow you to blend in. The best is to bring thin and lightweight clothes with long sleeves. For women it is not appropriate to wear shorts or sleeveless tops.
Binoculars: If you have binoculars certainly bring them along to see birds and wildlife.
Enough money: There are no ATM's so make sure you bring enough money with you.
Snacks: There are a couple of small stores around the temple, but not much beyond. It is best to bring some snacks with you.
Toilet paper: There are no public toilets and most are of the drop down variety with no toilet paper in sight.
How to get to BR Hills
From Mysore
From Mysore it is about two hours to BR Hills. It is best to take one of the frequent buses from Mysore to Yelandur (1 – 1.5 hour). From Yelandur there are frequent buses to the Biligiri rangana Betta temple (45 minutes). The bus follows the main road. After BR Hills lake it goes past the Gorukana Eco Wellness resort, Giridarshini and finally the temple.
From Bangalore
From Bangalore it is about 5 hours to BR Hills. It is best to take a bus from Bangalore to Yelandur (4 hours). From Yelandur there are frequent buses to the Biligiri rangana betta temple (45 minutes). The bus follows the main road. After BR Hills lake it goes past the Gorukana Eco Wellness resort, Giridarshini and finally the temple.
Note that K.Gudi lies in the interior of the forest, about 18 kilometers from the main road and requires your own transport to get there.
Disclaimer: This post with a travel guide about BR Hills, also known as Biligiri rangana Betta, in Karnataka, India contains affiliate links. If you buy any service through any of my links, I will get a small commission at no extra cost to you. These earnings help me to keep Backpack Adventures alive! Thanks for your support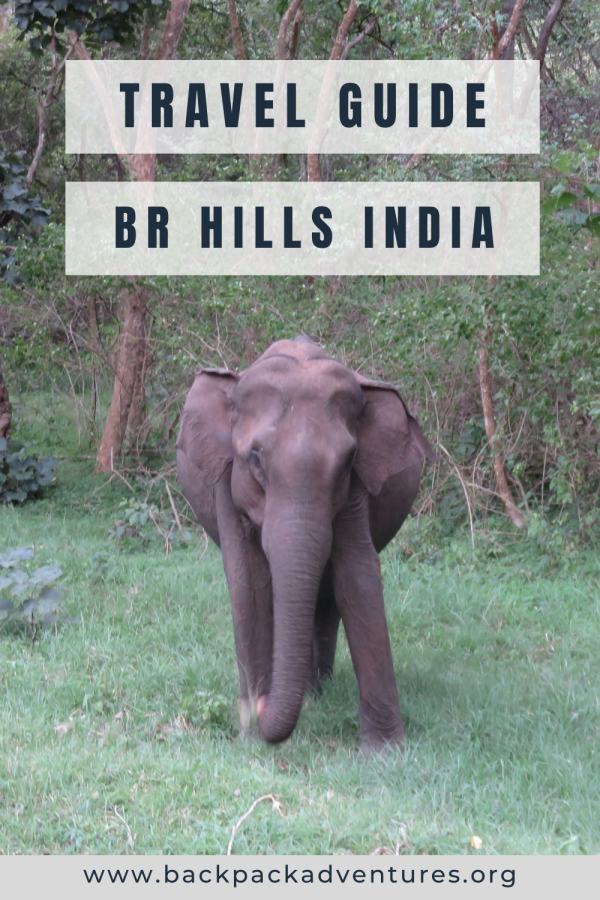 ---
---