Kolsai Lakes national park: the ultimate travel guide
This post is a travel guide about the Kolsai lakes National Park that includes lake Kaindy. They are the most beautiful mountain lakes near Almaty in Kazakhstan and relatively easy to visit for the independent budget traveller.
In this post I will try to answer all the questions you might have from how to get to the Kolsai lakes, how to hike to the second Kolsai lake and where to stay.
Why visit Kolsai Lakes National Park
When you think of backpacking Kazakhstan, you probably think of the vast steppes and not of alpine mountain sceneries. However, there is much more variety in the nature of Kazakhstan than you might think.
From the vast grasslands around Karaganda to the rocky mountains with snow leopards in Aksu Zhabagly, the red sandstone formations of the Charyn Canyon and the singing sand dunes of Altyn Emel.
Almaty lies in a small corner, bordering Kyrgyzstan and China, with some of Kazakhstan's most diverse landscapes. And yes, there actually are mountains, like the Tien Shan mountain range surrounding the Kolsai lakes, that make you feel like you are in Switzerland rather than in Kazakhstan.
Almaty is a heaven for the outdoors enthusiast and the best national parks of Kazakhstan lie just around the corner. Wherever you are in the city, you will see the mountains waiting for you. The snow-capped peaks of the Tien Shan promise a wilderness where bears and snow leopards still roam around.
My experience at the Kolsai lakes
I loved the Kolsai Lakes so much that I have visited them twice by now. As a solo backpacker you have several options to get to Kolsai Lakes National Park. Just keep in mind that public transportation is limited, distances are long and the roads are not the best.
Just before I left for my first trip to Kazakhstan, I watched the dutch version of the World's most dangerous roads. They drove to the Kolsai lakes and lake Kaindy. Exactly the places I wanted to go to.
On internet I found stories of couples that went on adventurous journeys with a combination of shared taxi's and hitchhiking. If I had a partner in crime, I would have been up for this as well, but as a solo female traveller I decided to play it safe. My first trip to the Kolsai lakes was with a tour through my hostel and on my second trip I decided to rent a car.
The road to the Kolsai Lakes
On my first trip to the Kolsai Lakes in 2016, I experienced first hand, how Kazakhstan's episode of the Worlds most dangerous roads was no joke. There was not much traffic, but what was there had difficulties driving in a straight line. Too much vodka, maybe? The gas station sold no snacks, but had an extensive collection of alcoholic drinks that were cheaper than water.
The fancy cars you see in the cities are nowhere to be found outside of Almaty. The countryside is like a museum of old lada's and tractors who barely survived the Soviet times, some of them not able to drive more than 30 kilometers per hour.
Besides slow vehicles to watch out for, there is also the occasional loose horse, sheep or cow running around. Out of Almaty the road deteriorates. While our driver tried to avoid holes and cracks we had a few near accidents.
On my second trip, I was prepared for almost anything, but Kazakhstan has invested a lot in its infrastructure. The road to the Kolsai Lakes is now paved all the way and in a good condition.
A break at Charyn Canyon
On both trips to the Kolsai Lakes I was as much impressed by the scenery along the way as I was with our final destination. The landscapes differ every hour and the vastness and emptiness have something beautiful. The rolling hills that keep changing colours as the sun and clouds play their games in the sky never get boring.
Midway on the road from Almaty to the Kolsai Lakes is the turn off to the Charyn Canyon. I can really recommend you to make a stop here on your way from Almaty to the Kolsai Lakes, even if it is just to see the viewpoint. However, it is best to take a couple of hours and hike into the valley of castles or even stay overnight in the ecopark at the bottom of the canyon.
Once you are in the canyon you might wonder whether you are still in Kazakhstan and the scenery is completely different from the grasslands above you. The signs in cyrillic are the only proof you are not in the Grand canyon. The Charyn canyon is maybe only 50 kilometers long but certainly not less impressive. For millions of years, winter and water eroded Charyn's red sandstone in strange shapes and rock formations.
Read more in my Charyn Canyon travel guide.
Saty: the gateway to the Kolsai Lakes
From the Charyn Canyon it is another two to three hours to Saty and the Kolsai Lakes. Saty is a small rural village with a collection of small wooden farmhouses surrounded by green meadows and forests of pine trees. The gardens are full of old Russian tractors and farmtools still going strong, although the main mode of transport in the village was the horse.
Saty is also the gateway to the Kolsai Lakes and Kaindy Lake. On my first trip there were only a few homestays, but nowadays there is plenty of choice and it is even possible to book your accomodation beforehand. Although not necessarily the best homestay, Arcabay Karligash is the only one you can book online so far.
However, unless you travel in the weekends when it gets busy, you can easily turn up and arrange a place to sleep on the spot. The only options to stay directly at the Kolsai lakes 5 kilometer from Saty are the Jibek Joli cottages and several privately run yurts (summer only).
How to visit the Kolsai Lakes
The first Kolsai Lake
The first Kolsai lake (Nizhny Kolsai lake or lower Kolsai lake) is still about 5 kilometers from Saty. To get there you either need your own transport or take a taxi. The first lake is a beautiful sight. When the sun shines it has a deep blue colour, but even when it rains it does not fail to impress.
Weather is quite unpredictable in the mountains and on my first visit it was not in my favour. However I still enjoyed being in the mountains and the rain did not take away the beauty of the first lake.
On my second visit I was more lucky. The weather was great and with more tourist infrastructure than before, it is now possible to rent a boat or go horse riding around the lake. You could easily spent your afternoon just relaxing around the first lake.
The second lake is no longer accesible by car and you would need to hike.
The hike to the second Kolsai lake
Let me be honest that both times I got far, but did not make it all the way to the second lake. It is only 8 kilometers, but it is a challenging hike that takes at least 3 – 4 hours up and 2-3 hours down. On my first visit the main culprit was the weather. It was drizzling outside, but dressed in a rain poncho and an umbrella I was ready to go.
It was a gradual climb and sometimes the snowcapped peaks became visible in the distance. Then, the drizzling turned into rain. Still, the scenery of the dense pine forests and the nearby stream kept me going. However, the higher I got, the more muddy and slippery the path became untill I had to walk through snow and ice. The second lake was still nowhere in sight, so I decided to turn back.
The second time we simply did not have enough time. I am a slow hiker and the steep climb up, took more time than planned. In the end, I decided to turn back so I would not miss out on lake Kaindy. However, I will describe the hike to the second lake step by step for those who are more fit than I am. There is also the possibility to rent a horse.
The first part of the hike to the second lake
The hike starts along the right side of the lake. Go down to the lake where it sort of looks like the path ends. It doesn't and will continue up again. This is a rather easy part of the hike with beautiful views of the lake.
Even if you do not intend to hike all the way up to the second lake I would recommend to hike at least this part of the trail. The first part will end where the river streams into the lake. This is also a really nice area to explore or have a picknick and a nice goal for a short hike around the first lake.
The second part of the hike to the second lake
The second part of the trail to the second Kolsai lake is another easy stretch with a gradual climb through pine forests and meadows alongside the river. This continues till you reach the first rest stop.
A yellow sign informs you that you are now at an altitude of 1882 meters and that you still have 3.5 kilometers to go. This might sound encouraging, but now the hardest part will follow.
The third part of the hike to the second lake
It is not for nothing that the first rest stop is after 4 kilometers of hiking, but that the second rest stop is only 1.4 kilometers from the first rest stop. It's a though steep climb through the forest over boulders and tree trunks. It took so long that I thought we must have missed the second rest stop. But no, after an exhausting hour it was there, informing me I still had 2 kilometers to go.
This is where I realized that timewise it was either the second Kolsai lake or lake Kaindy and I decided to turn back. It was a bit of a dissapointment that both times I did not make it to the second lake even though I was almost there, but I wouldn't have wanted to miss lake Kaindy.
The third and fourth Kolsai lakes
Yes, there is a third Kolsai lake and even a fourth one, but they are out of bound for travellers at the moment. The lakes are too near the border with Kyrgyzstan and the guards won't let you travel beyond the second lake.
Lake Kaindy
From all the mountain lakes near Almaty, it is lake Kaindy that I find the most beautiful. Unfortunately it is a bit of an adventure to get there and the road is still in a terrible condition. Our car with high clearance struggled as we tried to avoid stones and holes and crossed several streams. The effort was totally worth it.
Lake Kaindy is an eery alpine lake with dead trees sticking out. The lake evolved after an earthquake in 1911 that caused a landslide forming a natural dam. The forest submerged of which the trunks still rise out of the water like spears of a hidden army.
Kolsai Lakes Itinerary
To see the Kolsai lakes and lake Kaindy with a quick stop at the Charyn Canyon you need at least 3 days. Below you see a sample itinerary. If you travel with shared taxi's and hitchhiking you might want to add an extra day to include the Charyn Canyon and consider sleeping there the first night.
First day: Travel from Almaty to Saty with a stop at the Charyn Canyon (viewpoint & 3 kilometer walk through the Valley of castles). The road from Almaty to Saty is good, but it is still a 5 to 6 hour journey by car.
Second day: Visit the first Kolsai lake and hike to the second lake (6-7 hours)
Third day: Visit lake Kaindy in the morning and then travel back to Almaty.
If you have your own car it's easy to combine the Charyn Canyon and the Kolsai lakes with Altyn Emel. Check my post with a one week Almaty roadtrip.
How to get to the Kolsai lakes
You can visit the Kolsai Lakes on a tour or independent. To go on your own with public transport is not easy, but it is possible if you have the time. It requires patience and involves a combination of shared taxi's and hitchhiking.
Public transport to the Kolsai lakes
In Almaty there is a bus at 6 AM to Saty, but the service is not very reliable and on my last trip I was told it was not running every day, because of a lack of demand. Therefore, your best bet is a shared taxi to Kegen. From there you can use your hitchhiking skills to catch a ride to Saty.
Just keep in mind that hitchhiking is not for free in Kazakhstan and you should contribute towards the fuel costs. For more information you can read the detailed description of travelbloggers who managed to get there independently on Lost with a Purpose and travels of a bookpacker.
Also keep in mind that Saty is still 15 kilometer from the lakes. You will need to book a taxi in Saty to bring you to the lakes or hitchhike. Don't get out at the entrance gate where you will have to pay a park fee. From there it is also still 8 kilometers to the first lake.
The other options are to take a private taxi from Almaty or rent a car. If you have a group of people, both options might be more cost-effective and cheaper than an organized tour. I spoke to a couple that got a private taxi from Almaty to Saty for 10,000 tenge.
Kaindy Lake: Kaindy lake is probably the hardest to get to on your own as there is no public transport and the road is in a bad condition. However, in Saty it is pretty easy to arrange a taxi to Kaindy lake for the one hour drive. Most homestays will help you out.
Back to Almaty: It is much easier to travel back to Almaty. Most homestays can call the driver from the marshrutka that travels at 5 AM to Almaty. There is no bus station, but it picks up people door to door.
Tours to the Kolsai lakes
There are plenty of tour operators organizing tours from Almaty to the Kolsai lakes. Private tours can be pricy. If you are on a budget your best bet are community tours that are in the weekends. Local agencies like Steppe spirit advertise their weekend tours on their instagram sites in Russian. You can contact them for assistance in english.
Their prices are very cheap. However, do keep in mind that the weekends are not the best time to visit the Kolsai lakes. It can get pretty crowded with tourbuses dropping loads of tourists at the lake. Some of them leave Almaty friday evening travelling overnight. This is a pity as the scenery along the way is just as beautiful as the Kolsai lakes and you will probably not stop at the Charyn canyon or have enough time to hike to the second lake.
The first time, I organized a private tour with Almaty Backpackers Hostel and had a great time. I can recommend them both for accomodation in Almaty and tours in the Almaty region. It is easy to form a group with other travellers staying at the hostel to share the costs.
The second time I rented a car as I made a larger loop around Almaty including other stops such as the Charyn Canyon and Altyn Emel. We received several quotes from tour agencies and in the end renting a car with two people was cheaper.
Renting a Car to the Kolsai Lakes
There are several agencies in Almaty where you can rent a car. Make sure they allow you to travel outside of the city.
I often get the question if you need a 4WD to visit the Kolsai Lakes. My answer is no, but there are a few things to consider. The road to the Kolsai Lakes is paved, but the road to lake Kaindy is not. If you want to visit Lake Kaindy as well, you need a car with high clearance.
Another reason to hire a 4WD or car with high clearance is when you plan to combine a road trip to the Kolsai Lakes with Altyn Emel National Park. I rented a car with high clearance and visited Issyk Lake, Charyn Canyon, Kolsai Lakes, Lake Kaindy and Altyn Emel National Park.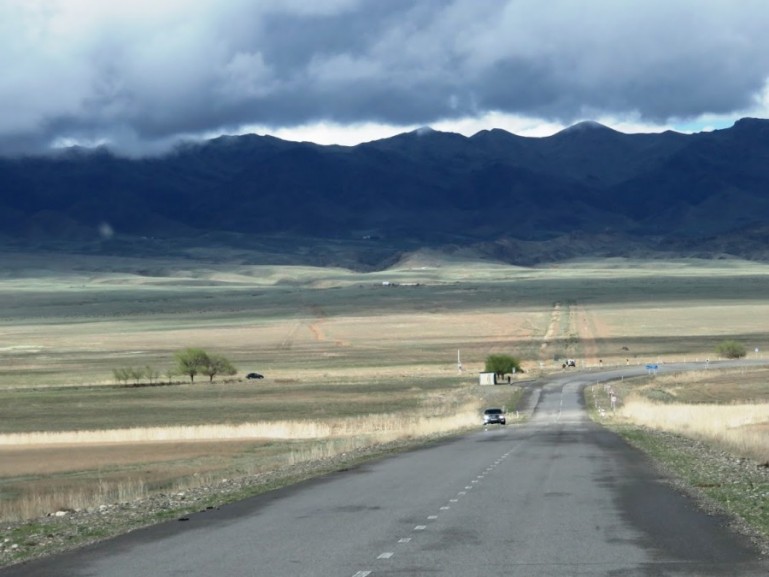 Kolsai Lakes Travel Tips
Accomodation at the Kolsai Lakes
Saty offers plenty of homestay's where you can sleep and eat for around 6000 – 8000 tenge per person per night (including food). One of the few homestays that you can book online is Arcabay Karligash. We stayed there on our last trip and thought it was ok, but the lady of the house was not necessarily the most friendly host. There is no need to book accomodation in advance, unless you travel in the weekends.
If you want to stay directly at the Kolsai lakes you can driver further to Kurmenty. Here you will find some privately run yurts (7000 – 10,000 tenge per night) and the Jibek Joli cottages.
Where to eat at the Kolsai Lakes
When you are in Saty you will most likely eat at your homestay. Even though there is a simple restaurant, the food at your homestay will be, without doubt, much better. Expect local Kazakh dishes like plov, beshbarmak, laghman or dimlama. Any meal comes with salads, bread and unlimited tea.
If you plan to hike to the second lake, make sure you bring enough water, snacks and some food for a picknick lunch. There is a small store that sells snacks at the first lake, but it wasn't open when I was there. In Saty is a bigger store where you can buy some food.
The best time to visit the Kolsai Lakes
The season runs from May to October and summer is the best time to visit. However, summer is also the most popular time and the place can become crowded.
In winter it will be very cold and winters last long in the mountains. I was there in April when there was still snow and ice on the trail. Therefore I didn't make it to the second lake. Spring also sees a lot of rainfall and there is the risk of ticks and mosquitoes.
In autumn temperatures cool down, but this is when the colours in the trees make the lake even more beautiful. If you want to avoid the crowds, but still have great weather, autumn is in fact a better time to visit than summer.
Another thing to keep in mind is that, especially in summer, it is best to avoid the weekends. If there is something like overtourism in Kazakhstan, you will find it at the Kolsai Lakes in the weekends. During the week you will have a more peaceful and quiet atmosphere.
Kolsai Lakes Packing List
Some warm clothes and a rain jacket: Because the Kolsai lakes are in the mountains you can expect any kind of weather. Even in summer it can get cold in the evenings and rain is possible any time of the year.
Sturdy shoes or hiking shoes: Proffesional hiking boots are not necessary. However, the trail to the lake can get muddy and slippery and requires a good pair of shoes.
Sun protection: The sun can be pretty strong at higher altitudes. Bring a hat and sunscreen to protect you from the sun
Mosquito repellent: Mosquitoes and ticks are plentiful in spring and summer, especially around the lakes. Read more about how to avoid mosquitoes and ticks when hiking.
Money: There are no ATM's in Kolsai Lakes. Make sure you bring enough money with you.
Snacks: Even though there is a basic general store in Saty it is best to carry some snacks with you.
Water purification system: There is no need to add to the plastic waste problem. You can easily fill up your bottle with water from the lake and the river. However, do use a filter.
Toilet paper: Most toilets are of the drop down variety with no toilet paper in sight.
Your passport:There is now a checkpoint before you enter Saty. When we entered Saty there was actually nobody present. When we left, there was, but they didn't ask for our documents. Still, it is better to be safe than sorry. The Kolsai lakes are close to the border with Kyrgyzstan so they do check you once in a while.
Sustainable Travel in Kolsai Lakes National Park
The Kolsai Lakes are in a remote part of Kazakhstan, but see more tourists every year. While Tourism is a welcome source of income for the local community it can also have negative consequences. Traveling sustainably in the Kolsai Lakes, involves conscious choices that minimize your environmental impact in these remote and pristine ecosystems.
Stay in small scale sustainable hotels: It is better to stay in locally-owned guesthouses or homestays to support the local economy directly. These accommodations often have a more positive impact on the environment compared to large hotels. I can recommend staying in a homestay for an authentic cultural experience. You might want to bring a small book with pictures of your family to break the ice.
You can try to look for guesthouses or homestays that prioritizes sustainable practices. That said, environmental awareness is still low. It's up to you to use water sparsely, turn off lights, air conditioning, and heating when leaving your accommodation.
Leave no Trace principle: When hiking in the Kolsai Lakes, stick to designated trails to protect the fragile ecosystems. Straying off the marked paths can cause soil erosion and damage to plant life. If you are lucky enough to spot wildlife, observe quietly from a distance to prevent disruption to their habitats and help maintain their natural behaviors.
I encourage you to take all your trash back with you and dispose of it responsibly. In other words, leave no trace of your visit. Even better is when you bring something to pick up any of the trash that other people left behind.
To avoid single-use plastics, invest in reusable items. For example, you can bring your own water bottle with a filter that you can refill at your accomodation. At last, use biodegradable and eco-friendly personal care products to minimize pollution of water sources.
Respect the culture: Besides environmental concerns it is also important to respect the culture. Kazakhstan is an Islamic country with a nomadic past that is just opening up to tourism. Therefore, learn about the local customs and traditions beforehand and be mindful of your behavior.
People will appreciate it, if you dress modestly, especially at religious sites. Learning a few basic phrases in Kazakh or Russian, can go a long way in building meaningful connections and to learn more about the local culture. Not everybody is happy to have their picture taken. When in doubt, ask permission.
Disclaimer: This post with a travel guide about the Kolsai lakes and lake Kaindy contains affiliate links. If you buy any service through any of my links, I will get a small commission at no extra cost to you. These earnings help me to keep Backpack Adventures alive! Thanks for your support!
---
---