Debed Canyon Armenia: the ultimate travel guide
This post is about the Debed canyon in Armenia. The Debed Canyon is located in the northern part of the country, specifically in the Lori Province. It is formed by the Debed River, which flows through the region, carving a deep and picturesque gorge.
The Debed Canyon is an area that is often overlooked by travellers, but that I found to be one of the highlights of Armenia. It is renowned for its natural beauty, with steep cliffs, lush greenery, and breathtaking landscapes.
The Debed canyon does not only offer a beautiful mountainous landscape, but also ancient monasteries and churches.
Why visit the Debed Canyon in Armenia
The Debed Canyon was one of the highlights of my trip to Armenia. Once we crossed the border from Georgia we soon entered the canyon. The winding mountain roads passed by green hills and pastures full of yellow and red flowers. It was spring time and nature was in full bloom.
The Debed Canyon is renowned for its stunning landscapes, characterized by steep cliffs, lush forests, and the meandering Debed River. The combination of rugged terrain and verdant surroundings creates a picturesque setting that is truly awe-inspiring.
My main reason to visit the Debeb canyon was because of its ancient monasteries. The canyon is home to three UNESCO World Heritage Sites, namely Haghpat Monastery, Sanahin Monastery, and the Akhtala monastery. They belong to some of the oldest monasteries in the world as Armenia was the first Christian country in the world.
The monasteries are somewhat difficult to get to, because they are built on the top of mountainous hills. As a result the location of most monasteries is rather spectacular with sweeping mountain views over the Debed Canyon.
Because of limited public transportation I visited the Debed Canyon on a tour.
Places to visit in the Debed Canyon
Akhtala monastery
Our first stop was Akhtala monastery from the 10th century. Akhtala Monastery was an important religious institution in medieval Armenia. It housed a significant number of monks and clergymen and played a vital role in spreading Christianity in the region.
In the 13th century, Armenia, including Akhtala Monastery, faced Mongol invasions and subsequent destruction. The monastery was heavily damaged during these invasions, leading to a decline in its prominence and influence. However, despite the destruction, some of the original frescoes and architectural features have survived.
Most monasteries in Armenia are rather sober from the inside with nothing more than a simple altar and a place to burn candles. Akhtala is the only monastery in the Debed Canyon that still has well preserved frescoes with scenes from the bible. Personally I found this to be the most beautiful monastery in the Debed Canyon.
Sanahin monastery
The second place I visited was the Sanahin monastery. Sanahin translates as "This one is older than that one". This probably refers to nearby Haghpat. Both are from the tenth century and they are among the oldest monasteries in Armenia.
During the 10th to the 13th centuries, Sanahin Monastery experienced a period of significant growth and cultural development. It served as a hub for learning, manuscript production, and religious teachings.
Sanahin's buildings were impressive for its age. The Monastery is renowned for its exceptional architectural design and intricate stone carvings. The complex has several structures, including the main church, smaller churches, chapels, bell towers, and a library. The interior has a certain beauty in its austerity.
Haghpat monastery
Last, but not least, was a visit to Haghpat. This monastery had the most spectacular location in the Debed Canyon. Its buildings are perched halfway on a hillside overlooking the Debed river below.
Haghpat Monastery played a significant role in Armenian culture and education. It was a center for theological studies and manuscript production, contributing to the preservation and dissemination of knowledge. The monastery's influence extended beyond its immediate surroundings, impacting the broader region.
This monastery also has several beautiful kachkars. These Armenian crosstones are decorated with intricate motifs. The first kachkars appeared in the 9th century. Despite Armenia's violent past of raids and lootings by invaders there are still about 40,000 kachkars throughout the country.
Monasteries of the Debed Canyon
The monasteries of the Debed Canyon might look similar from the outside, but each has its own charm. In addition, they also have their own legends and superstitions. Often there is something that locals believe will bring good luck.
In Akhtala newly weds can pass through two rings for a happy marriage. For those who are single, it might help in finding the right partner. In Haghpat you can walk on a small edge across the wall.
Alaverdi
Behind all the beauty, there is also a different story. Our guide told us more about the history of the Debed Canyon. In Soviet times this area had a lot of copper mine factories. When Armenia became independent many of them closed down leaving most people unemployed.
The factories that still operate emitt dark clouds of smoke in the air. The reason that lung cancer is much more frequent here than elsewhere in the country.
The large town of Alaverdi is full of old shabby looking Soviet flats with laundry hanging outside on its balconies. We passed by several abandoned factories scarring the landscape. It makes me wonder what a horrible trade off this was for the people.
The Soviets built factories that brought work and economic stability, but that polluted the landscape and caused severe health problems. Now the factories are closed, which is a blessing for the environment, but leaves people without jobs.
Hopefully tourism can be a new source of income. The Debed Canyon is still an off the beaten path destination, because it is relatively far away compared to Armenia's other monasteries. It definetly feels remote, but actually Alaverdi is only 4 hours away from Yerevan.
Things to do in the Debed Canyon
Hiking
I visited the monasteries of the Debed Canyon on a day tour. If there is one reason I would like to return to the Debed Canyon is because of its natural beauty and the hiking possibilities.
The Debed Canyon offers a range of hiking trails suitable for different skill levels. You can choose from easy, well-marked paths for casual walkers or more challenging routes for experienced hikers seeking an adrenaline rush. The trails meander through forests, along ridges, and provide access to scenic viewpoints.
The region is known for its diverse array of wildflowers. During the spring and summer months, you may encounter beautiful blooms such as poppies, tulips, irises, daisies, and various species of orchids, adding vibrant colors to the landscape.
Wildlife and Birdwatching
The Debed Canyon is a habitat for a variety of bird species. You may spot birds such as golden eagles, griffon vultures, peregrine falcons, black storks, hoopoes, and various species of owls.
While larger mammals are not as commonly seen, you might encounter smaller mammals like foxes, hares, hedgehogs, and various rodents during your hike. Keep an eye out for signs of their presence, such as tracks or burrows.
Trying Armenian food
My tour guide supported a local family in one of the nearby villages by having lunch there. For me this was one of the highlights of the day. Armenia's big pride is Khorovats.
Khorovats is a must-try dish in Armenia. It is a barbecue-style grilled meat dish, typically made with succulent pieces of marinated pork. The meat is grilled over an open flame, resulting in a smoky and flavorful delight.
The pork was grilled to perfection, but even more delicious were all the small side dishes and salads. Everything was made from fresh products. The host family was lovely and kept feeding us till we were almost exploding.
Debed Canyon Travel Tips
Where to sleep in the Debed Canyon
If you plan to stay in the Debed canyon there are good accomodation options in Alaverdi such as Guesthouse Alaverdi, Mini house and Iris Bed and Breakfast.
If you travel from Tbilisi to Yerevan with Envoy tours, I can recommend their hostels in Tbilisi and Yerevan.
Public transport to the Debed Canyon
Visiting the Debed Canyon by public transport is a bit complicated and takes time, but it's not impossible.
Alaverdi is the main town in the Debed Canyon. There are frequent marshrutka's (minivans) to and from Yerevan taking about 3-4 hours. From Alaverdi there are 1 or 2 daily marshrutka services to the villages of Haghpat, Sanahin and Akhtala, but not to the monasteries.
Haghpat is still a 6 kilometer walk from the highway and Akhtala a 3 kilometer walk. It is also possible to visit Sanahin by taking a cable car from Alaverdi and walking about 2 kilometer to the monastery.
Debed Canyon by tour
As an independent budget traveller I am not a big fan of tours and I use public transport wherever I can. However, the Debed Canyon in Armenia is one of these few places where taking a tour is really worth it.
With an organized tour it is possible to visit all the monasteries in the Debed Canyon within one day, saving you lots of time. Furthermore, the background information the guides provide about the monasteries is very interesting and gives you a better understanding of what you see.
Many tour operators have started to include the monasteries of Haghpat and Sanahin in their itineraries.
If you are travelling from Tbilisi, Georgia to Yerevan, Armenia or the other way around I can really recommend the Enlinking Caucasus Tour from Envoy Tours. They travel from Tbilisi and Yerevan with stops in Haghpat, Sanahin and Akhtala with a delicious Armenian lunch that will fill you up for the rest of the day.
They also have excellent hostels in both Tbilisi and Yerevan with good facilities. A great way to meet other people and discover the Caucasus. Besides the Enlinking Caucasus Tour that I did, they also offer other tours in Georgia and Armenia.
Debed Canyon by car
If you prefer to have the flexibility to explore the Debed Canyon at your own pace it's best to have your own transport.
You could either hire a taxi for the day or rent a car. This option will probably be slightly more expensive than a tour, but provides all the freedom to go wherever you want to go in the Debed Canyon.
When to visit the Debed Canyon
The Debed Canyon is a year round destination and every season has its charms.
Spring (April to May): Spring is a beautiful time to visit the Debed Canyon. The weather starts to warm up, and nature comes alive with blossoming flowers and vibrant greenery.
Summer (June to August): Summer is the peak tourist season in the Debed Canyon. The weather is generally warm and sunny, making it an ideal time for outdoor activities like hiking, exploring monasteries, and enjoying the scenic beauty of the canyon.
Autumn (September to November): Autumn is another great season to visit. The temperatures start to cool down, and the foliage begins to change, creating a picturesque landscape of golden hues.
Winter (December to February): Winter brings a different charm to the Debed Canyon. The canyon and its surrounding mountains can be covered in a blanket of snow, creating a serene and peaceful atmosphere. Winter is a quieter season with fewer tourists. However, be prepared for colder temperatures and the possibility of some trails being inaccessible due to snow.
Disclaimer: This post with a travel guide about the Debed Canyon in Armenia contains affiliate links. If you buy any service through any of my links, I will get a small commission at no extra cost to you. These earnings help me to keep Backpack Adventures alive! Thanks for your support!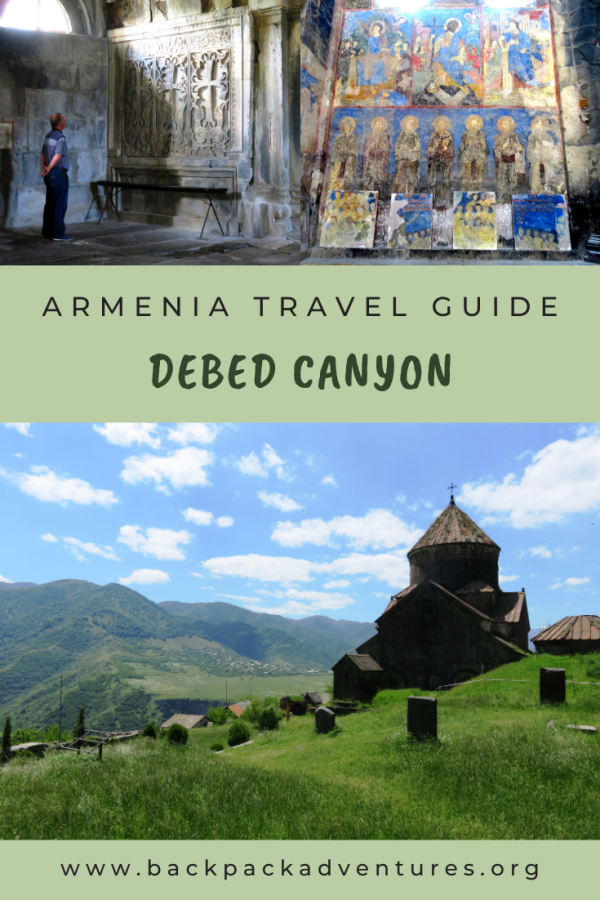 ---
---