The Fergana Valley in Uzbekistan: the ultimate travel guide
This post is about the Fergana Valley in Uzbekistan. The Fergana valley in Uzbekistan still receives few tourists. It is one of those off the beaten path places to visit in Uzbekistan where you still feel like an explorer.
A place where you stumble upon ancient mosques and madrassahs and you are the only tourist around. A welcome change from the more famous Silk Road cities in Uzbekistan where tourism is now well established.
The Fergana valley in Uzbekistan might lack the Islamic masterpieces from Khiva, Bukhara and Samarkand, but it has the friendliest people and the most colourful bazaars. As the center of traditional handicrafts, like pottery and silk, it has a lot of potential too. For many Uzbeks, this part of the country is the authentic Uzbekistan, whatever that might mean.
After my visit to the Fergana valley, I can imagine it means a kind of nostalgy of what the rest of Uzbekistan was like before. How it was before souvenir shops took over and modernization destroyed the old traditional neighbourhoods. They were called mahallah's, but many forcefully dissapeared in the name of development.
In the Fergana valley, the towns still have a network of traditional mahallah's with tight knit communities. When walking through the mahallah's, I also felt that the Fergana Valley has its own unique culture that is quite different from the rest of Uzbekistan. More conservative, more religious, but also more curious, more friendly and more welcoming.
There are no big tourist attractions in the Fergana valley in Uzbekistan. But, if you truly want to understand Uzbekistan and its relationships with its neighbours, a visit to this region is a must.
A History of the Fergana Valley in Uzbekistan
The Fergana Valley has been inhabited since ancient times. It was an important crossroads along the Silk Road, facilitating trade and cultural exchange between China, Central Asia, and the Mediterranean region. The valley was part of various empires, including the Persian Achaemenid Empire, the Greek Seleucid Empire, and the Kushan Empire.
With the spread of Islam in the 8th century, the Fergana Valley became an important center of Islamic learning and culture. Again it was controlled by many different rulers from the Mongols, the Timurids, the Shaybanid dynasty and the Soviets. After the collapse of the Soviet Union in 1991, Uzbekistan gained independence, and the Fergana Valley became part of the newly formed Republic of Uzbekistan.
The Fergana Valley in Uzbekistan
If the Fergana valley rings a bell, it is probably because it was in the news. Either for ethnic conflicts, the presence of radical Islam or the Andijon massacre. Everyone in Uzbekistan remembers Andijon for the protests in 2005 and the military crackdown that killed 700 people.
This shows the complex relationship of the Fergana vallley in Uzbekistan has with its national authorities. Despite it's problems, it is also an extremely important part of the country. The Fergana valley is the agricultural heartland and the most industrious province.
A lot of things in Uzbekistan come from the Fergana valley. The white Chevrolets in Tashkent, the melons in the bazaar, the Ikat silks in the fashion stores and the colourful ceramics in the souvenir shops
The Fergana Valley has always been an important region, because of its pleasant climate and fertile soil. For centuries the valley attracted people that wanted to escape the harsh climate from the mountains. The result was a multicultural landscape with mixed Uzbek, Kyrgyz and Tajik communities.
Soviet divisions
People often blame Stalin for the problems in the Fergana valley. It was Stalin who drew the borders and gave a large part of the Fergana Valley to the Soviet republic of Uzbekistan. The question remains whether this was a conscious divide and rule policy or mere ignorance.
Either way, the situation in the Fergana Valley was so complex, that no matter how Stalin drew the lines, there were bound to be people who found themselves on the 'wrong' side of the border.
It was only when the Soviet Union fell apart that ethnic unrest surfaced. The latest issues were the ethnic clashes in Kyrgyzstan in 2010. After that a certain stability arose in Uzbekistan. Tensions are still there, but nobody wants to break the peaceful status quo.
Uzbekistan still has the largest piece of the pie, but Kyrgyzstan and Tajikistan also own a small part. In 2022 new conflicts arose over the Fergana Valley between Kyrgyzstan and Tajikistan.
Is the Fergana Valley in Uzbekistan safe?
With such a history you might wonder whether it is safe to travel to the Fergana Valley in Uzbekistan.
My short answer is yes. Despite its problems, The Fergana valley, also has a long history of peaceful co-existence, tolerance and hospitality. I travelled for a week in the Fergana valley in Uzbekistan as well as parts in Kyrgyzstan and Tajikistan.
Everywhere I used public transport and stayed in small scale guesthouses. Overall I had a very positive experience. There were no problems and people were very friendly and helpful.
Solo female travel in the Fergana valley
For solo female travellers it is good to keep in mind that the Fergana Valley is more conservative than the rest of Uzbekistan. It is perfectly safe to travel as a woman in this region, but dress modestly. People in Samarkand are now used to see tourists wearing whatever they like, but in the Fergana valley this is not yet the case.
People are also not used to see women traveling alone and you might get some questions what you are doing in the Fergana valley and why you are traveling without your family. These questions are nothing to worry about and people are generally just curious.
Places to visit in the Fergana Valley Uzbekistan
The Fergana Valley in Uzbekistan is not that big and it is easy to base yourself in one city and make day trips from there. Many choose Fargona, because it has a central location. Personally I prefered the more scenic Margilon that is only 20 minutes away from Fargona
Fergana City (Fargona)
Fergana city is the capital of the Fergana valley and has all the facilities a traveller needs. There are excellent restaurants, several good hotels and it's also a transport hub with frequent connections to Margilon, Rishton, Andijon and Kokand.
However, Fergana city is a relatively new town and besides the central park there is not that much to see. It is also not as scenic as the other towns in the Fergana Valley in Uzbekistan.
Where to eat in Fergana: Traktir Ostrov, Palma cafe
Things to do in Fergana city: Central park, bazaar
Margilon
To explore the Fergana Valley I choose to base myself in Margilon rather than Fergana city. While Fargona felt new and shiny, Margilan had character. The traditional town with its small back alleys gave me a good insight in the traditional mahallah culture in the Fergana Valley.
Margilan is home to several historical buildings and architectural landmarks. The Said Ahmad-Khoja Madrasah showcases stunning tilework and woodcarvings, while the Pir Siddiq Complex houses a beautiful mosque and mausoleum. These sites highlight the rich architectural heritage of the region and offer a chance to appreciate the intricate craftsmanship.
Margilan is renowned for its traditional silk production, and it offers a unique opportunity to witness the silk-making process up close. You can visit the Yodgorlik Silk Factory and observe skilled artisans weaving silk fabrics using age-old techniques. The free tour shows the whole process of how the silk is made and how the ikat patterns are designed. This alone makes Margilon worth a visit.
Another highlight of my visit to the Fergana Valley was the local market in Margilon. The colourful Kumtepa bazaar was one of the most vibrant markets I visited in Uzbekistan.
Things to do in Margilon: Kumtepa bazaar, Yodgorlik Silk factory, Said Ahmad Haji madrassi, Hudoyoron Hoji mosque, Central park
How to get there: Margilon is 20 – 30 minutes by shared taxi from Fargona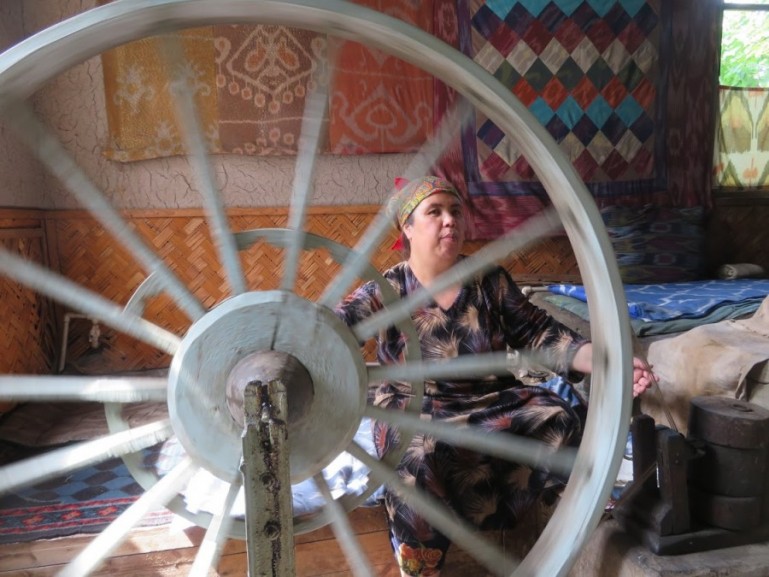 Rishton
Rishton is renowned for its centuries-old tradition of pottery-making that goes back at least 800 years. The town is home to skilled artisans who continue to produce beautiful, handcrafted ceramics using traditional techniques.
The local red clay around Rishton is so pure that it needs no further additives. The ceramics are decorated with deep blue colours that are produced from other local natural products. You will see the end results everywhere in Rishton.
Rishton has a peaceful and laid-back atmosphere, with friendly locals who take pride in their heritage and craftsmanship. It remains the center of pottery production, but there are only a few true masters left that still use traditional techniques. Usmanov is one of them and he gives free tours in his workshop.
Things to do in Rishton: Usmanov Ceramic workshop
How to get there: Rishton is midway between Fargona and Kokand. By shared taxi it is one hour from either city.
Kokand
Kokand was my favourite city in the Fergana Valley. A traditional town with some Islamic architecture, friendly people and great food. What else do you need?
Kokand was once a prominent city and capital of the Kokand Khanate, an independent Central Asian state that existed in the 18th and 19th centuries. The city played a crucial role in the region's history and was known for its political, cultural, and economic influence. It was almost as important as Bukhara in that time, untill it became a Russian vassal state in 1868.
The main attraction is the beautiful Kudayar Khan palace. This opulent palace, built in the 19th century, features beautiful courtyards, intricately carved wooden columns, ornate tilework, and vibrant frescoes.
The Jami Mosque and Madrasah complex is another notable landmark in Kokand. The Modari Khan mausoleum is also worth a visit. This mausoleum complex is the final resting place of the rulers of the Kokand Khanate. It features several tombs, each with its unique architectural style and ornamental motifs.
Where to eat in Kokand: cafe Kapriz
Things to do in Kokand: Palace of Kudayar Khan, Norbutabiy mosque, Modari Khan mausoleum, Juma mosque
How to get there: Kokand is two hours by shared taxi from Fargona or one hour from Rishton.
Namangan
It was a though choice whether to visit Namangan or Andijon. Both are more famous for political reasons than for its tourist attractions. I already explained about Andijon, but Namangan made it in the news for its radical islamic groups.
It was the heartland of the Wahabi Islamic Movement of Uzbekistan. This extreme sect from Saudi Arabia started in the local Ota Valikhon Tur mosque from where it spread its ideas in the Fergana Valley. Later Karimov banned any of these religious fundamentalist groups believing they were a threat to his regime.
Repression never really erases the root of the problem. The Ota Valikhon Tur mosque is now an art gallery, but Namangan remains one of the most conservative cities in Uzbekistan.
Namangan is an eclectic town. Along the main street there were shiny new appartments that still stand empty. It reminded me of Nukus in Karakalpakstan. But then there is also the vibrant bazaar and the small alleys of the traditional mahallah's with old mosques and shrines.
Apparently there used to be over 600 mosques. Such glory days are clearly over, but some interesting buildings still stand strong. Don't miss the Khoja Amin mausoleum and the Mullah Kyrgyz madrassa near the bazaar.
Things to do in Namangan: Namangan bazaar, Otavalikhon Tur mosque (now has an art gallery), Khoja Amin mausoleum, Mullah Kyrgyz madrassah, Babur park
How to get there: Namangan is one hour by shared taxi from Msargilan or 1,5 hour from Fargona.
Andijon
I must be honest that I personally did not visit Andijon. Mostly, it is famous for the 2005 Andijon massacre when the government cracked down on anti government protests and killed 700 people.
If you travel from Osh in Kyrgyzstan to Uzbekistan, Andijon is the first town in the Fergana valley. It is worth a quick stop to see the Juma mosque, the Babur museum and the Jahon bazaar (Sundays and Thursdays)
Things to do in Andijon: Jahon bazaar, Juma mosque, Babur literary museum, Navoi park
How to get there: Andijon is 1.5 hours from Fargona by shared taxi.
The Fergana Valley, Uzbekistan Travel Tips
What to eat in the Fergana Valley
The Fergana Valley is an excellent place to try Uzbek food. Honestly, it will be difficult to find anything else, but the valley is famous for its delicious food.
The Fergana Valley is famous for its abundance of fresh and flavorful fruits. During the summer months, you can find a variety of juicy melons, such as watermelon and honeydew, as well as cherries, apricots, peaches, and plums. These fruits make for refreshing and healthy snacks.
Bread holds a special place in Uzbek cuisine, and non, a round flatbread, is a staple in the Fergana Valley. It is baked in traditional clay ovens and served fresh and warm. They were sold everywhere and fresh from the oven were absolutely delicious.
Most restaurants serve all the classic central Asian dishes like plov (rice with carrots and meat), Laghman (hearty noodle soup), Manti (dumplings) and Shaslick (meat skewers).
Where to sleep in the Fergana Valley
Fergana city: If you want to base yourself in Fargona you can choose between several options. Sakura Inn is a good budget options for the independent traveller.
Margilon: If you prefer to stay in Margilan I can personallly recommend the scenic and professionally run Ikat house. The rooms are beautiful and they have an excellent breakfast that is included in the price. This guesthouse alone makes it worth to stay in Margilon rather than Fargona.
Kokand: The Ahmadkhon hotel is probably among the strangest hotels where I have stayed. Even the taxi driver was worried he brought me to the wrong place when the address turned out to be a football field from the Ahmadkhon sports complex.
I thought there must have been a misstake, but when I called, someone already came running outside to greet me. The Ahmadkhon sports complex was also running a brand new guesthouse and I must say I was positively surprised. My room was huge and clean. The breakfast was excellent and I almost felt like a queen in the large dinner hall.
How to get to the Fergana Valley
The train is the best way to travel to the Fergana Valley. The daily Ozbekistan leaves from Tashkent at 08:07 AM. It follows the route to Kokand, Margilon and Andijon (4-5 hours). From Andijon it returns to Tashkent at 16:00 PM. Read more about train travel in Uzbekistan.
There are also shared taxi's from Tashkent's Severnij Vokzal or Qoylok bazaar to destinations in the Fergana Valley (5-6 hours)
From Tajikistan it is easy to travel between Khujand and Kokand and from Kyrgyzstan it is easy to travel between Osh and Andijon.
How to travel around in the Fergana Valley
The best way to travel around in the Fergana Valley is by shared taxi's. They are a cheap way to get around and leave once full.
Fargona has a central location and is therefore a transport hub in the Fergana Valley. From Fargona you can find regular shared taxi's to Margilan (30 minutes), Rishton (1 hour), Kokand (2 hours), Namangan (1,5 hours) and Andijon (1.5 hours).
Is it worth it to visit the Fergana Valley
Let me be honest that the Fergana Valley in Uzbekistan is not the most beautiful part of the country and the tourist attractions are rather low key, especially compared to places like Samarkand, Bukhara or Khiva.
Considering it's importance for the region though, it makes for a fascinating visit. As an anthropologist with an interest in post Soviet countries, the Fergana Valley was a must in my Uzbekistan itinerary.
But besides my academic interest, I really enjoyed the Fergana Valley too. The highlights were the free tours I had at the Yodgorlik Silk Factory in Margilon and the Usmanov pottery workshops in Rishton. They definetly offer outstanding quality compared to the mass produced souvenirs you find elsewhere.
If you like off the beaten path places with rich cultural traditions and meeting friendly locals you will definetly appreciate the Fergana Valley in Uzbekistan.
When to visit the Fergana Valley
The best time to visit the Fergana Valley in Uzbekistan is during the spring (April to June) and autumn (September to October) seasons. These months offer pleasant weather with moderate temperatures, making it ideal for exploring the region's attractions.
I visited Uzbekistan in spring and it really was a wonderful time with the trees blossoming and the festivities of Nowruz going on. This spring festival sees beautiful celebrations all over Iran and Central Asia. The weather is mild and enjoyable, with temperatures ranging from around 15°C to 25°C
September and early October is another great time to visit the Fergana valley. This is also the harvest season and the bazaars are full with fresh fruits and vegetables.
Summer (June to August) in the Fergana Valley can be quite hot, with temperatures reaching above 35°C. Winter (December to February) can be cold, with temperatures dropping to around freezing or below.
Sustainable Travel in the Fergana Valley of Uzbekistan
The Fergana Valley is still an off the beaten path destination in Uzbekistan, but tourism is increasing. While Tourism is a welcome source of income it can also have negative consequences. Traveling sustainably in the Fergana Valley, involves conscious choices that minimize your environmental impact and support the local community.
Support the local community: You can support the community by purchasing goods and services from local vendors, artisans, and restaurants. The Fergana Valley is famous for its beautiful handicrafts such as ikat silk from Margilon and pottery from Rishton. It is better to try Uzbek cuisine that uses local ingredients rather than imported foreign foods.
Stay in small scale sustainable hotels: It is also better to stay in locally-owned guesthouses or homestays to support the local economy directly. These accommodations often have a more positive impact on the environment compared to large hotels. Where possible, I can recommend staying in a homestay for an authentic cultural experience. You might want to bring a small book with pictures of your family to break the ice.
You can also try to look for guesthouses or homestays that prioritizes sustainable practices. That said, environmental awareness is still low. It's up to you to use water sparsely, turn off lights, air conditioning, and heating when leaving your accommodation.
Use public transport: The Fergana Valley has a well-developed public transportation system with shared taxis and marshrutkas. Opt for public transport, whenever possible, instead of private cars to reduce carbon emissions.
Avoid plastics: To avoid single-use plastics, invest in reusable items. For example, you can bring your own water bottle with a filter that you can refill at your accomodation. At last, use biodegradable and eco-friendly personal care products to minimize pollution of water sources.
Respect the culture: Uzbekistan is an Islamic country that is just opening up to tourism. The Fergana Valley is more conservative than the rest of the country. Therefore, learn about the local customs and traditions beforehand and be mindful of your behavior.
People will appreciate it, if you dress modestly, especially at religious sites. Learning a few basic phrases in Uzbek or Russian, can go a long way in building meaningful connections and to learn more about the local culture. Not everybody is happy to have their picture taken. When in doubt, ask permission.
Disclaimer: This post about the Fergana Valley Uzbekistan contains affiliate links. If you buy any service through any of my links, I will get a small commission at no extra cost to you. These earnings help me to keep Backpack Adventures alive! Thanks for your support!
---
---