The best hostels in Iran on a budget
This post is about the best hostels in Iran. In preparing my trip to Iran it was sometimes hard to find information on budget places to stay in Iran for backpackers.
Hostels in Iran
Many hostels in Iran do not have an internet presence yet, but with tourism on the rise they are opening up throughout the country. The demand for cheaper accomodation is high and most cities now have a few hostels geared towards backpackers.
It is recommended to make reservations for hostels in Iran, because they fill up quickly, especially when you travel in the high season. I will explain later how you can book hostels in Iran online, even those that don't have a website.
To help you choose I decided to share my favorite hostels in Iran based on my one month trip through the country as a solo female traveller. These hostels are therefore not only suited to backpackers and other budget travellers, but as well for solo female travellers.
Note: I was not sponsored or given discounts to write any of these reviews. They are based on my own experience and hostels were not aware that I was a travelblogger.
Hostel owner in Iran can contact me to add hostels to the alternative places to stay. For my readers, be aware that my only experiences are with the hostels that I described and not the ones in the alternative section.
How to book hostels in Iran
Due to the sanctions most established booking sites won't allow you to book hostels in Iran. On my first trip to Iran I therefore had to make bookings through email, which was, if possible at all, a frustratingly slow process.
Luckily it is now possible to book hostels in Iran online through 1stQuest. They are one of the few reputable companies where you can book tours and hostels in Iran beforehand. If you do so, I get a small commission that keeps this website alive at no extra cost to you.
The top 10 hostels in Iran
Number 1 : Ehsan house, Kashan
By far the best place I stayed in Kashan was Ehsan house. It is a traditional house with a lovely courtyard. Staff is friendly and they can help you with everything. There is a lovely breakfast buffet included in the price and the restaurant offers a varied menu of traditional Iranian food that is not always easy to find in other restaurants. This is your chance to taste delicious fesendjoon or gorme sabji.
It is centrally located in a quiet alley opposite the Agha bozorg mosque. It's on walking distance from both the bazaar and the old traditional homes. There are lovely decorated private and double rooms and for backpackers there is a lovely dormitory with 6 beds.
Kashan is full with traditional houses converted into hostels and guesthouses. Other places I heard good stories about from other travellers are Noghli house, Kamal Al Molk house, Sayeh Saray & Manoucheri house.
Read more about the best thinghs to do in Kashan
Number 2: Orient hostel, Yazd
Orient hostel is a great place to stay. The hotel has a wonderful rooftop restaurant with a beautiful view on the blue mosque that serves delicious food. They have a varied menu including vegetarian options. Try Shuli, a soup speciality from Yazd or try camel meat.
Besides the restaurant the Orient hostel has nicely decorated rooms and a lovely courtyard. For backpackers there are dormitories including a female only dormitory.
Number 3: Kohan hostel, Yazd
I did not stay in Kohan hostel, but visited a friend who was staying here and this is another lovely place to stay. It is much smaller than the Orient hostel with a lovely courtyard in a traditional home. During the day there is free tea and there are nice and clean rooms. For backpackers there is also a very cheap dormitory.
Other good places for the budget minded traveller in Yazd are the Silk road hotel, Shahdad hostel & Hooman hostel
Read more about Best thinghs to do in Yazd.
Number 4: Niayesh Boutique hostel, Shiraz
Niayesh hotel is a bit overwhelmed by its own success. The rooms are all nicely decorated, the dormitory is nice and cheap and it has the best breakfast buffet I had in Iran.
The restaurant also has a nice menu with delicious food. Try kallam pollo, a speciality from Shiraz. The service is a bit mixed tough. Some staff are extremely friendly while others are a bit indifferent.
Other budget minded hostels are Sina hostel, Mahmonir traditional house, Pasin traditional house & Taha hostel
Read more about the best things to do in Shiraz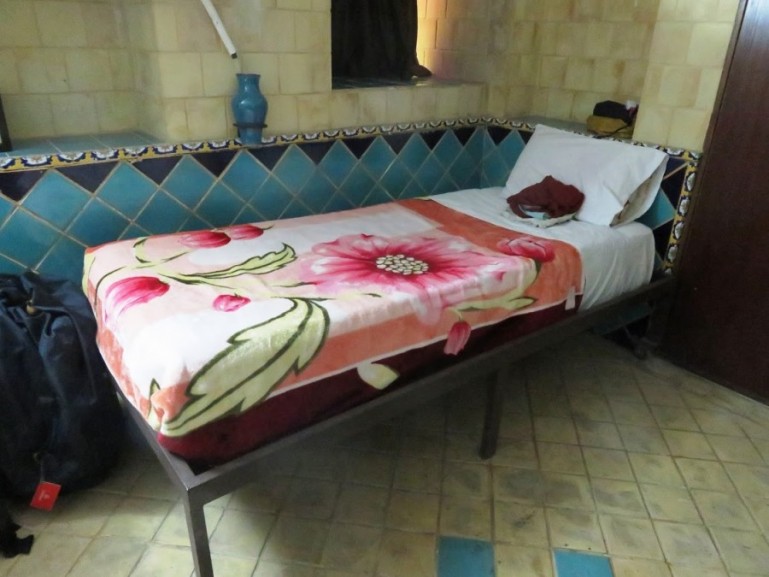 Number 5: Nik hostel, Esfahan
This homestay like hostel with a very friendly and helpful owner offers two rooms that can either be booked as a private room for 20 euro or as a dormitory style room for 10 euro per bed. This includes breakfast and tea. It was the cheapest place I could find in Esfahan.
It is a bit outside of the city center and a bit difficult to find, but it is actually quite easy to get there by local bus. The owner will explain how to get to the centre by bus (5 minutes) or by walking (30 minutes). He might not always be open as he closes when he is out of town, but if he is there it is a very good option in Isfahan.
Isfahan is a very touristic city, but lacks decent budget options. You will not find traditional guesthouses like in Kashan, Shiraz or Yazd. They are there, but definitely on the more expensive side. However, also in Esfahan new backpacker hostels are opening up like Mahbibi hostel, Ragrug hostel, Hatef traditional hostel & Howzak house
Read more about the best things to do in Isfahan
Number 6: Tehran Mori hostel, Tehran
I have great memories from Tehran hostel, because of its extremely helpful and friendly staff. No pictures are included, because when I visited they were still in their old place in a really tiny building.
They have now moved to a bigger location. It's a great place to meet other travellers and get all the advice and help you need. It's in a quiet neighbourhood and it is easy to reach by Tehran metro. It has private rooms and a dormitory.
Other hostels are opening up in Tehran like Seven hostel, Hi Tehran hostel, Tehran Heritage Hostel & See you in Iran Hostel
Number 7: Hostel Koosaran, Alamut valley
Hotel Koosaran has no presence on the internet. It's on number 6 for its amazing location. True, the hostel itself is nothing special. It is a small dormitory style room with 4 beds. The balcony outside with the view on the mountains is amazing though.
The homemade food is a very welcome change from all the kabab. The lady who runs the place is quite a character herself. She might come across as a bit grumpy at first, but try to break the ice and you will find out she is a lovely person.
The guestbooks are a wealth of funny traveller stories and useful advice on hiking possibilities around this small lovely village. It is easy to hike up from here to the Alamut castle. Don't expect much from the castle, but the views are amazing.
Read more about the Alamut Valley and the castle of the Assassins.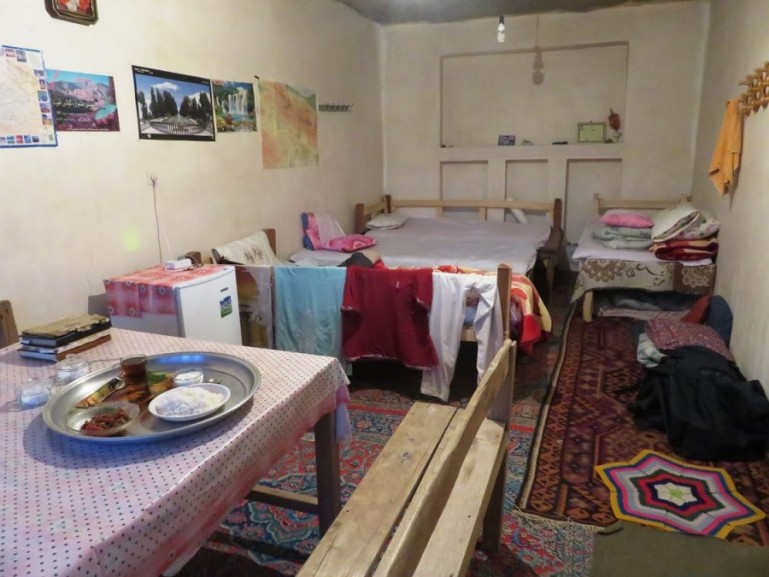 Number 8: Ordibehest hostel, Hamedan
Another hotel without any presence on the internet. In the less touristic central and western parts of Iran you are most likely to stay in the so-called mosaferkhaneh's or mehmanpazir's. Local guesthouses used by Iranian men or families.
They are nowhere as atmospheric as the traditional guesthouses in the touristic cities of Kashan, Isfahan, Shiraz or Yazd. Most of them are not so clean and bathrooms are often shared facilities. The Ordibehest hostel in Hamedan was a pleasant surprise in this range. Clean, cosy and friendly.
Read more about Kermanshah & Hamadan
Number 9: Hedayat hotel, Sanandaj
All budget places in the 2012 edition of the lonely planet were closed. ThereforeI decided to try out the Hedayat hotel. As expected of most mosaferkhaneh's this place does not earn any award for cleanliness. However, people were very friendly and therefore it still made it into this list.
Also I had a nice view from my room on the top floor of the building. There are not many budget places to stay in Sanandaj and this is a good option.
Read more about Iran's Kurdistan: Sanandaj & Palangan.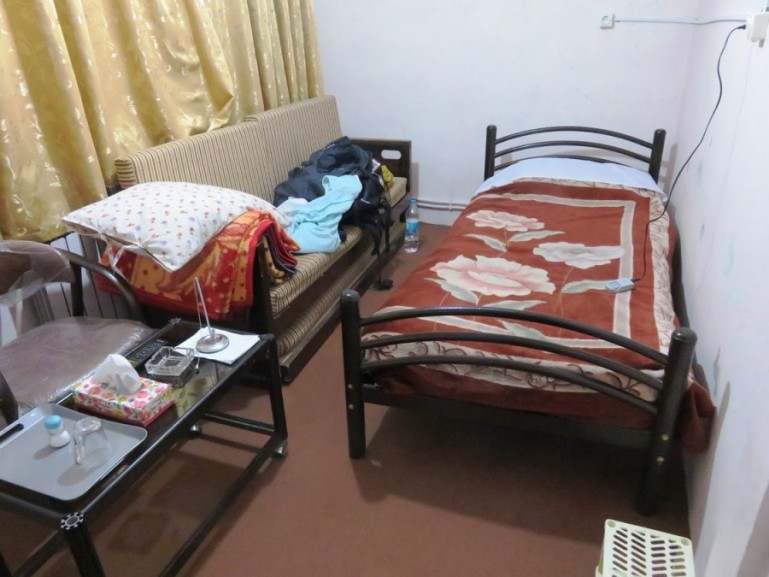 Number 10: Hotel Kenareh, Rasht
Another typical mosaferkhaneh included for the friendly staff and relatively clean rooms. It has a central location near the bazaar.
Disclaimer: This post about the best hostels in iran contains affiliate links. If you buy any service through any of my links, I will get a small commission at no extra cost to you. These earnings help me to keep Backpack Adventures alive! Thanks for your support
---
---