Top Things to do in Paracas: Peru's best kept secret
This post is about the best things to do in Paracas. Paracas is the centre of adventure tourism in Ica. A beautiful region just south of Lima that is unlike any other place in Peru.
Paracas is famous for its stunning landscapes, including the Paracas National Reserve and its distinctive red sand beaches, towering cliffs, and striking desert scenery. The area is home to a variety of marine and bird species, making it a haven for wildlife enthusiasts.
My experience in Paracas
The deep blue sea contrasted stark with the bright yellow desert all around me. I walked on the dark brown sand of the beach to keep warm, but still I was shivering in the strong wind. I have to remind myself that I am still in Peru.
After all, I came here in search of old Inca ruins in the jungle, but here I was in the desert in Ica near Paracas. For the adventurous soul it turned out there were a lot of things to do in Paracas. Like most tourists, my first plan was to take a direct bus to Arequipa and then Cusco to visit the famous Machu Pichu.
But then I read something about Ica. A province south of Lima that is probably Peru's best kept secret. For now, because Paracas is becoming more popular and for good reasons. One of the things to do in Paracas is Islas Ballistas where you can see sea lions and penguins. It was the main reason for me to visit Ica, but I enjoyed all the other things to do in Paracas just as much.
My three days in Paracas turned out to be quite different from what I was expecting to see in Peru and only shows the diversity of this country. Among the other things to do in Paracas are desolate desert landscapes, vineyards and great opportunities to spot wildlife
The Best Things to do in Paracas
Paracas town
My first stop was the small beach town of Paracas. I must be honest that Paracas town is not particularly nice. Besides the boulevard there are not a lot of things to do in Paracas itself.
The sunset was beautiful, but still, I felt a bit disappointed on my first day in Ica. Nothing here gave me any indication of the beauty outside of Paracas town and the great tours you can do here.
Tip: Paracas is a sleepy beach town with hardly any nightlife to speak of. One or two nights is more than enough to see the Islas ballestas and the Paracas Natural Reserve.
I stayed in the Kokopelli hostel. This is a great social place that often organizes activities in the evenings if you are up for it. They also have a pool and it is right at the beach.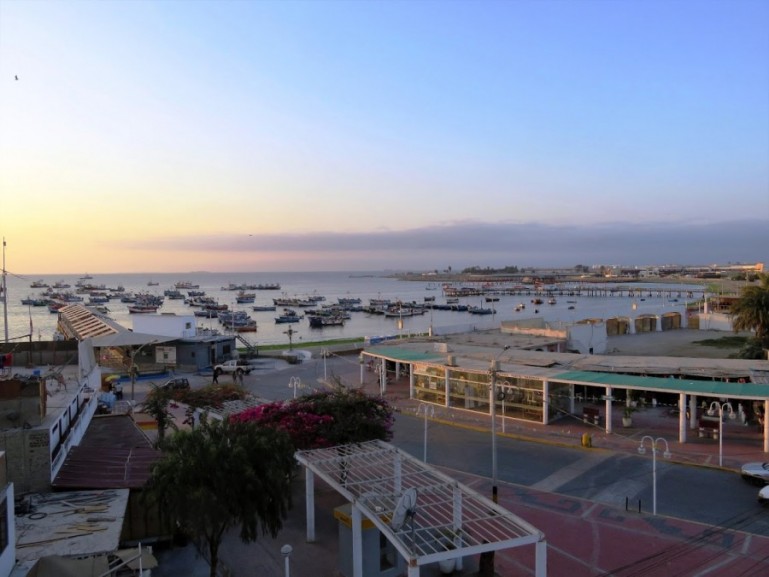 Islas Ballestas
The next day I had to get up early for my tour to Islas Ballestas, one of the top things to do in Paracas. These islands are a dream for biologists due to its rich biodiversity of marine life and birds.
The Islas Ballestas are also called the poor man's Galapagos. Taking a boat tour to these islands is an excellent opportunity to observe creatures like sea lions, penguins, cormorants, and pelicans up close.
Boat tours leave in the early morning. We had to wait in line and were then divided among several speedboats. The tours are proffesional and every speed boat has its own guide.
The Candelabra of Paracas
On the rough sea our guide pointed out the Candelabra of Paracas. It's a mysterious drawing of a trident etched in the desert hillside overlooking the ocean. My first idea is that it is probably connected to the famous Nazca lines further south, but according to our guide, the Candelabra is believed to be much older.
It is probably made by the ancient Paracas culture or an even older pre-Columbian civilization. The Paracas culture, which existed from around 800 BCE to 100 BCE, was known for its intricate textiles and complex burial practices.
The Paracas Candelabra could be more than 2000 years old. The meaning and purpose are an even bigger mystery than its origins. Was it for navigational purposes, did it have a religious meaning or was it simply an expression of art? Unlike the more famous Nazca Lines, which are nearby and depict various animals and shapes, the Candelabra is a large and somewhat abstract design
I can only be amazed by the size of the Paracas Candelabra and that these lines have remained all these years in the sand, despite erosion and sandstorms common in the area.
Paracas Wildlife
My main reason to visit Ica was the possibility to see wildlife. Islas Ballestas did not disappoint me in that regard. After the Candelabra our boat speeded towards a group of rocks inhabited by thousands of birds and the occasional group of sea lions.
The birds are everywhere and the rocks are covered in their poo. I got really excited when our guide pointed out three small penguins among the pelicans. A moment later I spotted my first sea lion sleeping on a rock and soon we saw several groups of them lying around.
Tips: Tours are very easy to arrange in Paracas. There are tours at 8 AM and 10 AM. The early morning tours at 8 AM are best as the sea is still relatively calm, but gets more wild during the day.
Paracas Natural Reserve
My visit to Islas Ballestas alone made my stop in Ica worth the effort to come here. I didn't expect much of the Paracas Natural Reserve, but my visit there really surprised me too.
We made stops on several beaches such as Playa Roja and Bahia Lagunillas. I was mesmerized by the colors. The deep blue sky, the dark brown sand of the beach and the bright yellow desert make this a place out of this world. It felt almost surreal to be there and the colors kept changing with the clouds passing by.
If you are in Paracas don't miss the Paracas Natural Reserve. It certainly is one of the most beautiful things to do in Paracas.
Tips: Tours are very easy to arrange in Paracas. You can also book a combination tour of Islas ballestas in the morning and the Paracas Natural Reserve later in the day.
I didn't do this, because I had no time, but the best way to explore the Paracas Natural Reserve is actually by bicycle. You can rent bicycles in Paracas and it will take all day, but the landscape around you is wonderful and you will get to see more of it than on a tour.
This guide on cycling the Paracas Natural Reserve from along dusty roads is excellent.
Try Local Sea food
The coastal location of Paracas means that fresh seafood is a highlight of the local cuisine. It's therefore a great place to try Ceviche.
Ceviche is a quintessential Peruvian dish. It typically consists of raw fish or seafood marinated in citrus juices, usually lime or lemon, which "cooks" the fish through a process called denaturation. The ceviche is often mixed with onions, chili peppers, and other seasonings.
Similar to ceviche, Tiradito is another popular dish that features thinly sliced raw fish or seafood. However, tiradito is typically served with a spicier, more complex sauce that may include aji peppers.
I can personally recommend Arroz con Mariscos. A hearty dish made with rice and a variety of seafood such as shrimp, squid, mussels, and fish. It's often seasoned with saffron or achiote for color and flavor.
Another favourite was Parihuela. A traditional Peruvian seafood soup that's rich and hearty. It contains an assortment of seafood, including fish, shrimp, squid, and shellfish, cooked in a flavorful broth along with vegetables and spices.
The Best Things to do near Paracas
Huacachina
There was more desert at our final stop in Huacachina, a small oasis town close to Paracas catering to both local and foreign tourists who come here for adventure.
Huacachina certainly is one of the most adventurous things to do near Paracas. Every evening you can take a tour to the desert in a buggy to go sand boarding.
Sand Buggying in Huacachina
Despite travelling all over the world, I am actually not that adventurous. My fears include big insects, height and speed. I was not sure what I was expecting, but the sandbuggying didn't sound scary to me. I thought it would be a gentle ride through the desert. Peru isn't really famous for its sand dunes, so how high can they really be?
At a normal speed, we were driving out of the small oasis town. The scenery was amazing. That was when our driver gestured to us to securely fasten our seatbelts. After that, he continued on full speed driving up and down sand dunes like a roller coaster.
And yes, sand dunes in Peru are actually quite high. The driver would go up to the top and then down again at full speed. Every time I was so scared that I thought I was going to die. I did survive, but I have to be honest that while the others went sand boarding I stayed on top to enjoy the view and get back to a normal heart rate."
The next day I feel somewhat ashamed of my fears as several schools made Huacachina the place for a school trip. Hundreds of kids are having fun with their sand boards sliding down the dunes while I enjoy watching them from a distance as I am waiting for the bus to Arequipa.
Tips: the sand buggying tours in the evenings are easy to arrange in Huacachina. Huacachina is a little bit of a party town. Most hostels have a pool and play music till late night. Check your accomodation to know what to expect. I can recommend Casa Bamboo for a more quiet option.
Pisco vineyards
Pisco is a Peruvian alcoholic drink and a local speciality in Ica. It was in the 16th and 17th century that Ica had the largest vineyards in Peru. Some of them are still active and open to visitors where you will get to taste a variety of Pisco.
I had already tasted Pisco sour in Lima. The famous combination of pisco with lemon juice. Little did I know that there is so much more to Pisco. Peruvian Pisco can be made from various grape types, resulting in different styles such as Pisco Quebranta, Pisco Italia, and others.
Nazca lines
Ica is also the place where you can book flights over the famous Nazca lines. The ancient geoglyphs are made by depressions in the soil of the Nazca desert. Although most are simple straight lines, there are also figures such as animals, trees, flowers and geometric shapes.
The Nazca figures are so big that they are best seen from the air. The 90 minute flights cost between 250 and 300 dollar and will show you 12 figures. Most will include a pick up from your hotel in Paracas.
If the flights are a bit out of your budget. There is a view tower on the road from Paracas to Arequipa from where you can also see some of the Nazca lines. What was most impressive for me is that when you are on the ground it's hard to see them even if you are standing next to a line. Only when you climb on top of the tower, they come in sight.
Paracas Travel Tips
Where to stay in Paracas
Paracas Town: Kokopelli Backpackers Hostel is a trendy hostel with a pool right at the beach and a free breakfast. What else do you need?
Huacachina: Casa Bamboo is a more quiet option in Huacachina with an excellent restaurant. If you want to party and/or a pool there are plenty of other places in town. If you want a good night of sleep come here.
Where to eat in Paracas
I already mentioned that Paracas with its coastal location is a great place to try sea food. While the town itself is small, it has a number of great restaurants to choose from.
Lobo Fino: a simple restaurant near the Kokopelli hostel that serves decent food for relatively cheap prices. I had the cost effective menu of the day (menu del dia) and I was very happy with it.
Restaurant Paracas: A great sea food restaurant that has nice views over the port of Paracas. I can recommend the ceviche as well as the Arroz de Mariscos.
How to get to Paracas
Lima to Paracas Town: From Lima it is about 4 hours by bus to Paracas. Direct local buses to Paracas are rare. To reach Paracas you can take a bus heading south to Ica and ask to go out in the town Santa Cruz. From there you can take a taxi to Paracas.
Several companies that are slightly more expensive than a local bus do have direct buses from Lima to Paracas. Check Peru bus, Cruz del sur, Peru hop, Green toad bus and Oltursa.
Paracas is the base town where you can organize your tour to Islas Ballestas and the Paracas Natural Reserve.
Huacachina: To reach Huacachina you can take a local bus from either Lima or Paracas to the town of Ica and from there take a taxi to Huacachina.
Peru hop offers a convenient hop on hop off bus package going directly to Paracas and Huacachina, even delivering you and picking you up from your hostel. You can read about my experience with Peru hop in my Peru hop review. My next stop with them was in Arequipa where I did the Colca Canyon trek.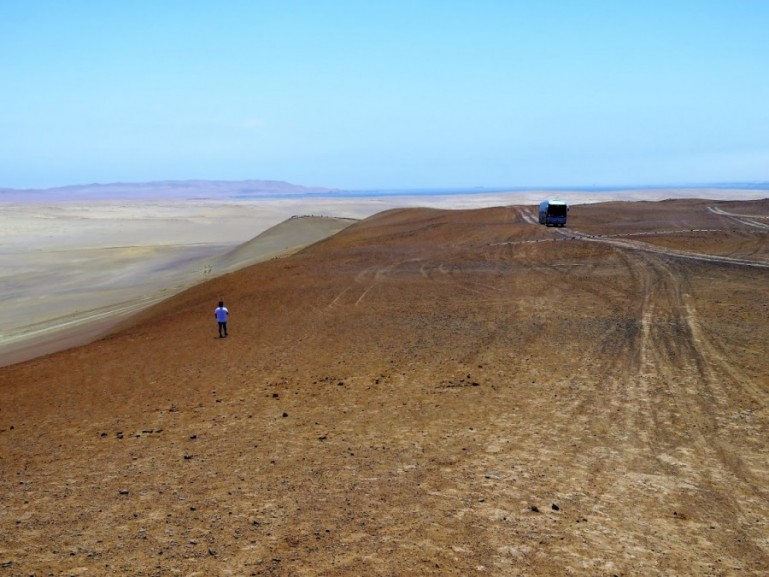 When to visit Paracas
Weather: Paracas has a desert climate, characterized by warm temperatures and low humidity. That said, the weather can be quite unpredictable. It's not always warm and sunny in this beach town.
In winter (May to September) it can be a little cold (15-20°C) and windy. Sometimes the sea becomes too rough for the boat tours to Islas Ballestas. Summer (October to April) on the other hand can be very warm (24-30°C) in the desert. Bring enough sunscreen, water and something to cover your head to protect you from the sun.
Wildlife: If you are more concerned about wildlife than weather, the best time to visit Paracas is from October to March. This period is the best time for birdwatching and observing marine life, such as sea lions and dolphins. Many migratory bird species pass through the Idslas Ballestas during these months.
Crowds: June to August coincide with the school holidays and vacation period for many tourists. During these periods it is more crowded in Paracas and prices are higher. Try to avoid this period if you prefer a more quiet experience.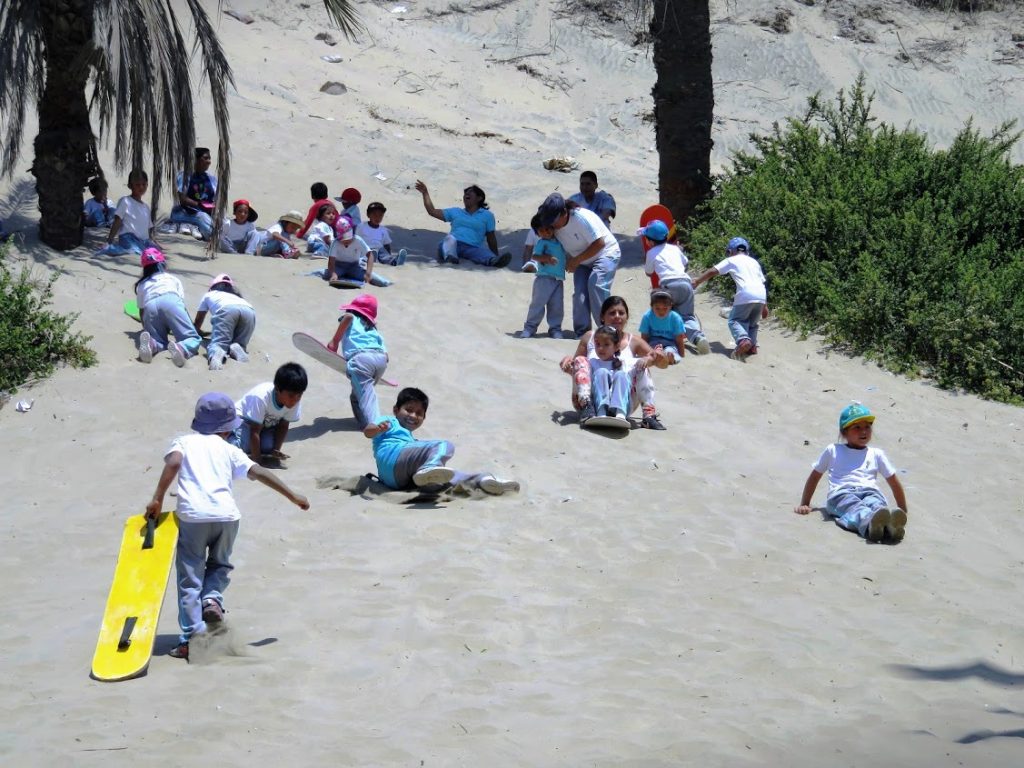 Sustainable Travel in Paracas
Paracas is seeing more tourists every year. While Tourism is a welcome source of income it can also have negative consequences. Traveling sustainably in Paracas, involves conscious choices that minimize your environmental impact and support the local community.
Stay in small scale sustainable hotels: It is better to stay in locally-owned guesthouses or homestays to support the local economy directly. These accommodations often have a more positive impact on the environment compared to large hotels.
You can try to look for guesthouses or homestays that prioritizes sustainable practices. That said, environmental awareness is still low. It's up to you to use water sparsely, turn off lights, air conditioning, and heating when leaving your accommodation.
Leave no Trace principle: Paracas has lots of natural beauty, but the desert ecosystem is very fragile. When visiting the Paracas Nature Reserve or the desert around Huacachina, avoid disturbing wildlife and leave no trace of your presence. Ensure you take all your trash back with you and dispose of it responsibly.
To avoid single-use plastics, invest in reusable items. For example, you can bring your own water bottle with a filter that you can refill at your accomodation. At last, use biodegradable and eco-friendly personal care products to minimize pollution of water sources.
Respect the culture: Besides environmental concerns it is also important to respect the culture. Peru is a multicultural country. While Lima is a cosmopolitian and modern city, the rural areas have more conservative cultural norms and traditions.
People will appreciate it, if you dress modestly. Learning a few basic phrases in Spanish or even the local indigenous language, can go a long way in building meaningful connections and to learn more about the culture. Not everybody is happy to have their picture taken. When in doubt, ask permission.
Disclaimer: This post about the best things to do in Paracas contains affiliate links. If you buy any service through any of my links, I will get a small commission at no extra cost to you. These earnings help me to keep Backpack Adventures alive! Thanks for your support!
---
---