Iskanderkul Lake and Sarytag: the ultimate travel guide
This post is about Iskanderkul Lake and the village of Sarytag in Tajikistan. Mountains cover 93% of Tajikistan's surface. They were the prime reason for me to go to Tajikistan. One of the places I wanted to see was the deep blue Iskanderkul lake near the village of Sarytag in the Fann mountains.
The Fann mountains are maybe less famous than the Pamirs, but they are the third highest mountainrange in Asia. I went in April when it was still too cold to do some serious hiking. Because Iskanderkul lake and Sarytag are at a relatively low altitude (2195 meters) they were actually my only option to get a taste of the Fann mountains.
It was quite an effort to get to Iskanderkul lake. Most hotels were still closed and my only choice was a homestay in the village of Sarytag. We often had to stop because of herders with their sheeps that blocked the narrow path along the lake. On top of that, it was also raining and therefore the roads were muddy and bumpy.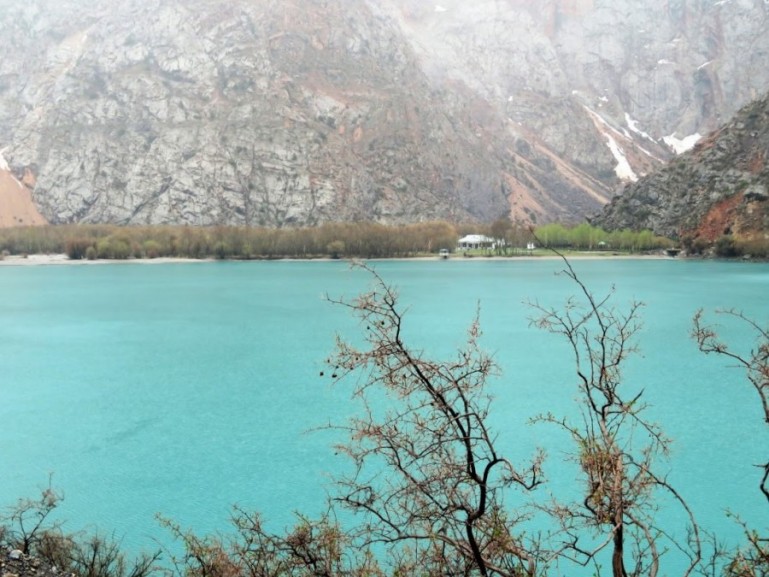 Why visit Iskanderkul lake & Sarytag?
Iskanderkul Lake is renowned for its breathtaking beauty. Surrounded by rugged mountains, lush greenery, and picturesque landscapes, the lake offers a tranquil and serene atmosphere. The crystal-clear turquoise waters, reflecting the majestic mountains, create a truly captivating sight.
Traveling in Tajikistan can be tiring and getting to Iskanderkul lake can take up most of your day, but it is worth the effort. The journey itself is extremely scenic with the barren mountains that get more spectacular the closer you get to Iskanderkul lake.
It is not for nothing that President Emomali Rahmon has one of his dacha's on the shore of Iskanderkul lake. Even in the rain, it was absolutely beautiful with the deep blue colours that contrast with the reddish mountains clouded in the mist.
Iskanderkul literally means the lake of Alexander the Great. Historically it is not sure whether Alexander has ever been there. However, locals believe he did and that one of his favourite horses drowned in the lake during a battle. The local legend is that during full moon the horse comes out at midnight to graze at the shores.
Iskanderkul lake was regarded to be the most beautiful mountain lake in the Soviet Union and remains a popular getaway for those that live in Dushanbe. It is relatively easy to reach from the capital and a perfect place for leisurely day hikes or more challenging hikes
Things to do in Iskanderkul lake
Hiking to the Iskanderkul waterfall
Foreign travellers have now also discovered Iskanderkul lake as a hikers paradise. There are no marked trails yet, but basically anywhere you go you will be rewarded with outstanding mountain sceneries.
Iskanderkul Lake is part of the Iskanderkul Nature Reserve, which is home to a diverse range of flora and fauna. The area is known for its rich biodiversity, including rare and endemic species. If you are lucky you might spot some of its wildlife such as the rare snow leopard or marmots. On my morning walk into the valley of the nearby village of Sarytag I heard some wolves cry and saw bear footprints.
From the cluster of hotels at Iskanderkul lake there is an easy 30 minute hike to the Iskanderkul waterfall. Ask locals where it starts and then you can follow the well worn trail through a rocky gorge. It is sometimes called the Niagara of the Fann mountains, but this might raise your expectations a bit too much.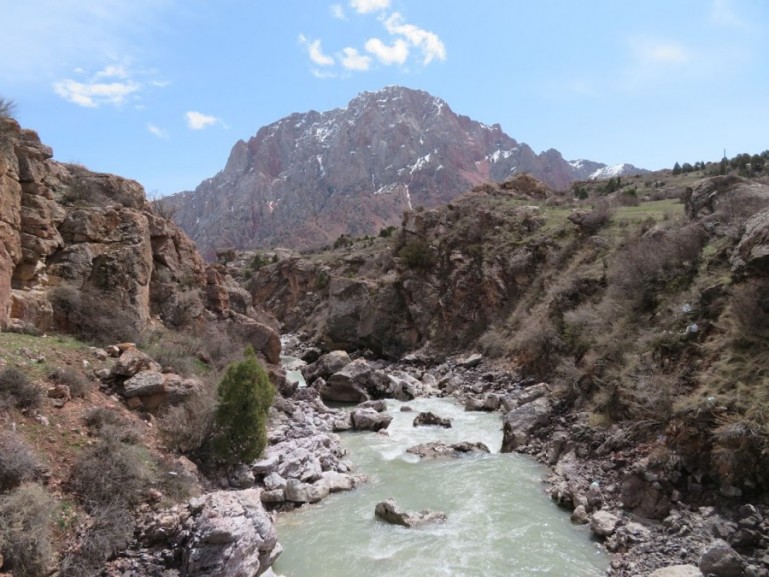 Snake Lake
Close to Iskanderkul lake is another much smaller lake that is called snake lake (Zmenoe ozero). Because of the higher temperature of the water, it is home to a lot of amphibians and reptiles including snakes.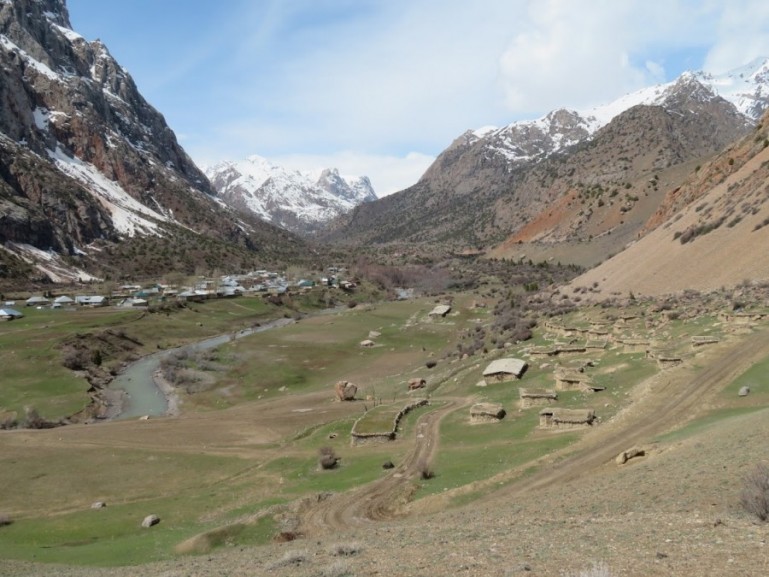 Sarytag & Kanchoch
If you continue along Iskanderkul lake you get to the scenic villages of Kanchoch and Sarytag. From the President's Dacha it is 5 kilometers up a winding road to the top of a mountain ridge. The road is very poor and bumpy in a car and when walking it is a long and steep climb.
Kanchoch is the first village you will see in the valley below and beyond Kanchoch lies Sarytag. These villages give an insight in rural life in the Fann mountains. The main sources of income are herding sheeps, tourism and remittances from the men working in Russia.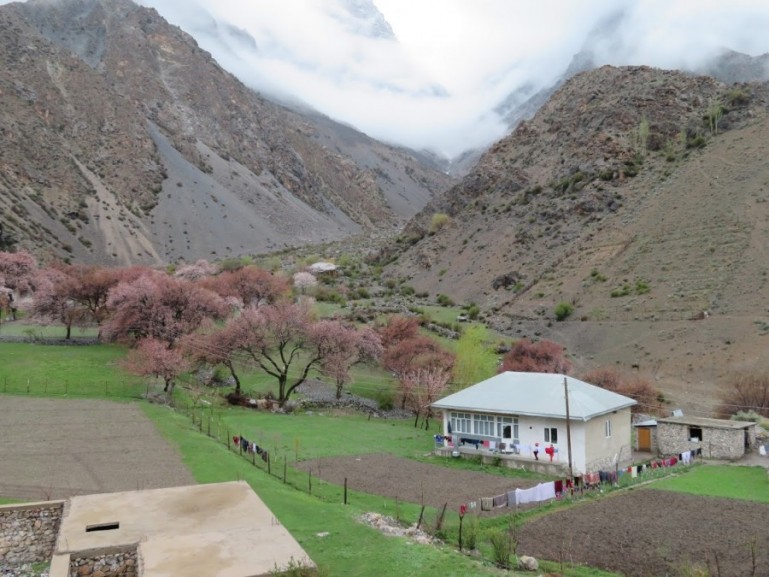 Hiking along the Sarytag river (towards Dukdon Pass)
From Sarytag there are several options for easy day hikes. One is to continue beyond the village of Sarytag along the Sarytag river. It's a gentle walk through beautiful woodlands.
After about an hour and a half I reached a small settlement with abandoned huts that I think are for herders herding their sheep. I continued a bit more, but as the forest became more dense and it started to rain a bit I decided to return.
If you were to continue you eventually get to the Dukdon pass and it is possible to reach the Zitmud village homestay near Artush in a challenging 3 day hike. You do need to be self sufficient with a tent, food and proper hiking equipment.
If you have more time you can even continue from the Dukdon pass through either the Munora pass or Sarymat pass to the Haft Kul. A series of 8 glacial lakes near Penjikent.
The Kulikalon and Alaudin lakes can be reached from the Dukdon pass through either the Chimtarga pass or Guiton pass.
These are challenging multiple day treks through remote rugged terrains so a guide is recommended.
Hiking in the Kaznok valley (towards Kaznok pass)
Another possible hike from Sarytag is towards the Kaznok valley. For a gentle day hike you can go as far as you like and eventually return to Sarytag. But, also from here it is possible to reach the Kulikalon lakes and Alaudin lakes in a challenging 5 day trek over the Kaznok pass.
Iskanderkul lake & Sarytag Travel tips
Where to eat at Iskanderkul lake
There are no formal restaurants at the Iskanderkul lake or in Sarytag. Most likely you will eat at your guesthouse.
Expect basic Tajik food. At my guesthouse I had plov for dinner and fried eggs for breakfast. The other night I got fried potatoes and chunks of goat meat.
Where to stay at Iskanderkul lake
During the summer there are plenty of basic hotels at Iskanderkul lake itself or in the scenic villages of nearby Kanchoch and Sarytag.
Very few of them are available to book online. The only hotels that you can reserve through booking.com is the Khayom Hostel on Iskanderkul lake. I didn't stay there, so I can't say anything about their facilities and they might not necessarily be the best.
I stayed at Dilovar homestay that I booked through the Zerafshan Tourism Development Association. An excellent organisation for information and tours into the Fann mountains and other destinations in the Zerafshan region.
Dilovars homestay is actually pretty big and feels more like an established trekkers guesthouse than a homestay. He has several new buildings on a large plot of land scenically located at the end of the village of Sarytag. Facilities were basic, but ok for the 2 nights that I stayed there.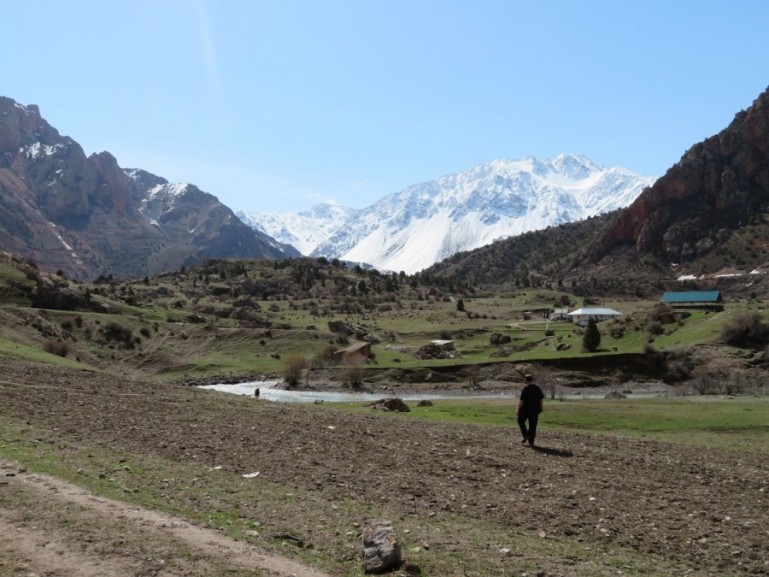 How to get to Iskanderkul lake
From Dushanbe
The closest major city to Iskanderkul Lake is Dushanbe, the capital of Tajikistan. From Dushanbe, you have several options to reach Iskanderkul Lake, which is approximately 130 kilometers northeast of the city. The journey takes around 3-4 hours by road, depending on the conditions. The easiest is to take a private taxi, but this can be expensive.
From Dushanbe's Cement Zavod taxi stand you can find shared taxi's to Sarvoda (50 Tajik Somoni as of April 2019). It's a four hour scenic journey through the rather scary Anzob tunnel.
Sarvoda is a transport hub for transportation into the remote Yagnob valley and to Iskanderkul lake and Sarytag. If you are lucky you might be able to find another shared taxi here that goes to Iskanderkul lake or Sarytag. They do exist, but only if there are enough people.
I arrived in the afternoon and it was off season so it didn't seem likely that 3 other persons would show up. I ended up taking a private taxi for the cost of 200 Tajik Somoni for the two hour journey.
If this is too much you can always try to hitchhike. Hitchhiking is actually pretty common in Tajikistan and Central Asia, but not for free. It is expected you will pay the driver something. 50 Tajik Somoni per person would be a fair amount for the journey from Sarvoda to the lake or Sarytag.
From Khujand or Penjikent
From both Khujand or Penjikent you need to take a shared taxi to Sarvoda (4 to 5 hours). It is possible that there are no shared taxi's to Sarvoda and you might need to take a shared taxi that goes all the way to Dushanbe. They will ask you to pay the full fare even though Sarvoda is half way.
From Sarvoda you can take a shared taxi when available or a private taxi.
When to visit Iskanderkul lake
In hindsight April wasn't the best time to visit Iskanderkul lake. The season hadn't started yet, hotels were closed and the weather isn't the best with lots of rain. It rained two days out of the three days I was there.
My original plan was to visit the Yagnob valley as well. But the last day it rained so much that I almost couldn't reach Sarvoda as the road was washed away by mudslides. Luckily a French couple at the other side of the mudslide gave me a lift as they tried to reach the lake, but decided to turn back.
The trekking season in the Fann mountains runs from June to September and these are the best months to visit Iskanderkul lake. Summer in Tajikistan brings milder temperatures, with average daytime temperatures ranging from 20°C to 30°C (68°F to 86°F) in the Iskanderkul Lake region. The weather is generally sunny, allowing for clear views of the mountains.
Summer is also the peak season for observing wildlife and enjoying the vibrant flora in the region. The surrounding meadows and mountains come alive with colorful wildflowers, and various bird species can be spotted. You may also have a higher chance of encountering wildlife like ibex or Marco Polo sheep during this time.
it's important to note that the weather in the mountains of Tajikistan can be unpredictable, and temperatures can drop significantly at higher altitudes, even in summer. It's advisable to bring appropriate clothing layers, including warmer attire for cooler evenings or higher elevations.
For more information about Backpacking in Tajikistan I can recommend my practical travel guide about travel in Tajikistan, my post on the best things to do in Tajikistan and my 3 week Tajikistan itinerary.
What to bring to Iskanderkul Lake
Warm clothes and rain gear: the weather can change pretty quickly in the Fann mountains. Bring warm clothes with you any time of the year, even in summer.
A Russian phrasebook or Google translate: most people in the Fann mountains don't speak english so a phrasebook or the Google translate app will greatly improve communication. Although Tajik is their first language, almost everybody understands Russian as well.
Local Sim card: the wifi in most guesthouses isn't very reliable so if you want to make sure you have internet, buy yourself a local sim card in Tajikistan. Even then, reception around Iskanderkul lake is patchy.
Camping gear: if you plan to do multi day hikes to the Kulikalon and Alaudin lakes lake you need to bring your own food and camping gear.
Sustainable Tourism in Iskanderkul Lake
Although Iskanderkul lake is still an off the beaten path destination, tourism is increasing. While Tourism is a welcome source of income it can also have negative consequences. The trails become more crowded and pollution is a growing problem. Traveling sustainably to Iskanderkul lake is essential to minimize your environmental impact and preserve the area's natural beauty for future generations.
Leave no Trace principle: When hiking or trekking around Iskanderkul lake, stick to designated trails to protect the fragile alpine ecosystem. Straying off the marked paths can cause soil erosion and damage to plant life. If you are lucky enough to spot wildlife, observe quietly from a distance to prevent disruption to their habitats and help maintain their natural behaviors.
At last, ensure you take all your trash back with you and dispose of it responsibly. Even better is to bring something to pick up the trash that others left behind.
To avoid single-use plastics, invest in reusable items. For example, you can bring your own water bottle with a filter that you can refill at your accomodation. At last, use biodegradable and eco-friendly personal care products to minimize pollution of water sources.
Respect the culture: Besides environmental concerns it is also important to respect the culture. Tajikistan is an Islamic country that is just opening up to tourism. Therefore, learn about the local customs and traditions beforehand and be mindful of your behavior.
People will appreciate it, if you dress modestly, especially at religious sites. Learning a few basic phrases in Tajik or Russian, can go a long way in building meaningful connections and to learn more about the local culture. Not everybody is happy to have their picture taken. When in doubt, ask permission.
Disclaimer: This travelguide about Iskanderkul lake & Sarytag Tajikistan contains affiliate links. If you buy any service through any of my links, I will get a small commission at no extra cost to you. These earnings help me to keep Backpack Adventures alive! Thanks for your support!
---
---