Kandovan Iran: a beautiful cave village
Kandovan is a village in the northwest of Iran, famous for its unique rock-cut architecture and natural beauty. It is one of the few inhabited cave villages left in this world where modern day cave dwellers carve their elaborate homes out of volcanic rocks.
Kandovan is often called the Cappadocia of Iran, also famous for its similar cave dwellings in strange honeycomb-like rock formations. It makes the perfect day trip from the city of Tabriz
Why visit Kandovan Iran?
While both Kandovan and Cappadocia are troglodyte villages where people have lived in caves for centuries, Cappadocia is now all about tourism. Most caves are hotels and restaurants and people no longer live there. Many othewr cave villages, like Vardzia in Georgia and Matmata in Tunisia, are now also abandoned as people prefer new concrete houses.
Iran's Kandovan is the only cave village where people still use the caves as their home. Therefore, one gets a more authentic experience in an equally stunning location.
Kandovan lies in the remote northwestern corner of Iran, close to the city of Tabriz. Situated in the Sahand mountain range it can actually get cold here. For most of the year, there are wonderful views on the snow-capped peaks around the village.
It is Mount Sahand, the highest mountain around Tabriz, that is responsible for the impressive and strange rock formations. This volcano, that is now dormant, was active for more than 11 million years. The mountains around Kandovan are a great place to go hiking and trekking. Unfortunately the trails are not marked, but a guide can show you the natural beauty of the area, including some hot springs as well.
Some archeologists say people already lived in the caves 3000 years ago. However, according to the people that still live in Kandovan, the current village is 800 years old. The first inhabitants were refugees from Khorezm, fleeing the Mongol Army. They were hiding and stayed as the caves proved to be a good shelter. They are in fact some of the most energy efficient homes on earth as the rocks keep the caves warm in winter and cool in summer.
The name Kandovan probably refers to the Persian word Kandoo that means beehive. From afar the village indeed looks like such and it is a picturesque place well worth a visit.
My experience in Kandovan Iran
Now Kandovan isn't completely immune from tourism. It is actually one of the most popular destinations around Tabriz and sees local and foreign day trippers.
In Kandovan too, some of its caves are souvenir shops and I saw a lot of Iranians, taking selfies for instagram. Some ladies even dared to quickly take off their headscarves for the picture.
There are quite some villages in Iran that due to their unique history, culture or its spectacular location, have turned into tourist hotspots. Kandovan definitely falls into this category, but nevertheless is a peaceful village with a sense of normalcy.
Kandovan is a place where the old and new come together. There are still about 117 families living in the caves, but there is also the construction of modern concrete buildings right next to them. They are the reason that Kandovan is not a UNESCO World Heritage site.
As a tourist you are a welcome guest. However, people are used to see visitors in their village. They simply continue with what they were doing. People are playing football outside, a herder comes by with his flock of sheeps and women are hanging out the laundry in the sun.
Tourism is a nice additional source of income for the people in Kandovan, but the village is not yet revolving around it. I was there in early April and you could count the amount of tourists on one hand. It isn't as touristic as Masuleh or Abyaneh for example.
If you ask me whether you should visit Kandovan in Iran. My answer is yes. If you visit Tabriz, Kandovan is definitely a must see and it is one of the more authentic and interesting villages in Iran to visit.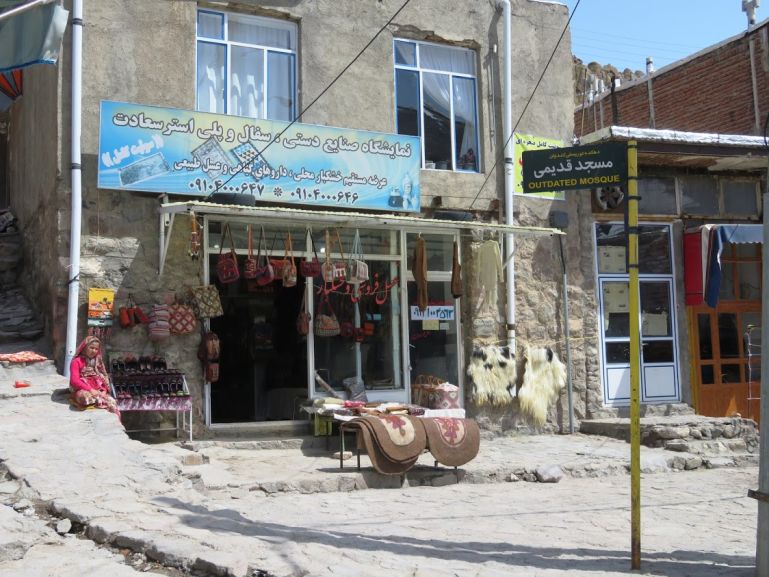 The best things to do in Kandovan Iran
There is not that much to do in Kandovan, except for exploring its unique architecture and cave dwellings. If you go on a daytrip from Tabriz, like most people, 2 to 3 hours would be a good amount of time.
Wander around the cave dwellings
Kandovan isn't that big and the cave town is compact. You are free to wander around where its narrow streets give a good sense on how people live here. Expect to climb a bit and wear sturdy shoes.
Some caves have turned into souvenir shops allowing oneself to have a look inside. Most have several floors of which the ground floor is used as a stable and the upper floors for living.
The Karan mosque
The Karan mosque is one of the few mosques in this world that is in a cave. It is one of the largest caves in Kandovan. Look for the sign that points you to the 'outdated mosque'.
Kandovan bazaar
Kandovan's bazaar next to the river is a great place to buy souvenirs. The town is famous for its good quality honey, nuts and medicinal plants.
Kandovan Panorama viewpoint
Make sure you leave some time to cross the bridge over the river and climb up to get a panorama viewpoint of Kandovan and its characteristic rock formations.
There are no marked trails, but the mountains around kandovan are a great place to go hiking. I do recommend taking a guide that can show you around. Apparently there are some volcanic hot springs in the area and the ruins of an old castle.
Kandovan Travel tips
Where to eat in Kandovan Iran?
Kandovan is quite popular among local tourists as well and has a few basic restaurants and teahouses, especially around the river. Expect the usual Iranian food like kebab and rice.
Where to sleep in Kandovan Iran?
Booking hostels in Iran online is rather difficult. Because of the sanctions, most regular sites like Booking.com or Airbnb won't work.
To book your hotel beforehand you either need to contact them directly or use 1stQuest
They are one of the few companies where you can plan most of your trip to Iran beforehand. They can book hotels online, arrange airport pick ups, domestic flight tickets and bus tickets.
Kandovan makes a great daytrip from Tabriz. However, if you like the experience of sleeping in one of the caves there is the excellent Laleh cave hotel. If you prefer to visit Kandovan as a day trip you should stay in Tabriz.
Budget: I stayed in Mashad Guesthouse. It is very basic, but a good budget option with a great location near the bazaar. Another good budget option that you can book online beforehand is the Morvarid hotel
Midrange: The Gostaresh hotel offers a bit more comfort and is a good option in the midrange category.
When to visit Kandovan Iran
The best time to visit Kandovan in Iran is during the spring (April to June) and autumn (September to November) seasons when the weather is mild, and the temperature is comfortable for outdoor activities. During these months, the days are sunny, and the nights are cool, making it ideal for exploring the village and its surroundings.
Summer (July to August) can be hot and dry, with temperatures reaching over 30°C (86°F), and winters (December to February) can be cold and snowy, making it difficult to move around the village.
Safety in Kandovan
Iran, including Kandovan, is generally a safe destination for travelers, and millions of tourists visit Iran each year. The city has low crime levels. However, it is always important to exercise caution and take necessary safety precautions while traveling.
Update 2023: A wave of protests erupted throughout Iran in 2022 and 2023. Although this is not a reason to avoid Iran, it is good to know that these protests can become violent. Due to the political situation, it is even more important to be aware of your surroundings. Avoid political demonstrations, expressing strong political opinions and respect the local rules of law. As a foreigner it is better to be safe than sorry.
For solo female travellers I wrote a post with tips and advice about traveling as a woman in Iran.
How to get from Tabriz to Kandovan
By taxi
The quickest way to get from tabriz to Kandovan is by taxi. Most hotels in Tabriz can organize this for you. A roundtrip that includes 2 hours waiting time should cost between 13USD and $20 USD.
Insider tip: there is an entrance fee for cars which is easy to avoid if you get out before the entrance and walk the short distance to the village
By public transport
The cheapest way to get from Tabriz to Kandovan is by public transport. Unfortunately this is not a straightforward process and will save you just a few dollars.
The first step is to get to Railway square (Rahahan square) in Tabriz. From there you have several options. You can either take a direct minibus to Osku (0.30 USD, 1 hour) or a bus to Sahand and then a shared taxi (savari) to Osku.
From Osku there are shared taxis to Kandovan, but they are far in between and difficult to find. You will probably have to take a private taxi for the scenic 20 minute ride to Kandovan. From Osku a roundtrip by taxi that includes 2 hours waiting time should cost between 5 and 10 USD.
By tour
If you prefer the comfort and ease of a tour, you can book the 1stquest Kandovan tour
Disclaimer: This post about Kandovan Iran contains affiliate links. If you buy any service through any of my links, I will get a small commission at no extra cost to you. These earnings help me to keep Backpack Adventures alive! Thanks for your support!
---
---