The Ultimate Kazakhstan Nature Guide: when to go where
The one thing that surprised me the most about Kazakhstan was the beauty of Kazakhstan's nature. While neighbouring Kyrgyzstan wins if it comes to mountains, Kazakhstan actually has much more variety in its spectacular landscapes.
The nature of Kazakhstan is extremely diverse and it was not what I expected from a country famous for its vast steppes that look so empty from above. Little did I know that Kazakhstan has mountains too as well as alpine meadows, glacial lakes, desert sand dunes and wetlands.
There is a large number of spectacular national parks in Kazakhstan. Most of them still receive very few visitors and tourism in the country is still in its infancy. However, if you are looking for nature, Kazakhstan is a very rewarding place to visit. All you need to know is when to go where. Because every season has its own charms you can travel in Kazakhstan any time of the year.
Nature of Kazakhstan
Temperatures can be extreme in Kazakhstan and therefore spring and autumn offer the best climate to travel around in the country. It would be hard to choose between these seasons. While spring brings blooming flowers and migratory birds, the autumn colours in the forests are equally spectacular.
Winters can be bitterly cold and summers scorching hot. But even then, Kazakhstan's nature is well worth a visit. It's easy to escape the summer heat when you head into the Altay or Tien Shan mountains. This is in fact the best time for hiking at higher altitudes.
Winter is again a completely different world with frozen steppes and lots of snow. Near Almaty you will find the medeu ice skate ring and Shymbulak ski resort where you can have lots of fun in this time of the year.
This Kazakhstan nature guide will tell you exactly when to go where to see the nature of Kazakhstan in all its glory.
Kazakhstan's nature in winter
Let's start with the coldest season when Kazakhstan's nature turns into a winter wonderland. In a country where temperatures can drop to minus 40 degrees most people think twice about coming. However, if you dress warmly winter definitely is a unique experience in Kazakhstan.
Shymbulak & Medeu
With lots of snow Kazakhstan is a great place for winter sports in Asia. The most developed ski resort in the country is Shymbulak. Here you can rent ski equipment or join the ski and snowboard school.
It is only 30 minutes away from the former capital of Almaty. From opposite the Kazakhstan hotel bus number 12 leaves to the ice skate ring of Medeu. From there you can take a bus or cable car up to Shymbulak.
Kazakhstan's nature in spring
At the end of march Kazakhstan welcomes the warmer temperatures with its spring festival Nowruz. However, cold weather and snow remains possible, especially in the mountains. It is only in May that the weather really starts to warm up and flowers start blossoming.
Aksu Zhabagly National Park
In the Netherlands we might sing that tulips come from Amsterdam, but they do come in fact from Kazakhstan. The green meadows in the Aksu Zhabagly National park turn red in spring with millions of flowering tulips. It is one of the best places in Kazakhstan to see the wild tulips bloom.
But tulips are not the only attraction. Apples are also from Kazakhstan and you will find wild apples as well as other rare plants and flower species. Wildlife is equally diverse with snow leopards, brown bears, mountain sheep and marmots.
The Aksu Zhabagly National park lies in the south of Kazakhstan and is part of a larger nature corridor that makes it an area of true wilderness. The park borders the Sairam Ugam National park in Kazakhstan, the Chimgan mountains in Uzbekistan and a remote corner of eastern Kyrgyzstan.
Aksu Zhabagly is a worthwhile nature destination year round. However, if it is the tulips you are coming for, spring is the best time.
How to get there
From Shymkent there is one direct marshrutka that operates on demand. When we were there it was not running, but if it does, it usually leaves between 9 AM and 11 AM from Aina bus station.
Rather than looking for the direct marshrutka, you can also take one of the frequent marshrutka's to either Tulkibas or Turarkent (also called Vanovka or Turar Ruskylov) for 400 – 500 tenge. From both Tulkibas and Turarkent you can take a shared taxi to Zhabagly village (300 – 500 tenge).
Tulkibas also has a train station so it is even possible to take a train from Shymkent, although times are not that convenient.
Sairam Ugam National park
Sairam Ugam National Park lies right next to Aksu Zhabagly, but only receives a fraction of the visitors of its more famous neighbour. However, Sairam Ugam has just as much to offer and with lower park fees it is a much cheaper alternative to the more expensive Aksu Zhabagly National Park.
As Sairam Ugam is part of the same nature corridor your chances of seeing its unique flora and fauna are the same. Like Aksu Zhabagly wild tulips are plentiful in spring as well as the wild apple blossoms.
There is an excellent community tourism programme with some nice homestays in the villages of Lenger, Dikankol, Kaskasu and Tonkeris from where you can go hiking or horse back riding into the park.
How to get there
From Shymkent (Voenkomat bus stop on Tole Bi) you can take a marshrutka or shared taxi to Lenger. For Dikankol, Kaskasu and Tonkeris public transport leaves from Tashenov near Shymkent's Central Bazaar.
Charyn Canyon National Park
The Charyn Canyon National Park is one of the most popular day trips from Almaty. It is often compared with the more famous Grand Canyon and although the Charyn Canyon is much smaller, it is indeed equally impressive.
It's a geologists dream come true with sedimentary rocks in red, grown, yellow and black colours. They are rich in minerals and are about twelve million years old. There is also a large variety of flora and fauna with over 1000 of plants of which 50 are extremely rare. The Charyn canyon National Park is also is home to wildlife such as foxes, hares, gerbils, eagles, pheasants, snakes and lizards.
The Charyn Canyon National Park is in fact spectacular enough that I can recommend you to stay there at least one night. On a day trip you only get to see the tip of the iceberg. Most tour groups hike the 2 kilometer trail through the scenic valley of castles with its unique red rock formations. It's a nice walk, but its true beauty reveals itself during sunset and sunrise when the crowds are gone.
Furthermore, the valley of castles is only the beginning. There are three more canyons inside the Charyn National Park. There is the Temirlik canyon (iron canyon), the Uzunbulak canyon (yellow canyon or moon canyon) and the Bestamak Canyon (red canyon).
Spring is the best time to visit with great weather and pleasant temperatures. Winters are icy cold and summers unbearingly hot. Autumn would be another good season to travel to the Charyn Canyon.
How to get there
If you want to go on your own you can take a shared taxi to Kegen (5 dollars). Ask them to drop you at the turn off for the Charyn Canyon. From there it is a 12 km hike through the grasslands, without any shade, to the entrance. To get back you have to hike back to the main road and then hitchhike a ride back to Almaty. Alternatively there are cheap day tours or you can rent your own car.
Altyn Emel National Park
Altyn Emel National Park is the most spectacular and remote national parks near Almaty. The landscapes are incredibly diverse. There are singing sand dunes, colourful mountains and vast steppes.
Altyn Emel National Park is a great wildlife destination. There are more than 250 different animals, some extremely rare and endangered. You need a bit of luck and most will be from a distance, but it is one of the few places in this world where you can see wild donkeys and wild horses in their natural habitat.
You also have a good chance of seeing a Persian gazelle or a Bukharan deer. Other species are very difficult to see, but there are many rare animals out there such as lynx, wild cats and brown bears.
Like the Charyn Canyon, Altyn Emel National Park has the best temperatures and weather in spring.
How to get there
There are two ways to reach Altyn Emel National Park. The northern entrance near Basshi (route 1 & 2) that is most popular and the less used western entrance near Shengeldy (route 3).
There is no public transport to Altyn Emel National Park and even hitchhiking would be difficult. Altyn Emel National Park is huge and without your own transport you won't get far. Unfortunately tours don't come cheap and often only include the singing sand dunes (the first route).
If there is one place in Central Asia where I would say it is worth it to rent a car it would be Altyn Emel National Park. With the high tour prices, renting a car might be much cheaper, especially if you can share the costs with others.
Korghalzyn National Park
Korghalzyn national park near Nursultan is one of the most important wetland ecosystems in Kazakhstan. It is a birdwatchers paradise, because it is a stop over place for several migratory birds on the Indian and Siberian-East African migration routes.
It is in spring that a large colony of pink flamingo's gather in the mud islands of lake Tengiz in the park. Other birds in Korghalzyn include pelicans, cranes, different species of duck and birds of prey such as eagles.
Korghalzyn is also home to wildlife such as the rare saiga antelope and the more common steppe marmots.
How to get there
From Nursultan's bus station near the old train station there are frequent buses and shared taxi's to Korghalzyn village. However, trying to arrange a guide from there to bring you to the reserve can be costly and will probably not be cheaper than booking a tour from Nursultan.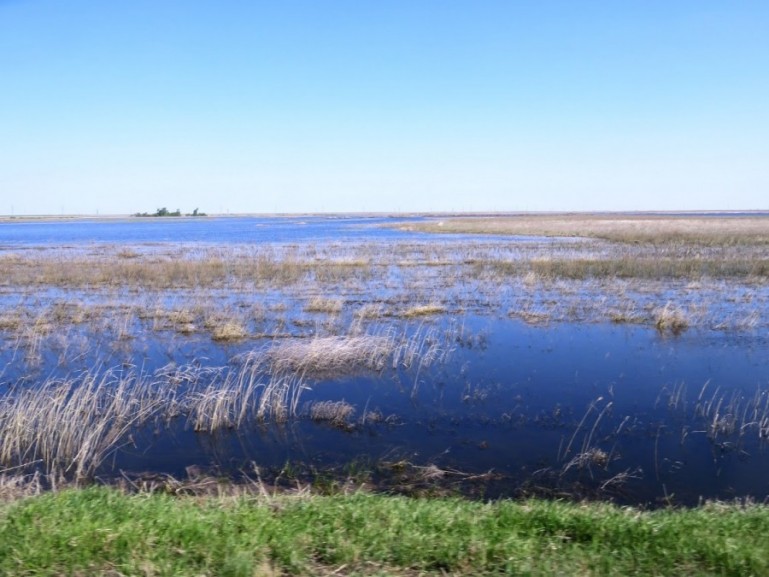 Kazakhstan's nature in summer
When temperatures at the low lying steppes become unbearingly hot in summer it is time to escape the heat. Summer is the best time to visit Kazakhstan's mountains. The Tien Shan mountain range is just around the corner of Almaty with many great destination. The Kazakh Altai mountains in the far western corner of the country are more remote, but well worth the effort to get there.
Kolsai Lakes National Park
The Kolsai lakes national park is a popular weekend get away for the people in Almaty trying to escape the summer heat in the city. the first kolsai lake is only 4 hours away by car and offers fresh mountain air and alpine meadows.
Together with the Charyn Canyon it is one of the most touristic national parks in Kazakhstan, but escaping the weekend crowds is easy. Most people stay at the first lake so once you start your hike to the second lake it will become more quiet and during the week you are likely to meet only a handful of other travellers.
There are several homestays in the village of Saty that is the gateway to the main attractions of the Kolsai lakes national park. If you have your own car you can easily reach beautiful lake Kaindy and the first Kolsai lake. The second or upper Kolsai like is a challenging, but scenic hike of 8 kilometer.
Seeing wildlife is rare, but there are over 50 species of mammals including bears, lynx, snow leopards, mountain sheeps and stone marten.
How to get there
Having your own transport is best, however it is not impossible to get there by public transport. In Almaty there is a bus at 6 AM to Saty, but the service is not very reliable. On my last trip I was told it was not running every day, because of a lack of demand. Therefore, your best bet is a shared taxi to Kegen. From there you can use your hitchhiking skills to catch a ride to Saty.
Just keep in mind that hitchhiking is not for free in Kazakhstan and you should contribute towards the fuel costs. Also keep in mind that Saty is still 15 kilometer from the Kolsai lakes. You will need to book a taxi in Saty to bring you to lake Kaindy or the Kolsai lakes. Don't get out at the entrance gate where you will have to pay a park fee. From there it is also still 8 kilometers to the first lake.
Ile Alatau National Park
When you are in Almaty, Kazakhstan's nature is never far away. Only 30 minutes away from the city and you will find yourself in the beautiful mountains of the Ile Alatau National Park.
Big Almaty lake is one of the most popular attractions in this park. The deep blue lake has a spectacular location, but unfortunately you can't go hiking here. Because it provides drinking water for Almaty and it is close to the border with Kyrgyzstan it is heavily guarded.
If you want to go hiking it is best to go to Medeu and Shymbulak. From there you can make several nice day hikes. The easiest hike is the one to the kok zhailau (green meadow) or the Butakovski waterfall. More challenging hikes go to the Furmanov peak or the Manshuk Mametova lake.
How to get there
Shymbulak is easy to reach by taking bus number 12 from opposite the Kazakhstan hotel in Almaty to the Medeu ice skating ring. From there you can do several hiking trails. To reach Big Almaty Lake you can either join a tour or take a taxi from Almaty (use the taxi hailing app Yandex !).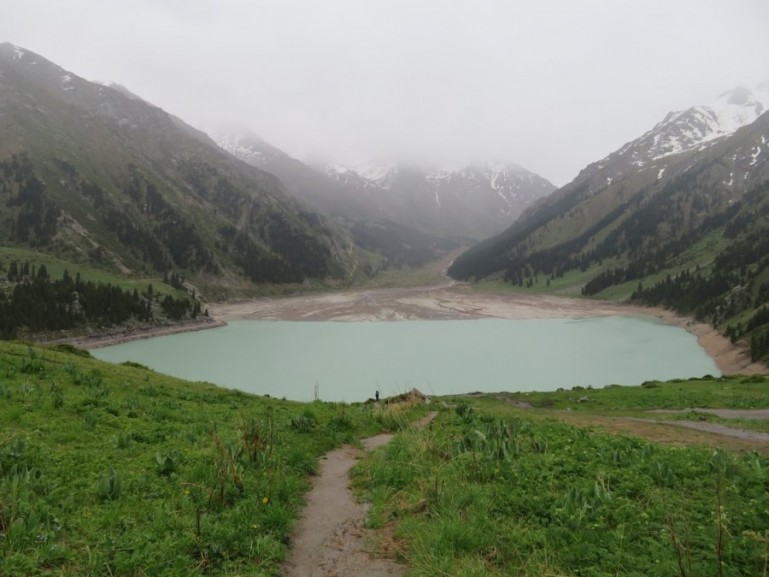 Katon Karagay National Park
Katon Karagay National park in the Kazakh Altai mountains is the largest national park in Kazakhstan. Few visitors make it this far to this remote corner, but it is a true wilderness that has lots to offer. It's like a miniature Kazakhstan with steppes, taiga, forests, alpine meadows and snowcapped mountain peaks.
Highlights in the Kazakh Altai include lake Markakol, Mount Belukha, the Rachmanov springs, Scythian burial mounds, fresh honey and deer antler extract. There are plenty of hiking opportunities, just beware that this is bear country. There are also wolves, deers, mountain sheeps, snow leopards and lynx.
How to get there
Ust Kamenogorsk is the gateway to the Kazakh Altai mountains and the Katon Karagay National Park. To get to Ust Kamenogorsk it is best to take a train from either Nursultan or Almaty to Semey Palatinsk. From there it is quicker to take the bus to Ust Kamenogorsk. There you can arrange your own transport to explore the park (tour or renting a car).
Kazakhstan's nature in autumn
I think by now you have realized that Kazakhstan is so much more than steppes only. Besides deserts, alpine meadows and mountains, Kazakhstan also has beautiful forests that are at its most beautiful during autumn.
Above I have already discussed the Kolsai lakes national park and the Kazakh Altai mountains that is perfect for hiking in summer. Both have large forests as well and therefore early autumn is also a great time to visit. Also nearby Nursultan are several parks known for their pine and birch forests that are at its most beautiful in autumn.
Burabay National Park
Burabay National Park is one of the most popular nature getaways from Kazakhstans capital. With its lush vegetation, interesting rock formations, rolling hills and beautiful Borovoe lake it's a completely different world from the steppes. There are beautiful hiking trails through the forests that turn golden in autumn.
How to get there
by car it is a 3 hour drive to Burabay National Park. It is 250 kilometers north of Nursultan. Marshrutka's and shared taxi's leave from the Saparzhai bus station in Nursultan to Borovoe town. Borovoe is the gateway to the park and has several accomodation options. Alternatively you can take a train to Shchuchinsk, or Kurort-Borovoye and then take a shared taxi to Borovoe. Read more about how to travel by train in Kazakhstan.
Bayanaul National Park
Bayanaul National Park is another great nature getaway from Nursultan. Here you will also find funny granite rock formations, fresh water lakes and forests with beautiful colours in autumn.
How to get there
Bayanaul lies midway between Nursultan and Pavlodar. You can take a train from either Nursultan or Pavlodar to the town of Ekibastuz. From there you can take a shared taxi to Bayanaul.
Karkaraly National Park
The Karkaraly national park is the most popular destination for the people from Karaganda, an industrial city south of Nursultan.
Surrounded by the vast steppes are the granite Karkaraly mountains with a number of fresh water lakes and hiking trails through pine and birch forests. Karkaraly derives from the word Karkara that is a jewel on a traditional female headdress. The story goes that the mountains represent one of these jewels that was lost by a beautiful girl on the steppes.
How to get there
From Karaganda there are buses and shared taxi's to the town of Karkaralinsk where you have several accomodation options. If you have your own camping gear there are also camping spots near the lake.
Sustainable Travel in Kazakhstan's Nature
Kazakhstans nature sees more tourists every year. While Tourism is a welcome source of income for the local community it can also have negative consequences. Traveling sustainably in the country, involves conscious choices that minimize your environmental impact in these remote and pristine ecosystems.
Stay in small scale sustainable hotels: It is also better to stay in locally-owned guesthouses or homestays to support the local economy directly. These accommodations often have a more positive impact on the environment compared to large hotels. Where possible, I can recommend staying in a homestay for an authentic cultural experience. You might want to bring a small book with pictures of your family to break the ice.
You can try to look for guesthouses or homestays that prioritizes sustainable practices. That said, environmental awareness is still low. It's up to you to use water sparsely, turn off lights, air conditioning, and heating when leaving your accommodation.
Leave no Trace principle: When hiking in the national parks of Kazakhstan, stick to designated trails to protect the fragile ecosystems. Straying off the marked paths can cause soil erosion and damage to plant life. If you are lucky enough to spot wildlife, observe quietly from a distance to prevent disruption to their habitats and help maintain their natural behaviors.
I encourage you to take all your trash back with you and dispose of it responsibly. In other words, leave no trace of your visit. Even better is when you bring something to pick up any of the trash that other people left behind.
To avoid single-use plastics, invest in reusable items. For example, you can bring your own water bottle with a filter that you can refill at your accomodation. At last, use biodegradable and eco-friendly personal care products to minimize pollution of water sources.
Respect the culture: Besides environmental concerns it is also important to respect the culture. Kazakhstan is an Islamic country with a nomadic past that is just opening up to tourism. Therefore, learn about the local customs and traditions beforehand and be mindful of your behavior.
People will appreciate it, if you dress modestly, especially at religious sites. Learning a few basic phrases in Kazakh or Russian, can go a long way in building meaningful connections and to learn more about the local culture. Not everybody is happy to have their picture taken. When in doubt, ask permission.
Disclaimer: This post with a Kazakhstan nature travel guide contains affiliate links. If you buy any service through any of my links, I will get a small commission at no extra cost to you. These earnings help me to keep Backpack Adventures alive! Thanks for your support!
---
---