How to Travel by Train in Kazakhstan
This post is a travel guide about how to travel by train in Kazakhstan. Kazakhstan is the perfect destination to explore by train and in recent years Kazakhstan has invested in its railway system making train travel while backpacking Kazakhstan easier than ever.
This post will tell you everything you need to know about travelling by train in Kazakhstan. From how to book train tickets online to what to expect on a Kazakh train, including safety and my experience as a solo female traveller. However, let me first explain why you should travel by train in Kazakhstan in the first place.
Why travel by train in Kazakhstan?
Kazakhstan is the ninth biggest country in the world and besides some mountains in the south and east, most of the country are vast steppes and grass lands.
There is no better way to get a true sense of the vastness of Kazakhstan than travelling by train. Train journeys provide an excellent opportunity to enjoy the beautiful scenery and the diverse landscapes. The distances are huge and trains in Kazakhstan are spacious and offer more legroom and seating comfort compared to other modes of transportation like buses or shared taxis.
The old Soviet trains are slow, but offer a nostalgic journey back to the good old days where in a few minutes you became friends with your fellow passengers who will share their food and vodka with you. Trains therefore offer a unique opportunity to interact with locals and experience the country's culture firsthand. If you have time on your hands, the Soviet trains in Kazakhstan are still the way to go.
But since a couple of years there are also new high-speed trains in Kazakhstan. This reduces the train journeys between Nursultan (Astana), Almaty and Shymkent considerably from 20+ hours to comfortable nighttrain journeys between 13 – 16 hours. The Kazakh hospitality remains the same.
At last, Trains are generally more eco-friendly than other modes of transportation, such as cars or planes, as they produce fewer emissions per passenger. They are thus the most sustainable option to explore the country.
Check my post to read an example 2 week Kazakhstan itinerary by train around Nursultan, Shymkent and Almaty.
My experience travelling by train in Kazakhstan
I got my first sense of Kazakhstan's emptiness on the train journey from Nursultan (Astana) to Shymkent.
The new high speed nighttrain was comfortable with 4 bunk beds in each cabin. I woke up to a desert landscape of endless flat grasslands with dried yellow grass. It continued for hours. During the whole journey we only stopped in 4 cities where we could go out to buy some food from old ladies selling pancakes and dried fish.
Even though the landscapes might get boring this will be well compensated by the interesting people you will meet on any train in Kazakhstan. I shared my cabin with a russian couple and a young Kazakh girl with her one year old son. Word traveled fast and soon everyone in my part of the train knew there was a foreigner from 'gollandiya' on board.
People were curious and passed by to take a look. Nobody spoke english, but with Google Translate they managed to ask me all kinds of questions. Why was I in Kazakhstan? Did I like their country? What kind of work did I do? Did I have brothers and sisters? Where was my husband? And then in shock, Why wasn't I married yet?
As we came near Shymkent the views became more interesting. The dry grass lands changed into green hills with the occasional river flowing through. We were close to the border with Kyrgyzstan and in the distance I could see the snow capped peaks of the Tien Shan mountains from the train.
I arrived at Shymkent station and despite the icy cold weather I got a warm welcome in my hostel where I was the only guest. Maybe not the only guest, because at night the mosquitoes kept me awake. I remembered reading something about them being plentiful in the kazakh steppes together with all kinds of other wildlife. Maybe the steppes are not so empty after all.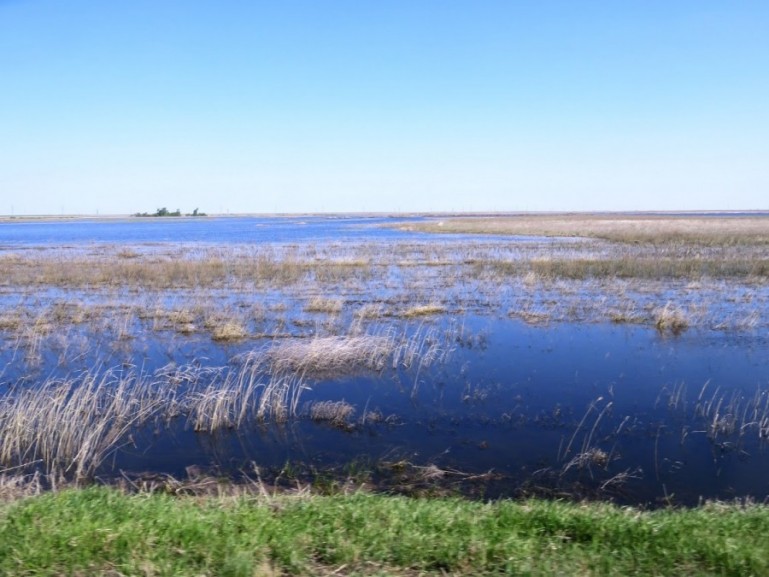 A history of the Kazakh steppes
As I said before, travelling by train in Kazakhstan gives you a sense of how big the country is and most of the times you will look out over the vast steppes.
Throughout it's history the supposed emptiness of the steppes has been used for many things. Especially during the Soviet times Kazakhstan was used as the dustbin of the USSR. The so called gulags or working camps, like the gulags in Karaganda, brought many political prisoners to the country where they were forced to work under austere conditions.
Stalin even deported whole ethnic minorities such as the Chechens, Koreans and Volga Germans to Kazakhstan out of fear that they were not loyal enough to the regime. Famous persons like Trotsky and Dostoyevski all spent time in exile in Kazakhstan.
The hospitality of the Kazakh nomads is impressive and could be a lesson for the world today. Many of those deported that chose to stay explain they could not have survived without the Kazakh people that helped them and taught them how to live in the harsh climates of the steppes.
The dustbin of the Soviet Union
Kazakhstan was not only used to dump unwanted or suspicious persons. The Soviets also build their space launch program in Baikonur because of it's isolation. The rhetoric was that with rocket debris falling from the air they would cause the least casualties in this empty space. As much as they were concerned about the lives of the Russians they were less concerned about the Kazakh nomads that were actually living on the steppes. Villages near Karaganda sometimes see rocket debris falling from the sky hoping it won't fall on their roofs.
Another example is the area around Semipalatinsk that was used for Russia's nuclear tests untill former president Nazarbayev put a stop to this in 1991. But even today the people are still suffering from the consequences due to increased rates of genetic mutations and cancers as can be seen in this article from National Geographic.
Trains in Kazakhstan
Kazakhstan has both the old Soviet style slow trains and since 2015 the newer high-speed trains that run on an increasing number of routes.
Soviet trains in Kazakhstan
The older light blue trains in Kazakhstan are still the cheapest way to travel around and provide the essential nostalgic Soviet experience. That said, the blue trains in Kazakhstan take their sweet time. From Nur-sultan (Astana) to Shymkent by slow train it takes more than 24 hours while it only takes 16 hours with the talgo high-speed train.
High speed trains in Kazakhstan
The newer high speed trains in Kazakhstan are not yet available on all routes and come with a considerable increase in price. However, compared to European train prices it is still relatively cheap and if you have limited time they are the perfect way to travel around the country.
The Spanish Talgo trains allow you to cross huge distances in comfortable overnight journeys. In 2013 the introduction of the high speed trains in Kazakhstan was postponed due to doubts about passenger numbers, but the trains are very popular and they fill up quickly. Therefore I can recommend to book your tickets online as soon as possible.
How to book tickets for trains in Kazakhstan ?
How to book kazakh train tickets online?
I booked my Kazakh train tickets directly on the site of the Kazakh Railways. This website is useful for both checking out the current train schedules and booking your tickets.
Before you needed a Kazakh credit card, but the site now also accepts international cards. The process is pretty straightforward and easy. Although most of the website is available in english, you do need to fill in the search fields in Russian.
Nursultan: НУР-СУЛТАН
Almaty: АЛМАТЫ
Karaganda: КАРАГАНДЫ
Shymkent: ШЫМКEНT
Other reliable sites to book tickets for trains in Kazakhstan is TicketsKZ.
Tip: If you want to know whether the train you select is the older train or a newer high speed train, it is easy to tell the difference by the higher prices and much lower travel times of the high speed trains.
How to book kazakh train tickets offline?
The best way to book Kazakh train tickets offline is on the new Qiwi payment terminals in shops and kiosks. Otherwise you could book your train tickets at the train station, but this is less straightforward. Lines are long and language might be a problem if you don't speak Russian or Kazakh.
Train classes in Kazakhstan
Slow trains in Kazakhstan
The slow trains have three classes.
Platzkart has open wagons divided in compartments with 6 bunk beds. This is more comfortable than it actually sounds and on the older train in Kazakhstan my preferred option. You will meet lots of interesting people and there is a certain social safety in numbers.
Kupe has seperate closed compartments with 4 beds. Although this will give you more privacy, you can't choose your companions. People in Kazakhstan are really friendly so this shouldn't be too much of an issue. However, as a solo female traveller I am personally more comfortable in platzkart.
Lyux/SV is the most expensive with only 2 beds in a closed compartment. If you are a couple and want your privacy this is the best option.
Obshye is a seat only. Although it is cheapest you should avoid this on long overnight journeys.
High speed trains in Kazakhstan
The high speed trains also have three classes, but does not have platzkart.
Tourist is the cheapest and is comparable with Kupe (4 beds in a closed compartment). This is the class that I travelled in when taking the newer high speed trains. I thought it was very comfortable.
The more expensive Business is comparable with Lyux/SV and has only 2 beds
Grand is the most expensive and includes an ensuite toilet and shower.
What to expect on a train in Kazakhstan?
Trains in Kazakhstan are a very comfortable way to travel through the country. Each wagon has an attendant, similar to the provodnitsa in Russia, that checks your ticket and passport. On overnight journeys they will provide you with sheets, a pillow and a blanket.
There is a toilet with water basin at each end of the wagon. Hygiene varies a lot, but in general they get more dirty as the journey progresses.
All Kazakh trains have a restaurant that serves decent food for decent prices. The menu is limited though with mostly central asian dishes like plov and laghman.
Each train wagon also has a water dispenser with both cold water and boiled water. The boiled water is great for making tea, noodles or instant soup so bring your own tea cup and cutlery.
Kazakh trains do not make a lot of stops, but at the stops you often have local woman selling homemade products such as plov, blini's and dried fish. Do keep in mind that for the high speed overnight journeys the stops will be during the night.
Solo Female Travel on Kazakh Trains
I travelled throughout Kazakhstan by train on my own. This included some of the newer high speed night trains in between Astana, Almaty and Shymkent as well as the older Soviet trains from Astana to Karaganda.
I never experienced anything else than friendliness and hospitality. While solo female travelers are not uncommon, you may attract some attention due to cultural differences. However, this attention is often out of curiosity and not necessarily threatening.
As with any solo travel, it's essential to be cautious and aware of your surroundings. Avoid sharing personal details of where you will stay with strangers and keep your belongings secure.
What to bring on a Kazakh train
Tea cup and cutlery: With the hot water dispenser you can make tea or noodles so bring your own tea cup and cutlery.
Food and snacks: Despite the trains in Kazakhstan having a restaurant wagon it is a good idea to bring some food and snacks. People will often share their food with you and it is nice to be able to give something back. Food to bring could be tea bags and instant noodles that you can prepare with the hot water dispenser.
Toilet paper and wet wipes: in theory there should be toilet paper in the toilet, but it often happens they run out of toilet paper.
Popular routes by train in Kazakhstan
The train from Nur-sultan to Almaty
The route between Nursultan (Astana) and Almaty is served by both the older trains (18 hours) and newer trains (14 hours) several times a day.
Keep in mind that both Almaty and Nursultan (Astana) have two stations so check what station you depart or arrive from.
Nursultan (Astana) 's old station (ASTANA – 1) is in the old part of town. The high speed trains arrive and depart from the newer Astana Nurly Jol station near Mynzhyldyk alley.
Almaty also has two stations. Almaty 1 is 20 minutes outside of town while Almaty 2 is in the centre at Ablai Khan street.
The train from Almaty to Shymkent
The route between Shymkent and Almaty is served by both the older trains (14-16 hours) and newer trains (11-12 hours) several times a day.
Shymkent serves as the gateway to Turkestan and Aksu Zhabagly National Park.
The train from Nur-sultan to Shymkent
The route between Shymkent and Nur-sultan (Astana) is served by both the older trains (24 hours) and newer trains (16 hours).
Trains to Turkestan
Turkestan can only be reached by the older Soviet trains. The trains on the Route from Almaty to Aktobe all stop in Shymkent and Turkestan. You can either catch one of these older trains from Almaty or take the newer high speed trains to Shymkent and change there to one of the older trains to Turkestan.
There are about 4 to 5 trains daily at convenient times from Shymkent to Turkestan that take between 3 – 4 hours.
Trains to Aral
The trains from Almaty to Aktobe or Atyrau eventually also make a stop in Aral. Once an important fishing port on the Aral sea, now a rather isolated town. From Almaty it takes about 30 to 34 hours by train and from Shymkent 16 to 18 hours.
Kazakhstans efforts to replenish the Aral sea by building the Kok Aral Dam has been somewhat succesfull and from Aral you can make trips to the current sea shore.
I visited the Aral sea in Uzbekistan and hope to visit the Kazakh side one day too.
Trains to Karaganda
Karaganda makes a nice stop on the train route between Nur-sultan (Astana) and Almaty.
Karaganda is best visited from Nur-sultan (Astana). The train from Nur-sultan (Astana) to Karaganda takes between 3 and 4 hours to reach Karaganda. There are two trains in the early morning and 4 trains in the evening.
The train from Almaty to Karaganda unfortunately has rather inconvenient times. Your best option is taking the daily older train leaving Almaty at 17:36 arriving in Karaganda at 08:44 (15+ hours).
Last tips on travelling by train Kazakhstan
Make sure you arrive at the station at least 30 minutes before your train departs. There are sometimes security checks and it can take a while to find the right carriage. The train attendant will check your ticket and passport before you can enter the train so there is sometimes a queue as well before boarding the train.
The talgo trains close their doors 5 minutes before departure after which it is no longer possible to enter the train.
Disclaimer: This post with a travel guide about how to travel by train in Kazakhstan contains affiliate links. If you buy any service through any of my links, I will get a small commission at no extra cost to you. These earnings help me to keep Backpack Adventures alive! Thanks for your support
---
---