Kazan in Winter: the ultimate travel guide
Due to the current situation I advice against travel to Russia at the moment. All affiliated links related to Russia have been removed. But I have decided to keep my posts about Russia as it remains a beautiful country. I hope that circumstances change and that travel is possible again in the near future.
Kazan in winter embraces the snowy and harsh cold weather that Russian winters are famous for. In fact, it was one of the coldest places I visited on my Russian trip, comparable with my visit to Murmansk that lies above the Arctic circle.
Why visit Kazan in winter?
Is that a reason not to visit Kazan in winter? Let me tell you, that I immediately fell in love with Kazan. One of the reasons was it's Kremlin that was covered in snow. From there I had beautiful views on the frozen Volga river that runs through the city. It was wonderful.
Kazan's main attractions like its Kremlin and cosy Bauman street only get more beautiful once the winter brings in a blanket of snow. Furthermore, Russian winters are an experience in itself and will add an extra dimension to your visit. If you consider traveling to Kazan in winter, I can say that the city still has a lot to offer.
I had other reasons to visit Kazan as well. People told me that Kazan with its unique culture was quite different from most other Russian cities. I wanted to know what islam in Orthodox Russia was like and that is why I took the train from Moscow to Kazan.
At first sight, Kazan actually didn't look so different and felt familiarly Russian. It's Tatar influence is subtle. But it's there and this makes Kazan a fascinating place.
A short history of Kazan
Kazan is the capital of Tatarstan, an autonomous republic within Russia that is predominantly muslim. The Tatars are a Turkic people that once roamed on the lands of Russia and Central Asia on their horses. The most famous Tatar is of course Gengis Khan with his Golden Horde in the 13th century. It was one of his descendants that founded the Khanate of Kazan in 1438.
It was a Tatar stronghold until Ivan the Terrible took over in 1552 after a long siege. He destroyed everything that was Tatar such as the Qul Sharif mosque and the Tatar fortress. In its place he built a Russian Kremlin. In the next centuries Kazan developed into an important trade city and industrial center on the trans siberian route.
Throughout these years the Tatars kept their culture alive and when the Soviet Union disintegrated they wanted to become independent. What they got was an autonomous republic within Russia. Something that most people in Kazan seem to be ok with. Nowadays about half of the population is Tatar and the other half Russian.
The best things to do in Kazan in winter
The key to enjoy Kazan in winter is by having both outdoor and indoor activities. Luckily Kazan is a great city to do so. The main things to do in Kazan are concentrated in a small area around the Kremlin and the old Tatar settlement that are connected with each other by the 1.3 kilometer long Bauman street.
Kazan is therefore a great city to explore on foot, even in winter. If you walk from the Kremlin to the old Tatar settlement following Bauman street there are plenty of opportunities to warm up in one of the city's funny museums or with a cup of tea in a trendy cafe.
Kremlin
Like most cities in Russia, Kazan has a fortified Kremlin with the city's most important buildings. It looks like an ordinary Kremlin, but what is unique about Kazan is that it is one of the few in Russia with a mosque inside. The spires of the Qul Sharif mosque stand next to the onion domed cupolas of the orthodox annunciation cathedral.
It's a reminder of the complex history of this place that started out as a Tatar fortress with a small mosque in the 13th century. They were destroyed by Ivan the Terrible during the siege of Kazan in 1552 after which he built a typical Russian citadel with churches and bell towers. It remained the military and administrative centre of the region in the years to come.
Already during the Soviet Union, Tatarstan became an Autonomous Soviet republic that had its seat of power in Kazan's Kremlin. Since 1992 it's been home to the Presidential palace for the President of Tatarstan, making the Kazan Kremlin the center of Tatar culture and state power.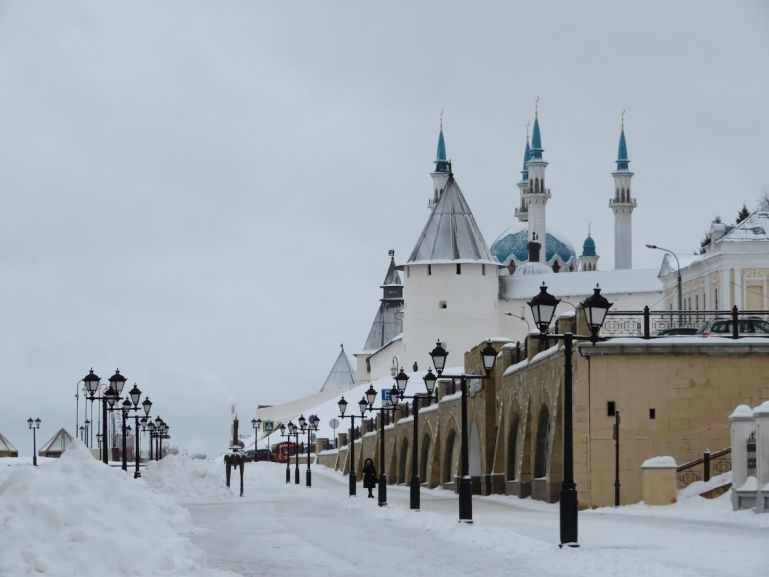 Suyumbike tower
The main sights in Kazan's Kremlin remain a mix of Russian and Tatar elements. One of the most interesting is the leaning Suyumbike tower. Some believe it was built by the Russians in the 18th century, others believe it is one of the few surviving Tatar structures.
Another legend goes that Ivan the Terrible wanted to marry a Kazan princess called Suyumbike who challenged him to build the highest tower both had ever seen. When the Suyumbike tower was finished after six days, Suyumbike jumped from the top.
Spasskaya tower
The white Spasskaya tower at the entrance of the Kazan Kremlin was once part of a larger monastery complex. The Spasskaya monastery was destroyed by Stalin during his anti religion campaigns. This is where you can have the best view on the citadel's fortified walls that surround the Kremlin.
The Annunciation cathedral
The Annunciation cathedral was the first orthodox church to be built in Kazan's Kremlin after the siege of Kazan by Ivan the terrible. Like the Spasskaya monastery it was destroyed during the Soviet times. However, already in 1977 restoration works began and the church reopened its doors in 2005.
Qul sharif mosque
When Tatarstan became an autonomous republic in 1992, the president prioritised the restoration of both the annunciation cathedral and the Qul Sharif mosque that was destroyed by Ivan the terrible.
The opening was on the 1000th anniversary of Kazan city in 2005 and it is among the largest mosques in Russia. As a visitor you are welcome to enter if you dress modestly, which in winter will probably not be a problem. There is even a small museum about Islam.
Bauman street
Bauman street is Kazan's main pedestrian shopping street. With its pastel coloured buildings it almost feels like St Petersburg. In winter the colours contrast nicely with the blanket of white snow that covers the roofs.
The street itself is kept clean and it's a great place for a stroll with plenty of opportunities to warm up somewhere inside. The boutique shops, cafes and restaurants at Bauman street are a welcome change of the winter scenery outside.
Museum of Soviet lifestyle
A small detour away from Bauman street is the small and quirky museum of Soviet lifestyle. The museum is located in a former communal apartment that is barely visible because of all the Soviet paraphernalia that represents daily life in the Soviet Union. The nostalgic items include school books, toys, propaganda posters and clothes that you are free to try on.
Epiphany church
The epiphany church is one of the most iconic sights on Bauman street. From the observation deck in the bell tower you have a beautiful view over the city.
Old Tatar settlement
The old Tatar settlement is a must see if you are interested in Tatar culture. After the siege of Kazan in 1552, the Tatars were forced to live in this area of the city near lake Nizhny Kaban. In winter the lake will probably be frozen and is quite a sight.
Nowadays the area of the old Tatar settlement is a mix of different architectural styles. It must be said that there are almost no remains of the original town that consisted mostly of wooden homes. Most streets are like any street in Kazan. However, some newly built wooden homes still show the traditional colourful Tatar decorations.
To explore the old Tatar settlement it is probably best to focus on the pedestrian areas and the Kayum Nasri street where Kazan indeed feels quite different from other Russian cities. Unlike Bauman it is very peaceful and quiet with few other tourists around.
The best time to visit is in the afternoon and if you are lucky you might be there to hear the call for prayers coming from the couple of mosques that are in this neighbourhood. Don't miss lake Nizhny Kaban. In winter the boulevard next to the lake is quite windy and cold, but the views over the frozen lake are wonderful.
Chak chak museum
To learn more about Tatar culture you can visit the Chak Chak museum. Chak Chak is a sweet Tatar delicacy and although the museum revolves around this Tatar national dish it is at the same time giving you an intimate insight into Tatar culture.
The museum is like a traditional Tatar house and as your guide leads you along the kitchen and living rooms she explains everything about Tatar daily life, traditions and the importance of Chak Chak in Tatar culture.
The tour ends in the dining room with a cup of tea from the samovar and a tray of Tatar desserts for you to try. Of course, it includes chak chak as well.
If you want an english tour call them to make a reservation in advance.
The Kazan family center
The Kazan family center is a newly built wedding palace that opened in 2013. The building resembles an enormous traditional Tatar cauldron. The dragons outside are zilants, a legendary creature that is the symbol of Kazan.
The main reason to come here is to see the interesting architecture and the beautiful panorama views over the city's Kremlin and the Volga river from the observation viewing platform on the second floor.
The Kazan metro
The Kazan metro is not at all comparable to the palatial metro stations of Moscow or St.Petersburg. It was also not built in Soviet times, although there were plans to do so. These only started to materialize in 2000 and the metro opened in 2005.
It's stations are quite ordinary, except for the Kremlyovskaya station and ploschad Tukaya. Both were designed to show Tatar cultural elements. Kremlyovskaya has mosaic artworks showing daily life during the Tatar state of the Khanate of Kazan on the walls. On the roof is a fierce Zilant dragon
The Ploschad Tukaya station is dedicated to the Tatar poet Gabdulla Tukay. The walls have 22 art mosaics with images of Tatar daily life as described in the poems of Tukay.
Temple of all religions
One of the quirkiest things to do in Kazan is the temple of all religions. It is located a bit far from the center in one of the suburbs of Kazan. It's definitely not a must see, but if you have some time left you might want to consider a visit.
For me, it was one of the strangest places I visited in Kazan. The building is an eclectic chaotic mix that tries to incorporate all the different faiths. Inside it is equally weird with different themed rooms and random items that seem to have no connection with each other.
What was most impressive in winter was the frozen Volga river outside. In front of the temple was a small port. In winter it was the entrance to a highway over the frozen river where cars could take a shortcut back to Kazan. I am not used to cold winters, so for me this was quite special to see.
Kazan in Winter Travel Tips
What to eat in Kazan
Maybe the biggest Tatar cultural influence in Kazan is in its cuisine. Tatar cuisine has some similarities with Kazakh and Kyrgyz food. For example they share a love for horse meat sausages (Kazilik), boiled noodles with meat (Beshbarmak), fried dough (Boorsok) and dried salty cheese (Kurut).
Other dishes are quite unique to the Tatars from Kazan. Worth trying are Echpochmak (triangular shaped pastries with minced meat, onions and potatoes), Kistibi (roasted flatbreads with a variety of fillings) and Chak chak (Tatar sweet).
Where to eat in Kazan
Now most restaurants in Kazan actually serve the standard Russian dishes like pelmeni, cutlets and so on. There are some upmarket Tatar restaurants such as Tatarskaya Usadba and Dom Tatarskoii Kulinari. However, some of the cheaper canteen style buffet restaurants do have Tatar specialities as well and here are some of my favourites.
Dom chaj: Dom chai is a Soviet style self service buffet restaurant that serves good and cheap Tatar food. This is a great place to try for example Echpochmak or Kistibi. It has a central location on Bauman street and not far from the Kremlin.
Dobraya stolovaya: Dobraya Stolovaya was one of the cheapest places to eat in Kazan and considering the prices the food wasn't so bad. The choices are more limited though than in Dom Chaj or Cafe Chak chak.
Cafe chak chak: Cafe Chak Chak is very close to Kazan's Kremlin. It also has a self service buffet style with cheap, but tasty food. It's standard russian fare with some Tatar dishes thrown in. This is where I had meatballs in a tomato sauce Tatar style (in this case it means it was horse meat) and chak chak.
Where to stay in Kazan
Wings hostel: I stayed at the lovely Wings hostel. This hostel has a super friendly owner and is not far from the Kazan Kremlin. It has both dormitories as well as private rooms.
YOU hostel: YOU hostel has great reviews for its clean rooms and dormitories. It is a 25 minute walk to the Kremlin.
Stereo hostel: Stereo hostel is a great budget option in Kazan. The dormitory beds have curtains for privacy. The hostel is clean and well run.
How to get to Kazan
Kazan has an international airport with frequent flights from Moscow or St.Petersburg.
Personally, I prefer to travel in Russia by train. Kazan is on a northern branch of the Trans Siberian railway and therefore makes a convenient stop on any Trans Siberian railway journey.
There are comfortable night trains from Moscow to Kazan and therefore it is also possible as a long weekend trip from Moscow.
Disclaimer: This post about Kazan in winter contains affiliate links. If you buy any service through any of my links, I will get a small commission at no extra cost to you. These earnings help me to keep Backpack Adventures alive! Thanks for your support!
Due to the current situation in Ukraine all affiliated links related to Russia have been removed
---
---