The Kemeri Bog Trail: Latvia's beautiful bogs
The Kemeri bog trail is one of the many hiking trails in Latvia. Latvia is a land of incredible nature with forests, wetlands and bogs.
The Kemeri bog is only 1 hour away from Riga and an easy hike of 3.5 kilometers through the forests and bogs of Kemeri National Park.
Kemeri bog in Latvia
Bogs cover about 10% of Latvia's land and are among the oldest landscapes in the country.
They formed 10000 years ago in the last ice age when glacial melt water collected in depressions. Dead plant materials accumulated into layers of peat and developed into mires and bogs.
The current wet climate and flat terrain is perfect for bogs and in many places in Latvia bogs are still growing larger, despite the fragile ecosystem.
We now know that bogs act as a carbon sink and therefore mitigates the effect of climate change. Bogs also offer lots of natural beauty.
To make the bogs accessible for visitors there are a number of well marked trails in the country. Most use boardwalks so you can see this unique landscape without damaging the nature.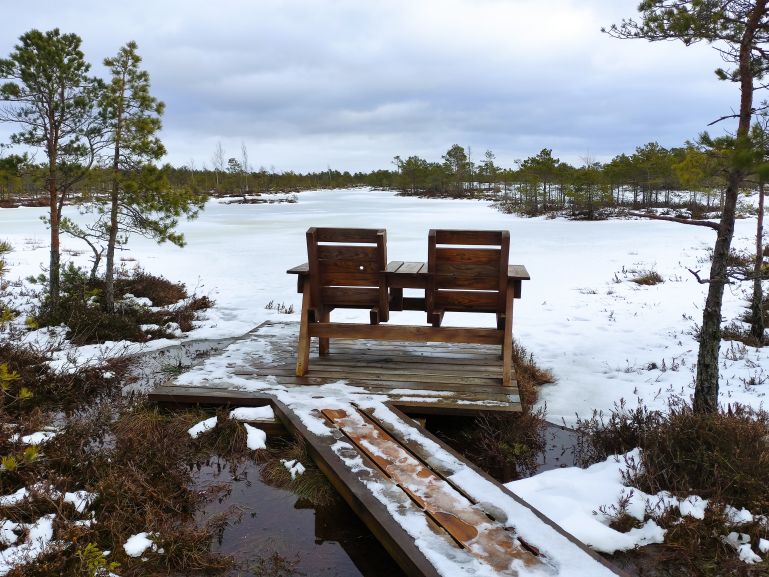 Why visit the Kemeri bog
Kemeri bog is not the only bog you can visit in Latvia. But Latvia's remote national parks do mean that many bogs are difficult to get to, especially if you don't have your own car.
Kemeri bog is one of the few that you can reach by public transport from Riga. For me, choosing to hike the Kemeri bog was thus a practical decision more than anything else. The same reasons why I choose to hike the Viru bog trail in Estonia.
Kemeri being so close to Riga it is the perfect day trip and nature getaway. Because of its easy accessibility, Kemeri bog is also one of the most popular bog trails in Latvia.
In weekends and high season the trail can be crowded and it is not necessarily the quiet and peaceful experience you might expect.
I visited Kemeri bog during the week in winter so there weren't that many people. It was a cold day and there was still some snow and ice on the trail.
The Kemeri bog is not only easy to access, but also unique in Latvia. It is a so-called raised bog. Underneath are sulphurous mineral waters that come to the surface in a number of springs. The water and mud are believed to have healing properties.
The Kemeri bog trail
The Kemeri bog trail is thus an easy way to get to see the bogs of Latvia as an independent budget traveller. There is no need of having your own car or going on an expensive tour.
The Kemeri bog trail is an easy and worthwhile day trip from Rigs. The full Kemeri bog trail is 10.5 kilometers. With a lunch break in between it took me about 3 hours to hike from start to finish.
Step 1: Getting to the start of Kemeri bog trail.
To get to the start of the Kemeri bog trail without your own car, it is easiest to get there by train from Riga. You should take the train to Tukums I or Tukums II. The journey takes about 50 minutes and you should get out at Kemeri station.
From there it is 3.5 kilometers to the start of the boardwalk. You should cross the railway and enter the forest for a bit. After crossing the highway it is a nice and gentle walk through the forest.
Step 2: Hiking to Kemeri bog watchtower
The actual Kemeri bog trail starts at a parking lot where you can park your car. There is also a small information office and toilets in case you need them.
You continue a little bit through the forest and soon enough you will enter the boardwalk into the open bog landscape.
After about 500 meters there is a junction where you can choose a short option (1.5 kilometers) or a longer option (3.5 kilometers). I can recommend the longer option, because you will be able to visit the Kemeri bog watchtower for beautiful views
Step 3: Kemeri bog
The Kemeri bog observation tower offers beautiful views over the lakes of the bogs. It is also a great place for birdwatching as migratory birds, such as geese and cranes, are often passing by.
The Kemeri bog watchtower is about midway. From here it is another 1.7 kilometers on the boardwalk. There are frequent benches where you can take a rest
Step 4: Back to Kemeri station
The Boardwalk is a loop and ends back at the parking lot. Without your own car it is 3.5 kilometers to the station. It is the same way back as you came
Kemeri bog travel tips
Sustainable travel
Latvia's national parks and Kemeri bog do not charge any entrance fees. Like in many Scandinavian countries such as Swedish Lapland there is free access to nature. You are free to wander in the forests and bogs and pick berries and mushrooms as you like.
The bogs are fragile though. When hiking the Kemeri bog trail stick to the boardwalks and don't go off them to prevent damaging the ecosystem.
It is possible to walk through the bogs with bog shoes, but only do this on a guided tour. The guide will know where you can go without disturbing nature. Other obvious rules are not to leave trash behind and only take what you need.
When to visit
I did the Kemeri bog trail in winter and I thought it was very beautiful. There was some snow and the bogs were frozen. In short, it was a very cold, but also a magical winter wonderland. When you visuit in winter I can recommend to dress warm and bring a thermos of tea.
Basically every season has its own charm. Autumn colours in the trees in autumn while lush and green in spring and summer.
What to pack
Sturdy shoes: because most of the walk is on board walks there is no need for professional hiking boots. The trail is flat and easy. In winter I was happy with my waterproof hiking boots though.
Mosquito repellent: Not an issue in winter, but in summer there will be lots of mosquitoes at Kemeri bog. Bring a strong mosquito repellent.
Sunscreen: once you are in the bogs there is little shade. Use enough sunscreen on a sunny day, even in winter.
Where to eat
There are no places to eat in or near the Kemeri bog so bring enough drinking water and food with you.
Riga's central market near the train station is an excellent place to stock up on snacks and foods for a picnic lunch. I can recommend a fresh Uzbek tandoor bread and Samsa from the Registan bakery.
Where to stay
There are no hotels or guesthouses near Kemeri Bog. It is best to stay in Riga
Budget dormitories: Riga's old town has a number of cheap backpacker hostels to stay for less than 15 Euro's per night in a dormitory. Hostels that are centrally located with good reviews are Tree house, Blue bird hostel and Cinnamon Sally
Budget rooms: If you prefer a private room, Hotel Saida is not far from the centre and has good budget rooms.
Midrange Appartments: If you stay for a longer period of time I would suggest staying in one of the plenty appartments that are on offer in Riga. Green garden and Barona residence are near the center of Riga and have good reviews.
Disclaimer: This post about the Kemeri bog train in Latvia contains affiliate links. If you buy any service through any of my links, I will get a small commission at no extra cost to you. These earnings help me to keep Backpack Adventures alive! Thanks for your support!
---
---