The Most Beautiful Backwaters in Kerala, India
This post is about the best backwaters in Kerala. The backwaters of Kerala are a network of lagoons, lakes, and canals along the Arabian Sea coast in the southwestern Indian state of Kerala. I heard so much about the famous backwaters in Kerala that I was dying to go there. This was only enhanced by the amount of Bollywood movies recorded in the palm fringed canals.
For me, the backwaters in Kerala were a dream come true and in reality it exceeded my expectations. Most people visit the backwaters from Alleppey, but I could not get enough. Luckily, there are plenty of other places to explore the intricate maze of waterways across Kerala's coastline. Each with its own charm.
In fact, Alleppey was one of my least favourite backwaters in Kerala. A bit too touristic and crowded for my taste. I enjoyed the peaceful and quiet canals of the uncelebrated places much more.
The Backwaters in Kerala
If people talk about The backwaters in Kerala, they often refer to Alleppey. That is where most people go and it is here that you can organize a luxurious houseboat experience. Unfortunately, Alleppey is also suffering from mass tourism. Alleppey's water ways are crowded and congested with house boats in all kind of shapes and sizes. A lot of them far removed from the original ancient design of a traditional kettuvalam boat.
Alleppey has without doubt the widest and best choice of options if it comes to house boat tours, but the backwaters aren't confined to Alleppey alone. The backwaters in Kerala are a unique wetland area of canals, rivers, lagoons and lakes that runs alongside the Malabar coastline. A tropical paradise that stretches over 900 kilometers.
The backwaters in Kerala are a unique ecosystem that is home to an astonishing number of birds such as kingfishers, egrets and cormorants. Even otters and turtles call the backwaters their home. For the people that live on the shores of the waterways it is a transport network. The fresh water also provides irrigation for coconut grooves, spice plantations and rubber farms. Fishing and tourism are other important sources of income.
With all the attention on Alleppey, sustainable tourism is becoming a challenge in this tourist hub. Luckily there are other places to explore the backwaters in Kerala. Places that give you a different experience and that are more quiet and peaceful. Here are some suggestions of alternative places to add to your Kerala itinerary.
The best backwaters in Kerala
Munroe island
Travelling always gives you surprises, sometimes in the most unexpected remote places in this world. While looking for the best backwaters in Kerala I stumbled upon a place called Monrothuruttu, or in English: "Munroe's Island".
Munroe Island is a network of small islands where the Kallada river meets Ashtamudi Lake. A tour to Munroe island means going through a maze of narrow canals fringed with palm trees. Even better is to stay at one of the welcoming homestays and explore the lush gardens, spice plantations, coconut farms and rubber plantations.
I stayed at Vijeesh homestay. It was the best choice I could make as this gave me the most intimate and authentic view on life around Kerala's backwaters. Vijeesh took me through the narrowest canals with his small canoe and made me enthusiastic about the huge variety of birds and other animals that call the canals their home.
This was definetly one of my favourite backwaters in Kerala and its the perfect destination if you are looking for an off the beaten path place with lots of tranquility. I was also extremely lucky to be there at the time of the islands temple festival.
How to get there: by train or taxi from Kollam.
Where to sleep: I can recommend with all my heart Vijeesh's homestay which is more than just a place to sleep. Vijeesh is a great guide that can tell you all about the flora and fauna on the island. His family made me feel at home instantly and his mother is a great cook making delicious Keralan food.
Kappil backwaters
Kappil beach in Varkala is where the ocean meets the backwaters. Most tourists come to Varkala for the beach and are unaware of the tranquil beauty that lies just around the corner.
The Kappil backwaters are relatively small and you will not find the traditional house boat experiences here. Yet, it is one of the few places in Kerala where you can walk on the beach and the palm fringed shore of the backwaters at the same time. The canoe tours only take a few hours, but those are hours well spent if you love solitude.
How to get there: It's a long, but scenic walk of 7 kilometers towards Kappil beach and the Kappil backwaters. In my opinion it's one of the best things to do in Varkala. If you are not into hiking you can also take a taxi or organize a backwater tour in Varkala
Where to stay: It's best to visit the Kappil backwaters in Varkala. In Varkala I stayed in Bamboo village at the north side of the cliff, close to black beach and kappil beach.
Anjengo backwaters
South of Varkala are more backwaters that rarely sees foreign visitors. Anjengo is now known as Anchuthengu that translates as five coconut palms. The old colonial town of Anjengo is indeed surrounded by coconut groves and has an old fort too.
The Anjengo fort was build by the British East Indian company in 1696 and it was attacked by foreign powers several times. It also played an important role when the british fought against the kingdom of Mysore in the 18th century.
The Anjengo backwaters are linked with the Anchuthenghu lake. The highlight here is the uninhabited island of Ponnumthuruttu with its 100 year old Shiva temple. The only time it gets busy here is during the annual Shiva ratri festival in February when locals come to visit the temple.
How to get there: Anjengo lies south of Varkala and there are frequent buses.
Where to stay: It's best to visit the Anjengo backwaters from Varkala. In Varkala I stayed in Bamboo village.
Cochins backwaters
Fort Kochi is more famous for its old colonial town and delicious cuisine rather than its backwaters. Therefore, I was surprised I could book a backwater tour here as well. Canoe tours start in the waterways south of Cochin.
What I liked most about the backwater tour from Cochin was the mix between the larger canals where you could sometimes see one of the larger houseboats as well as the smaller canals where only the canoes could go. Actually most boats that we passed by were other canoes with locals that were either fishing or on their way to some place. These waterways were still used mostly as a network of transportation for the people living in the area.
The tour was a full day on the backwaters, but there was a big variety in things to see. In some parts it was just us surrounded by dense green vegetation, in other parts we would see small villages where children would come out to greet us. Midway we stopped at someone's home for a delicious homecooked meal
Beware: Some of the backwater tours offered in Fort Kochi will actually bring you to Alleppey for the day. Always check with the tour agency whether this is the case.
How to get there: Tours can be arranged in Fort Kochi
Where to stay: Fort Kochi has great accomodation options. For budget travellers I can recommend one of the many homestays. In Fort Kochi I stayed in Mother Tree B&B and I had a very pleasant stay here with Shyam and his family. Other homestays with good reviews are Kevin homestay, Dream catcher homestay and Aaron's homestay
Kakkathuruttu island
Just south of Cochin, in the large Vembanad lake, lies the small island of Kakkathuruttu. An island nobody heard of untill National Geographic put it on the list as most travelworthy spots in the world. Kakkathuruttu means island of the crows and is a prime birdwatching destination. For a long time the island was uninhabited. Now only a few people live here.
The only way to reach the lush and green island is by boat. Once on the island one has to further explore Kakkathuruttu on foot as there are still no roads. As it is only 3 kilometers long and 2 kilometers wide that isn't too difficult. The narrow paths are surrounded by paddy fields, fish ponds and coconut trees. The tourist potential is obvious, but luckily it still is a bit of a hidden gem.
How to get there: First one has to get to Erramalloor, 75 kilometers south of Cochin. From there you can take a boat from the Kakkathuruttu jetty for a public ferry or the kudaporam jetty for a private boat. The boat ride takes about 30 minutes
Where to sleep: So far the only place to stay is the Kayal Island Retreat. It probably doesn't fit within the average backpackers budget, but the remote and isolated location makes this retreat well worth the price.
Kumarakom backwaters
Kumarakom is another popular backwater destination in Kerala. Like Alleppey, it is located on the shore of Vembanad lake and has a wide choice of houseboat options. Although there are some budget options, Kumarakom is mostly focused on luxurious house boat cruises. As a result, the water ways around Kumarakom can also become somewhat crowded with large kettuvalams.
Still, Kumarakom offers a more rural and luxurious experience than Alleppey. Rather than being a town, Kumarakom is actually a selection of islands. Here you will feel more immersed in nature, especially with the Kumarakom bird sanctuary nearby.
How to get there: Kumarakom does not have a railway station, but there are frequent buses to nearby Kottayam.
Where to sleep: It is difficult to find good budget options in Kumarakom. Affordable options include the Mango Kerala homes and the Kumarakom wood castle appartments.
Alleppey backwaters
Alleppey, or Allapuzha, is also called the Venice of India. In this post it might look like I discourage people to go here. But that is not the case. My advice would be to visit both Alleppey and one of the more quiet alternatives. In the end, Alleppey still has the best choices and options available if it comes to arranging your Keralan backwater experience.
From multiple days on a luxurious houseboat to one day tours in a small canoe. My budget allowed for the last option and I spent a leisurely day floating through the canals. Yes, the canals are somewhat crowded as there are over 900 kettuvalams around Alleppey, but it was pretty impressive to see the large houseboats passing by and that is what I missed in some of the other backwater destinations.
There are not too many things to do in Alleppey besides the backwaters, but there is a nice beach to relax and you can experience rural village life in nearby Kuttanad. As a tourist hub it is also possible to take cooking classes, book yoga lessons or take ayurvedic treatments.
Alleppey is indeed one of the best backwaters in Kerala if you are looking for an all inclusive houseboat experience. However, if it comes to scenery and tranquility I prefered Munroe's island or Kappil. As I said before, if you do have the time, why not experience both?
How to get there: It is easy to reach Alleppey by train or bus from Trivandrum or Cochin.
Where to stay: I stayed in the new Allepey 3 palms guesthouse. It is basic and a bit difficult to find, but a nice and cheap place to stay.
How to explore the backwaters in Kerala?
There are different ways you can explore the backwaters depending on your budget and what you prefer. It would be difficult to go on your own with your own boat, so in most cases you need to book a tour.
by Kettuvalam
The most expensive option is a multiple day tour on a houseboat. The traditional houseboats in Kerala are called a Kettuvalam and they consist of a thatched roof over a wooden boat. It was originally designed to transport cargo, but nowadays it is mostly used in tourism.
Kettuvalams come in different sizes and there are even double decker boats with bedrooms, bathrooms, toilets and kitchens. If you have the money it for sure is a once in a lifetime experience. In this case Alleppey is the best place to go.
The large houseboats have a disadvantage though. They can only navigate through the larger canals and lakes. To be honest, these canals are not necessarily the most scenic ones and can even be crowded. To give you an idea, there are over 900 kettuvallams in and around Alleppey.
by Canoe
Another option that is often much cheaper is a day tour by canoe. In this case you can opt for a private or group tour. The advantage of a canoe is that they can also go through the much smaller canals. Not only are they more scenic and quiet, you also get a much better insight into daily life around Kerala's backwaters. You will pass by small farms, people fishing and children going to school.
Another advantage is that the canoes are the most environmentally friendly way to explore the backwaters. With no motor boat they cause less pollution and have less impact on Kerala's nature. Most of the backwater tours I did was with a canoe and Munroe Island was definetly a winner because of the beautiful scenery and the tranquility.
There are different tour companies out there so my biggest advice is to do your homework well. Compare and negotiate and make sure what is and what is not included in the price.
In Allapuzha they even offer shikara boat rides. It is probably good to know that a shikara is actually not from Kerala. A shikara is a long wooden boat with a tatched roof cover that was traditionally used for transportation on Dal lake in Kashmir. That said, they are a comfortable way to see the backwaters.
by Government Cruise
For a cheap houseboat experience you might want to consider the government tourist boat service from Kollam to Alleppey. There are daily departures from both Kollam and Alleppey at 10:30 and tickets only cost 600 rupees. For that you get 8 hours of backwater sceneries.
It's a large boat with two decks. The upper deck has the best views, but come early to claim your seat. Due to the size of the boat you will only pass through the larger canals and the 8 hours might actually be a bit too much.
by Public Ferry
Probably the cheapest way to see the backwaters in Kerala is to take a public ferry. From Alleppey there are frequent ferrys going in different directions. One that tourists often use to travel to Thekkady and Periyar National Park is the ferry from Alleppey to Kottayam.
The bus will be cheaper and faster, but the ferry is a nice experience. It is an old boat and locals will be hopping on and off. It doesn't go through the most scenic canals, but still gives you a good insight in local life in the backwaters.
You can check the latest timetables for ferries from Alleppey at the Kerala's State Water transport Department.
Kerala's Backwaters Travel Tips
Where to sleep in Kerala's backwaters?
There is plenty of accommodation in and around the backwaters of Kerala. From luxurious resorts to budget guesthouses and friendly homestays. If you are on a budget, giesthouses and homestays arev probably your best option. Hostels are now also emerging in India. Zostel hostel is a reliable chain with cheap dormitories for solo travellers.
What to eat in Kerala's backwaters?
What you will eat largely depends on the tour company you book your tour with. In the luxurious houseboats they might even serve you western breakfasts, but in most cases expect Indian cuisine. Not that this is bad. In fact, Kerala food is absolutely delicious.
One of the highlights of my trip to Kerala were the homecooked meals at my homestay in Munroe's island. At the budget canoe tours they often stopped at a restaurant serving a Keralan thali. A thali is a plate of rice with different curries on a banana leaf. Keralan curries are often flavoured with coconut and mustard seeds. I absolutely loved the food I had in Kerala.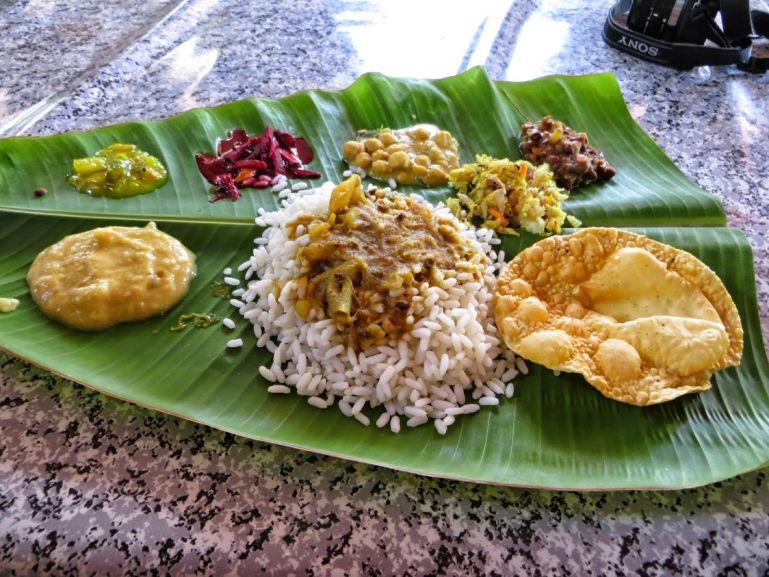 How to get to Kerala's backwaters?
Allepey and Kochi are both easy to travel to. From most places there are frequent buses and trains to Allepey (Allapuzha), Kochi (Ernakulam) and Varkala. To reach Munroe's island you can take a taxi from Kollam or the infrequent local train.
From Kerala it is a short detour to Madurai to see the Madurai Meenakshi temple. You can also continue your journey in South India to Bangalore, Mysore or Goa.
You can check time tables and book your tickets online directly through the Indian railways (IRCTC). Unfortunately this is not always a straightforward process. For a small extra fee you can use 12goAsia or Makemytrip.
When to visit Kerala's backwaters
The best time to visit the backwaters in Kerala is between October and March. In October temperatures cool down and you might have a chance to join the festivities for Dussehra and Diwali. India's biggest festivals.
Temperatures remain pleasant till March. In April and May it becomes extremely hot. In June it is the start of the monsoon that lasts till September and will see lots of rainfall. Floods are not uncommon in Kerala during this period.
Disclaimer: This post about the best backwaters in Kerala contains affiliate links. If you buy any service through any of my links, I will get a small commission at no extra cost to you. These earnings help me to keep Backpack Adventures alive! Thanks for your support!
---
---