How to travel from Khiva to Bukhara in Uzbekistan
Travelling from Khiva to Bukhara used to be a though journey through the desert. For a long time the only option to get from Khiva to Bukhara was to head to Urgench first. From there you had to take a crowded shared taxi for the 8 hour trip to Bukhara.
Despite the extensive railway system in Uzbekistan there was no direct Khiva to Bukhara train. Luckily things have changed. Since 2018 a new station was built in Khiva and it is now possible to travel from Khiva to Bukhara by train as well.
In this post I will discuss the different ways to travel from Khiva to Bukhara for the independent budget traveller. They are among the best places to visit in Uzbekistan and both should be part of any Uzbekistan itinerary.
Khiva to Bukhara by shared taxi
Before the Khiva to Bukhara train was introduced, shared taxi's were the only option to travel by public transport.
There are no direct shared taxi's between Khiva and Bukhara so the first step is to get to Urgench, the transport hub of Khorezm and Karakalpakstan. Shared taxi's and trolleybuses from Khiva to Urgench leave from the northern gate of the old town (Itchan Qala). Both options cost around 1 dollar per person.
The trolleybus from Khiva to Urgench is pretty slow and can take up to one hour. Shared taxi's make the trip in half an hour. The trolleybuses leave every 30 minutes and shared taxi's once they are full. We had to wait for about 15 minutes before our shared taxi left.
Once you are in Urgench you should head to the shared taxi stand for Bukhara. Most shared taxi's leave from the Urgench bazaar. A seat in a shared taxi from Urgench to Bukhara costs around $13 – $15 dollar per person depending on your negotiation skills. The journey takes between 6 to 8 hours.
This time it took a bit longer for the taxi to fill up and after 30 minutes the driver received a call that he could pick some people up on the way. We made a small detour through the countryside and visited a local shrine where the other people joined us.
The shared taxi experience
We ended up travelling by shared taxi in Uzbekistan a lot and they are quite the experience. For me, it is actually part of the charm of travelling in Uzbekistan and it is a great way to meet local people.
Despite language barriers we had the most heartwarming encounters in shared taxi's. People were curious and wanted to know where we were from. Football was often the ice breaker and depending on the age of our passengers we got to hear Hollsnd's most famous footballers.
We never felt unsafe in a shared taxi, even though some of them drive pretty fast and the roads can be bumpy. Drivers make frequent breaks and often make small detours to deliver or pick up packages. Apparently, shared taxi's also function as a postal service in Uzbekistan.
The journey from Khiva to Bukhara is long and the scenery rather dull. It's all desert for hours. Part of the highway is right next to the Turkmen border and it is possible to see camels.
Insider tip: There are very few restaurants on the way so bring some snacks and enough water.
Total cost: $15 USD
Khiva to Bukhara by private taxi
As an independent budget traveller you might think a private taxi is way too expensive. However, if you find other people to share the costs with, the price might be similar to that of a shared taxi with the added advantage of travelling directly to Bukhara without having to change in Urgench.
Most hotels in Khiva offer a private taxi to Bukhara for around 50 dollars. Islambek travel offers the transfer for 45 dollar per car and more if you include to visit some of the Khorezm fortresses on your way.
Total cost: $45 per car
Khiva to Bukhara by train
In 2018 a new station was opened in Khiva and since 2019 there is a direct train. This makes it possible to travel from Khiva to Bukhara by train, which is in my opinion, the most comfortable way to travel in Uzbekistan.
Unfortunately it doesn't run every day and it didn't match our schedule. Thats why we still took a shared taxi.
The train leaves Khiva at 08:57 on Tuesdays, Fridays and Sundays arriving Bukhara at 14:50
The other way around it leaves Mondays, Thursdays and Saturdays from Bukhara at 12:24 arriving in Khiva at 17:51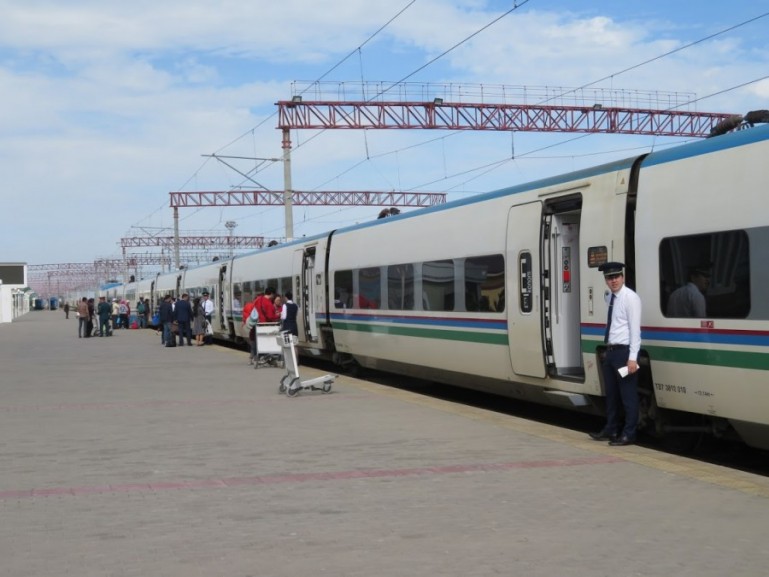 How to book tickets for the Khiva to Bukhara train?
You can buy tickets for the Khiva to Bukhara train at the Uzbek Railways site. Tickets are available from 8 dollar in economy class, 12 dollar in business class to 23 dollar in VIP class. You can only pay with a visa card. Even though there is now an english version, you also still need to enter the city names in Cyrillic.
Khiva: ХИВА
Bukhara: БУХАРА 1
Alternatively you can book your train tickets through the more expensive Advantours. Their site is set up completely in english and they have more payment options in case you don't have a visa card.
Total cost: $8 USD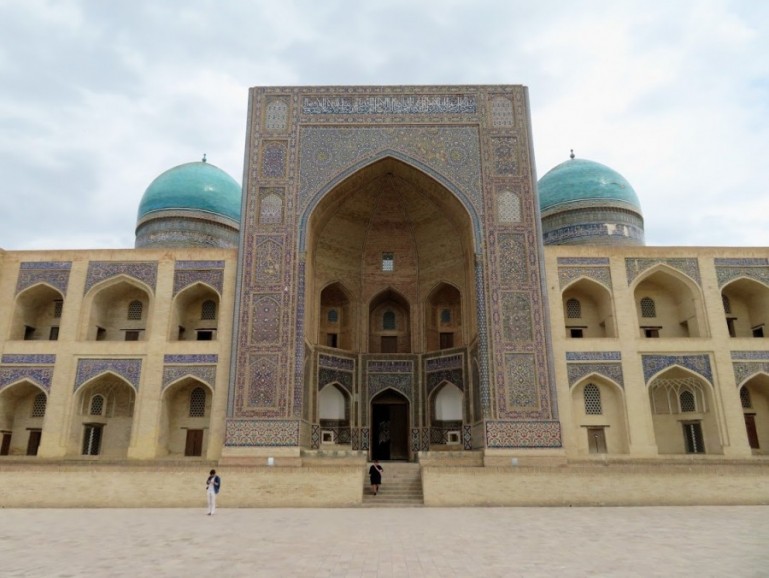 Where to stay in Khiva & Bukhara
Accomodation in Khiva
If you want to stay within the old town, Islambek Khiva is a good budget option. They have nice and clean rooms with a delicious breakfast buffet. The owner is very helpful in giving information about things to do in Khiva and your onwards travel. He can also arrange tours to the desert fortresses in Khorezm and even Moynaq to see the Aral sea in Uzbekistan.
Accomodation in Bukhara
In Bukhara the Parviz guesthouse is an excellent budget option near the Chor Minor and the Lyab I Hauz.
When to visit Khiva & Bukhara
Khiva and Bukhara have a desert climate with surprisingly cold winters and very hot summers. The best months are April, May and June and then again in September and October.
Disclaimer: This post on how to get from Khiva to Bukhara contains affiliate links. If you buy any service through any of my links, I will get a small commission at no extra cost to you. These earnings help me to keep Backpack Adventures alive! Thanks for your support!
---
---