Why you should visit Lapland in October
Are you planning to visit Lapland in October, but are you doubting whether this is a good time to visit?
When I planned my own trip to Lapland in October I was discouraged by the information online. Autumn was off season. The weather would be cold, but there would be no snow yet. Furthermore, lots of places would be closed to prepare for the winter season.
I decided to go anyway and took the nighttrain from Stockholm to Lulea and travelled through Swedish Lapland in the first 2 weeks of October. After this trip, I believe that October is actually a great time to visit.
Lapland in October
True, most places in Lapland either focus on summer or winter activities. In summer you can go hiking, camping or swimming in lakes. Winter means you can go snowmobiling, dog sledding or chasing the northern lights.
October is a transition month when most places prepare for a busy winter season. Being so far north the weather and daylight hours change quickly. In fact, the Sami, the indigenous population of Lapland describe no less than 8 seasons.
October falls in the season called tjaktja that would correspond somewhat with what we call autumn. This is hunting season as well as a time when the forests are full with berries and mushrooms.
In this post I will explain why you should visit Lapland in October and what to expect during this month. It is based on my experience travelling through Swedish Lapland in the first two weeks of October.
Why visit Lapland in October?
October has pleasant temperatures
The weather in Lapland in October can be a bit unpredictable, but in general temperatures are still pleasant. I travelled in the first two weeks of October in Swedish Lapland. The average daily temperature ranged between 8 degrees in Lulea and 4 degrees in Kiruna further north.
It was in Kiruna at the end of our trip in mid October that we had the first night frost. The end of October might be slightly colder, but there are no extreme winter temperatures yet. In january it can get to -40 degrees.
When you think of autumn you probably think of rainy weather. However, according to climate charts, October in Lapland sees slightly less rain than the summer months. Our first few days in Lulea were a bit rainy and windy, but after that we had great weather. Most days were cloudy with bits of sun here and there.
October has no mosquitoes
Lapland is famous for its taiga forests, but also its vast wetlands and marshlands. I did a lot of hiking over wooden planks through otherwise impenetrable swamps and wet forests. With the warmer temperatures in summer they are mosquito heaven.
Although the mosquitoes in Lapland are not dangerous and do not carry any diseases, they are extremely annoying. Hiking in Swedish Lapland in summer is foolish without plenty of repellent. Still, you will be amazed by the vast numbers of them buzzing around you.
The good news is that in October the colder temperatures means that most of them will be gone. Even if some are still there you will probably wear enough clothes anyway that will protect you from bites.
The only mosquitoes that we encountered on our journey was when we were hiking around Kvikkjokk. In other places we did not see or hear them and we hiked without problems in Muddus National Park and Abisko.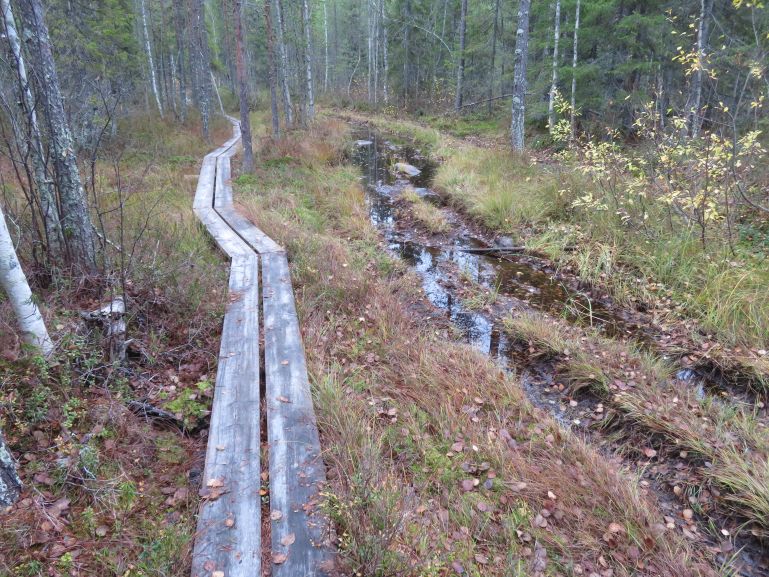 October has around 8 daylight hours
One thing to consider when travelling to Lapland is the amount of daylight hours you have available to you. In summer days are long and during the midsummer nights the sun does not set at all. In winter the opposite happens.
Although the midsummer nights might sound fun, it can actually really mess up with your sleep. In winter it means you only have a few hours of daylight to enjoy the spectacular scenery around you.
October has on average 8 hours of daylight meaning you have a good amount of time to enjoy your day as well as dark nights.
October is a good time to see the northern lights
The nights in October are now sufficiently dark and long enough that you can see the northern lights.
Above the arctic circle, the Aurora borealis can appear on any dark night. Therefore the season runs from September till March. To see the northern lights you need a bit of luck though. There needs to be a clear sky, enough sun activity and a place away from light pollution.
There is another factor to increase your chances of luck though. Around the equinoxes in September and March, the Earth's magnetic field lets more solar particles interact with the atmosphere. As a result, September-October and March are a better time to see the Northern lights than the dark months of December and January.
October is great for hiking
October is a transition month and therefore you can have a bit of both winter and summer activities. It is not only a good time to see the northern lights, but also a great month to go hiking.
One of the things I loved about Swedish Lapland is the vast amount of well marked nature trails that allow for plenty of beautiful day hikes. Wherever you go, nature is just around the corner. Places like Lulea, Jokkmokk, Kvikkjokk and Kiruna have well maintained hiking paths through its surrounding forests. Head to the local tourist offices for more information.
Other great places to go hiking in October are Muddus National Park, Dundret Nature reserve and Abisko National Park. In October, most of the autumn colours will be gone already, but the forests are full with mushrooms and berries.
If you are looking into the long distance trails such as the Kungsleden or Padjelantaleden I have to be honest that October is already too late. Most mountain stations and boat services required to cross rivers will be closed by then. On top of that there might be snow already in the higher mountains.
October is a good time to gather berries and mushrooms
The Allemansratten or right of public access to nature in Sweden and Finland means that you are free to walk around the forest to pick berries and mushrooms and October is a good time to do so. Lots of Swedes head into the forest in Autumn to fill their baskets with forest goodies.
I was amazed by the different types of berries in Lapland. Apparently they start to appear at the end of July and the berry picking season runs till the first snowfall. Wild strawberries, raspberries and cloudberries come first and will probably be gone already in October, but you will still find blueberries, billberries, lingonberries and juniper berries.
If it comes to mushrooms there are lots of different types of chanterelles that make delicious soups. Picking mushrooms does require a certain level of knowledge though as there are poisonous mushrooms too.
If you want to learn more about picking berries and mushrooms you can join a foraging tour with an expert. Note that the Right to public access also comes with responsibilities to not damage nature and not leave litter.
October is a good time to see reindeer
Seeing a reindeer in Lapland is not difficult. Reindeers are central to Sami culture and a lot of them still live as reindeer herders. In summer and winter you can visit one of the reindeer farms set up for tourism.
In October, most of them are closed, but you will have a good chance to see them in the wild. Now I have to say immediately that there are very few 'wild' reindeers. Most reindeers that you see belong to a reindeer herd that are owned by the Sami.
In summer the reindeers are allowed to graze freely in the mountains, forests and taiga, far away from civilization. The Sami then collect the reindeers in September to select those that will be killed for meat. Their main source of income.
After that the remaining herd is left to graze at the lower lands, closer to the Sami settlements, before the annual winter migration starts. That is why in October you have a good chance of seeing reindeers just next to the road.
On our roadtrip we saw one herd close to Jokkmokk, crossing the road in front of us, and several herds in the Torne valley.
Lapland in october is cheap
Travelling off season in Lapland can save you a lot of money. It is not a cheap destination, especially with the rising popularity of arctic tourism. Come in winter and you will pay top prices. For example, a 3 hour snowmobiling or dog sledding tour could cost you more than 150 Euros.
A lot of activities might be unavailable in October, but the main attraction in Lapland is its nature anyway. The forests are free to wander around and even the National Parks don't charge any entrance fee due to Allemansratten. All those tours sound like a lot of fun, but you really don't need them to enjoy a holiday in Lapland.
In Autumn less visitors also means prices for accommodation drop. We even got a free upgrade twice, because the hotels were almost empty.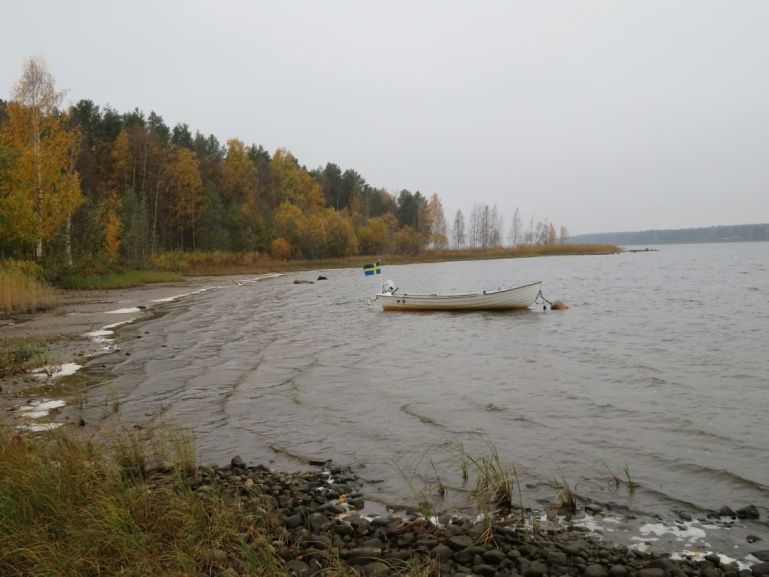 October is having nature for yourself
The last reason why October is a great time to visit Lapland is that you have nature all to yourself. On our hikes we rarely met other people. Only when hiking in Abisko National Park we met a few other travellers, but otherwise it was just us and the forest.
In summer the most popular trails like the Kungsleden, the Padjelantaleden and popular places like Abisko National Park can get crowded
Disadvantages of Lapland in October
Are there reasons not to visit Lapland in October? It sort of depends what you are looking for. If you are looking for winter fun, October will be too early. You might see the first snowfall, but with climate change there is absolutely no guarantee. November till March is the best time if you want to see a winter wonderland.
If you want to see the autumn colors, October is already a little late. In the first week of October we could still see some autumn colors in Lulea, but as soon as we got further north, the trees already lost their leaves. In that regard, September might be a better month to visit.
Another disadvantage of Lapland in October is that a lot of places will be closed and a lot of activities unavailable. For example, in the cities many restaurants were not open, leaving us with only one or two options that were not necessarily the best. Still, we managed to try some delicious Sami food.
Reindeer farms, husky farms or museums might only be open with prior reservations or have limited opening hours. If you really want to do certain things it might be possible but you need to plan things beforehand. For example, you can go dogsledding in autumn as they are training the dogs for the winter season, but you need to contact husky farms in advance.
Disclaimer: This post about Lapland in October contains affiliate links. If you buy any service through any of my links, I will get a small commission at no extra cost to you. These earnings help me to keep Backpack Adventures alive! Thanks for your support!
---
---