Manjyly Ata: the valley of sacred springs in Kyrgyzstan
For the people in Kyrgyzstan, Manjyly Ata is a holy place that attracts local pilgrims since people can remember. They believe that Manjyly Ata is the valley of sacred springs whose healing waters can cure any disease.
As famous as Manjyly Ata is among the Kyrgyz people as few tourists know about it. Even though it is an easy stop on the road from Bishkek to Karakol along the southern shore of lake Issyk kul.
And there are more than enough reasons to make a stop at Manjyly Ata. It's not only the cultural significance of the holy site, but also it's spectacular location that makes it a worthwhile place to visit in Kyrgyzstan.
With the snowcapped peaks of the Tien Shan mountains and panoramic views on lake Issyk kul it makes you wonder why Manjyly Ata is not a top tourist attraction for those backpacking Kyrgyzstan. That it is not, is part of the charm though. It will be just you and maybe a few local pilgrims.
The legends of Manjyly Ata
The holy springs of Manjyly Ata have been a site of pilgrimage long before islam came to the region. Although nowadays it is an important religious site for Kyrgyz muslims it's local traditions go far back. Even today ancient rituals are intertwined with local Sufi beliefs.
Manjyly Ata is especially popular for those who want to have children. One story goes that a young couple went there to ask for a child and then got a son Manas. Manas is now a national hero that is famous for uniting the Kyrgyz tribes in the epic of Manas. One of the oldest and most important poems in Kyrgyz literature.
Another story about the origins of Manjyly Ata is about Manjyly. He was an important Sufi saint that spread islam in the region and cured hundreds of peoples with the holy waters of the sacred springs. When he died he was buried at Manjyly Ata and people kept coming to seek his advice and healing powers.
Others believe that manjyly actually refers to the word manjak. Among the Altai people the manjak is a sheepskin coat that powerful shamans wear during certain rituals.
Probably more stories and legends exist about Manjyly ata, but few of them are written down. Throughout the years Manjyly Ata has always had its guardians and protectors that took care of the site, even during Soviet times. Because the Soviets were against religion most pilgrims came during the night in that time.
The current spiritual guardian is Jakypov Kadyrbek that is actually from Jeti Oguz. He studied traditional medicine in Bishkek and now guides the pilgrims that come to Manjly Ata.
The Manjyly Ata trail
There are around 7 holy springs in the Manjyly Ata valley. Each of them can cure different diseases. They are all connected through a series of paths that run through the rocky hills.
At the entrance you can find the pilgrims house and a rudimentary map with the location of the sacred springs, the sacred trees and graves in the Manjly Ata valley. I decided to walk the whole trail and although it is not always clear which path you should take I came across most springs.
The Manjyly Ata spring
The first spring you will come across is right at the entrance and the most obvious to see. This spring has a high amount of sulphur and is good for skin diseases, cardiovascular diseases and also rejuvenates and prolongs life.
Locals believe that a big white frog lives inside the spring and that only those with a good heart can see it.
The Ilim spring
Other springs are more difficult to find. Look out for the blue signs or a small table with cups. You will also come accros smaller springs that don't seem to have a name and for me it wasn't clear what they were for.
The second spring with a clear sign I came accros was the Ilim spring for desire, knowledge and insight.
The Bala spring
There is a saying that if one wants a child one should go to Manyly. It is the Bala spring that is said to cure infertility or help with conception and childbirth.
The Bugu Ene spring
The Bugu Ene spring cures liver and eye diseases and is also home to a sacred tree.
The Aziz Bulagy spring
The Aziz Bulagy spring is also called snake spring. It helps to get rid of headaches, anxiety, depression and other nervous diseases.
The trail
The trail along the sacred springs is an easygoing walk. I took about two hours to complete it, but with many breaks to enjoy the panoramic views on the mountains and towards lake issyk kul.
Not everything is sign posted and with little information about the sites I probably missed out on some things. Apparently there are some important graves of former spiritual guardians and Sufi saints as well as holy trees that I wasn't able to find.
Still it was a very special place to visit for its insight into local spiritual beliefs and the beautiful location.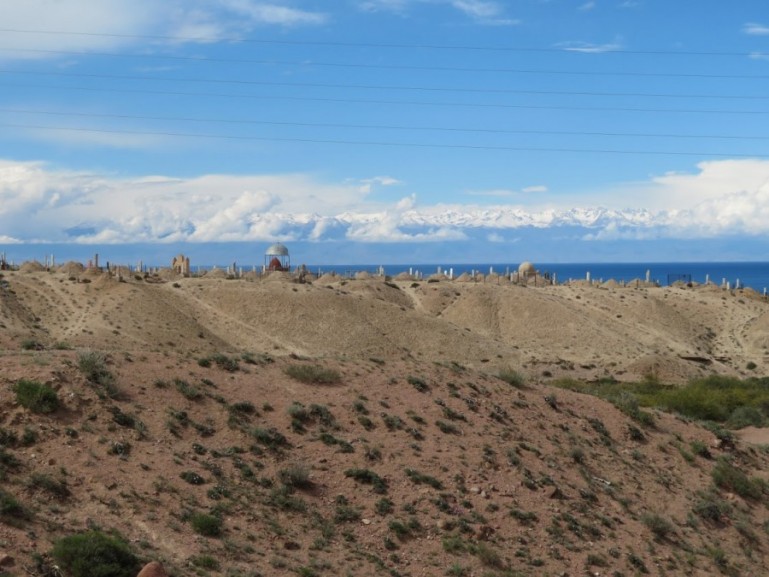 Manjyly Ata Travel tips
Where to sleep
There is no accomodation in Manjyly Ata itself. The best place to stay is in Bokonbaevo that is only 10 kilometers away and home to excellent homestays. Some friendly homestays that I can recommend are Nurgul, Guesthouse Ayim & Guesthouse Gulmira
Where to eat
There are no places to eat in Manjly Ata neither are there any shops to buy something. It's best to bring a packed lunch box for a picnic or some snacks and enough water with you.
It is easy to buy some food at the market of Bokonbaevo. I recommend Samsa. They are delicious and great to take along.
Make sure you bring enough water, especially on a sunny day. It can get pretty hot and there is not a lot of shadow to cool down.
When to visit Manjyly Ata
You can visit Manjyly Ata any time of the year. I have heard that even in winter there rarely is any snow, but it will be cold so bring warm clothes.
In summer it can get pretty hot and there is not a lot of shadow so bring sunscreen and a sunhat for protection.
In spring and autumn the weather can be rather unpredictable and you can expect any of the circumstances above. If it rains it can get slippery. Bring good footwear with you.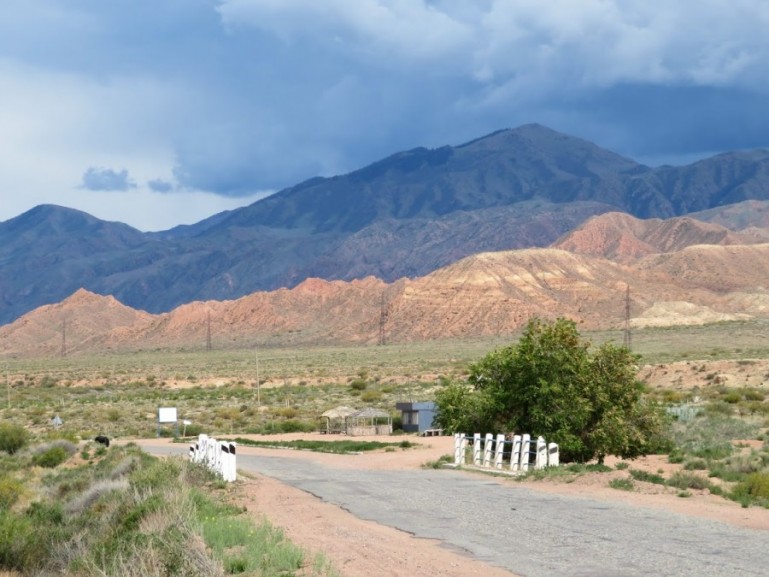 How to get to Manjyly Ata
From Bokonbaevo: Bokonbaevo is about 10 minutes away from Manjyly Ata. Through CBT Bokonbaevo you can arrange a taxi to get you there and wait for you. They are happy to pair you up with other travellers if possible so that you can share the costs.
Otherwise go to the Bokonbaevo bus station that is next to the cbt office and the bazaar. From there take a minibus or shared taxi heading in the direction of Karakol.
Ask the driver to let you at Manjyly Ata. You can also watch out for the big sign next to the road.
Make sure you are on the road before 4 -5 pm to catch a marshrutka back to Bokonbaevo.
From Karakol: From Karakol it is about 2 hours to Manjyly Ata. It is best to stop there if you travel from Karakol to Bokonbaevo, otherwise it is still possible as a long day trip.
From Karakol you should catch any marshrutka or shared taxi heading to Bokonbaevo or Balykchy and ask the driver to let you off at Manjly Ata. You might want to combine this with a stop in either Jeti Oguz, Tosor beach or the Skazka canyon.
Make sure you are on the road before 3 – 4 pm to catch a marshrutka back to Karakol.
Sustainable Travel in Manjyly Ata
Manjyly Ata is a remote area with a fragile ecosystem. While Tourism is a welcome source of income it can also have negative consequences. For example, pollution is a growing problem. Traveling sustainably is essential to minimize your environmental impact.
Leave no Trace principle: The area is famous for its natural beauty, and it's crucial to keep it that way. To avoid single-use plastics, invest in reusable items. For example, you can bring your own water bottle with a filter that you can refill at your accomodation.
When exploring the area, stick to designated trails when they are there, avoid disturbing wildlife or picking plants, and leave no trace of your presence. Ensure you take all your trash back with you and dispose of it responsibly. Even better, is when you bring something to pick up any of the trash that other people left behind.
Respect the local culture: Besides environmental concerns it is also important to respect the local culture and be mindful of your behavior. Kyrgyzstan is an Islamic country with a nomadic culture. Manjyly Ata is an important religious site for the Kyrgyz people and they will appreciate it if you dress modestly.
For more Kyrgyzstan inspiration read my posts about the best places to visit in Kyrgyzstan or my Kyrgyzstan itinerary.
Disclaimer: This post with a travel guide about Manjyly Ata in Kyrgyzstan contains affiliate links. If you buy any service through any of my links, I will get a small commission at no extra cost to you. These earnings help me to keep Backpack Adventures alive! Thanks for your support!
---
---