Mestia to Ushguli: the ultimate day trip guide
This post is about how to organize a day trip from Mestia to Ushguli. Getting from Mestia to Ushguli has never been so easy. As a result Ushguli is now one of the most popular day trips from Mestia.
Ushguli claims to be one of the highest settlements in Europe. Together with some other caucasus mountain villages like Juta and Xinaliq who claim the same. Ushguli is actually a cluster of 4 isolated and ancient communities at the foot of mount Skhara in the Svaneti region of Georgia. 
The journey from Mestia to Ushguli
The people from Ushguli are used to taking care of themselves. This high up, the first snow falls in October and then stays till April. For most of the year Ushguli is cut off from the rest of the world. Not long ago it was difficult to reach Ushguli even in summer. From Mestia to Ushguli it was either a 4 day hike or a long and bumpy journey by jeep or horse.
But Ushguli has changed a lot in recent years. Nowadays tourism is the main source of income. Although the 4 day hike is still the most scenic way, a new road from Mestia to Ushguli makes it possible to go on a day trip.
Why visit Ushguli?
From the outside Ushguli feels like a journey back in time. With more than 200 traditional Svan tower houses the village has a medieval look. These homes were used by the Svan people as early as the 9th century. They served as a home and as a defence post against invaders.
Ushguli's location couldn't be more scenic. The towers rise above the village and are surrounded by alpine valleys. The snow capped peaks of Mount Shkhara are in the background.
It's not a surprise that Ushguli is now a popular tourist destination. Almost every other house is a guesthouse. At the same time it has kept its beauty and is therefore well worth the effort to get there.
I already mentioned you can easily visit Ushguli as a day trip from Mestia. The settlements are small enough that you can see everything in a day and have a delicious Svan meal before returning to Mestia.
However, if you have enough time in your schedule I recommend staying at least one night. Ushguli is at its most beautiful during sunrise and sunset. Most daytrippers will be gone by that time. It will also allow you to hike to the Skhara glacier.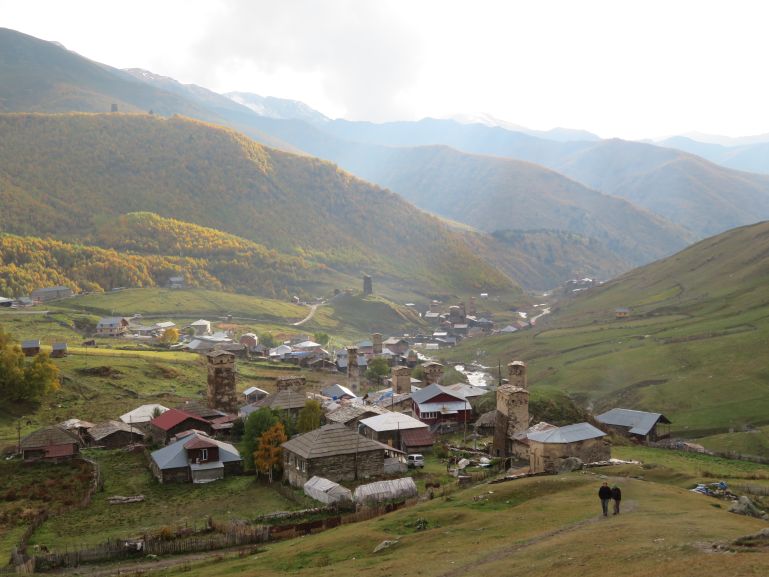 Things to do in Ushguli
Towers of Chazhazi
Svaneti is famous for its medieval tower houses, which are UNESCO World Heritage sites. These iconic stone towers, known as "koshki," were built as defensive structures and symbols of wealth.
The ancient Svan towers of Chazhazi are on the UNESCO World Heritage List. It's outstanding universal value lies in its unique traditional architecture reflecting the Svan culture.
Chazhazi has over 200 medieval tower houses. Most are actually in a bad shape, but with the new interest in this unique landscape hopefully they will be renovated soon. Although there are tower houses in Mestia too, Ushguli remains the best place to see them.
On the road from Mestia to Ushguli you can also visit the Tower of love where you can climb inside to the top.
Ushguli's ethnographic museum
The Ushguli's ethnographic museum is very tiny, but still manages to give you a good idea of how life was in Ushguli. The museum is in one of the oldest homes in the village and being able to see the inside of an ancient house is just as interesting as its collection.
Lamaria church
The Lamaria church is in Zhibiani, the northernmost village within Ushguli. The church is on a hill looking out over the valley below. The church itself is simple, but has some old frescoes. It's also well worth a visit because of the beautiful views over Ushguli.
Shkhara glacier
From Ushguli you can easily visit the Shkhara glacier. A beautiful day walk along the Enguri river through the Shkhara valley brings you to the foot of the valley.
I already visited the Chalaadi glacier from Mestia. Although the Chalaadi glacier hike is much easier, the Shkhara glacier hike is much more beautiful. I did the hike twice. Once in spring when everything is very green and once in autumn. Also a very beautiful time because of the autumn colours.
The Shkhara glacier hike is about 16 kilometers (roundtrip) and it takes about 6 – 7 hours to walk from Ushguli to the foot of the glacier and back. You can shorten the hike by taking a jeep that brings you deeper into the valley.
From the Shkhara glacier restaurant, where the jeeps stop, it is an hour's hike to the glacier.
Horseback riding
Most people in Ushguli have horses that used to be the main mode of transport in the region. It is still very easy to arrange a horse riding tour in Ushguli. The most popular tour is to the Shkhara glacier.
Trying Svan cuisine
Svaneti has always been a remote region with its own culture, language and cuisine. What sets Svanetian cuisine apart is the use of local ingredients and Svan salt. This spiced salt mix gives most Svan dishes its unique taste.
Some Svan specialities are Kubdari, Chvishtari and Tashmijabi. Kubdari are Svanetian meat pies. Chvisthari is cornbread with cheese and Tashmijabi is a stretchy cheese mix with potatoes. Svaneti also has its own version of khachapuri. Rather than just bread with cheese, they also add millet flour in the cheese filling. It's called Fetvraal khachapuri.
The best Svan cuisine in Ushguli is the homemade food you get in one of the guesthouses in Ushguli. If you visit on a day trip there are plenty of restaurants that serve Svan dishes
How to get from Mestia to Ushguli
Minivans from Mestia to Ushguli
Public transport into Ushguli is limited. From Mestia there are daily minivans that run to Ushguli. Most minivans leave in the early morning. The cost is around 40 Lari and the journey takes about 2 hours.
The 'bus station' is near the post office and you can make a reservation for your bus ticket there. In the busy summer months this might be necessary. When I was there in October it was easy to get a seat when I just turned up around 8 AM. The minivan filled up quickly and I was soon on my way.
Private taxis are of course more expensive. Expect to pay 200 lari for a car. Still worthwhile if you can find other people to share the costs.
Getting to Mestia
Mestia is now firmly on the tourist trail. There are direct marshrutka from Tbilisi (9 hours) as well as a daily morning bus from Kutaisi (6 hours). From Zugdidi (4 hours) there are multiple marshrutka per day that leave once full.
My preferred option to get to Mestia is by taking the night train to Zugdidi. Marshrutka to Mestia are waiting at Zugdidi train station for the arrival of the train.
Mestia to Ushguli Trek
It is also possible to hike to Ushguli. The 4 day Mestia to Ushguli hike remains one of the most popular treks in Svaneti. The scenery is beautiful and you will visit more beautiful villages on the way.
Mestia to Ushguli travel tips
Where to sleep
Sleep in Mestia: As tourism is increasing there has been an explosion of new hotels and guesthouses in Mestia. After several visits to Mestia, my best experience is still with Nino Ratiani guesthouse. Mostly because of the great food and delicious breakfast buffet. It is very popular and often fully booked though and that was the only reason that I didn't stay there again on subsequent visits.
Sleep in Ushguli: For it's small size there is an impressive amount of choice in Ushguli. Although the facilities improve year by year, most hotels are still relatively basic and small scale. The first time in Ushguli I stayed in a small hotel with no name that still doesn't have an online presence. Most of all I remember the delicious food.  
If you want to book things in advance I can recommend the Caucasus guesthouse or Mshvidoba guesthouse
Where to eat
Eat in Ushguli: The best place to eat in Ushguli is probably at your guesthouse in case you are sleeping in Ushguli. If you visit Ushguli on a day trip there are several restaurants where you can have lunch. Cafe Koshki is conveniently located near the minivan/jeep stand and serves good Georgian and Svan food. The kubdari I had there was very good. 
Cafe Shumeri is the winner if it comes to its location with beautiful views all around you. I found the food also slightly better than the other places in Ushguli.
Eat in Mestia: Like accomodation there are lots of places to eat in Mestia. Most restaurants serve both Georgian food as local Svan dishes.  
My favourite place to eat is Sunseti cafe. It is always busy with both tourists and locals and the food is great. I can recommend their lobio (bean stew in a clay pot) for vegetarians and khinkali. It's also a great place to try Svan specialities such as Kubdari (flatbread stuffed with minced lamb meat) and Chvistari (cornbread with cheese).
There is also a small grocery shop as well as a bakery. The bakery has traditional Khachapuri (bread with cheese). If you can, you should also try the local version of khachapuri filled with cheese and millet flour.
When to visit Ushguli
The hiking season in Svaneti runs from June till October. Summer is the most popular time to visit Ushguli. The weather is generally pleasant, with average temperatures ranging from 15°C to 25°C (59°F to 77°F). This is an ideal time for hiking, trekking, and exploring the surrounding mountains. The days are long, allowing for extended outdoor activities. However, do note that this is also the busiest time, and popular trails and accommodations may be crowded.
Spring and autumn are transitional seasons in Ushguli. During these times, the weather can be variable, with occasional rain and cooler temperatures. However, these seasons offer advantages such as fewer tourists, beautiful blossoms in spring, and vibrant autumn foliage. You can expect the first snow to arrive in October and it usually stays up till April.
Winter in Ushguli brings heavy snowfall making it difficult to reach Ushguli.
Disclaimer: This post with a travel guide about a day trip guide from Mestia to Ushguli contains affiliate links. If you buy any service through any of my links, I will get a small commission at no extra cost to you. These earnings help me to keep Backpack Adventures alive! Thanks for your support!
---
---