The Best Self Guided Moscow Metro tour
Due to the current situation I advice against travel to Russia at the moment. All affiliated links related to Russia have been removed. But I have decided to keep my posts about Russia as it remains a beautiful country. I hope that circumstances change and that travel is possible again in the near future.
One of the top things to do in Moscow is a Moscow metro tour. Once you go underground you enter a different world. A Soviet world of grandiosity and beauty, because in Stalin's vision the Moscow's metro stations were to become the palaces of the people.
The Moscow metro is not only one of the busiest and most effective metro systems in the world, it is also the most beautiful. It is in fact a work of art and more like a museum. And a very cheap museum as well, because all you need is one metro token that will cost you less than one dollar.
There are lots of Moscow metro tours out there, but you can perfectly explore it on your own. All you need to know is where to go. The Moscow Metro has a total of 232 stations. Of course not all of them are as grandiose and opulent. This self guided Moscow Metro tour brings you along the most beautiful metro stations in Moscow.
The Moscow Metro
Ideas to open a metro system in Moscow emerged in the early thirties. There was a need to transport labourers in a cheap and efficient way and as the traffic in Moscow was already congested it was logical to go underground.
The only problem was that the Soviets had never done such a thing before. Thereby Stalin wanted the Moscow Metro to be extravagant. The palaces of the people had to celebrate the Soviet regime and had to inspire awe among its visitors.
It was a monumental plan that was carefully designed and although all stations had to fit within the ideas of Soviet architecture, they also had their own personalities. The beauty in Moscow's metro lies both in its grand looks as well as in its details.
The lofty ceilings, crystal chandeliers and white marble were to give the Moscow Metro stations a feeling of luxury, but each station also has unique mosaics, bas reliefs and statues that represent different Soviet symbols. They served as a reminder to the people of the Soviet ideology.
The Moscow Metro was the first metro to open in the Soviet Union in 1935. Later the St Petersburg metro followed and then in Tashkent, Kiev, Tbilisi, Yerevan and Baku.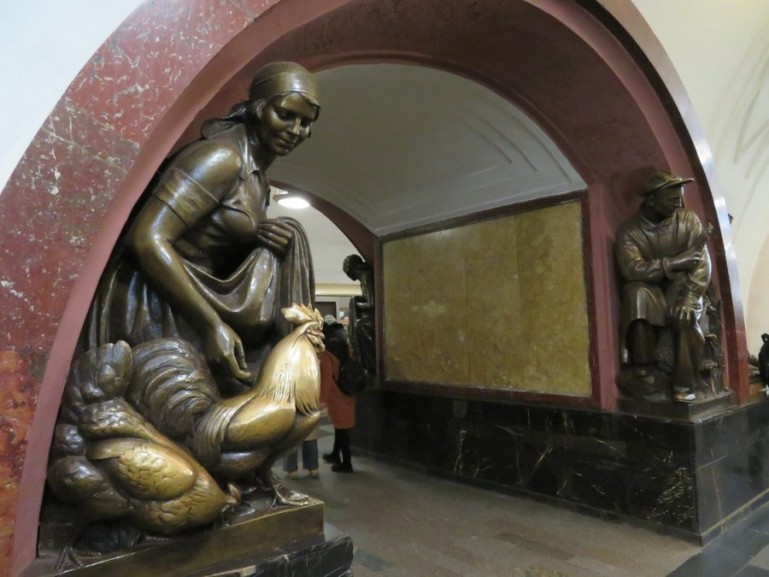 A self guided Moscow Metro Tour
Like I said before, there is no need for a paid Moscow Metro tour. Moscow is already expensive enough and therefore it is a good thing that one of its top attractions is at the same time one of the cheapest things to do in Moscow.
With this self guided Moscow Metro tour I explain everything you need to know about how to do this on your own. I will also guide you along the best metro stations in Moscow. If you are interested I also have a self guided free walking tour of Moscow through the Kitay Gorod, the Red square and the Kremlin.
The Moscow Metro currently has 15 lines and over 200 stations. The most beautiful sations are on the number 5 Koltsevaya line, the number 3 Arbatsko Pokrovskaya line and the number 2 Zamoskvoretskaya line
Moscow Metro Tour: Koltsevaya Line (Brown line)
The number 5 Koltsevaya line is a circle line that was built as a reminder of the power of the Soviet Union and therefore almost all metro stations on this line are worth a visit. All are in Stalinist style and several have won prizes for its design.
Taganskaya
Start your Moscow metro tour at Taganskaya on the number 5 Koltsevaya line. This modest, but beautiful station has light blue panels with bas-reliefs. It might surprise you that this station is actually about World War 2 and the men on the bas-reliefs represent Red Army men serving in the war such as pilots, sailors and tank crews.
Kurskaya
After Taganskaya comes Kurskaya. Compared to other stations on this line it has a simple design with columns and chandeliers, but very little artwork. It won the Stalin prize for its beauty anyways.
At the entrance you will find quotes from the national anthem of the Soviet Union. Stalin's statue that was once there was removed in the period of destalinization. However, after restoration works in 2008 a certain verse of the anthem was controversially reinstated. It said:"Stalin brought us up on loyalty to the people and inspired us to labor and to heroism".
Komsomolskaya
Komsomolskaya is among the most opulent metro stations on this Moscow Metro tour and a personal favourite that is sure to impress you. A baroque yellow ceiling adorned with huge chandeliers and incredible mosaics.
The mosaics represent historic events and military leaders that fought for Russia's independence. Stalin himself was in two of the mosaics depicting the victory in the Great Patriotic war, but he was removed in the period of Destalinization. Komsomolskaya is also the busiest station, because it is located and connected to 3 railway stations (Leningradsky, Yaroslavsky and Kazansky station).
Prospekt Mira
The third stop on this Moscow Metro tour is Prospekt Mira. It's very modest compared to Komsomolskaya, but worth a short stop for its elegant white marble bas-reliefs that focus on the agricultural development of the Soviet Union.
Novoslobodskaya
The next stop on this Moscow Metro Tour is Novoslobodskaya. This station is quite colourful with its 32 decorative glass panels and pink marble from the Ural mountains. The biggest attraction in this station though is the huge mosaic in the end, called Peace through the World. It's of a mother holding her child as a symbol of peace.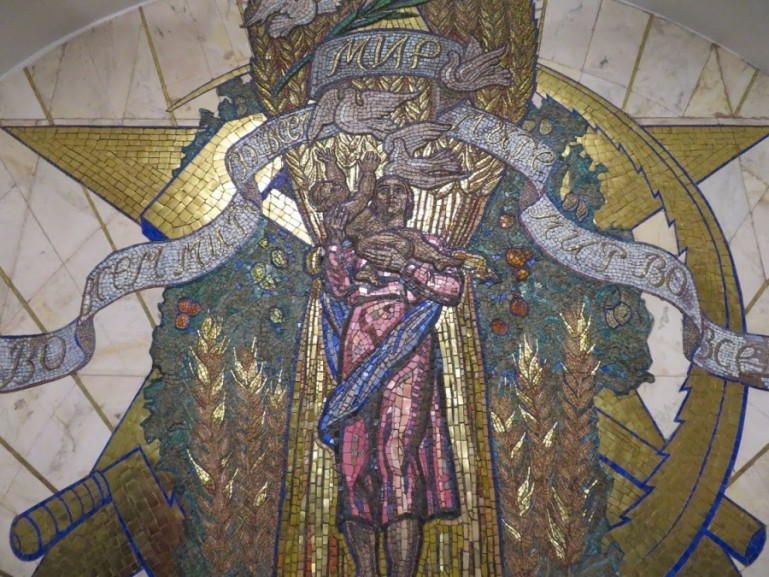 Belorusskaya
After Novoslobodskaya we head to Belorusskaya, named after the BeloRusskaya train station above. The metro station focused on the Belarus Soviet Socialist republic and their strong relationship with the Soviet Union that they gladly joined. It's a friendship that still exists today and President Lukashenko keeps close ties with President Putin.
The snow white ceiling has several mosaics that are made from natural stone rather than painted glass. They represent daily life in the Belarus Soviet republic that is shown by most people wearing the traditional clothes of the country. The statue at the end are Belarussian Partisans that fought in Belarus against Nazi Germany.
Moscow Metro Tour: Zamoskvoretskaya line (Green Line)
Mayakovskaya
At Belorusskaya we leave the circular brown line behind us and move to the Green line where we take the metro in the direction of Alma-Atinskaya. On our Moscow metro tour we get out at the next station.
Mayakovskaya is another personal favourite and the elegant hall strikes you immediately. The walls are of white marble, the columns of pink rhodonite and the arches are polished in stainless steel. At first look it is already a beauty, but there is more. When you look up there are 34 ceiling mosaics depicting "24 Hours in the Land of the Soviets." When it finished in 1938 it won the Grand Prix at the World Fair of New York.
During World War 2 the metro station that is more than 33 meters deep was used as a bomb shelter, where even Stalin himself took residence. At the anniversary of the October revolution in 1941 it was at the Mayakovskaya metro station that he gave a speech to party leaders and civilians.
Teatralnaya
On this Moscow metro tour we are only for a short time on the green line. Get out at Teatralnaya to change to the blue line. This station is often not on the list of most beautiful train stations in Moscow. I also used it mainly to change to Ploschad Revolutsii, but actually liked this station as well.
There are small and nice porcelain bas reliefs representing music and dance from various nationalities of the Soviet Union. The white marble comes from the Cathedral of Christ the saviour that was destroyed by the Soviets.
Moscow Metro Tour: Arbatsko Pokrovskaya line (blue line)
Ploschad Revolutsii
At Teatralnaya you can change to the blue line by going up the escalators to ploschad revolutsii station. This station is famous for its bronze sculpture pairs representing Soviet professions such as soldiers, peasants, engineers and students.
Muscovites believe that rubbing some of the sculptures brings good luck such as the nose of the dogs that belong to the soldiers and the hens that belong to the farmer girls. You will see many passersby rubbing the statues.
Arbatskaya
The next station on the blue line we visit on this Moscow metro tour is Arbatskaya. This was one of the first stations to be built, but after it was damaged by the Nazis in 1941 the Soviets reconstructed it even deeper underground.
The newer station was 41 meters deep and 250 meters wide so that it could serve as a bomb shelter. The reinforced metal doors that can shut down completely are still there. For a bomb shelter it is pretty beautiful too. The arched ceilings are nicely decorated with chandeliers and floral patterns.
Kievskaya
Like Belorusskaya, Kievskaya is named after the Kievskaya train station above. This station also highlights the friendship between the Soviet Union and the Ukraine Soviet Socialist republic as well as the unity of Russian and Ukrainian people. A relationship that is much more tense today.
The station also connects with the Koltsevaya brown line and therefore has two platforms that are both worth checking out. One has richly decorated panels with one of the only remaining images of Stalin in the Moscow metro and the other platform has beautiful mosaics depicting daily life in Ukraine. The panel at the end of the hall is particularly impressive.
Park Pobedy
The next station at the blue line after Kievskaya is the newer Park Pobedi station. It opened in 2003 and became the deepest metro station in Moscow at 84 meters deep. Park Pobedi is not a particularly beautiful station, but not seeing the end once you stand on the escalators is quite an experience.
It is not the deepest metro station in Russia by the way. That is Admiralteskaya in St Petersburg.
Other beautiful Moscow Metro stations
Novokuznetskaya
Novokuznetskaya on the Zamoskvoretskaya line is only a small detour from this Moscow Metro tour and one that is certainly worth it. For your information, it comes after Teatralnaya station.
The station is dedicated to the heroism of the Soviet people in the Great Patriotic War. The station with marble arches and columns has seven beautiful mosaics on its ceiling showing the achievements of the war time industry and a band of bas reliefs with Red Army soldiers and military insignia.
The mosaics were made in St Petersburg (Leningrad) when the city was still under siege. It was a risky undertaking to bring them to Moscow and they had to be transported over a frozen Lake Ladoga. Vladimir Frolov, who made them, unfortunately died shortly after that from starvation.
Elektrozavodskaya
Elektrozavodskaya on the Arbatsko Pokrovskaya blue line is another station worth the detour from this Moscow metro tour. It is 2 stations after Ploschad Revolutsii station.
It was located near a light bulb factory and therefore its theme is industry and science. Most striking is the ceiling with its 6 rows of circular inset lights. The pinkish marble comes from Georgia. There are also bas-reliefs with famous scientists together with their inventions.
Park Kultury
Park Kultury on the Koltsevaya line was one of the first metro stations to be built. It was situated next to Gorki Park and therefore its theme was recreation and sports. There are 26 bas-reliefs with leisure activities popular among Soviet youth such as tennis, dancing and music.
Moscow Metro tour travel tips
You can follow this self guided Moscow metro tour or make your own itinerary if you like. The Moscow metro has a very useful interactive map of the metro to help you plan your route.
Below are some more practical tips that will help you plan your own Moscow Metro tour.
Opening hours
The Moscow Metro is open between 6 AM till midnight.
Costs and Payment
There are no zones in the Moscow Metro, so one ride starts when you enter the station platform and ends when you leave the station through the exit. In between that time you can stop at as many stations as you like and change between lines. A Moscow metro tour can therefore be as cheap as a single ride that costs you less than one dollar.
In recent years the paper tickets and metal tokens have disappeared from the scene to make space for more modern ticket and payment options.
Ediny ticket
It is still possible to buy a simple one way ticket. In that case you need to buy a ediny ticket for one ride. This red paper card can have 1, 2, 20, 40, or 60 rides on any kind of Moscow public transport. The more rides, the cheaper the price per ride. From 57 rubles for one ride to 40 rubles if you buy 60 rides.
Day tickets
A better option for tourists are the day tickets that are available for 1 day (230 rubles) or 3 days (440 rubles). You can then use an unlimited number of rides during these days. This is a useful option for this Moscow Metro Tour as this would allow you to enter and leave the stations on your way. The entrance and exits are often just as beautiful as the inside of the stations.
Troika card
My preferred option if you are in Moscow for a couple of days and plan to use public transport is the Troika card. You can get the card at any Moscow Metro kiosk. You need to pay a 50 ruble deposit and then you can top it up with your desired amount of rubles. Good news is that one ride with the troika card is only 40 rubles compared to 57 rubles with a one way ediny ticket. You can check the balance of your Troika card with an app or at the metro kiosks.
If you think a card is outdated you can also buy a troika bracelet, ring or keychain. Obviously you pay a higher deposit for these and they are only available at the moscow metro souvenir kiosks.
At last there is a 90 minute ticket (65 rubles) that allows you to take multiple rides on any public transport type within 90 minutes.
Once you have your desired ticket you can use it to tap the entrance portals to gain entry to the platforms.
Moscow Metro Tour Tips
The Moscow metro is also one of the busiest metro's in the world. Try to plan your Moscow Metro Tour outside of the rush hours in the morning (08:00 – 10:00 AM) and the afternoon (16:00 – 18:00). The brown circular Koltsevaya line is the most busy.
There can be long lines in front of the Moscow Metro kiosks. If you are in a hurry make sure you have enough balance on your Troika card.
Getting from the entrance to the actual platforms can take some time. There are security checks and some stations are very deep with long escalators.
Watch your belongings as the Moscow Metro is also very popular among pickpockets.
It can get pretty warm in the Moscow Metro. I was there in winter and while it was freezing outside it was uncomfortably hot inside the metro.
Moscow Metro curiosities
In 1931 the Soviets destroyed the Cathedral of Christ the saviour during its anti religious campaigns. Some of its marble and benches were used in the construction of the Moscow Metro
There are persistent rumours that there is a deeper Moscow Metro 2 that goes from the Kremlin to the red square and beyond. Some even believe it connects to an underground city near the Moscow State University that can hold up to 15,000 people.
Where to eat in Moscow
There are lots of places to eat in Moscow. Because Moscow can be an expensive city I wrote a specific post about the best cheap eats in Moscow.
Where to sleep in Moscow
Hostels Rus: Hostels Rus stand for clean and professional hostels with a mix of dormitories and a limited number of double rooms for good prices. They are often located close to one of the Moscow metro stations making travel in Moscow easy. There is one near Kurskaya and one near Paveletskaya (dorms only).
Vinegret hostel: Vinegret hostel is a clean and nice budget hostel with an excellent location in the heart of Moscow. It is right near Arbatskaya metro station on the famous arbat street. From there you can walk to the red square in only 30 minutes.
Axel hostel: Axel hostel has great budget dormitories with lots of privacy. It has a central location within walking distanc of Kitay Gorod.
Disclaimer: This post with a Moscow metro tour contains affiliate links. If you buy any service through any of my links, I will get a small commission at no extra cost to you. These earnings help me to keep Backpack Adventures alive! Thanks for your support!
Due to the current situation in Ukraine all affiliated links related to Russia have been removed
---
---