Moscow to Sergiev Posad: the ultimate day trip guide
Due to the current situation I advice against travel to Russia at the moment. All affiliated links related to Russia have been removed. But I have decided to keep my posts about Russia as it remains a beautiful country. I hope that circumstances change and that travel is possible again in the near future.
Sergiev posad is one of the most interesting day trips from Moscow. Getting from Moscow to Sergiev Posad should not take more than 1.5 hours and it is very easy to arrange this day trip on your own without the need for an expensive tour.
Why visit Sergiev Posad?
Sergiev Posad is part of Russia's golden ring. A circle of ancient Russian villages and towns near Moscow that played an important role in the development of the Russian state and the Russian Orthodox church. They are home to some of Russia's oldest monasteries, churches and picturesque kremlins.
The development of Sergiev Posad is closely linked with the 14th century Holy trinity Lavra of St Sergius, one of the most important monasteries in Russia. Within the Russian orthodox church, Sergiev posad is its spiritual center comparable with what the Vatican is for the Catholic church.
The monastery is dedicated to Sergius of Radonezh. One of the most important saints in the Russian Orthodox church. He was a monk and spiritual leader that led a secluded and simple life. First he lived as a hermit in the forest, but soon other monks joined him.
This is how the holy trinity lavra of St Sergius began. People settled nearby as well and that is how the town of Sergiev Posad started to grow. Although it is the only town within the golden ring that grew into a city, it still has a rural feel to it.
It's a nice place with picturesque wooden homes and neoclassical buildings. My advice is to wander around a bit before you head to the monastery.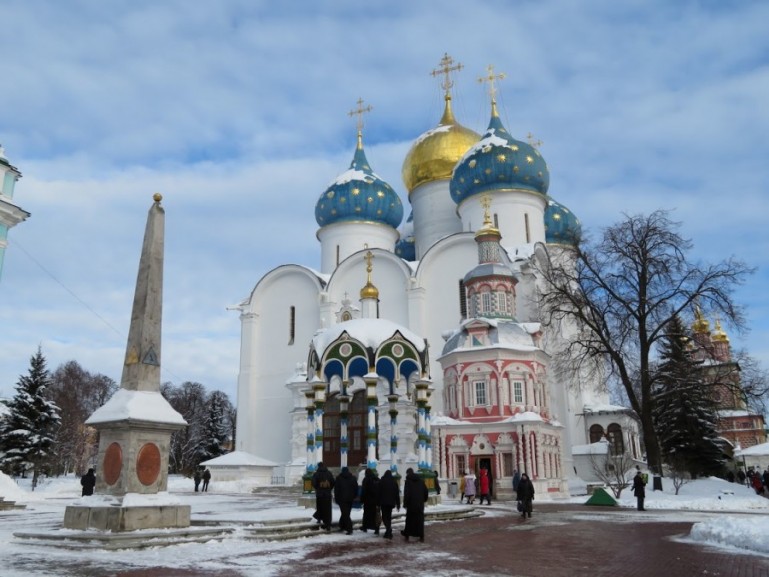 The best Things to do in Sergiev Posad
Holy trinity Lavra of St Sergius
The most important thing to do in Sergiev Posad is of course the holy trinity Lavra of St Sergius. The Vatican of the Russian orthodox church and still one of the largest monasteries in Russia.
It started as simple cells in a forest where monks lived like hermits with Saint Sergius as their spiritual leader. He eventually made a small wooden church in 1337. The first stone cathedral was built in 1422, the year that St Sergius was declared a patron saint of Russia. Later, Ivan the Great, who ordered the construction of the most important churches at Moscow's Kremlin, also built one at the Sergiev Posad monastery.
More churches and buildings were added in the following centuries and for a long time it was the wealthiest monastery in the country. It was closed for a short time by the Soviet government, but eventually Stalin tolerated the church and handed it back to the Russian Orthodox Church after the second World War. It is now a UNESCO World heritage site and an active place of worship.
It's a must visit if you want to learn more about Russian Orthodoxy, but even if you are not into religion it is well worth a visit. The buildings of the monastery are beautiful, the frescoes inside some of the churches are impressive and it is always busy with monks and priests walking around.
Watching a Russian orthodox mass was a magical experience. The singing of the monks and the people praying in devotion made me feel humble.
Konniy dvor museum complex
I must be honest that after my visit to the monastery, that took much longer than I anticipated, I didn't have much time left to see the Konniy Dvor museum complex. Therefore I can't say whether it is worth a visit. It is home to the Sergiev Posad State History and Art Museum-Reserve with a collection of ancient Russian art.
Sergiev Posad is a somewhat touristy town and there are other museums as well. Such as the toy museum, the soap museum and the museum of peasant life. To be honest, they sounded a bit like a tourist trap to me and I didn't look for them.
Blinnaya hill
Pancake hill once had the best pancakes in Sergiev Posad, but is now famous for the best panorama view on the St Sergius monastery. It is on the way when you walk from the train station to the monastery and hard to miss.
Chernigovski monastery
About an hour walk away (or a quick taxi ride) from the trinity lavra of St Sergius is the Chernigovski monastery. It is not as scenic as the St Sergius monastery and a relatively new monastery founded in 1847. However, it is unique because of its hand dug prayer caves.
Wooden homes
Sergiev posad is not a bad town to walk around in. It is mostly low rise wooden homes and neoclassical buildings. If you like to see some of Russia's traditional wooden houses you are sure to find some colorful gems in Sergiev Posad.
Buy souvenirs
Sergiev Posad is a good place to buy souvenirs. Near the monastery is a small souvenir market with the standard Russian souvenirs (shawls, matroshka dolls, tshirts).
Look out for the old Russian ladies selling homemade jams (berries and even pinecone) and pirozhki's. The latter are filled buns with potato, cabbange or meat. A delicious snack.
Moscow to Sergiev Posad Travel tips
Where to eat in Sergiev Posad
Monastery canteen: It's very cheap to eat at the monastery's own canteen where I had traditional Russian herbal tea and blini's with walnuts and honey as an afternoon snack.
Varenichnaya no.9: Sergiev Posad has a decent number of places to eat. If you are on a budget I can recommend Varenichnaya 9. I had a delicious lunch here with mushroom soup and vareniki with sour cream. Everything was of good quality with fresh ingredients and the prices were very reasonable.
How to get from Moscow to Sergiev Posad
The easiest way to get from Moscow to Sergiev Posad is by train. I recommend taking one of the frequent commuter trains that leave almost every hour from Moscow's Yaroslavsky train station. You can buy tickets at the counter on the day of departure and it takes about 1.5 hours.
There are also less frequent express trains to Aleksandrov that take 1 hour, but you need to book tickets in advance online.
It is also possible to travel from Moscow to Sergiev Posad by bus, although the congested traffic in Moscow means that this is not the most convenient option.
Bus no.388 leaves from the VDNKH metro bus station and the journey takes between 1 to 2 hours depending on the traffic. The bus will drop you at the Sergiev Posad train station where you can also find a bus to go back to Moscow.
When to visit Sergiev Posad
Sergiev Posad is a year round destination. I visited in winter and even though it was cold, the snow only made it more picturesque.
Where to stay from Moscow to Sergiev Posad
Where to stay in Moscow
Hostels Rus: Hostels Rus stand for clean and professional hostels with a mix of dormitories and a limited number of double rooms for good prices. They are often located close to one of the Moscow metro stations making travel in Moscow easy. There is one near Kurskaya and one near Paveletskaya (dorms only).
Vinegret hostel: Vinegret hostel is a clean and nice budget hostel with an excellent location in the heart of Moscow. It is right near Arbatskaya metro station on the famous arbat street. From there you can walk to the red square in only 30 minutes.
Axel hostel: Axel hostel has great budget dormitories with lots of privacy. It has a central location within walking distance of Kitay Gorod.
Where to stay in Sergiev Posad
Hostels Rus: Hostels Rus is one of the few hostels in Sergiev Posad. It has clean dormitories and double rooms. It's a great budget option, but a bit far from everything. That said, it is still within walking distance from the trinity monastery.
Guest house Shishkina: If you have a bit more money on your hands I can recommend the centrally located Guest house Shishkina. The lovely double rooms are still reasonably priced for Sergiev Posad.
Disclaimer: This post about how to organise a day trip from Moscow to Sergiev Posad contains affiliate links. If you buy any service through any of my links, I will get a small commission at no extra cost to you. These earnings help me to keep Backpack Adventures alive! Thanks for your support!
Due to the current situation in Ukraine all affiliated links related to Russia have been removed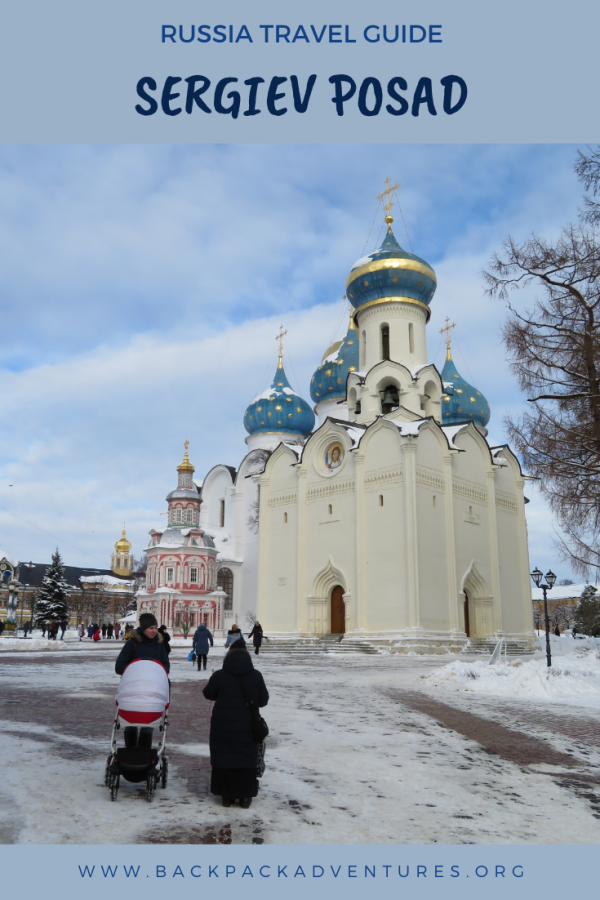 ---
---