Mostar to Blagaj: a beautiful day trip
This post is about how to get from Mostar to Blagaj. Blagaj is a scenic and cute historic village in Southern Bosnia that also happens to be one of the easiest and most interesting day trips from Mostar.
Mostar is surrounded by karst mountains and Blagaj is among the most beautiful places in Bosnia. Unlike some of the other tourist attractions near Mostar, Blagaj does not require your own car. A day trip from Mostar to Blagaj could be as cheap as a couple of Euro's if you take the local bus.
This travel guide will tell you everything you need to know when you plan a day trip from Mostar to Blagaj in Bosnia Herzegovina.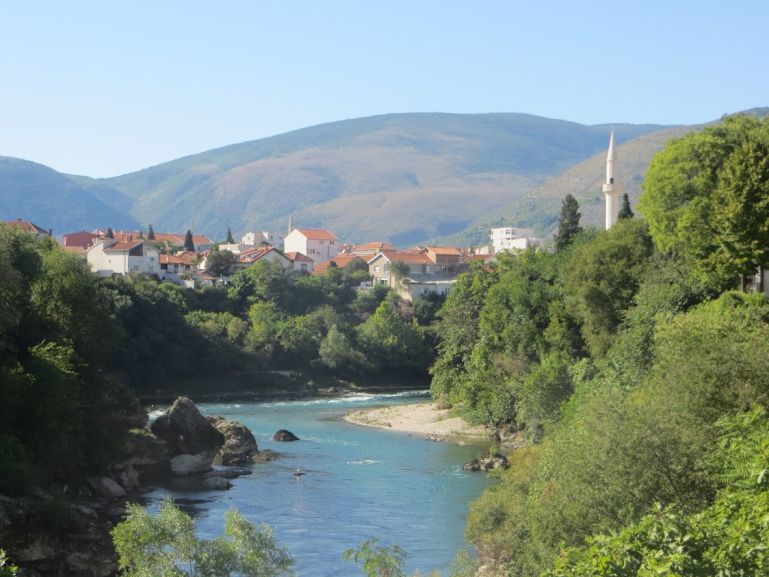 Why visit Blagaj
Blagaj is famous for its 600 year old monastery that sits at the foot of a steep cliff. It is also located right beside the spring of the turquoise Buna river. The monastery's location could not have been more spectacular and its picture is on many tourist brochures welcoming people to Bosnia.
Blagaj has a much longer history though. The first known settlement in the Blagaj area was established by the Illyrians, an ancient Indo-European people who inhabited parts of the Balkans from around the 3rd century BC. The town was later occupied by the Romans, who built a fortress in the area.
In the 6th century, the region came under the control of the Byzantine Empire, and later the Slavs, who established the medieval state of Bosnia.
In the 15th century, the Ottomans conquered the region and Blagaj became part of the Ottoman province of Herzegovina. It's then that Blagaj truly developed into a thriving town. They built several mosques, guesthouses, madrassas, mills and stone bridges.
Even during the Austrio-Hungarian period when Christians entered the area, Blagaj kept its Oriental character. It's a very pleasant town to wander around in and the cobbled stoned streets still feel very eastern.
The best things to do in Blagaj
Blagaj Tekke
Most people that come to Blagaj do so, to see the Blagaj Tekke. This monastery was built by the Ottomans in 1520 as a dervish lodge. The Dervish are a Sufi order within Islam. What sets them apart is that they practice dhikr, or islamic devotional acts, often involving chanting and physical exertions to get into a trance that brings them closer to God. Most famous are the whirling dances that Sufi dervishes perform in Turkey and beyond.
The Blagaj tekke was a place where Sufi dervish came together to chant and pray. The complex had a guesthouse, madrasa and mausoleum. It's location next to the spring of the Bune river is not a coincidence, but builds upon Bosnian traditions to gather and pray next to the source of a river.
After the Second World War, Bosnia became part of Tito's Socialist Yugoslavia and religion was suppressed. The monastery fell in disrepair and was damaged by several rock slides. However, already before the dissolution of Yugoslavia in 1990, Dervish monks returned to the Blagaj Tekke and it was beautifully restored into its former glory in 2012.
It remains one of the most mystical places in Bosnia. It is not only an important historical monument, but still attracts local pilgrims. Dervish monks now use it once again to gather and pray, but it is also a museum. Visitors are welcome to take a look inside and get an idea on how the monks used to live here.
Blagaj Tekke Visitor tips
The entrance fee to get inside the monastery is 4 KM (around 2 Euro).
Visitors are requested to dress modestly. For men this means you should wear long pants and have your shoulders covered. For women there are long skirts and head scarves that will be handed out to you before you enter the monastery.
If you just want to have a picture of the monastery and don't need to go inside you might skip the entrance fee. The best view on the Blagaj tekke is actually from the other side of the river.
Head to the Vrelo restaurant. There is a footpath behind the restaurant to a car parking. You will see some stairs next to the cliff side that will lead to a concrete platform for the best views on the monastery and the spring of the Bune river.
Vrelo Bune
The Buna river is one of the shortest rivers in Bosnia. It is only 9 kilometers when it joins the Neretva river that runs through Mostar. However, it's spring in Blagaj is one of the largest in Europe, producing approximately 43 000 liters of water per second.
One can already see and feel that the water next to the Blagaj tekke is incredibly clear and cold. It's a so-called karstic spring emerging from a cave that lies underneath a steep limestone cliff. In summer it's possible to take a short boat ride into the cave to see the underground Karst river.
Blagaj fortress
Like I said before, the history of Blagaj is much older than its famous monastery. On top of the limestone cliff above the Bune spring lies a medieval fortress also called Stjepan grad that was built in the 10th century.
If you are up to it, it takes an hour to hike from Blagaj tekke to the Blagaj fortress. I must be honest, that when I was there, it was too warm to do so, but I am sure there are wonderful views.
If you have your own transport you can get up to a car parking further up from where it is an easy 30 minute hike uphill.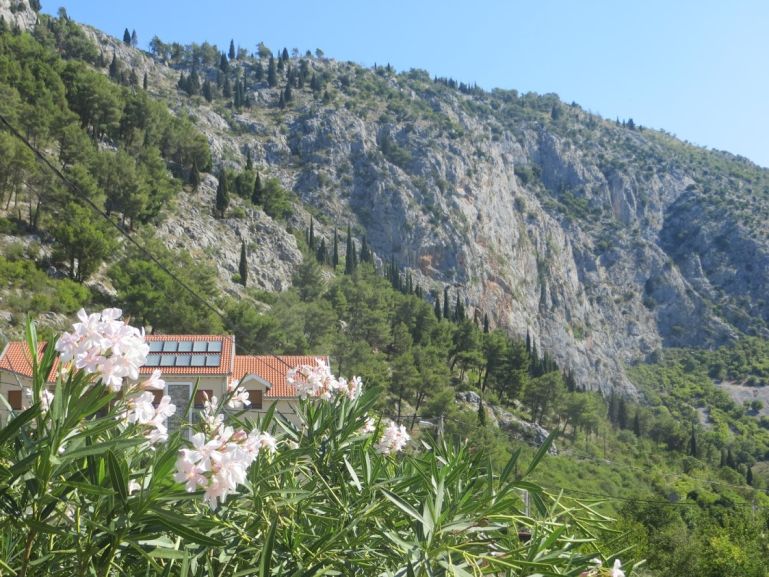 Buy souvenirs
Blagaj is an excellent place to buy souvenirs in Bosnia. Besides the usual tourist stuff, you will also find locally produced honey, herbal teas and fruit syrups.
Mostar to Blagaj Travel Tips
Where to sleep from Mostar to Blagaj
Mostar: Most people will visit Blagaj on a daytrip from Mostar where there are plenty of hostels for backpackers such as Hostel David and Hostel Musala.
Blagaj: Within Blagaj itself you can stay in Hotel Blagaj or Villa Bunski biser
Where to eat from Mostar to Blagaj
If you are going on a day trip from Mostar to Blagaj, you should definitely have lunch in one of the scenic riverside restaurants. Most offer delicious grilled fish from the river and other traditional Bosnian food such as cevapcici.
I am not sure restoran Vrelo is the best among them, but it does have the best views on the monastery and the bune spring.
In Mostar I can recommend restaurant Sadrvan for dinner.
How to get from Mostar to Blagaj
Blagaj is less than 12 kilometers south from the center of Mostar. Getting from Mostar to Blagaj is very easy during the week when there is frequent public transport.
Bus#10 and bus #11 leave every hour from the United World College at the Spanish square in Mostar. It costs only 2.10 KM to Blagaj from where it is a pleasant walk to the dervish monastery.
Keep in mind that during the weekend there are less buses and you might depend on a taxi. On weekends it can also get crowded with local tourists. Therefore it is best to plan your day trip from Mostar to Blagaj during the week.
When to visit Blagaj
Blagaj is very popular in summer when it is the tourist season. Personally, I believe this is not the best time, because it will be very hot and crowded.
Spring and Autumn offer more pleasant temperatures and a more peaceful experience. However, out of the tourist season some of the restaurants might be closed and it might not be possible to take a boat ride into the cave.
Disclaimer: This post with a day trip guide from Mostar to Blagaj contains affiliate links. If you buy any service through any of my links, I will get a small commission at no extra cost to you. These earnings help me to keep Backpack Adventures alive! Thanks for your support!
---
---