Moynaq: a travel guide to the Aral Sea in Uzbekistan
This post is a Moynaq travel guide with everything you need to know before you visit Moynaq in Uzbekistan. Moynaq was once a bustling port on the shores of the Aral Sea, but now stands as a poignant reminder of environmental tragedy.
There is no other place in central Asia where the Aral sea disaster had so much impact on its people than in Moynaq. Once, Moynaq was a prosperous town with an active fishing industry that employed thousands of people.
Now, Moynaq is one of the poorest towns in Uzbekistan. The local economy vanished along with the Aral sea. But it is not just the loss of livelihood that affects the people.
Moynaq and the Aral sea
The impact of the Aral sea disaster goes much further in Moynaq ythan the loss of livelihood. The soil in the former sea bed is highly polluted with pesticide residues and toxic salt deposits that get in the air with dusty sand storms. As a result, pulmonary diseases are rampant.
The drying up of the Aral sea also aggravated climate change in this remote part of Uzbekistan, with even less rain than before. Severe draughts are the result. It is without doubt the biggest ecological disaster in central Asia.
The cause was a decision by the Soviets to make Uzbekistan the leading cotton producer, despite its desert landscape. The Amu Darya and Sir Darya rivers were diverted for the needed irrigation. Soviet scientists already predicted that the Aral sea would dry up, but the economic benefits of the cotton industry were too big.
The cotton profits are still the main reason there is not much hope for the Aral sea in Uzbekistan. Only 10% of its original size remains and salinity is so high that marine life has become almost impossible.
On the other side in Kazakhstan, projects to restore the Aral sea had some success, but in Uzbekistan the government tries to hide the urban decay by modernizing the city of Moynaq and focusing on tourism. Its remote location in the autonomous republic of Karakalpakstan is a challenge though and most travellers never make it that far into Uzbekistan.
Travel to Moynaq
Travelling to Moynaq is not too complicated though. You might have heard you need expensive tours to see Moynaq, but this is not true. Even though it is remote, it is possible to get there with public transportation and there are enough facilities for the independent backpacker.
But is it worth it to travel to Moynaq in the first place? My answer is yes. Moynaq serves as a stark reminder of one of the world's greatest environmental disasters. The sight of rusted ships stranded in the desert will leave a lasting impression and ignite a sense of responsibility towards the planet.
Visiting Moynaq is not merely about tourism; it is an opportunity to raise awareness, foster environmental consciousness, and appreciate the resilience of local communities in the face of adversity.
Tourism is now a welcome source of income and I do recommend to stay the night in one of the homestays in Moynaq. Furthermore, Moynaq is nestled within the vast Ustyurt Plateau and offers awe-inspiring desert landscapes that stretch as far as the eye can see.
I hope this Moynaq travel guide will give you enough information to visit Moynaq on your own or with a tour if that is what you prefer. Moynaq is one of the best places to visit in Uzbekistan to see the Aral sea disaster and it is a worthwile addition to any Uzbekistan itinerary.
The best things to do in Moynaq
It was a surprise to find a flashy new city centre in Moynaq. However, despite modernization efforts, there is still not much to do. There is the ship cemetery and the museum and that's about it. But that is part of the point that Moynaq is about. Once a lively city, now a shadow of what it used to be.
It is possible to see everything in a day trip from Nukus if you have private transport, but if you want to get a feel for the town or travel by public transport, it is better to stay over night. Outside of the centre, Moynaq is a sad place that can only be experienced by wandering through its suburbs and explore some of the deserted fish canning factories.
Nauruz in Moynaq
I was actually lucky to find Moynaq in a festive mood with some late Nauruz celebrations that atracted quite some local tourists from Uzbekistan and Turkmenistan.
The nauruz fair included a Karakalpak fashion show and obscure games that revolved around sheep, cows and men showing off their strength.
If you visit Moynaq in late march it is worth contacting Jipek Joli when they celebrate Nauruz in Moynaq. Apparently they have slightly different dates than the official Nauruz celebrations.
Moynaq Museum
One of the few things to do in Moynaq is the museum. The museum is small, but a must when visiting Moynaq. The paintings on the second floor show you how Moynaq was before, when the port was still there. On the ground floor you can see items from the fish factories and a small exhibition about the Aral sea disaster.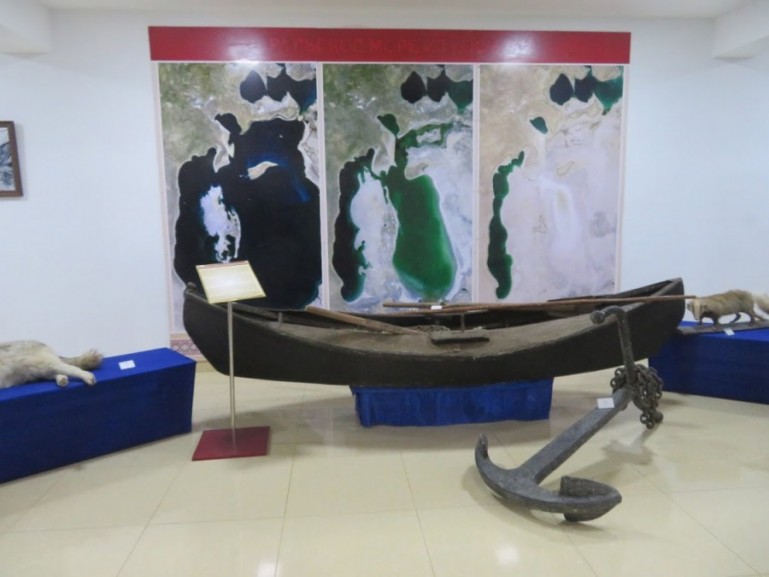 The ship cemetery
Because of the Nauruz celebrations it was extremely busy at the ship cemetery and as the only foreigner I was soon part of the attraction. People were extremely friendly and curious where I came from. Once one person was brave enough to ask for a selfie with me, the others all followed.
That the ship cemetery was such a tourist attraction was not exactly what I had in mind when I taught of ship wrecks left behind to rust away in the isolated desert of what was once the Aral sea. Besides all the people climbing on top of the ships and taking selfies, it felt a bit staged with several ships in a neat line for display just below the lighthouse and the old harbour.
Behind the ships there is the vast desert as far as the eye can see. Miles of sand with dry bushes and sea shells. For me, this was the most impressive part of the ship cemetery.
One advantage of staying in Moynaq is the opportunity to see the sunset at the ship cemetery when light is best for taking pictures.
Things to do near Moynaq
Sudochie Lake
Sudochie lake was once a large fresh water lake connected to the Aral sea. Now it still is a network of smaller fresh water lakes in the middle of the desert. The lake's pristine shores are adorned with vibrant reeds and delicate wildflowers, creating a haven for nature enthusiasts.
Sudochie lake is also a paradise for birdwatching with more than 200 bird species including pink flamingo's
From Moynaq it is possible to arrange a 4 wheel drive to bring you there. The trip is best combined with the Ustyurt plateau and the actual shore of the Aral sea.
Ustyurt plateau 
The Ustyurt plateau is a clay desert in Kazakhstan and Uzbekistan that covers a large area between the Caspian sea and the Aral sea. It is a vast and remote natural area with diverse landscapes. The Ustyurt plateau offers a unique and untouched environment with stunning cliffs, canyons, and surreal rock formations. It is all about isolation and spectacular views. Here too you will find wildlife like the taiga, wild horses, squirrels and birds of prey. 
Aral sea shore
Most of the Aral sea has already dissapeared. Despite projects to restore it in Kazakhstan, there is not much hope for Uzbekistan. As of now, it is still possible to visit the shore of the Aral sea, but it requires a long drive through the former sea bed.
It is a 3 to 4 hour journey by four wheel drive from Moynaq to the shore of the Aral sea that is now 150 kilometers from the former port. Tours can be arranged either in Moynaq or Nukus.
Moynaq Travel tips
Where to sleep in Moynaq
Hostel Myynaq (Abeskun-tur): The best place to stay in Moynaq with clean rooms, wifi and registration. The price ranges between 10 and 20 dollars per person per night. The receptionist speaks decent english and is very helpful.
Mayak Yurt camp near lighthouse: One of the cheapest options is sleeping in the yurt camp near the light house. The price ranges between 10 – 15 dollar per person per night including breakfast. The location is spectacular, overlooking the former sea bed.
Homestays: If you arrive in Moynaq you might be approached by ladies offering homestay accomodation. Even though I have no personal experience, this might be an interesting option.
Where to eat in Moynaq
Cafes near the bus station cook the standard Uzbek fare like plov. It is better to eat at your accomodation where they will serve you homecooked meals. The yurt camp has a cafe at the bottom floor of the light house that serves good fish.
We had a delicious lunch at a homestay. Karakalpak food is quite similar to Kazakh food and we got a Karakalpak version of the classic dish beshbarmak (noodles in broth with meat on top).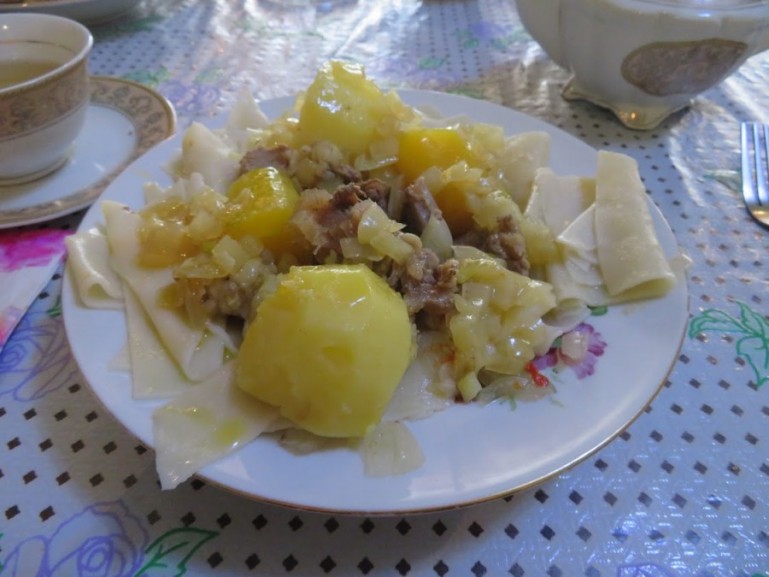 How to travel to Moynaq
Don't believe anyone that tells you there is no public transport to Moynaq. It is very well possible to get there on your own. However, Moynaq is as far as it gets, if you really want to travel to the current shore of the Aral sea you do require your own transport.
by marshrutka: From Nukus there is a daily marshrutka leaving Nukus at 9 AM. It is best to be at the bus station at 08:30 to make sure you have a seat. The journey takes between 3-4 hours and costs 13,000 som (as of march 2019). The same marshrutka returns to Nukus at 3 pm.
by shared taxi: If you missed the marshrutka, you can also travel by shared taxi. There might be direct shared taxi's. Otherwise you can take a shared taxi from Nukus to Kungrad (2 hours) and then from Kungrad to Moynaq (2 hours).
By train: Although most people travel from Nukus it is possible to take the twice weekly sleeper train from Tashkent and get out in Kungrad rather than Nukus. From Kungrad it is less than 2 hours to Moynaq and there are frequent shared taxi's. You can check my post about train travel in Uzbekistan to find out what it is like to travel by train in Uzbekistan.
Tours to Moynaq and the Aral sea
If you only want to visit Moynaq there is no need for a tour, but if you prefer the comforts of your own private taxi you can arrange this as a daytrip through Jipek Joli in Nukus (60 – 100 dollars).
You can even arrange this from Khiva, although this would be a very long daytrip with more time in the car than outside. If you also want to visit Sudochie lake, the shore of the Aral sea and the Ustyurt plateay you do require a tour.
Jipek Joli's Ayim tours or Bez Qala tours in Nukus arranges 2 – 3 day tours by jeep including transport, meals and accomodation. The price ranges between 300 – 500 dollars per person depending on the amount of people.
It can also be arranged in Moynaq through the hostel Muynaq or the Mayak yurt camp.
When to visit Moynaq
The best time to visit Moynaq is during the spring (April to May) and autumn (September to October) seasons. During these months, the weather is generally pleasant with mild temperatures and less rainfall, making it ideal for outdoor activities and exploration.
Summers in Moynaq can be hot and dry, with temperatures soaring up to 40°C (104°F). This period is also characterized by low rainfall. When you visit in summer, it's advisable to plan outdoor activities for the early morning or evening when temperatures are cooler.
Winter in Moynaq is cold and windy, with temperatures dropping below freezing, particularly during the nighttime. Snowfall is not uncommon. If you visit in winter make sure you bring warm clothes.
Sustainable travel to Moynaq
Moynaq is in a remote part of Uzbekistan. While Tourism is a welcome source of income it can also have negative consequences. Traveling sustainably to Moynaq, involves conscious choices that minimize your environmental impact and support the local community.
Leave no trace principle: Moynaq is in a fragile desert landscape. When hiking, stick to designated trails when they are there, avoid disturbing wildlife or picking plants, and leave no trace of your presence. Ensure you take all your trash back with you and dispose of it responsibly. Even better is when you take something to pick up the trash that others left behind.
To avoid single-use plastics, invest in reusable items. For example, you can bring your own water bottle with a filter that you can refill at your accomodation. At last, use biodegradable and eco-friendly personal care products to minimize pollution of water sources.
Respect the culture: Besides environmental concerns it is also important to respect the culture. Uzbekistan is an Islamic country that is just opening up to tourism. Therefore, learn about the local customs and traditions beforehand and be mindful of your behavior.
People will appreciate it, if you dress modestly, especially at religious sites. Learning a few basic phrases in Uzbek or Russian, can go a long way in building meaningful connections and to learn more about the local culture. Not everybody is happy to have their picture taken. When in doubt, ask permission.
Disclaimer: This travel guide with the best things to do in Moynaq contains affiliate links. If you buy any service through any of my links, I will get a small commission at no extra cost to you. These earnings help me to keep Backpack Adventures alive! Thanks for your support!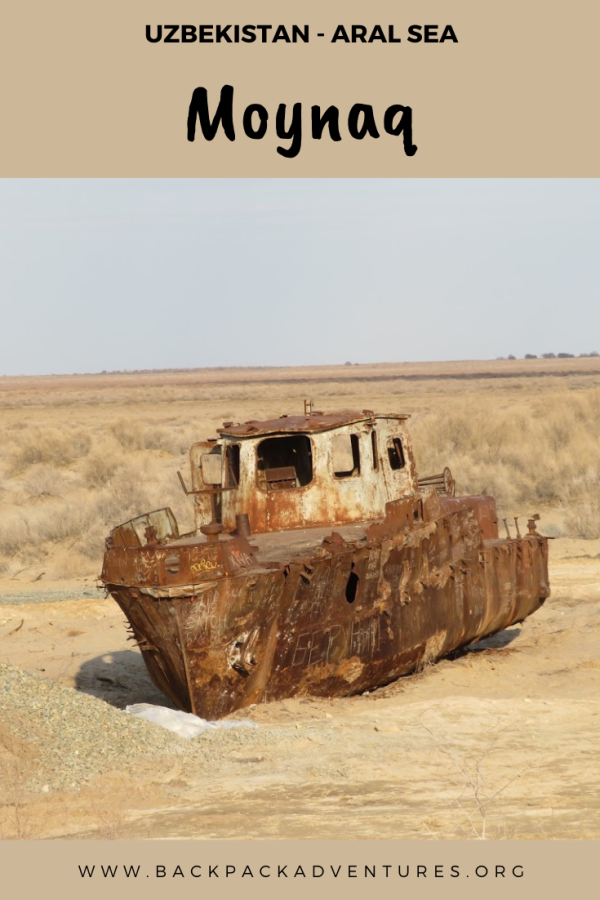 ---
---