Muddus National Park: a travel guide
Muddus National Park is a land of old forests, boggy marshes, deep ravines and raging rivers in the heart of Swedish Lapland near Jokkmokk. It is part of the Laponia heritage site and is one of the largest areas in the world where the indigenous population still live their ancestral way of life.
Muddus National Park is just one of four national parks that together form the Laponia heritage site. Within Laponia, the Saami people lead their herds of reindeer from the lowland forests to the mountains and back according to the seasonal movements of the reindeer.
Why visit Muddus National Park?
What makes Muddus National Park and Laponia so special is that it is one of the few places in the world where nomadic reindeer herding is still practised on such a large scale. In other nordic regions this way of life has become too difficult and the younger generations often choose a different lifestyle.
In Swedish Lapland, reindeer herding also knows many challenges from climate change, tourism, mining to loss of pastoral lands. However, the Saami people are also proud of their rich cultural heritage. Therefore the protection of the national parks in Laponia, that reflect the Saami's traditional life, are of utmost importance.
The Laponia Heritage site is considered to be one of the few remaining wilderness areas in Europe. The mountains of Sarek and Padjelanta National Park are so remote that they can only be reached by multiple day hikes and long distance trails such as the famous Kungsleden. Stora Sjofallet and Muddus National Park are the only ones with an entrance that is connected by road and thus one of the most accessible parks to visit in Laponia.
Muddus National Park has a network of beautiful hiking trails through the primeval forests in the southern part of the park. The Muttos trail is around 50 kilometers long and takes about 4 days of hiking. However, there are plenty of day hike options too. Muddus National Park is therefore perfect for novice hikers and those looking for an enjoyable day trip from Jokkmokk while at the same time getting a taste of Laplands last remaining wilderness.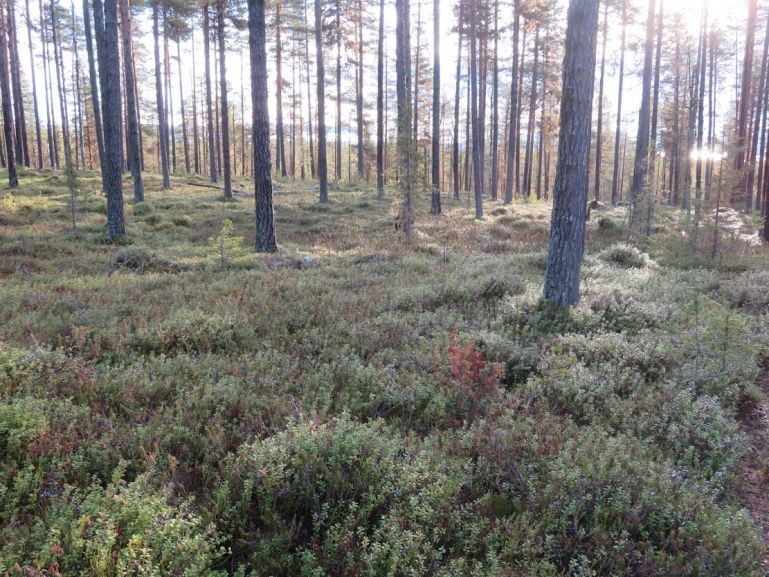 How to reach Muddus National Park
Muddus National Park lies about 15 kilometers north of the small town of Jokkmokk and south of Gallivare. Jokkmokk is in Swedish Lapland and the most sustainable way to travel to Lapland is by train.
I took the Stockholm to Lulea train, as Lulea is also a worthwhile city to visit in northern Sweden. However, there are trains that go from Stockholm to Murjek where you can take a connecting bus to Jokkmokk.
Close to Jokkmokk there are four entrances. Skajdde, Sarggavare, Namavarre and Suolavre all have parking places and connect to the 50 kilometer long Muddus trail.
Unfortunately there is no public transport that goes to any of these entrances so you will need your own car. From Jokkmokk, the easiest and most popular entrance to Muddus National Park is Skajdde (Skaite). This is an easy 35 minute drive following the E45 north. At the hydro electric plant you turn right, after a while the asphalt turns into a dirt road that is still pretty ok.
To get to the eastern entrances of Sarggavare, Namavarre or Suolavre takes about an hour from Jokkmokk and I have heard the roads are not as good as the one to Skajdde.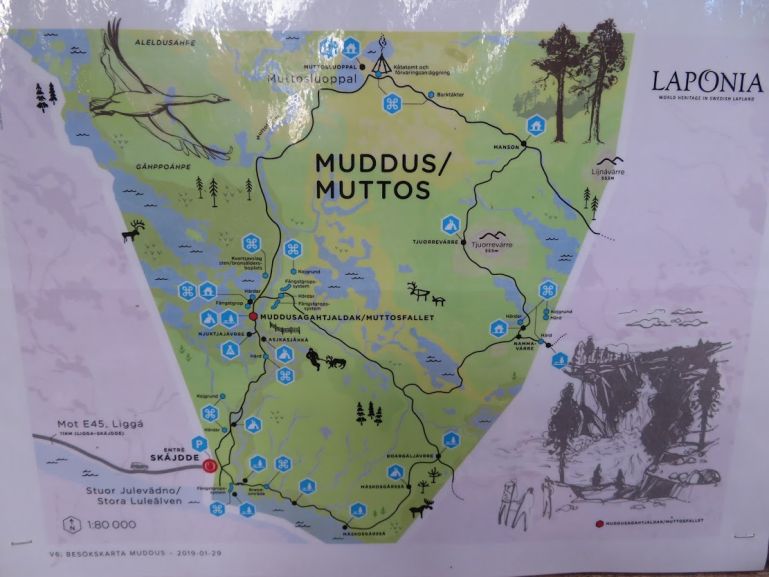 Things to do in Muddus National Park
Muddus National Park is a huge area. Only a small section in the south is open to visitors while the rest is restricted for the protection of its birds and wildlife. Don't let this deter you from visiting Muddus. The southern part still has lots to offer.
Hiking
One of the main things to do in Muddus National Park is hiking. From Skajdde (Skaite) entrance you can either start the whole 50 kilometer Muttos trail or walk small parts of it and make it an easy day hike.
The park is most famous for its ancient growth forests, so it is mostly forests you walk through. Still, it is a beautiful landscape that is more varied than you would think.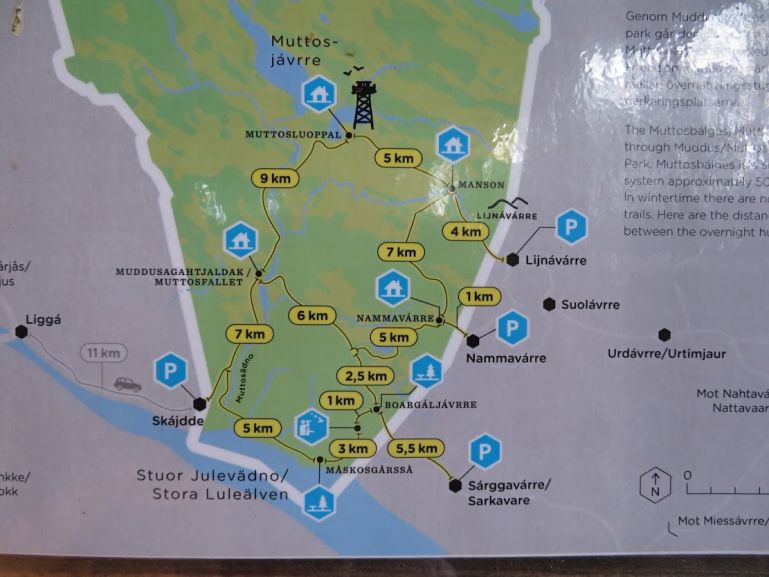 Muddusagahtjaldak
Muddusagahtjaldak is the Sami word for the Muddus waterfall. Gahtjaldak basically translates as a place where water falls. Muddus comes from the Sami word of Muttos that means "just enough". Some have interpreted this as the land of Muttos National Park providing just enough of everything.
The Muddus waterfall is one of the most popular places to visit in Muddus. The 14 kilometer trail from the Skajdde (Skaite) car park to the waterfall and back means that this is a perfect day hike.
Måskosgårsså
Måskosgårsså means narrow ravine. It is one of the lesser known places to visit in Muddus National Park. I decided not to do the popular hike to the waterfall, but choose to do the 6 kilometer hike along the Lule river to Måskosgårsså instead. It had rained the day before and I had heard the hike to the waterfall included some slippery rocks.
I can not compare it with the waterfall hike, but I found the Måskosgårsså trail very beautiful with nice views over the Lule river. It was also a very easy hike with no climbs of any kind. There are a few picnic spots on the way.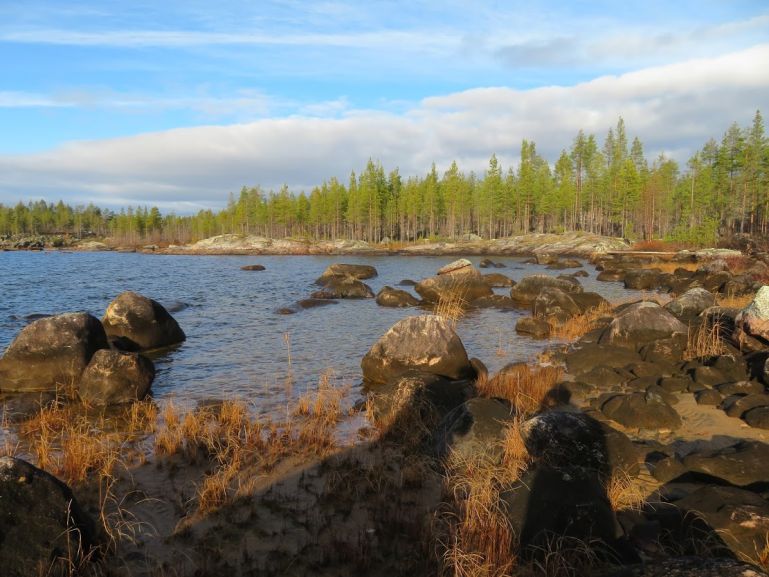 Muttosluoppal
Muttosluoppal is a further 9 kilometer hike from the Muddus waterfall and therefore requires an overnight stay in the Muttusluoppal cabin. This beautiful stretch of the forest has a tall bird watching tower with sweeping views over the park and bird sanctuaries.
Wildlife in Muddus National Park
Muddus National Park has lots of wildlife. First of all, you have a very good chance of seeing reindeer. The forest Saami let their reindeers graze in the park throughout the year. In addition other Saami communities bring their reindeer from the mountains to the ancient forests of Muddus in winter.
Other wildlife in Muddus include elk, brown bear, lynx and wolverines, but you need more luck to see them. I actually did see an elk next to the road just before the entrance to Muddus.
Muddus National Park is also a great place for bird watchers. From Muttosluoppal bird watching tower you can look over the marshes and its many different species of birds such as swans, geese, cranes, sandpiper and snipes. Bigger birds in the park that you might see are the capercaillie, the black grouse and the Siberian jay.
Muddus National Park travel tips
Permits and entrance fees
The Allemansratten or right of public access to nature in Sweden means that there are no entrance fees or permits needed to enter the national parks in Sweden. Do keep in mind that the right to public access also comes with responsibilities to not damage nature and not leave litter. When in Muddos National Park stay on the trails and take your trash with you.
Where to stay
In Muddus National Park there are plenty of camping spots to put up your tent. Along the Muttos trail are also 4 self-catering cabins. It costs 150 SEK per person per night.
If you visit on a day trip, the nearest town with a range of accomodation options is Jokkmokk. In Jokkmokk I stayed at Skabram camping, 3 kilometers from the centre of Jokkmokk. The self catering cottages (called stugby) are one of the cheapest options in town and good value for money. With its scenic location at the shores of lake Skabram we had a great stay. They now also offer a bed and breakfast in case you like a bit more comfort.
If you prefer to stay within Jokkmokk, Hotel Akerlund gets good reviews for its extensive breakfast buffet and good facilities. Hotel Jokkmokk is another decent option. It has a scenic location on the shores of lake Talvatis, but is also within a short walking distance of the centre.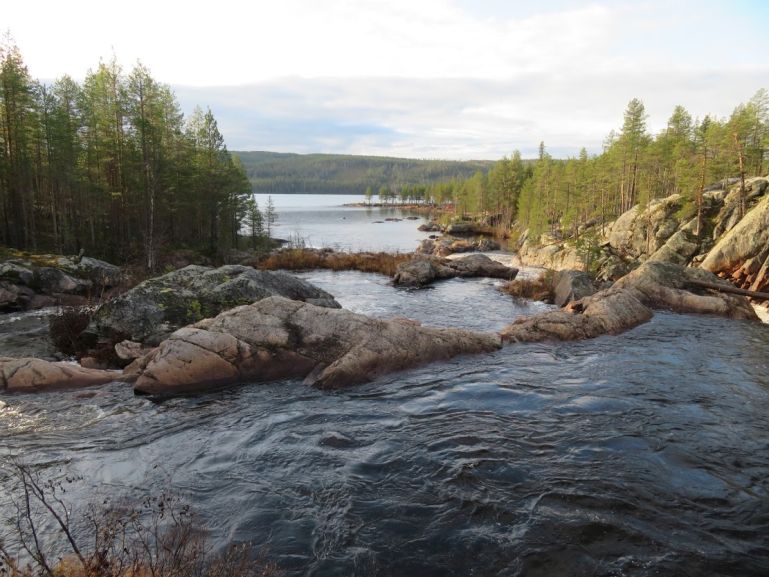 Where to eat
There are no restaurants or shops in Muddus National Park so it is important to bring sufficient water and food with you. In nearby Jokkmokk you can find supermarkets and restaurants serving Sami food.
When to visit
You can visit Muddus National Park all year round, although most will visit in summer. Winter brings lots of snow and only few people visit the park for snowmobiling. The hiking season runs from May till September, but spring and autumn are also good times to visit the park.
I visited Muddus in October and even though it was already getting quite cold and the autumn leaves were gone I had a great time hiking to Måskosgårsså. There are many advantages of visiting Lapland in October.
What to bring
Sturdy shoes or hiking boots: Professional hiking boots are not necessary. However, the trails can be rocky and require a good pair of shoes.
Mosquito repellent: Especially in summer there are a lot of mosquitoes in Muddus. Make sure you carry lots of mosquito repellent.
Food and snacks: There are no general stores in Muddus. Make sure you bring enough food and snacks with you.
Water purification system: Bring enough water with you. There is no need to add to the plastic waste problem. You can easily fill up your bottle with water from the river. However, do use a filter.
Disclaimer: This post with a travel guide about Muddus National Park in Sweden contains affiliate links. If you buy any service through any of my links, I will get a small commission at no extra cost to you. These earnings help me to keep Backpack Adventures alive! Thanks for your support!
---
---