Munroe Island: A great homestay in Kerala's backwaters
This post is about Munroe Island and my wonderful homestay experience with Vijeesh and his family. Munroe Island in Kerala was a place I accidentally found out about.
Travelling always gives you welcoming surprises, sometimes in the most unexpected remote places in this world. While looking for ways to explore the backwaters of Kerala I stumbled upon a place called Munroturuttu, or in English: "Munroe Island".
Most people explore the backwaters from Alleppey, also known as the venice of India. However, after reading all the positive reviews about Vijeesh's homestay I decided to go to Munroe Island as well. It turned out to be one of the highlights in my Kerala itinerary.
My Munroe Island experience
Munroe island is a network of 8 small islands where the Kallada river meets Asthamudi lake. A tour to Munroe island means going through a maze of narrow canals fringed with palm trees. Even better is to stay at one of the welcoming homestays and explore the lush gardens, spice plantations, coconut farms and rubber plantations.
Munroe Island is only 25 kilometers from Kollam. The easiest way to reach Munroe Island is by taxi from Kollam, but I was on a budget and took the local train. Not something a lot of people do and I was the only foreigner in the ladies wagon.
There was a lot of staring and giggling, but the woman were all friendly and told me when we arrived at the right station. It's these moments that I cherish most in India. Some people get annoyed by all the attention, but in the end most people are just curious and helpful.
With all signs in Malayalam, Kerala's own language, it is a challrenge to know where to get out. Munroturuttu train station was nothing more than a single platform and a tea shop surrounded by palm trees.
A warm welcome in Munroe island
The tea shop owner already seemed to know where I was going. I received a cup of tea and he gestured for me to sit down. Another thing that I love about India is that once people adopt you they go out of their way to make sure you are fine.
He made a phone call to my homestay and in half an hour Vijeesh turned up on a motorbike. While driving through Munroe island I could only be amazed with the lush green scenery. This truly was paradise on earth.
At his home his lovely mother had prepared the most delicious Keralan lunch. Rice with several chutneys and curries, richly flavoured with coconut and local herbs. All served on a banana leaf as is the tradition in Kerala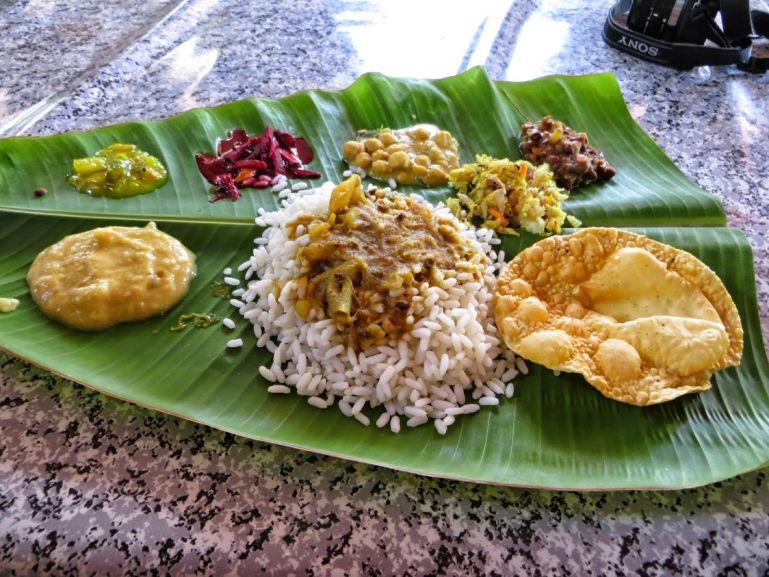 The birds of Munroe island
After lunch Vijeesh gave me a small walking tour through the island, explaining me everything about the biodiversity of the area. It is here that I developed a love for birds and birdwatching. We saw plenty of playful kingfishers, impressive Brahminy kites and elegant egrets that Vijeesh pointed out for me.
The island is also rich in spice plantations, coconut farms and rubber plantations. We ended our walk with a refreshing dip in the local river watching the clouds turn yellow, red and pink. By 7 PM it was pitch dark and hundreds of stars appeared in the sky.
The backwaters in Munroe island
The next day Vijeesh showed me Kerala's backwaters around Munroe island. Most people visit the more famous Alleppey, but I am so glad I choose to visit a different place that is less known.
I visited Alleppey as well, but the large and busy waterways there were nothing compared to the beauty and tranquilitty of the quiet palm fringed canals of Munroturuttu. With his small canoe Vijeesh could navigate the most narrow canals.
Munroe island was such a peaceful and serene experience and its beauty was astounding. It was also nice to see a piece of rural life in Kerala. Once in a while we passed by a house where we could see women washing their clothes in the river and children playing in the trees.
Munroe Island temple festival
It turned out I planned my trip to Munroe Island when the local temple had its festival. Together with Vijeesh I watched the temple celebrations with the elephants as the main stars of the show.
The real festival was only to start during the night at 3 am when the elephants were going through town in a procession with dance and music. Families had lit their homes with candles waiting for the elephants to pass to give them flowers and bananas. At last, everyone went to the temple for the final rituals with gigantic fireworks.
It was a great goodbye to a wonderful place that was hard to leave the next morning. Not only because of my lack of sleep.
Munroe Island travel tips
Where to stay
When I first visited Munroe Island, Vijeesh was the only homestay around. Although Munroe island is still an off the beaten path destination, its natural beauty attracts an increasing number of tourists. Vijeesh his success has inspired other people in Munroturuttu to open homestays as well.
I can still recommend with all my heart Vijeesh's homestay. It really is more than just a place to sleep. Vijeesh makes a great guide that can tell you all about the birds and plants on the island. His family made me feel at home instantly and his mother is a great cook making delicious Keralan food. After 3 nights it was difficult to leave this serene place. Vijeesh was also mentioned by the Guardian as one of India's local heroes.
How to get there
Munroe island is located just north of Varkala and therefore makes a convenient stop in between Varkala and Alleppey. The nearest city is Kollam from where most people take a taxi. If you are on a budget or love scenic train journeys, you can also take the train. The train station is called Monroturuttu. In both cases the journey takes less than 20 minutes.
Between Kollam and Munroturruttu there are 4 trains in the morning and 3 trains in the evening. There are also direct trains between Munroturruttu and Alleppey taking less than 2 hours. There is a daily train in the morning and one in the evening.
You can check the latest time schedule and book train tickets online directly through the Indian railways (IRCTC). Unfortunately this is not always a straightforward process. For a small extra fee you can use 12goAsia or Makemytrip. It is also possible to buy a ticket at the train station.
When to visit
The best time to visit Munroe Island is between October and March. In October temperatures cool down and you might have a chance to join the festivities for Dussehra and Diwali. India's biggest festivals.
Temperatures remain pleasant till March. In April and May it becomes extremely hot. In June it is the start of the monsoon that lasts till September and will see lots of rainfall. Floods are not uncommon in Kerala during this period.
The future of Munroe Island
Unfortunately the future of Munroe Island in Kerala is very uncertain and it is better to visit sooner rather than later. Experts still disagree whether it's the effects of the tsunami in 2004 or a dam nearby, but the island is sinking.
In 2018 heavy monsoon rains caused flooding throughout Kerala and Munroturuttu was affected as well. Unfortunately floods are becoming a regular problem. With climate change it is unlikely that a sustainable solution can be found. Experts say that the island will be fully submerged as early as 2050.
Disclaimer: This post about Munroe island contains affiliate links. If you buy any service through any of my links, I will get a small commission at no extra cost to you. These earnings help me to keep Backpack Adventures alive! Thanks for your support!
---
---