National Food Tashkent: A great Uzbek culinary experience
It is not often that I write a single post about one specific restaurant. However, National Food in Tashkent was one of the best places to visit in Tashkent for Uzbek food. It was such a positive experience that I felt writing about it.
Why visit National Food in Tashkent?
Why was National Food in Tashkent such a positive experience? It certainly isn't the decor. It feels more like an oversized canteen than a restaurant. Furthermore, it is bustling with people and waiters barely have time to clean the tables in between customers. National Food in Tashkent is always busy.
When I first set foot in the restaurant I was overwhelmed, but the Lonely planet was right that there is no other place so rich in local colour. National Food serves an extensive menu of local Uzbek recipies to hundreds of people per day. Most of them are prepared right in front of you.
At the entrance you will see a number of large kazans. So big that they often require two persons to stir whatever it is they are cooking inside. Next to the kazans are hundreds of small clay pots that are continuously watered to make sure the stews are not getting too dry. Inside there is a large table where dozens of women are cutting noodles and horse meat.
There is a lot of stuff going on at National Food in Tashkent and it is the quality that draws people to this place.
Uzbek Cuisine at National Food in Tashkent
What I love most about National Food in Tashkent is that it shows that Uzbek cuisine is so much more than plov. The simple recipy of rice with carrots and meat cooked in sheeps fat is everywhere in Uzbekistan and the rest of Central Asia. You will be forgiven to think that this is the only thing people eat.
Nothing could be further from the truth. Uzbek cuisine is in fact one of the best in central Asia. Influenced and inspired by neighbouring countries Uzbek cuisine hosts a number of deliciously satisfying dishes. Unfortunately not all of them are easy to find for the foreign traveller. They are either cooked at home or at restaurants that only locals know about.
National Food in Tashkent is the best place to try Uzbek food that is different from the usual plov or shaslyck. Even if that is what you really want, National food in Tashkent does a pretty good job at that too.
What to eat at National Food in Tashkent
Because I felt quite overwhelmed at National Food in Tashkent and because it is quite difficult to know what to order if you don't know much about Uzbek food, I will recommend some dishes here. They are all available at National Food in Tashkent.
Obi Non
Before you enter National Food in Tashkent you will already smell the aroma of fresh bread from the oven. The National Food bakery runs at full speed and produces dozens of flatbreads per minute. The result is that they serve them still warm from the oven.
Obi non or the typical Uzbek flatbreads are an essential part of Uzbek cuisine. They are thicker than Indian naan bread, but are baked in a similar way.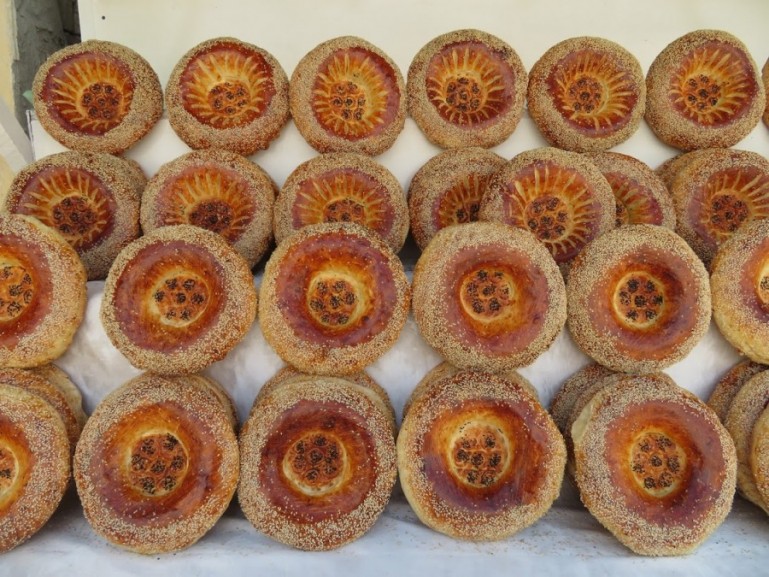 Haleem
Haleem has its origins in the Arab world, but is now popular all over the Middle east, Central Asia and South Asia. It doesn't look particularly good, but it is a filling and satisfying dish.
It consists of a mixture of wheat, barley, meat, lentils and spices that is slow cooked for over 7 hours into a paste like consistency. At the entrance of National Food in Tashkent you will find a large kazan with Haleem. It is so large that you need at least two people to stir it.
Naryn
The love for Kazy, or horse meat comes from neighbouring Kazakhstan, but Naryn is a unique Uzbek recipy. It's a salad of cold noodles topped up with horse meat.
Inside National food in Tashkent you see the women making the fresh hand rolled noodles and slicing enormous amounts of horse meat. The quantities they work with show how popular this side dish is.
Dolma
Dolma is not something uniquely Uzbek. You can find it in many countries in the middle east. Sometimes it refers to grape leaves filled with a mixture of minced meat and rice. Most of the times it refers to vegetables like peppers, tomatoes and eggplants filled with a mixture of minced meat and spices.
Uzbek dolma is in the latter category and comes in two varieties. Dry dolma or Dolma Shurpa. Shurpa means broth and in Dolma Shurpa the stuffed vegetables come in a flavourful broth. At National food in Tashkent Dolma Shurpa is served with a few slices of lamb meat on top.
Of all the things I tried at Natoinal Food, this was one of my favourite dishes.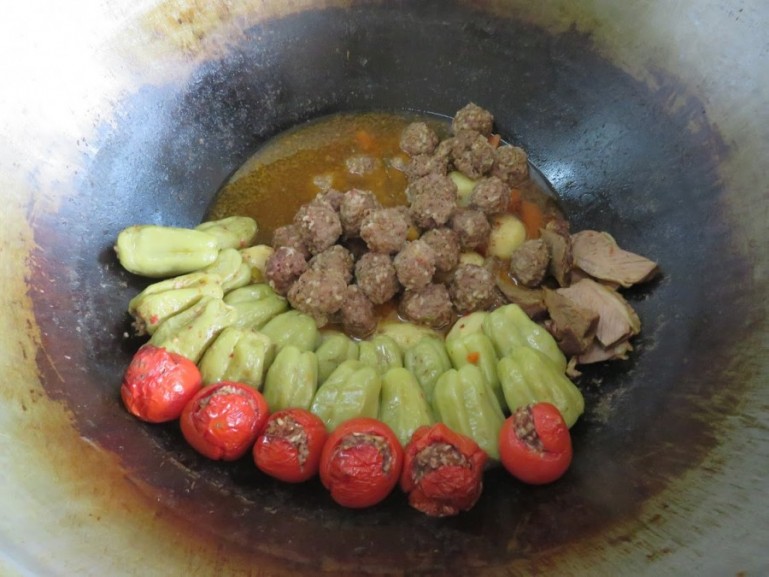 Dimlama
Uzbek Dimlama has its origins in the Turkic cuisine. A stew of meat, potatoes, onions, carrots and other vegetables. Everyone in this region has its own version of this classic dish. National Food in Tashkent has a very tasty one.
Beshbarmak
Beshbarmak is a broth with pasta slices and meat in a meaty broth soup with onions. It has its origins with the Kazakh and Kyrgyz nomad horsemen that roamed the steppes of Central Asia. The traditional recipy is therefore with horsemeat although most restaurants will serve it with lamb, mutton or beef.
Beshbarmak means five fingers because nomads used to eat it with their hands. In Uzbekistan Beshbarmak is very popular in Karakalpakstan. Not a surprise, because the Karakalpak people are more related to the Kazakhs than to the Uzbeks.
Honestly, the best Beshbarmak I had was at Navat restaurant in Almaty, Kazakhstan, but if your trip is limited to Uzbekistan, National Food in Tashkent is a good place to try it.
How to get to National Food in Tashkent
The nearest Tashkent metro station is Gafur Gulom on the blue Ozbekiston line. From there it is a 5 minute walk to National Food. The restaurant is on the main street opposite the circus.
Best places to stay in Tashkent
Art hostel: Art Hostel is a good hostel in a nice neighbourhood of Tashkent. They have a good breakfast buffet and a swimming pool for those hot summer days. The staff is very helpful in giving tips and advice.
Nearest metro station: Kosmonavtlar (blue Ozbekiston line)
Disclaimer: This post about National Food in Tashkent Uzbekistan contains affiliate links. If you buy any service through any of my links, I will get a small commission at no extra cost to you. These earnings help me to keep Backpack Adventures alive! Thanks for your support!
---
---