Nepal itinerary: how to spend one month in Nepal
This post helps you in planning your Nepal itinerary. Nepal is a unique and memorable country. Most people know Nepal because of the Himalayas. But the country has so much more to offer than mountains alone.
Its natural beauty is outstanding and much more diverse than you would think. From lush tropical jungles, rolling hills with terraced rice paddies, high-altitude deserts and frozen glaciers.
Any Nepal itinerary can include a wide range of outdoor activities, including trekking, hiking, white water rafting, and paragliding. It also offers a great opportunity for wildlife safari and birdwatching.
Nature is one of the main reasons to visit Nepal, but there is lots of culture as well. Nepal is a multicultural country with a rich history and cultural heritage, reflected in its many temples, shrines, monasteries, and palaces.
Your Nepal itinerary
Since 2006 I have visited Nepal a couple of times. Everytime my Nepal itinerary was different. Besides the tourist highlights like the Annapurnas, the Everest and Kathmandu there are also plenty of lesser known places to explore.
In my experience, you would need at least one month in Nepal to see the major highlights and do one of the famous treks in the Himalaya.
A one Month Nepal itinerary
Day 1-2: Kathmandu
Kathmandu is the capital and largest city of Nepal. Most start their Nepal itinerary here and only stay enough time to arrange the permits for their treks. But Kathmandu is certainly worth a couple of days.
Kathmandu is home to a number of historical sites, including the UNESCO World Heritage site of Durbar Square. It is changing fast and while modern shopping malls pop up everywhere, you can also still find lots of traditional architecture in the small backstreets. Throughout the city you will find ancient temples, shrines and stupas.
Kathmandu also offers plenty of opportunities to experience local culture and traditions. From trying Nepalese food, staying with a Nepalese family in a homestay, watching prayers at the local temples to participating in festivals and celebrations.
In other words it is a great start to any Nepal itinerary and a good introduction to the country. Kathmandu is also a great base to explore the ancient Kathmandu valley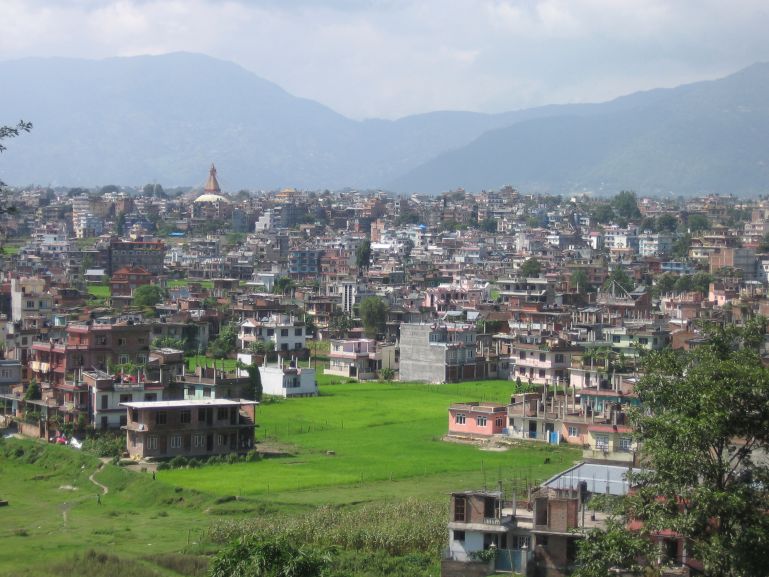 Day 3: Bhaktapur
One of the most recommended day trips from Kathmandu is the old Newari city of Bhaktapur. Bhaktapur is often referred to as the "cultural gem" of the Kathmandu valley. The main square is a UNESCO World Heritage site, and is home to a number of temples, palaces, and other historical buildings.
The city has some of the most beautiful traditional Newari architecture, which is characterized by intricate wood carving, brickwork, and pagoda-style roofs. walking through the streets of Bhaktapur feels like a journey back in time.
You should certainly visit Bhaktapur during one of its local festivals. The Nepali new year called Bisket Jatra as well as Gai jatra are celebrated with lots of festivities. During the festivals, large wooden chariots are paraded through the streets, accompanied by music, dance, and other performances.
If you have time for only one day trip in your Nepal itinerary, let it be Bhaktapur.
Day 4-5: Kathmandu valley
Bhaktapur is not the only day trip possible from Kathmandu. The beautiful Kathmandu valley has plenty of charming and authentic villages that you can visit if you have more time in your Nepal itinerary.
The Kathmandu valley is at the heart of the ancient Licchavi dynasty that ruled the valley from the 5th till the 8th century as well as the Malla dynasty from the 12th till the 17th century.
These ancient kingdoms have left behind hundreds of medieval temples, shrines and palaces. The indigenous Newar people still have their own culture and follow ancient customs that are very different from the Hindus that came to the Kathmandu valley later on. It was only in the late 18th century that Hindu king Prithvi Narayan Shah conquered the valley and it became part of present day Nepal.
Kathmandu became the new capital of Nepal and changed tremendously. However, the rest of the Kathmandu valley kept its own ancient traditions. The Newari architecture with its intricate wood carvings and multi roofed pagoda style temples is still present in many of the villages of the valley.
Day 6-7: Bandipur
In Between Kathmandu and Pokhara you will find Bandipur. A must stop in your Nepal itinerary if you travel in between these cities.
Bandipur is one of the few traditional Newari towns outside of the Kathmandu valley. It's only been a few years that tourism is promoted here and due to its distance from the capital it gets only a handful of visitors. As a result, the town has an authentic feel and offers a good insight into the well-preserved Newari culture.
Bandipur is a charming village with traditional architecture and beautiful views of the surrounding hills. The village is only 1000 meters high, which is not high for Nepal. However, it is one of the highest points in the valley.
Bandipur is on a ridge with beautiful views all around you. The stunning sunsets and sunrises are one of the reasons to spend at least one night in the village. During the day you can explore one of the easygoing hikes or you can visit one of the nearby caves.
Day 8-9: Pokhara
Almost every traveler includes Pokhara in their Nepal itinerary. Pokhara is the gateway to the Annapurna mountains. The city itself isn't particularly beautiful, but it is a great place to relax and unwind after a trek. Because of the relaxed atmosphere, travelers often stay a couple of days.
Pokhara offers everything that a backpacker might want. Cheap places to stay, good food, spas, yoga courses as well as adventure sport centers. Paragliding is hugely popular, but you can also arrange white water rafting trips or kayaking trips.
At the heart of Pokhara is the scenic Phewa Lake that is a popular spot for boating and swimming. Here you have beautiful views over the Annapurna mountains.
Day 10-12: Chitwan
Chitwan National Park is a protected area in the southern part of Nepal. It is home to a diverse array of flora and fauna and a popular spot for wildlife watching when backpacking Nepal.
The park is particularly known for its population of Bengal tigers and rhinoceroses, as well as other wildlife such as leopards, crocodiles, and over 450 species of birds. It is the best place in Asia to see the one-horned rhinos in their natural habitats.
Chitwan Park is a popular tourist destination. You can choose from a variety of activities including jungle safaris and canoeing on the Rapti and Narayani rivers.
Day 13 – 30: Himalaya
Most people go to Nepal to see the Himalayas. One of the reasons that I recommend at least one month in Nepal is that this allows you to do one of the tea house treks that Nepal is famous for.
The most popular treks are the Annapurna Circuit trek and Everest Base camp trek. Other treks include the Poon hill trek, the Gokyo lakes trek or the Langtang trek.
I often get the question whether to go to the Everest region or Annapurna region. A very difficult choice as both are spectacular. I might have a small preference for the Annapurnas due to the cultural aspect and the bigger diversity in landscapes. That said, the Gokyo Lakes trek in the Everest region is one of my favorite treks too.
In this Nepal itinerary you have two weeks for trekking. This is tight for the Everest and Annapurna Circuit trek. I would actually recommend at least three weeks to give you enough time for acclimatization as both treks go over 4000 meters.
If you prefer treks that don't go that high I would suggest the Poon hill trek in the Annapurnas or the Langtang trek. These treks are more realistic if you have only two weeks.
Nepal itinerary extensions
Bardiya (4-5 days)
Bardiya National Park is located in the Terai region of western Nepal. It is considered as one of the most remote and undisturbed wilderness areas in Nepal.
Bardiya has a large population of Bengal tigers, as well as other wildlife like the Asiatic elephant, greater one-horned rhinoceros, Gaur(Indian Bison), crocodiles and swamp deer. Bardiya National Park is also a bird watcher's paradise and home to over 500 species of birds, including the endangered Bengal florican and Sarus crane. Bardiya is a remote and rural area with traditional Tharu villages. The indigenous Tharu people are famous for their hospitality and welcoming nature, which makes visiting a Tharu village a truly unique and memorable experience.
Bardiya National Park is less touristy and commercialized compared to Chitwan National Park, which makes it a great place for those looking for a more secluded and authentic wilderness experience.
Disclaimer: This post with a one month Nepal itinerary contains affiliate links. If you buy any service through any of my links, I will get a small commission at no extra cost to you. These earnings help me to keep Backpack Adventures alive! Thanks for your support!
---
---