The Persian Food Guide: the best traditional food in Iran
This post is a Persian food guide about what to eat in Iran as a traveller and where to find the best Persian food in Iran. Years ago, when I was still a small child, our family was invited for dinner by an Iranian family. I never forgot that evening. We had such a great time and the Persian food was delicious.
Unfortunately, living in the Netherlands, I got very few opportunities to taste home cooked Persian food again. I had to wait many years before I travelled to Iran and was once again able to indulge myself in Persian cuisine
Persian food in Iran
When I booked my trip to Iran I was really looking forward to Persian food. Persian cuisine in Iran itself was even better than I expected, even tough the most popular Persian food was not always easy to find as a tourist.
My first day in Iran, I was honestly a bit disappointed. There were fast food restaurants all over the place serving either kebab or chicken and fries. Not too bad for a quick and cheap lunch, but where were all these delicious Persian stews and delicacies?
The secret is that the best restaurants don't need advertising and are sometimes hidden behind non descriptive doors, in cellars or the back of dark alleys. Iranians know where to go and will be happy to show you where their favourite restaurants are and what their most popular Persian food is.
Persian food is delicious and can be an essential part of your experience when travelling to Iran. I wrote this Persian food guide to make sure you don't miss out on what Persian cuisine has to offer and that you know how to eat Persian food in the proper way.
Persian food for breakfast
My first morning in Iran I had a hard time finding a place for breakfast. Things in Iran don't open up early. Luckily breakfast is included in most hotels and otherwise your best bet is to go to a local bakery to buy some fresh bread. The traditional Iranian breakfast is fresh bread, some white cheese and herbs on the side and a cup of tea.
Persian bread
That first morning in Tabriz when I was hungry and looking for some breakfast a friendly Iranian helped me out by showing me the nearest local bakery. Iran is still full of traditional bakeries, called noonvah, where every morning bread is served fresh from the oven. The best noonvah are extremely busy and people struggle to get that fresh loaf of bread in their hands. Lines are non-existent, but if you are a foreigner you will likely catch the bakers attention. They might all look like white flatbread loaves to us, but there is a wide variety in types available.
Barbari: A long elongated shape of thick and fluffy soft dough with sesame seeds on top. My favourite bread in Iran.
Sangak: This rectangular whole wheat bread is still baked the traditional way on river stones.
Taftun: Round shaped soft bread made with milk, yoghurt and eggs.
Lavash: Thin and flaky breads. delicious when fresh, but it gets stale pretty quickly
Nan Tanduri: Bread baked in the tandoor oven, similar to naan in India
Shirmal: slightly sweet round breads flavoured with saffron.
Kaleh Pacheh
Honestly, I did not try this, but it is one of Iran's most traditional breakfasts. A soup made out of sheep's head and hooves. Iranians eat it in the very early morning around 5 am before they go to work. There are special restaurants opening up at this hour of the day serving this delicacy. To get an idea of how popular these restaurants are and how it looks like, you can see this short Youtube movie.
Persian food for lunch
Dizi/ Abgoosht
My favourite lunch dish in Iran was Dizi, also called Abgoosht. It is a stew of lamb meat with chickpeas and potatoes served in an earthenware pot with a stamper, a bowl and bread on the side.
First you pour the liquid in the bowl, tear off pieces of the bread and mix it together. because the liquid cools down pretty quickly you eat this first. Make sure you leave some bread for the next step when the stamper comes into view. You mash what is left in the pot, scoop it in the bowl and eat it with the rest of your bread.
They often serve it with a big chunk of fat that gives a great flavour to the stew. I noticed that in some of the restaurants that are more geared towards tourists they leave this out. Traditional tea houses often serve the best abgoosht, but are a men's affair and not the best place to go to as a solo female traveller.
If you are in the bazaar be on the look out for the earthenware pots as a sign they are serving abgoosht. In Tehran the best place to eat abgoosht is Dizi Sara. Prices range between 80,000 in a teahouse to 500,000 rials in a restaurant for tourists.
Asht-e Reshteh
Another favourite lunch was Asht-e Reshteh. A noodle soup with fresh herbs and beans. Most bazaars have places where they serve asht for lunch and it is on the menu of some restaurants. The best Asht I had was in Masouleh where most restaurants were serving both asht-e reshteh and some sort of yoghurt soup. Inside the tomb of Hafiz in Shiraz is also a restaurant serving delicious Asht, so it is best to plan your visit to the tomb during lunch time.
Kuku Sabzi
Iranians love their fresh herbs and they can even make a regular omelette into a delicacy. Honestly, before I would not have ordered a simple omelette. I was lucky that I got the home-made version at the Koorasan hotel in Gazor Khan.
That way I learned that kuku sabzi is not just an omelette, but a delicious mix of herbs and eggs in a fluffy pancake. It's filling enough for a satisfying lunch.
Persian food for Dinner
Kebab
You will have no difficulty finding kebab in Iran. There are plenty of restaurants serving kebab in all kind of varieties served with a huge platter of rice and butter. To help you choose your kebab I will describe some of the options available:
Chelo kebab: chelo is steamed fluffy saffron flavoured rice served with any of the kebabs below.
Kebab koobideh: the most famous kebab in Iran and what they will most likely serve you as a foreigner ordering kebab without specifying what type you want. Koobideh is lamb, beef or chicken mixed with onions placed on a flat stone and mashed with a wooden pallet.
Joujeh kebab: barbecued chicken with olive oil, tomatoes and saffron. This was one of my favourites in Iran.
Kebab Barg: I was only introduced to Kebab Barg after I came back from Iran, but I wish I knew about this kebab before. It is a thin barbecued meat of beef tenderloins with onions, saffron and olive oil.
Kebab Soltani: Kabab Soltani means a king's meal and is the combination of one kabab barg and one kabab koobideh
Kebab Torsh: This speciality from Gilan is beef kebab marinated in a paste made of crushed walnuts and pomegranate juice
Mahi Kebab: Barbecued fish
Liver kebab: Kebab made from liver (jigar). Absolutely delicious.
For the more adventurous foodies, there is also kebab made of beef heart (del), kidneys (gholve), and pure fat. The kebab stores under the Amir Chakmakh complex in Yazd serve it all and is one of the best places to try them in Iran.
Rice: the persian way
In Iran you will eat a lot of rice. Luckily Iranians have perfected the art of making it. Rice is often flavoured with saffron and served with some butter.
Iranians love it when the bottom is crispy. It is called Tahdiq and considered to be the best part of the rice. Some even make potato Tahdiq by adding a layer of sliced potatoes at the bottom of the pan.
Iran's best rice dish is Tahcheen. Rice is mixed with yoghurt, eggs, saffron and chicken and then baked in the oven. The best Tahcheen can be found in Moslem restaurant in Tehran's Grand bazaar. The Tahjeen in Moslem restaurant is served with zereshk pollo. Rice with barberries on top. They give off a slightly sour taste and many Iranians love them. Other types of rice include
Zereshk pollo: Rice with barberries
Sabzi pollo: Rice with herbs
Estamboli pollo: a red rice cooked in tomatoes
Adas pollo: rice with lentils
Fesendjoon
Fesendjoon is my number one favourite food of Iran. Unfortunately it is hard to find on a restaurant menu. It's a complicated stew of walnuts, chicken and pomegranate syrup made for special occasions at home. After several failed attempts I finally mastered the art of making fesendjoon myself, but it comes nowhere near the fesendjoon I ate in Iran.
My advice is that if you are lucky to find it on the menu, you should order it. It doesn't look very good, but it is absolutely delicious. The best fesendjoon I had was at Ehsan house in Kashan and the Orient Hostel in Yazd.
Gormeh Sabzi
Gormeh Sabzi is another Iranian dish that does not look like it is any good, but is a delicious hearty stew of herbs, beans and lamb meat. I really love it, but it has a quite specific taste and I can imagine that not everyone appreciates it. I was lucky to try a home cooked version when I was invited by an Iranian family in Gazor Khan.
Geymeh & Geymeh Nasser
Khoresht Geymeh is a yellow split pea stew served with rice and fries. The best Geymeh I had in the bazaar in Esfahan. Some serve it with packed potato sticks, but the best are the homemade fries.
Qazvin has its own variety of Geymeh called Geymeh Nasser. This will be a highlight of your stay in Qazvin. The stew is enriched with cinnamon and orange peel slices, while the rice is topped with barberries, almonds and pistachios.
Khorest e Bademjan
Eggplants are widely available in Iran. Khorest e Bademjan is a stew with eggplants, beef and herbs. I am not a big fan of eggplants, but this stew surprised me. It is tasty and filling.
Persian food from Isfahan
Beryani
If I hear Beryani I think about Indian rice, but Esfahan's Beryani has nothing to do with this. Instead it is a dish made of minced sheep's lungs and intestines. They serve the meat in a rolled bread with some fresh herbs.
The bread and herbs were delicious, but the meat patty was greasy and left me full for the rest of the day. I guess it is an acquiered taste, but it is very popular among Iranians and they will love it when a foreigner is trying it out.
Khorest Mast
In the bazaar I came accross bowls of something with a bright yellow color and topped with red barberries and small chunks of green pistachios. It looked very colorful and turned out to be saffron yoghurt with pieces of meat.
Khorest Mast was an interesting combination, but by then I was used to the fact that Iranians eat yoghurt a lot and often have it as a side dish with rice and bread.
Persian food from Shiraz
Shirazi Salad
Another speciality from Shiraz is the Shirazi salad. It is really simple, but sometimes the simple things are the best. It's a salad of cucumber, tomato, onion, mint and lime juice. I now make it often as a side salad at home.
Kalam Pollo
Kalam pollo is a speciality of Shiraz. It is rice with cabbage, herbs and meatballs. It tastes much better than it sounds and looks. The flavours are just right when it is made well.
They serve it once a week in the Niayesh boutique hotel and I was happy I took the chance to try it.
Persian Food from Yazd
Ash – E Shuli
This vegetable soup made out of herbs is a speciality of Yazd. Yazdi's might ask you:"Shuli khordi?", Did you try shuli ? My advice is that you should. The Orient hotel serves shuli and it is a great soup for lunch or before your evening meal as a starter. Don't leave Yazd without trying it.
Tas Kebab e Shotor
Tas kebab e shotor is a camel meat stew from Yazd, that is especially popular in winter. Silk Road hotel in Yazd has it on the menu.
Persian food from the South
Ghalyeh Mahi
In Iran you will find that meat is an important part of the diet. However, once you head to the Southern coast of Iran in places like Hormuz island, seafood is equally important. The signature dish in Southern Iran is Ghalyeh mahi, a fish stew with herbs, spices, tamarind and rice.
Maluki
The islands of Qeshm and Hormuz in the South of Iran also have their own sweets. One must try Maluki. A sweet pastry made out of yoghurt, flour, sugar and eggs
Persian food at the side
No meal in Iran is complete without several side dishes. Be it a simple platter of fresh herbs, flattbreads, a salad or yoghurt based dips.
Borani Esfenaj
Borani Esfenaj is a very healthy and vegetarian side dish that tastes wonderful. It was one of my favourites. The simple version is quite simple actually. A thick yoghurt is mixed with well drained spinach leaves.
The more luxurious versions are then topped with fried onions and or walnuts.
Mast o Khiar
Mast O Khiar is another yoghurt dip. This one with cucumber and mint. This is a great side dish in summer when the weather is hot.
Sabzi Kordan
What I absolutely loved in Iran was the small plate with fresh greens that you often got as a side dish. Sometimes not more than just some cucumbers and leaves from different herbs like mint, parsley or basil.
While I am used to add herbs in my recipies, I was new to eating them just like this. Being fresh and full of flavours it was absolutely delicious as a side dish.
Persian food to drink
Tea
Persians love their tea and a cup of tea is never far away. Tea is often served with nabaat (sugar crystals on a stick) and ghand (sugar cubes). The iranians don't mix the sugar cubes through their tea tough. They put it in their mouth between their teeth while taking sips from their tea.
Doogh
Doogh is a refreshing yoghurt drink similar to ayran in Turkey. The iranian version often has mint in it too and it is very popular throughout Iran.
Pomegranate juice
I loved the availability of fresh juice stands in most cities in Iran. Fresh orange juice and carrot juice are very popular, but my favourite was ab anar (pomegranate juice).
Zam Zam Cola
Iran's version of cola was made in the time of the sanctions when Coca Cola could not be imported.
Persian food with a sweet tooth
Persians have a sweet tooth and love their candies and cookies. If you love them too you will feel like you are in paradise.
Yazdi sweets
Yazd in particular is famous for its sweets and near the Amir Chakmakh mosque you will see several stores selling a variety of sweet things for you. Haj Khalifeh Rahbar is one of the best. It is a tradition in Iran that whomever goes to Yazd brings back home candies for everyone to enjoy. There are several sweets that Yazd is famous for
Ghotab: deep fried almond filled pastries
Haaji Baadam: almond cookies made with nutmeg and chickpea flour
Bakhlava: The Yazd version of baklava using rose water syrup.
Pashmak: Iranian cotton candy
Loze nargil: coconut sweets with rose water
Cake Yazdi: Iranian cupcakes
Gaz
Gaz is a nougat like sweet with pistachio's or almonds. It was one of my favourite sweets in Iran. When I was in Nain I was invited inside a local gaz factory so I could see how it was made. The gaz I ended up buying here was absolutely delicious.
Klucheh Fuman
Klucheh Fuman were another highlight in Iran. These walnut paste filled cookies are only available in Fuman. A small town where most people have to transit on their way to Masuleh. Don't rush to get to your next bus or taxi, but stop here and find a bakery. Every bakery in town sells the round cookies. They taste best when still warm from the oven.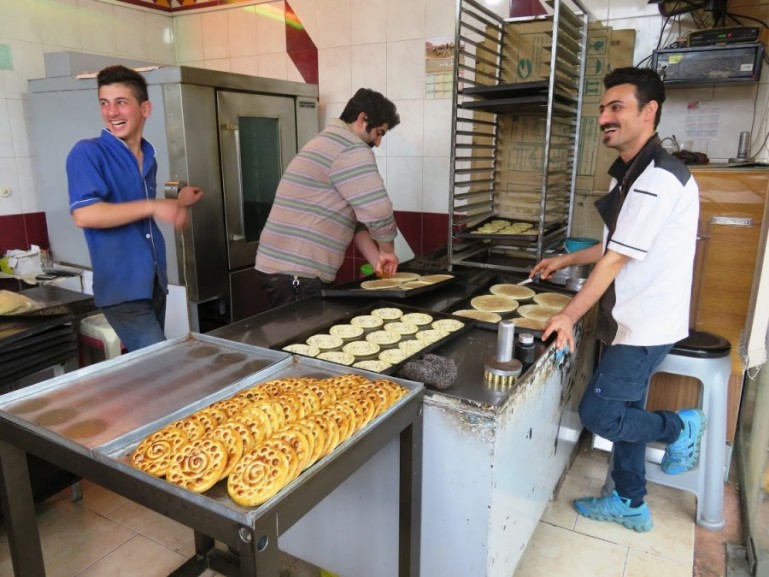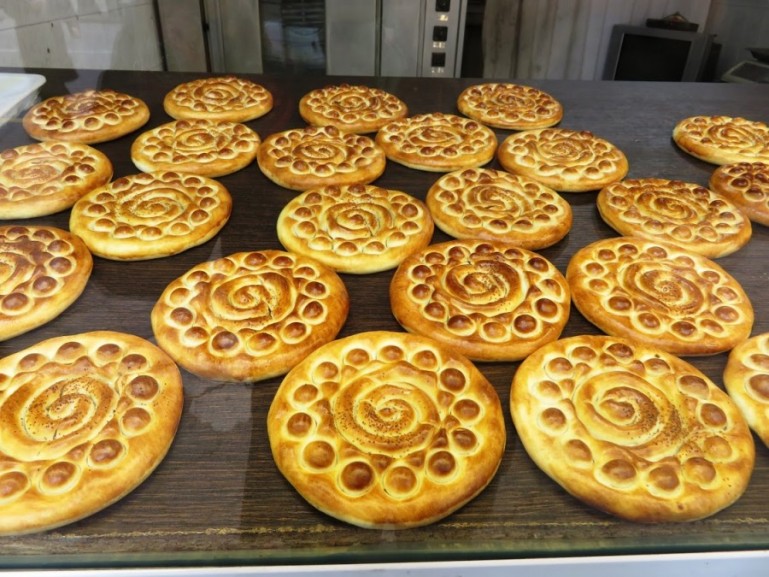 Nan berenji
Nan berenji are delicious rice flour cookies. Originally they come from Kermanshah and this is also where I tasted them. Every pastry shop in Kermanshah sells them.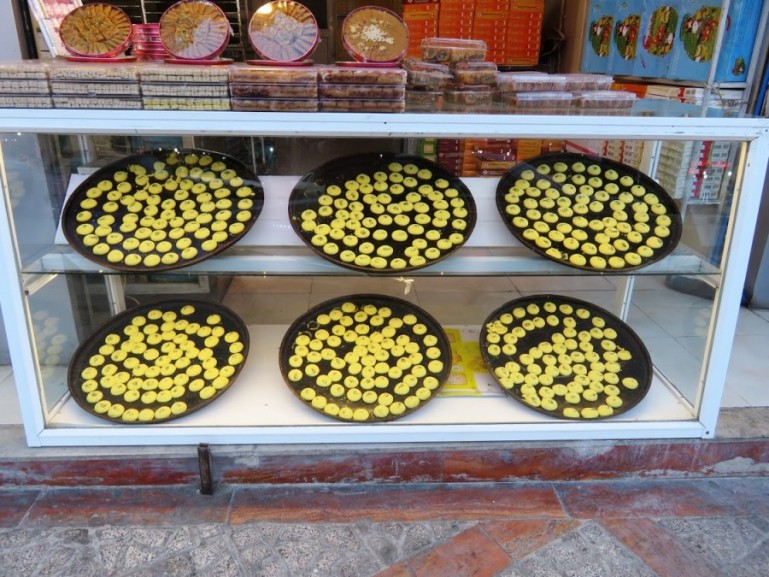 Saffron ice cream
Soft icecream, but flavoured with saffron. Iran has a way of turning ordinary things into heavenly delicacies. I had saffron ice cream in Esfahan and Yazd, but couldn't find it easily in other cities.
Faludeh
Shiraz is famous for it's icecream and faludeh. Especially faludeh is very popular among Shirazi's. The noodles with sugar, rose water and lime juice are served semi frozen and make a perfect dessert after your lunch or dinner.
Persian food books
If you want to make Persian food at home there are now a number of great cookbooks about the Persian kitchen. Here are some of my favourites.
The food of life by Najmieh Batmanglij: The most comprehensive and elaborate cookbook of Persian food. It has a lot of recipes, including dishes that are not very well known. A superb book to have.
The Saffron tales by Yasmin Khan: this book has all the classics from fesendjoon to ghormeh sanzi and geymeh as well as a number of salads, soups and breads that are easy to make at home.
Persiana by Sabrina Ghayour: a great book with both Persian and Persian inspired recipies. Everything I made from this book so far was absolutely delicious. I can also recommend her vegetarian book bazaar.
Taste of Persia by Naomi Duguid: I love this book more for its travel stories than its recipies. It has beautiful pictures and also includes recipies from Kurdistan, Azerbaijan, Armenia and Georgia.
Bottom of the pot by Naz Deravian: I love this book for its elaborate instructions how to cook the perfect Persian rice. I am almost there thanks to this book.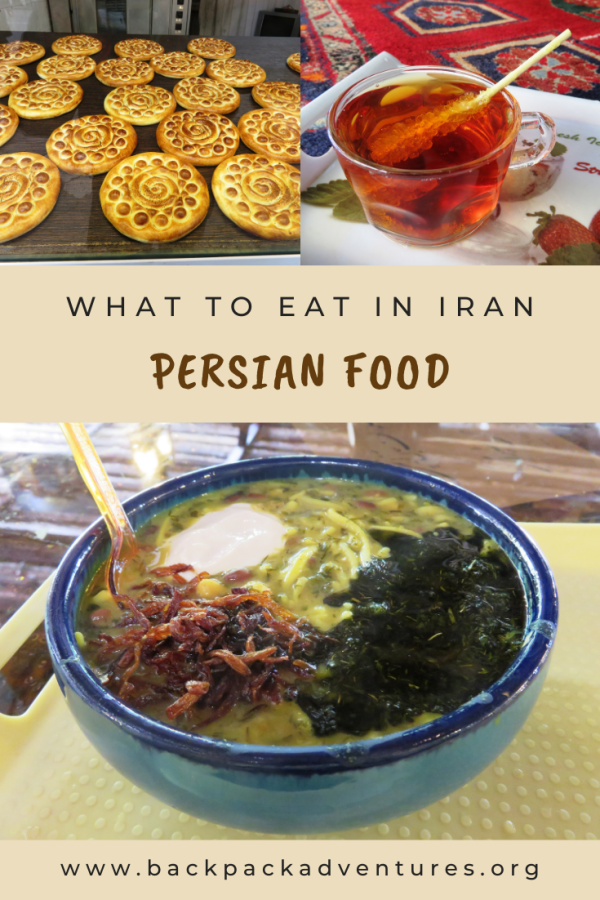 ---
---