The Best Places to See in Varanasi India
Varanasi is a city that is hard to describe in words. There are actually not a lot of places to see in Varanasi if it comes to tourist attractions. Varanasi is a typical dirty Indian city with a lot of temples, but not one of them will leave you in awe. And yet, Varanasi was an unforgettable experience for me.
This post is about the best places to see in Varanasi, but let me start with a short history and why Varanasi was so special for me.
A history of Varanasi
Varanasi is India's most sacred city. First of all, because of its location on the holy Ganges, but also because of its historical and religious significance. It was already mentioned as the city of Lord Shiva in ancient Hindu books like the Vedas. Furthermore it was the capital of several Indian kingdoms.
Varanasi remains at the heart of Hindu culture and the best places to see Varanasi in action are its ghats. Places where steps are leading to the Ganges and that are used for almost anything. Varanasi has hundreds of them, each with their own stories and legends. A Varanasi walking tour along the ghats will be a highlight of your trip to India.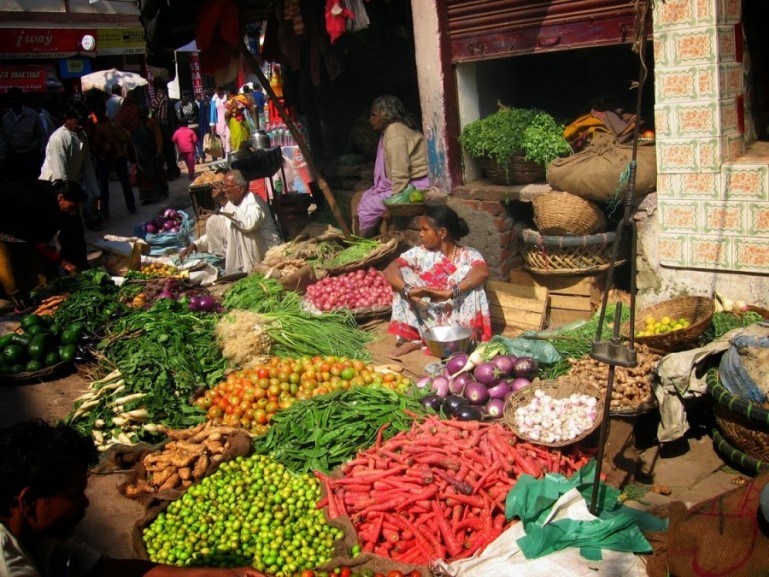 Walking in Varanasi
As an anthropologist, Varanasi was a dream come true for me. With no particular places to see in Varanasi I spent most of my days just wandering around and there was always something happening. Whether it was one of the festivals in Varanasi or the daily prayers and traditions.
Varanasi was a never ending show of Hindu rituals that I could observe up close. The Ghats are like a theater and Hindu families come here to bath, pray and celebrate their major life events. A baby is born, the baby eats its first rice, a couple is getting married or farewells are said to lost loved ones.
Being from the Netherlands I am used to my privacy and own personal space, but these things have a different meaning in India, and this is nowhere as visible as in Varanasi. It sometimes felt uneasy to be present and watch such intimate moments in people's lives.
Places to see in Varanasi
There are so many ghats and temples that for a first time visitor it will be hard to know where to start. Varanasi is overwhelming and there is no way you can cover all the places to see in Varanasi in a single trip.
Varanasi is a perfect city to stay for a longer time period and many travellers do. It's a city where you can walk around for days and still discover new things.
However, let me be honest, not all ghats and temples are equally interesting. If you are limited on time there are only a few must places to see in Varanasi that will give you a good feel for the city.
The best places to see in Varanasi
1. Manikarna ghat (cremation ghats)
Of all the places to see in Varanasi the most confronting are the cremation ghats. Hindu's believe that a cremation on the banks of the river Ganges will free the soul from the cycle of death and rebirth.
The bodies are placed on pillars of wood and the rituals are performed in full view for anyone to see. It's a privilege to be burned in Varanasi, but not everybody can afford the expenses.
I was invited to visit the elderly home right behind the cremation ghats. Because of my work with elderly people in the Netherlands I was curious. Several old women lived in one room where they had nothing more than a bed and a small table.
They came from all over India, but when they felt their time was coming, they sold all their belongings and moved to Varanasi to make sure their remains would unite with the holy Ganges. The women, already widowed, seemed at peace with their coming end.
They also didn't seem to mind the fact that the owner was bringing in tourists in the hope for donations that according to him would be to pay for the funerals. I left with mixed feelings tough and after a bit of research it is clear that a lot of scams are going around in this area.
Insider tip: Be respectful when visiting the cremation ghats and be careful with wanna be guides. If you want to have a guide that tells you more about the background of the Manikarna ghats I can recommend the proffesional Heritage walking Tours
2. Dashashwamedh Ghat
Dashashwamedh Ghat is among the top places to see in Varanasi for Hindu rituals. It is the oldest and holiest ghat among the Ganges rivers. In Hindy mythology the ghat was created by Lord Brahma to welcome Lord Shiva. This is where every day the elaborate evening prayers are performed.
Dead and birth are close to each other in Varanasi. One Hindu priest may perform the prayers for a family who just lost a loved one while the priest next to him might perform prayers for a new-born baby.
Watching these elaborate rituals and the smiles and tears from the people involved, makes you wonder and reflect on life in general. Varanasi is a spiritual place that inspired my toughts. I felt small in the presence of something that was bigger than myself. A connection with the cycle of life that is so visible and concrete in this place.
Insider tip: Come early to see the evening prayers. It can be very crowded and it is actually better to watch it from a boat. It is therefore best to combine it with an evening boat tour on the Ganges to watch the sunset and then to see the evening prayers at Dashashwamedh Ghat
3. Pandey Ghat (Dhobi ghat)
Among the significant events at Manikarna ghat and Dashashwamedh ghat, daily life goes on as well. The Ganges is the heart of Varanasi where everything happens. People take a bath, wash clothes and make business as usual. Hindu priests, street vendors, dhobi wallah's, dentists and barbers all provide their services right at the ghats.
The Pandey ghat is not at all important if it comes to history or religious significance. Still it was one of my favourite places to see in Varanasi. This is the ghat that ironically both pollutes the river and keeps Varanasi clean.
It's where dhobi wallahs or washermen do Varanasi's laundry. Colourful Saree's are left to dry on the steps and hundreds of shirts, trousers and hotel bed sheets hang on the lines. Washing clothes in the Ganges is actually banned, but this age old ritual goes on regardless.
It's hard work and seeing the Dhobi's in action is quite impressive as they beat the dirt out of the clothes on stone slabs in the river.
Insider tip: Come here in the early morning when the washermen are at work.
4. Assi ghat
Assi ghat is home to many of Varanasi's visitors that decided to stay here for a longer period of time. There is a lively community of travellers, expats, researchers and students.
For those that rise early there is a morning prayer at Assi ghat every day. It is similar to the evening prayers at the Dashaswamedh ghat, but then much more quiet and peaceful.
Insider tip: The morning aarti starts as soon as the sun rises around 5 AM, but is worth seeing at least once during your time in Varanasi
5. Darbhanga ghat & Bijrama palace hotel
Along the ghats you will find the palaces that once belonged to wealthy families. Now they are part of Varanasi's rich cultural heritage. The Bijrama palace at Darbhanga ghat is one of the most photogenic places to see in Varanasi and has become a hotel.
If you have the money it is the most beautiful place to sleep in Varanasi. However, even if you can not afford to stay here, it is still very much worth a visit to look at the palace's impressive architecture from outside.
Insider tip: don't forget to bring your camera and come during the golden hour to take great pictures.
6. Kedar ghat
For a slice of South India in Varanasi you should visit the colourful Kedar ghat. On top of the ghat is the Kedareshwar temple that is extremely holy for South Indians. The nearby Parvati kund has a pool of water that is believed to have healing powers. It is one of the best places to see in Varanasi for the beautiful views over the river.
7. Nepali ghat
For a taste of Nepal in Varanasi head to the Nepali ghat that was built by the king of Nepal in the 19th century. The Nepali temple at this ghat is a replica of the famous Pashupatinath temple in Kathmandu.
8. Kashi Vishwanath temple
Varanasi has hundreds of temples and it would be impossible to visit them all. The most important temple in Varanasi is the Kashi Vishwanath temple. It is one of the 12 holy Shiva temples in the world and every day it receives thousands of visitors.
During one of Shiva's festivals it is probably almost impossible to get in as a tourist, because of the number of pilgrims. Only 100 meters further is the small Annapurna Devi Mandir where people come to pray to the goddess of food for a well nourished life.
Insider tips: Security is tight here and expect some wanna be guides that want to show you around. Unless you are willing to pay them, be polite, but firm that you are not interested in their services.
9. Durga Kund Mandir
The Durga Kund Mandir is another important temple in Varanasi. The red temple was built by a Bengali queen in the 18th century and people from Varanasi believe Durga protects the city from harm and evil.
The pond in the temple gives it a pleasant atmosphere and the temple is much more quiet and preaceful than the Kashi Vishwanath temple. It is a short walk from Assi ghat.
10. Alamjir mosque
Varanasi seems to be all about Hindu temples and rituals, but one third of Varanasi's population is muslim and muslims have been living in Varanasi for hundreds of years. For them, Varanasi is just as holy even though their history receives little attention.
The beautiful Alamjir mosque towering over Panchganga ghat is Varanasi's biggest mosque. It was built in the 17th century by Aurangzeb. To read more about their complicated position in Varanasi I can recommend these articles from The Guardian and the Washington Post.
11. Siddha Kshetra
The neighbourhood of Siddha Kshetra, just behind Scindia ghat, is one of narrow alleyways packed with shrines and pilgrims. It is one of the best places to see Varanasi beyond its famous ghats. You will see that the streets of Varanasi are just as colourful and have their own charm.
12. The bazaar
One of my personal favourite places to see in Varanasi is the bazaar in the small back alleys behind Dashaswamedh ghat. Here you can find almost anything. From fresh fruits and vegetables to sarees and new teeth if you need them.
A Varanasi walking tour
In this post about the best places to see in Varanasi I only described my most favourite ghats and temples. You can either take a profesional walking tour or follow this self-guided Varanasi walking tour to visit the most important places to see in Varanasi.
Best places to see in Varanasi: travel tips
Best places to stay in Varanasi
Mother Hostel: Mother Hostel feels more like a homestay than a hostel. It is close to Ganga ghat and the family that runs the place is very friendlly and helpful.
Moustache Varanasi: Moustache Varanasi has a range of clean dormitories. It is a good and proffesional hostel located near Assi ghat.
The best time to visit Varanasi
When planning a trip to Varanasi. There are two things to take into account. The weather and the festival calendar.
Let's start with the weather. Winter runs from October till March and is a popular season to visit Varanasi, because of its pleasant temperatures and good weather.
Summer runs from April till June. This time it can get very hot in Varanasi and temperatures can reach above 40 degrees Celsius. If you plan to visit Varanasi in summer make sure you know how to deal with the heat.
The monsoon is from July till September and will bring a drop in temperatures again, but also a lot of rain and humidity. If you plan to visit Varanasi during the monsoon make sure you bring a rain coat and plastic bags to protect your electronics against the humidity.
Another thing to keep in mind is the festival calendar. Being such a holy city, Hindu festivals are celebrated in Varanasi, like no other place in India. If crowds are not your thing then it is better to avoid Varanasi in these times. However, if you are interested to see one of the festivals in Varanasi you will be in for an unforgettable experience.
The best way to travel to Varanasi
The best way to reach Varanasi is by train. There are frequent trains from the major cities in India like Delhi (13 hours), Agra (11 hours) & Kolkata (14 hours).
There is also an airport in Varanasi with daily flights to Delhi, Mumbai, Kolkata & Kathmandu.
Disclaimer: This post about the best places to see in Varanasi contains affiliate links. If you buy any service through any of my links, I will get a small commission at no extra cost to you. These earnings help me to keep Backpack Adventures alive! Thanks for your support!
---
---