The 16 Best Places to Visit in Kyrgyzstan
Are you thinking of travel in Kyrgyzstan and are you wondering what to see in this beautiful country? You are in the right place. In this post I will share the best places to visit in Kyrgyzstan to help you plan your itinerary.
Kyrgyzstan is a country of mountains, yurts and horses with a strong nomadic spirit. It's a great place for outdoor lovers with its majestic mountains and outstanding nature. In Kyrgyzstan you don't need to go far to be surrounded by spectacular views. Wherever you go you will find yourself in absolutely stunning landscapes.
Being in central Asia, Kyrgyzstan was also part of the famous Silk Road. Bustling bazaars are still the center of the few cities in the country. Although more and more people now live a settled life, the legacy of its nomadic past is still very visible in the Kyrgyz culture.
In this post I made a selection of the best places to visit in Kyrgyzstan based on my 2 trips to the country in 2014 and 2019. It was difficult to choose and obviously, this list is far from complete. Kyrgyzstan really has a lot to offer.
The criteria I used for the best places to visit in Kyrgyzstan that I discuss in this post were its accesibility and its beauty. All these places are relatively easy to visit and don't require long hikes, but do offer the alpine mountain sceneries that Kyrgyzstan is famous for.
Some people think Kyrgyzstan is only for professional hikers, but that is not true. Nature in Kyrgyzstan is everywhere and its culture and history is equally interesting. There are so many things to do in Kyrgyzstan that there is something for everyone.
The Best Places to visit in Kyrgyzstan
1. Bishkek
Bishkek is the capital of Kyrgyzstan. It's likely that as a traveler you will end up there at some point in your journey.

Bishkek might not be the nicest city you see. However, its a great place if you love Soviet architecture or if you prefer to explore Kyrgyzstan's nature from the comforts of a city that has all the facilities you might need.

The mountains are just around the corner and the snowcapped peaks are visible from the city. Only an hour away is the beautiful Ala Archa National park with its waterfalls and forested mountain slopes. Also nearby is the Issyk ata sanatorium with its natural hot springs and the green Alamedin valley. All great places to go hiking or escape from the city.

With so much natural beauty, people often overlook Bishkek itself. A pity, because the city has an interesting history. It developed as a Russian outpost before becoming the capital of the Soviet republic of Kyrgyzstan. A lot of the Soviet architecture is still there including a statue of Lenin.

Other Soviet legacies are the beautiful Ala too square and the large amount of green spaces within the city. It makes Bishkek a pleasant place to wander around. Furthermore, it is a young and dynamic city that is now more Kyrgyz than ever. Restaurants with Kyrgyz food stand alongside hip cafes and entertaining bars.

Bishkek is therefore a great introduction to Kyrgyzstan where you can learn more about the country and its nomadic culture before exploring the rest of the country.

Things to do: Ala too square, Osh bazaar, Oak park, Zhirgal banya, Soviet architecture.

Things to see nearby: Ala Archa National Park, Burana tower, Issyk Ata sanatorium and Alameddin valley
Where to sleep: Chinar Apart hotel, Apple hostel & Sakura guesthouse

For more information you can read my post on the best things to do in Bishkek.
2. Ala Archa National Park
Ala Archa National Park makes the perfect day trip from Bishkek to escape the city and get a first taste of Kyrgyzstans nature.
In the weekends its very popular with locals that come for a picnic barbecue including shaslyck and lots of vodka. However, the further you get in the park, the more quiet it gets.
There are two hiking trails. One leads to a watefall and the second runs parallel to the ala archa river.
Things to do: hike to Ak Sai waterfall, the Ala Archa river trail, pik Komsomolets, Adygene valley
How to get there: Marshrutka 265 leaves regularly from Osh bazaar to the village of Kashka Suu for 25 som. For a small extra fee you can ask the driver to bring you a bit further to the park entrance. From there you can either organize a taxi for the next 12 kilometers to the Alplager or try to hitchhike.
3. Song kul lake
Song kul lake is one of the most beautiful places to visit in Kyrgyzstan. The deep blue lake is surrounded by green pastures and snowcapped mountain peaks. It is the perfect picture of mountains, yurts and horses where you can experience the life and culture of the Kyrgyz nomads.
The alpine lake lies in a remote valley above 3000 meters. The fertile marshlands attract the nomadic Kyrgyz herdsmen as it is the perfect place to let their livestock graze in summer. Nowadays tourism is also a good source of income and several yurt camps welcome visitors.
The difficulty of reaching Song kul lake protects it from mass tourism even though more people come every year. Still, the area is big enough that it doesn't feel crowded. Song kul lake is a very peaceful spot and totally worth all the effort of getting there.
Things to do: panoramic viewpoints, horse back riding, sleeping in a yurt, watching the sunset and looking at the stars.
How to get there: There is no public transport to Song kol lake and basically there are three options. The most popular way to travel to Song kul lake is on the back of a horse and this is possible all year long. The other option is by road and requires your own mode of transport. You can find a car with driver in either Naryn or Kochkor. In summer you can also hike or cycle independently to the lake.
4. Tash Rabat
In the middle of nowhere with a fantastic mountainous backdrop lies the 15th century stone caravan serai. It is one of the most important historic sites in Kyrgyzstan and a reminder of the glory of the silk road days.
Nowadays Tash Rabat is remote and surrounded by empty lands, but this was once part of the famous Silk Road. At that time many trade caravans passed through and spent the night in this caravanserai where they could rest and eat.
Because of the unusual lay out archeologists believe it might have been used for religious purposes too. The ruins combined with the gorgeous high altitude landscapes around it makes this one of the best places to visit in Kyrgyzstan.
How to get there: Tash Rabat is 2 hours from Naryn. There is no public transport, but you can arrange a car with driver through cbt Naryn. There is a yurt camp where you can sleep
Places to visit in Kyrgyzstan around Issyk kul lake
5. Karakol
Karakol is one of the best places to visit in Kyrgyzstan for outdoor activities. The city itself has few attractions, but with the spectacular nature on its doorsteps and a great community based tourism network it is very well worth a visit.
It's easy to spend weeks in Karakol exploring the area. There are several mountain towns to visit and each of them are very different. From the hot springs in Altyn Arashan to the the red rock formations in Jeti Oguz and the alpine meadows of Jyrgalan.
Although the locations of these places are already spectacular enough it is only the beginning. From Altyn Arashan, Jeti Oguz or Jyrgalan you can go on easy day hikes or treks to high altitude mountain lakes that can take multiple days.
Things to do: Dungan mosque, Orthodox church, Animal market, Karakol food tour
Things to see nearby: Altyn Arashan, Jyrgalan, Jeti Oguz
Where to sleep: Guesthouse Altay, Askar Guesthouse, Evergreen guesthouse, Center hostel, Snow leopard hostel & Alma hostel
For more information you can read my post on the best things to do in Karakol.
How to get there: From Bishkek you can take a minivan or shared taxi that takes around 7 hours. Read more about how to travel from Bishkek to Karakol.
6. Jyrgalan
If you have time to visit only one of the mountain villages around Karakol you should go to Jyrgalan. This former mining town has changed in the best place around Karakol for outdoor activities. From skiing and snowshoeing in winter to hiking and mountain biking in summer.
It all started with a community based tourism initiative and if you see the spectacular landscapes around Jyrgalan its success is no surprise. The views on the green alpine meadows welcome you as soon as you arrive as well as a number of very friendly homestays
In Jyrgalan you can either go horse back riding or hiking with a choice of different trails. The easiest day hike is the one to the Kok Bell waterfall. The one I personally recommend is the hike to Turnaluu kol lake and the panorama viewpoint.
Things to do: Turnaluu kol lake, Kok bel waterfall, Eki chat gorge, Tulpar Tash rock, hiking, horse back riding, mountain biking and winter sports.
For more information about how to get there and where to sleep you can read my Jyrgalan travel guide.
7. Altyn Arashan
The Altyn Arashan valley is famous for its natural hot springs, alpine meadows, forested mountain slopes and views on the snow covered peak Palatka. It is one of my favourite places near Karakol, especially during autumn.
The 15 kilometer hike to get there is nice as well and not too difficult. There are frequent mini buses from Karakol to the start of the trail, so this is perfect for a do it yourself trip without a guide. Once you arrive in the valley you can relax your sore muscles in one of the hot springs.
In summer there are several yurt camps to stay the night. You can either walk back to Karakol the next day or do some more hiking in the Altyn Arashan valley. Basically wherever you go, you are guaranteed spectacular views.
For more information on how to get there and where to sleep read my Altyn Arashan travel guide.
8. Jeti Oguz
Jeti Oguz is a small village famous for its sanatorium and red rock formations. Most people visit as a daytrip from Karakol just to see the iconic red bull rocks and the broken heart. However, there are good reasons to stay the night.
First of all, because the red bull rocks are at its most beautiful during sunset and sunrise. Second of all, because there is much more to do in Jeti Oguz. It is another place in Kyrgyzstan for hiking and the landscapes are pretty unique here making it very different from Jyrgalan or Altyn Arashan.
For those with an interest in Soviet history you can also visit the Jeti Oguz Sanatorium. Although its glory days are clearly over and the building looks like it is about to fall apart, it is still open for business. For only a few hundred som you can try any of their treatments such as radon bath therapy or mud electrocution.
Things to do: hiking in the dragon gorge for curious red rock formations, hiking to the valley of flowers, visit the sanatorium, enjoy the sunset over the red bull rock formations
For more information about how to get there and where to sleep you can read my post about Jeti Oguz.
9. Barskoon
The Barskoon valley with its two waterfalls and alpine meadows is so beautiful that Yuri Gagarin spend his holidays here after he returned from space. Or so the story goes and there are even two monuments put up to remember his visit.
The busts of Yuri Gagarin look out of place in this mountainous landscape, but if the story is true I can see why Gagarin liked it here so much. The scenic valley and the short hikes to the Barskoon waterfalls make it the perfect getaway for an easy going day trip from Karakol or Bokonbaevo if you have your own transport.
With public transport it is a bit more difficult and I must be honest that there are other places like Jyrgalan or Jeti Oguz with similar beauty that are more easy to reach by mini bus.
How to get there: From Karakol (Southern bus station) take marshrutka 310 or 315 to Bokonbaevo and ask the driver to let you at at Barskoon village. From there you need to negotiate a private taxi to the valley
10. Tosor
Did you know that in Kyrgyzstan it is even possible to go to the beach? The high altitude lake of Issyk kul has several beaches with powdery sands and clear blue waters. Tosor is one of my favourite places to visit in Kyrgyzstan for taking a dip in the lake.
It is a very peaceful and quiet spot and there is not much else to do in this rural village than the beach. The waters of lake issyk kul are icy cold, but where else can you swim with such beautiful mountain views.
You can even stay the night to sleep in a yurt on the beach. Tosor is also a great place from where you can visit Barskoon or the Skazka canyon.
Where to sleep: Tosor Yurt camp
For more information about how to get there and where to sleep you can read my Tosor travel guide.
11. The Skazka Canyon
The Skazka canyon is a place unlike any other place in Kyrgyzstan. It lies hidden from view behind the rolling hills next to the road along the Southern shore of lake Issyk kul. Nothing suggests the strange world of geological rock formations and rich colours that is just a short 2 kilometer hike from the main road.
It's a magical landscape and therefore skazka canyon is also known as fairytale canyon. The red, brown and yellow rocks contrast with the deep blue colours of lake Issyk kul that you can see if you climb high enough.
It is one of the most beautiful places along the southern road from Bishkek to Karakol.
For more information you can read my Skazka Canyon travel guide.
12. Manjyly Ata
While most of the places to visit in Kyrgyzstan in this post are because of their natural beauty, Manjyly Ata is included because of its cultural and historical significance. Although, the views won't dissapoint here either.
For the locals, Manjyly Ata is a spiritual and holy place known as the valley of sacred springs. For centuries Manjyly attracted pilgrims that come looking for the healing properties of the waters. Every spring cures a different disease from anxiety to stomach problems and depression.
There is a hiking trail through the hills that will take you along the springs. Some are obvious, others are nothing more than a hole in the ground with a sign. Come during sunset when the landscape is at its most beautiful.
How to get there: Bokonbaevo is about 10 minutes away from Manjyly Ata. Through CBT Bokonbaevo you can arrange a taxi to get you there and wait for you. Otherwise go to the Bokonbaevo bus station that is next to the cbt office and the bazaar. From there take a minibus or shared taxi heading in the direction of Karakol. Ask the driver to let you at Manjyly Ata.
For more information you can read my Manjyly Ata travel guide.
13. Bokonbaevo
Bokonbaevo in Kyrgyzstan is a rather small town that serves as the gateway to the southern shore of lake issyk kul.
While the northern shore is all about resorts that attracts lots of Russian and Kazakh tourists, the Southern shore offers a more authentic Kyrgyz experience.
Its around Bokonbaevo that the natural beauty of lake issyk kul and the Ala too mountains combine with a rich cultural heritage that is still very much alive.
It's for example one of the best places to see the Kyrgyz practice of eagle hunting or to see what it takes to build a yurt. Other cultural activities includes felt making workshops. On top of that, Bokonbaevo has some of the best and most welcoming homestays in Kyrgyzstan. Whatever you do, you will be surrounded with incredible surroundings.
Things to do: Eagle hunting demonstration, Felt making workshops, bazaar
Things to see nearby: Tosor, Skazka Canyon, Manjyly Ata, Kadji sai
Where to sleep: Nurgul, Guesthouse Ayim & Guesthouse Gulmira
For more information you can read my post on the best things to do in Bokonbaevo.
How to get there: From Bishkek you can take a minivan or shared taxi that takes around 5 hours. Read more about how to travel from Bishkek to Karakol.
Places to visit in Southern Kyrgyzstan
14. Arslanbob
Arslanbob is a welcoming lush and green village that is one of my favourite places to visit in Southern Kyrgyzstan. Its scenic location in the Baba Atash mountains, its walnut forests and waterfalss are its major attractions as well as the friendly Uzbek people.
An active community based tourism initiative resulted in a network of cosy homestays with delicious home cooked food. It's a nice place to simply walk around to soak up the easygoing village atmosphere and connect with the curious locals.
Hiking and horse back riding is possible too. There are two waterfalls that you can visit and you can combine it in a loop with the shaded walnut forests.
Things to do: small waterfall, large waterfall, walnut forests, panoramic viewpoint
Where to sleep: CBT or Friendship Guesthouse, the Arslanbob homestay and the Halal Muslim Guesthouse
For more information you can read my Arslanbob travel guide.
How to get there: From Osh take a shared taxi or bus to Bazar Korgon. In Bazar Korgon there are marshrutka's to Arslanbob every hour.
15. Osh
Osh is not only the gateway to Southern Kyrgyzstan, but also one of the oldest cities in the country with a history of more than 3000 years.
The thriving bazaar in Osh has been there on the exact same place for more than 2000 years. The holy shrines on the Suleiman Too mountain are of the same age. It towers over the city and still attracts thousands of pilgrims.
Osh is a city that will feel very different from the other cities in Kyrgyzstan. Being part of the Fergana valley it is a very multicultural city. Besides the nomadic Kyrgyz there are Uzbek, Tajik and other ethnic minorities that have been living together for centuries.
With so many cultures it is not a surprise that the food in Osh is as varied as the city. Its here that you will find the best food in Kyrgyzstan with some uniwue local recipies you won't find elsewhere in the country.
Osh is also a great city from where you can explore the nature in Southern Kyrgyzstan that receives much less tourists than other places even though it is just as spectacular.
Things to do: Suleiman too mountain, Osh bazaar
Things to see nearby: Sary Mogul and the Alay mountains, Arslanbob
Where to sleep: Guesthouse VIP, Konok Center hostel & Park hostel
For more information you can read my post on the best things to do in Osh.
How to get there: From Bishkek you can take a shared taxi that takes around 12 – 14 hours. Read more about how to travel from Bishkek to Osh.
16. Sary Mogul and the Alay mountains
Sary Mogul is a tiny village at the foot of the Alay mountains. Most people come here, because of peak Lenin. It is considered to be one of the easiest 7000 meter mountains to climb, but it is still a challenging 3 week expedition.
However, hiking to the Lenin Peak Basecamp is a relatively easy day hike from the nearby Tulpar kol lake where you can sleep in a yurt. Other mountain lakes and panoramic viewpoints are waiting for you in the Alay mountains.
The hiking opportunities here are one of the best in Kyrgyzstan and you are likely to have the trails for yourself. This is also a great place for longer treks if you have your own gear.
Things to do: Tulpar kol lake, hike to Lenin Peak Basecamp, Travellers Pass, Besh kol lakes, Kosh kol lakes
How to get there: The best way to travel to sary Mogul is from Osh in Southern Kyrgyzstan. There is a daily marshrutka at 2 pm from Osh to Daroot Korgon stopping in most settlements in the Alay valley. Make sure you are at the Osh bus station around 1 pm to get a seat (300 som) and expect to be in Sary Mogul around 6 pm.
Read more information in my guide about Sary Mogul and the Alay mountains.
Other places to visit in Kyrgyzstan
If this post with the best places to visit in Kyrgyzstan has convinced you to add this country to your bucketlist you can check my Kyrgyzstan itinerary.
3 weeks is a good amount of time to explore this country, but Kyrgyzstan has so much to offer that the more time you have, the better.
There are many other places to visit in Kyrgyzstan. It really is a wonderful country and for more inspiration I can recommend the travelblog from Journal of Nomads that has lots of excellent Kyrgyzstan content.
Sustainable Travel in Kyrgyzstan
Kyrgyzstan is seeing more tourists every year. While Tourism is a welcome source of income it can also have negative consequences. Traveling sustainably in the country, involves conscious choices that minimize your environmental impact and support the local community.
Support the local community: You can support the community by purchasing goods and services from local vendors, artisans, and restaurants. It is better to try Kyrgyz cuisine that uses local ingredients rather than imported foreign foods. Kyrgyz food is not very vegetarian friendly, but there are a few vegetarian restaurants in the capital of Bishkek.
Stay in small scale sustainable hotels: It is also better to stay in locally-owned guesthouses or homestays to support the local economy directly. These accommodations often have a more positive impact on the environment compared to large hotels. Kyrgyzstan has a number of community based tourism initiatives with excellent homestays. Where possible, I can recommend staying in a homestay for an authentic cultural experience. You might want to bring a small book with pictures of your family to break the ice.
You can try to look for guesthouses or homestays that prioritizes sustainable practices. That said, environmental awareness is still low. It's up to you to use water sparsely, turn off lights, air conditioning, and heating when leaving your accommodation.
Use public transportation: Kyrgyzstan has a well-developed public transportation system with buses and marshrutkas. Opt for public transport, whenever possible, instead of taxis or private cars to reduce carbon emissions. Avoid internal flights. The journeys on road might be long, but the views are spectacular.
Leave no Trace principle: Kyrgyzstan is famous for its natural beauty and mountains. When hiking, stick to designated trails when they are there, avoid disturbing wildlife or picking plants, and leave no trace of your presence. Ensure you take all your trash back with you and dispose of it responsibly.
To avoid single-use plastics, invest in reusable items. For example, you can bring your own water bottle with a filter that you can refill at your accomodation. At last, use biodegradable and eco-friendly personal care products to minimize pollution of water sources.
Respect the culture: Besides environmental concerns it is also important to respect the culture. Kyrgyzstan is an Islamic country with a nomadic past that is just opening up to tourism. Therefore, learn about the local customs and traditions beforehand and be mindful of your behavior.
People will appreciate it, if you dress modestly, especially at religious sites. Learning a few basic phrases in Kyrgyz or Russian, can go a long way in building meaningful connections and to learn more about the local culture. Not everybody is happy to have their picture taken. When in doubt, ask permission.
Disclaimer: This post about the best places to visit in Kyrgyzstan contains affiliate links. If you buy any service through any of my links, I will get a small commission at no extra cost to you. These earnings help me to keep Backpack Adventures alive! Thanks for your support!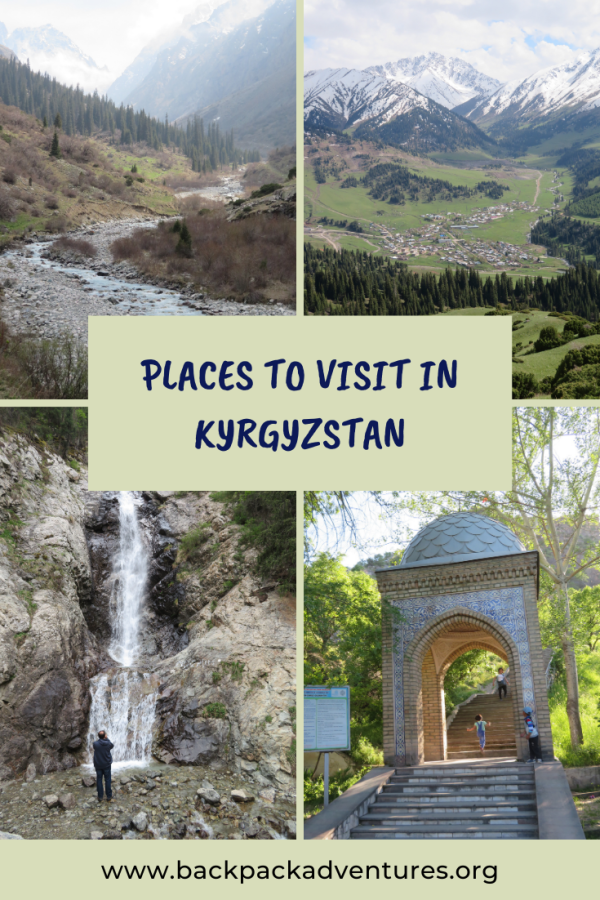 ---