The Best Places to visit in Uzbekistan
This post is about the best places to visit in Uzbekistan. Uzbekistan used to be one of those mysterious post Soviet countries that was difficult to get to. Only those who were going with an organized tourgroup or those brave enough to face the bureacratic hurdles were rewarded to see all the beautiful places to visit in Uzbekistan.
And that is a lot! There are a lot of incredible places to visit in Uzbekistan. Beautiful silk road cities, stunning desert landscapes, friendly people and delicious food. The good news is that Uzbekistan is now opening its doors for travellers. Whether you travel alone or not, since 2019 most nationalities can enter Uzbekistan visa free.
In this post I will share the best places to visit in Uzbekistan to help you plan your Uzbekistan itinerary for backpacking Uzbekistan.
Places to visit in Uzbekistan for food
Tashkent
The first place most people visit in Uzbekistan is the capital Tashkent. Together with Almaty in Kazakhstan, Tashkent is one of my favourite cities in Central Asia.
Let me start with the food. Central Asia can be a struggle for some people, especially vegetarians. However, Tashkent is a great place for food lovers. There are plenty of excellent restaurants representing every cuisine in the world as well as a number of vegan friendly places. Even Uzbek food, that is in my opinion one of the best in the region, is of excellent quality in Tashkent. Try National food to find out the variety on offer.
Second of all, Tashkent has a really nice atmosphere. Its a young city with friendly people that are happy to practice their english with foreigners that are still not as common as in touristy Samarkand, Bukhara and Khiva.
Because Tashkent was destroyed by an earthquake in 1966 and rebuilt by the Soviets, it is one of the best places in Uzbekistan to see Soviet architecture. The Soviets included Uzbek artists in the process and the result is an interesting mix of brutalist buildings and more Oriental style designs.
The Tashkent Metro stations are a great example and they belong to the most beautiful metro's in the world. Other examples are the iconic hotel Uzbekistan, the blue domed structure of Chorsu bazaar and the Istiklal palace representing the Khorezm fortresses.
Tashkent is a great introduction to Uzbekistan. It also has some of the best museums in central Asia. A visit to the State history museum or Fine Arts museum will give you a much better understanding about the country and its history.
Read more about Tashkent in my post about the best places to visit in Tashkent.
How to get there: Most people fly into Tashkent international Airport. There are also trains from Moscow, Almaty and Shymkent.
Eat: National food or plov centre
Sleep: Art Hostel, Top Hostel or Bukhara Gold Hostel
Places to visit in Uzbekistan for silk road architecture
Samarkand
Samarkand is the second biggest city in Uzbekistan and one of the best places to visit in Uzbekistan for those that love history and culture. Together with Bukhara it is also one the oldest cities in Central Asia. The archeological remains of the ancient Sogdian capital are still visible on a hill overlooking the city, but most of the tourist attractions date from the Timurid empire in the 14th and 15th century.
Amir Timur made Samarkand the capital of his empire. One that was meant to impress people. The Bibi Khanum mosque was to become the biggest and most beautiful mosque in central Asia. He somewhat succeeded although construction was pushed to the limits and the mosque requires continuous renovation.
What really leaves visitors in awe nowadays is the Registan. A square surrounded by three beautiful madrassah's rich in decorations and intricate patterns. Equally impressive are the Shah i Zinda necropolis and the Gur e Amir mausoleum where Amir Timur lies buried.
Most of these buildings were in ruins by the nineteenth century, but the Soviets had a blast resoring them. The renovations were done so lavishly that they are not without controversy. Some say Samarkand has lost its authenticity while others believe it was necessary to show off its former glory.
Read more in my Samarkand travel guide about the best things to do in Samarkand.
How to get there: from Tashkent it is 2 – 3 hours by train
Eat: Bibi Khanum Teahouse
Sleep: Timur the Great, Trip LE hostel or Amir hostel
Bukhara
Bukhara has a long history of trade, culture, scholarship and religion as a major city on the Silk road. Before the Soviets took over, Bukhara was the capital of the Emirate of Bukhara. Most famous was ruler Nasrullah Khan who imprisoned and killed two british envoys in 1843.
It is one of the best places to visit in Uzbekistan for an authentic Silk road experience. Despite its equally important role in history, Bukhara feels modest compared to Samarkand or Khiva. Renovations have been more subtle and therefore Bukhara feels more real than any of the other silk road cities in Uzbekistan.
At the heart of Bukhara lies the Lyab I Hauz pond surrounded by some of Bukhara's most beautiful mosques and madrassahs. It is easy to spend an afternoon here drinking tea and watching people or wandering through the narrow alleyways. Bukhara is best explored on foot. Don't miss the chor minor or the covered bazaars either.
Read more in my Bukhara travel guide about the best things to do in Bukhara.
How to get there: from Tashkent it is 4 – 5 hours by train
Eat: Minzifa
Sleep:Parviz guesthouse
Khiva
Khiva is one of the best places to visit in Uzbekistan if you want to travel back in time. Little Khiva reminded me a lot of Yazd in Iran. Another desert city full with history and beautiful Islamic architecture. Despite the lavish renovations, Khiva still feels old. It's history as a silk road city shines through.
What few people know was that, on the silk road, Khiva was famous for its slave market. In the passageway at the east gate you will still find niches in the walls where the slaves were kept. However, if you wander through the old town it is easy to forget its dark past, because you will be impressed by the beautiful thousand and one night architecture.
Khiva feels a bit like an open air museum. Especially during the day, the old walled city is invaded by tourgroups and locals selling souvenirs. But, in the early morning or late evenings you have the place almost to yourself. watching the sunset from the top of the old city wall is magic.
Read more in my Khiva travel guide about the best things to do in Khiva.
How to get there: From Tashkent there is a night train that runs a few times a week.
Eat: Khorezm cafe & Terassa
Sleep: Islambek Khiva
Places to visit in Uzbekistan for culture
Kokand
Kokand was the capital of the Khanate of Kokand. During the 18th and 19th century the city was just as important as Bukhara. It was a major city of trade, religion and development in what is now the Fergana valley.
Unfortunately, not much of its long history is still visible. Most of the city was built after Kokand became a Russian vassal state in 1868. Still, the Kudayar Khan palace of the last khan definetly warrants a visit. There are also some mosques and madrassah's that are worthwhile.
With few other tourists, Kokand is one of the best off the beaten path places to visit in Uzbekistan and a chance to see Uzbek culture in the Fergana valley that is still rekatively untouched by tourism.
How to get there: from Tashkent it is 4 – 5 hours by train
Eat: Cafe Kapriz
Sleep: Ahmadkhon hotel
Nukus
Remote Nukus is the capital of the autonomous Karakalpakstan. This unappealing town is interesting for two reasons. First of all, it is the best place to learn more about Karakalpak culture. The nomadic Karakalpak people have their own unique language, culture and traditions that they have more in common with the Kazakh people than the Uzbek people.
The second reason to visit Nukus is the Savitsky museum. Savitsky was a Russian man that visited Nukus and developed a special interest in the people of Karakalpakstan. He started to collect items like carpets, jewellery and clothes to display Karakalpak culture.
Savitsky opened the Nukus Art museum in 1966 after which he also started to collect Russian art. Some of it was banned by the Soviet Union, but somehow protected by its remote location in Nukus. The museum currently has over 82,000 works of art and the second largest collection of Russian avant garde paintings.
Read more in my Nukus travel guide about the best things to do in Nukus
How to get there: there is a sleeper train from Tashkent twice a week.
Eat: cinnamon cafe
Sleep: Jipek Joli, Jipek Joli inn or Bez Qala guesthouse
Places to visit in Uzbekistan for artisanal crafts
Margilon
Another off the beaten path destination in the Fergana valley is Margilon. Famous for its silk and traditional ikat designs.
The Yodgorlik silk factory gives free tours to show you the traditional process of silk production. Everything is handmade and you can meet the people weaving silk carpets, making the natural colours and designing the ikat patterns.
Margilon is the best place to visit in Uzbekistan if you want to buy ikat silk. Of course you can buy some in the Yodgorlik silk factory, but also at the lively Kumtepa bazaar. The bazaars in the Fergana valley were among the most colourful in the country.
How to get there: from Tashkent it is 4 – 5 hours by train or shared taxi
Eat: Soy Boy
Sleep: Ikat house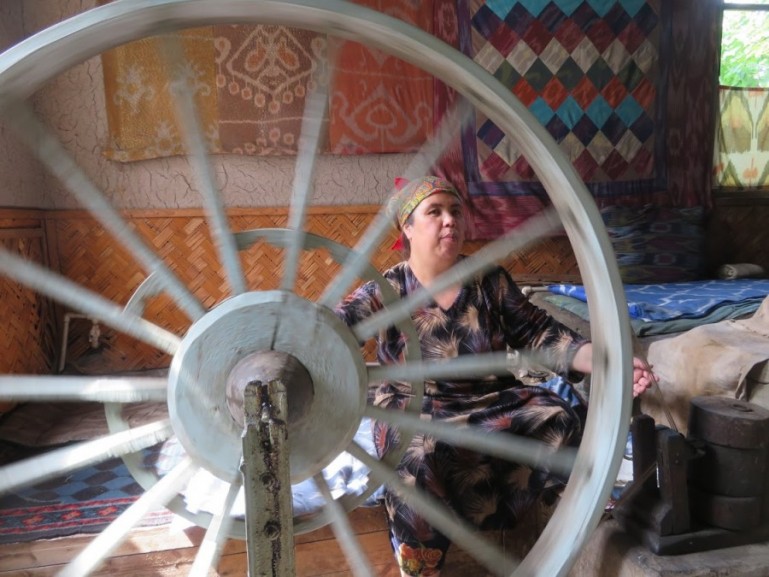 Rishton
The Fergana valley is famous for its ancient handicraft traditions. While Margilon is famous for Ikat Silk. Nearby Rishton is renowned for its high quality pottery and ceramics.
Everywhere in Rishton you see the most beautiful ceramics for sale. There are only a few artists left that still use traditional techniques. The workshop of Rustam Usmanov welcomes visitors to have a look. You will be given a short, but insightful explanation on Rishton's ancient pottery art.
I was most impressed by the people painting the delicate and detailed designs. It's really a work of art and Rishton is without doubt one of the best places to visit in Uzbekistan for buying ceramics
How to get there: from Margilon it is about 1,5 hour by shared taxi with a change in Fargona town.
Eat: if you reserve in advance the workshop of Rustam Usmanov can arrange lunch
Sleep: It is best to visit on your way from Margilon to Kokand. In Kokand you can sleep in Ahmadkhon hotel and in Margilon in Ikat house
Places to visit in Uzbekistan for history
Moynaq and the Aral Sea
Moynaq is one of the best places to visit in Uzbekistan to get a better understanding of the Aral sea disaster. Along with Chernobyl it is one of the most tragic chapters in Soviet history.
Moynaq was once a wealthy town at the shore of the Aral sea. Fishing was their main source of income untill the Soviets decided to make Uzbekistan the main cotton producing region of the Soviet Union.
Large scale irrigation drained the Aral sea and turned the province of Karakalpakstan in a barren desert landscape. Nowadays it is the poorest region with some of the highest levels of unemployment.
All what is left in Moynaq of its former glory days is the ship graveyard in the former sea bed. The actual sea shore is now 150 kilometers away and you need a four wheel drive to get there. It is the biggest ecological disaster in central Asia.
This description of Moynaq is not very appealing, but strange as it might sound there is a certain beauty in the remote desert landscapes of Karakalpakstan. My visit to Moynaq is not something that I will easily forget and it emphasizes the importance of preserving our ecosystems.
How to get there: From Tashkent there is a nighttrain to Nukus a few times a week. Nukus is the capital of Karakalpakstan and the best place to organize a tour to Moynaq. Read my Moynaq travel guide to see how you can visit Moynaq on your own by public transport.
Eat: Cinnamon cafe in Nukus
Sleep: It is best to sleep in Nukus in Jipek Joli or Jipek Joli inn
The Khorezm fortresses
Before I went to Uzbekistan I had never heard of the Khorezm fortresses. It was in Khiva where I had an extra day that my hostel owner convinced me to take a tour to these ancient desert castles. The pictures didn't look so special, but pictures can't do justice to the remains of this huge .
The desert castles of Khorezm are old and the ruins sometimes require a lot of imagination. However, the locations are absolutely spectacular. I visited 10 castles where we were often the only people around. I felt like an amateur archeologist and it was one of the highlights of my trip in Uzbekistan.
How to get there: From Khiva you can arrange a tour to the Khorezm fortresses. I arranged my tour through Islambek travel from the Islambek Khiva hostel.
Eat: there are some restaurants on the way. Probably your driver knows where to find them.
Sleep: It is best to sleep in Khiva in Islambek Khiva.
Mizdakhan
Just outside of Nukus, in the middle of the desert lies the ancient necropolis of Mizdakhan. It is still an active place of worship where people come to pray or bury their death. Among the newer graves are hundreds of ruins of ancient tombs.
Mizdakhan speaks of ancient civilizations, religions and traditions . The archeologist and explorer inside you will love this place.
How to get there: From Nukus it is about 15 minutes by taxi
Eat: Cinnamon cafe in Nukus
Sleep: it is best to sleep in Nukus in Jipek Joli or Jipek Joli inn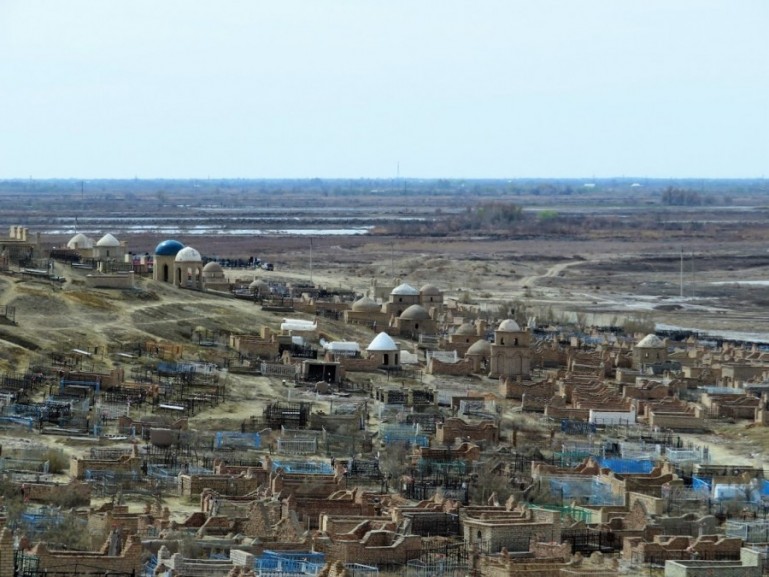 Places to visit in Uzbekistan for nature
Chimgan mountains
If you are looking for nature, some people will tell you, you have chosen the wrong country. They are right and wrong. Most of Uzbekistan is desert and for alpine mountain landscapes you can better head to neighbouring Kyrgyzstan, Kazakhstan or Tajikistan.
Chimgan is the exception though. North of Tashkent you will find the beautiful Chimgan mountains. Part of the Ugam Chatkal National park and bordering the Aksu Zhabagly national park in Kazakhstan, this is one of the best places to visit in Uzbekistan for nature.
It is an extremely popular weekend get away for those living in Tashkent that are looking for a way to escape the city. For tourists it is less known, because of the difficulty getting there. Public transport is limited, but if you have a group of people it is well worth the expense of hiring a taxi for the day.
Chimgan offers all kind of activities. From hiking to quad bikes and paragliding above the deep blue Charvak lake.
How to get there: Chimgan is 2 hours from Tashkent by private transport or a combination of shared taxi's. Read more in my Chimgan travel guide on how to get there
Eat: there are some nice restaurants next to the road near Charvak lake
Sleep: it is best to sleep in Tashkent in Art Hostel, Top Hostel or Bukhara Gold Hostel
Nuratau Mountains
Another area that is great for nature lovers are the Nuratau mountains. The Nuratau mountains offer a great combination of culture with natural beauty. It is home to a number of traditional Uzbek villages that have opened their doors to small scale community based tourism projects.
It is a great way to experience rural Uzbek life in an area famoud for its picturesque landscapes. The Nuratau-Kyzylkum Biosphere Reserve, located in the Nuratau Mountains, is a protected area renowned for its rich biodiversity. The reserve provides a habitat for various rare and endangered species
Other places to visit in Uzbekistan
In this post I only mentioned the top 12 places to visit in Uzbekistan. They are certainly not the only places you can go to. The remote region of Karakalpakstan has much more to offer than only Moynaq and the Khorezm fortresses. The same applies to the Fergana valley where lots of traditional towns are waiting to be explored.
From Samarkand you can also venture into the little explored Nuratau mountains and Shakrisabz, the birth place of Timur the Great. Further on lies Termez. This border town near Afghanistan has some interesting archeological ruins.
As you can see, the list of places to visit in Uzbekistan is long. A lot of people only focus on the silk road cities of Khiva, Bukhara and Samarkand, but there is much more to see and do in this diverse country.
2 to 3 weeks is a good amount of time to see all the places to visit in Uzbekistan mentioned above. You can check my Uzbekistan itinerary for inspiration.
Sustainable Travel in Uzbekistan
Uzbekistan is seeing more tourists every year. While Tourism is a welcome source of income it can also have negative consequences. Traveling sustainably in Uzbekistan, involves conscious choices that minimize your environmental impact and support the local community.
Support the local community: You can support the community by purchasing goods and services from local vendors, artisans, and restaurants. Uzbekistan is famous for its beautiful handicrafts such as ikat silk and pottery. It is better to try Uzbek cuisine that uses local ingredients rather than imported foreign foods.
Stay in small scale sustainable hotels: It is also better to stay in locally-owned guesthouses or homestays to support the local economy directly. These accommodations often have a more positive impact on the environment compared to large hotels.
Uzbekistan has a number of community based tourism initiatives with excellent homestays. Where possible, I can recommend staying in a homestay for an authentic cultural experience. You might want to bring a small book with pictures of your family to break the ice.
You can also try to look for guesthouses or homestays that prioritizes sustainable practices. That said, environmental awareness is still low. It's up to you to use water sparsely, turn off lights, air conditioning, and heating when leaving your accommodation.
Use public transport: Uzbekistan has a well-developed public transportation system with shared taxis and marshrutkas. Opt for public transport, whenever possible, instead of private cars to reduce carbon emissions. Avoid internal flights. The journeys on road might be long, but the views are spectacular.
Leave no trace principle: Uzbekistan has mountains and nature too. When hiking, stick to designated trails when they are there, avoid disturbing wildlife or picking plants, and leave no trace of your presence. Ensure you take all your trash back with you and dispose of it responsibly.
To avoid single-use plastics, invest in reusable items. For example, you can bring your own water bottle with a filter that you can refill at your accomodation. At last, use biodegradable and eco-friendly personal care products to minimize pollution of water sources.
Respect the culture: Besides environmental concerns it is also important to respect the culture. Uzbekistan is an Islamic country that is just opening up to tourism. Therefore, learn about the local customs and traditions beforehand and be mindful of your behavior.
People will appreciate it, if you dress modestly, especially at religious sites. Learning a few basic phrases in Uzbek or Russian, can go a long way in building meaningful connections and to learn more about the local culture. Not everybody is happy to have their picture taken. When in doubt, ask permission.
Disclaimer: This post about the best places to visit in Uzbekistan contains affiliate links. If you buy any service through any of my links, I will get a small commission at no extra cost to you. These earnings help me to keep Backpack Adventures alive! Thanks for your support!
---
---