Things to do in Qazvin Iran: travel guide
This post is a travel guide with the best things to do in Qazvin Iran. Qazvin was just a necessary stop on my way to Masuleh and Alamut and I was not expecting so much of this city. I was not so lucky with the weather either. When I arrived it was pouring rain.
The deluxe VIP bus from Hamadan dropped me off on the highway. Immediately taxi drivers approached me with ridiculous prices. This was probably the first place where they were actually overcharging me.
At my hotel I also needed to do some serious bargaining. It all did not look very promising to me, but as with so many cities in Iran it turned out to be a pleasant experience full of wonderful surprises.
Why visit Qazvin Iran?
There are actually a lot of things to do in Qazvin and it is surprising that it doesn't get the same attention as cities like Shiraz, Isfahan and Yazd. Qazvin has an equal amount to offer if it comes to history and beautiful Islamic architecture. In Qazvin there are small reminders of it's rich past around every corner. Some of them are not mentioned in any guidebook.
The good thing is that you are likely to be the only foreign tourist around. I felt like an explorer finding many hidden treasures. If you ask me whether it is worth it to travel to Qazvin my answer is a full yes. I really liked Qazvin and there ware much more things to do in Qazvin than I had expected.
I hope this Qazvin travel guide convinces you that there are plenty of reasons to visit Qazvin.
Qazvin's Qajar dynasty
Qazvin might be overlooked these days, but it was a very important city in Iran. The city was the capital of the Persian empire under the Safavid kings from 1548 till 1598. Later it became an important trade city under the Qajar dynasty. I was happy to see that a lot of historical buildings are well preserved. Parts of the old city walls and the old gates are still standing and they are decorated with colourful mosaics and tiles.
The Qajars also built a lot of water reservoirs also called ab anbars. The Sardar Bozorg ab anbar is the largest single dome water reservoir in Iran. It might not look very impressive from the outside, but if you think about it's construction it is pretty amazing.
The actual water storage was built below ground level to withstand earthquakes. The materials used where very strong, including special mortar called sarooj that contains several ingedrients such as egg whites, lime and goat hair. The gatelike stairways leading to the water storage often have coulourful patterns at the front.
Things to do in Qazvin Iran
1. Bazaar
Bazaars in Iran never get boring. Each bazaar has its own charm and atmosphere. The bazaar in Qazvin is among the top things to do in Qazvin with its beautiful hidden architectural wonders inside. It is the historical heart of the city and most tourist attractions are either within the bazaar or nearby.
For food lovers the bazaar has the best restaurants in Qazvin serving kebab and local delicacies.
2. Caravanserai
Qazvin has one of the biggest urban caravanserai complexes in Iran. It had bathhouses, mosques, trade centers and tea houses. It is renovated and now has some up scale stores selling souvenirs, jewellery and designer clothes.
The caravan serai is still a beautiful place to visit in Qazvin and it is not hard to imagine what the days of the Silk road were like.
3. Nabi mosque
The Nabi mosque is a beautiful Qajar mosque in the bazaar. It is also called Masjid e Soltani and some believe it was already built by the Safavids, despite its Qajar characteristics. In any way it is a sight not to be missed when you are in Qazvin.
4. Qazvin's city gates
Qazvin was surrounded by nine beautifully ornamented city gates from the Qajar era. Unfortunately, only two of them are still standing and are now in the middle of the city.
Darb – e Koushk Gate = The oldest and most beautiful gate in Qazvin. This is where people entered the city if they came from places north of Qazvin. It is at the end of Azadi street
Tehran Gate = One of the three gates that lead to Tehran is still standing strong with its beautiful tile work.
5. Jame mosque
The jame mosque south of the city is one of the oldest mosques in Iran. Its foundations were built on an ancient Zoroastrian fire temple. It survived the Mongol invasion, was extended by the Safavids and Seljuks and is recently renovated after a fire.
The current complex has a water reservoir and a large underground cooling space. It is worth a visit for its peaceful and meditative atmosphere and the beautiful architecture.
6. Imamzadeh-ye Hossein
The best way to explore any city in Iran is to walk around. Surprises will come to you by itself. Not far from the bazaar I found an Imamzadeh. A religious shrine where descendants of a holy Imam are buried. Shia muslims believe that visiting an imamzadeh will bring you good luck. Some even believe that a visit can make your wishes come true or will heal any disease.
In my experience visiting an imamzadeh was more popular than visiting a mosque, especially among women. The shrine in Qazvin is where the 8th son of Imam Ali was buried. Inside they were playing religious songs to mourn the death of Imam Hossein.
I was impressed by the spiritual atmosphere in the air and the deep devotion among the visitors. It was a wonderful place to listen to religious songs and watch the sun go down and by far the most interesting place I visited. My visit to the mosques were quite different. Despite the beautiful architecture there were few visitors.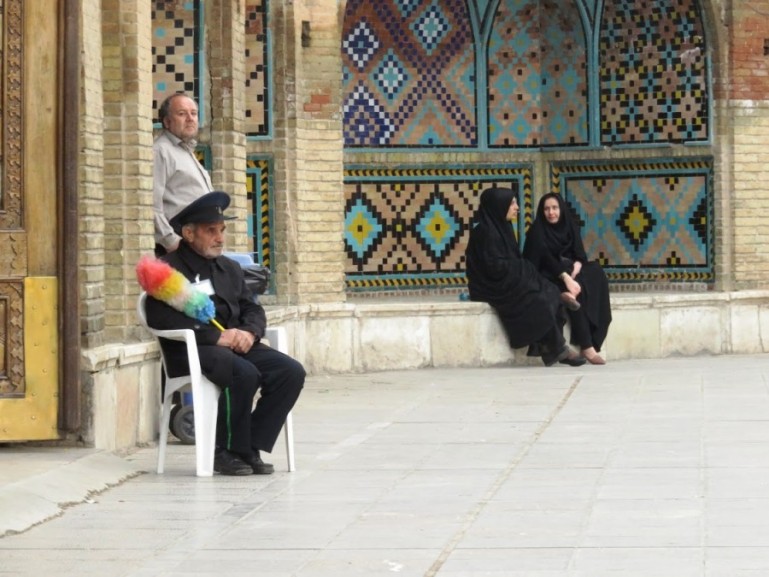 7. Chehel Sotun Royal Palace
The Chehel Sotoun palace is not to be misstaken with the Chehel Sotun palace in Isfahan. It were the Safavids that decided to built two forty columned pavillions. One in Isfahan and one in Qazvin.
The gardens were built in the seventeenth century and the Qajars made it their royal palace. throughout its history much buildings have been addedd, removed and lost to time. Only the pavillion still stands and now houses the small Qazvin museum.
8. Aminiha House
Like the traditional homes in Kashan, Qazvin had some wealthy merchants homes built in a luxurious style. Aminiha house is one of the few that still remains in Qazvin. It is beautifully decorated with glassworks and mirrors.
9. Try out Geymeh Nasser
One of my favourite things to do in Qazvin was trying out some of its local delicacies. Qazvin's speciality is Geymeh Nasser. This regional recipy is inspired by the Iranian dish of Geymeh and absolutely delicious. You can try Geymeh Nasser in Nobahar restaurant. Read more about Geymeh and other Persian dishes in my Persian food guide.
10. Eat fresh bread from the oven
What I love so much in Iran are the traditional bakeries in every city. In the mornings they are extremely busy with people waiting in line to get their fresh loaf of bread. Qazvin is no exception.
Qazvin has some really good bakeries where you can try different types of bread still warm from the oven.
Things to do near Qazvin
11. Alamut valley and the castle of the Assasins
Qazvin is the perfect place from where you can visit the beautiful Alamut valley and the castle of the Assasins. It is one of the best nature getaways in Iran and a perfect place for some hiking.
How to get there: Shared taxi's to the Alamut valley depart from Qaribkosh square (also called Minadar square), 2 kilometers east of Valiasr Square.
It is also possible to book a one day or a 2 day tour from Qazvin with 1stQuest.
12. Masuleh and Gilan
The stepped village of Masuleh is relatively easy to visit from both Qazvin and Tehran and therefore very popular among local tourists. It is not as authentic as the cherry blossom village Gazor Khan or the traditional village of Palangan, but still a nice place to visit from Qazvin.
How to get there: catch one of the frequent buses to Rasht and take a shared taxi from there to Fuman and Masuleh.
Where to eat in Qazvin
1. Nobahar
Nobahar in the bazaar is the best place to try Qazvins speciality Geymeh Nasser. Unfortunately they are only open till 4 pm.
2. Bazaar
Head to the bazaar for the best restaurants serving kebabs or to stock up on fresh fruits and vegetables.
Where to sleep in Qazvin
Booking hostels in Iran online is rather difficult. Because of the sanctions, most regular sites like Booking.com or Airbnb won't work.
To book your hotel beforehand you either need to contact them directly or use 1stQuest
They are one of the few companies where you can plan most of your trip to Iran beforehand. They can book hotels online, arrange airport pick ups, domestic flight tickets and bus tickets.
1. Khaksar hotel
Khaksar hotel is probably one of the cheapest options in Qazvin. The staff is a bit funny, but the rooms are ok. Do negotiate about the price.
2. Alborz hotel
The Alborz Hotel is slightly more expensive than Kaksar hotel, but with much better facilities.
Qazvin Iran travel tips
When to visit Qazvin
Most people visit Qazvin to see both the city as well as the Alamut valley and Masuleh. Therefore, the best times to visit Qazvin are spring and autumn. Do keep in mind that spring is also one of the wettest time of the year. Expect a lot of rain, but also a lush green landscape. Autumn brings beautiful colours in the trees and has more stable weather.
Summer might be pretty warm in Qazvin itself, but this is a great time to go hiking in the mountains so you can escape the summer heat easily. Winters might be chilly and it will be more difficult to head to the mountains because of snow.
Money matters in Qazvin
Due to the sanctions, Iran has been cut off from the international money transfer system. There are no ATM's in Qazvin that will work with a foreign bank card. You will have to bring all your money in cash (euro's or dollars).
Safety in Qazvin
Qazvin is a very safe city with low crime levels and if you follow normal precautions you should not face any problems.
For solo female travellers I wrote a post with tips and advice about traveling as a woman in Iran.
How to get to Qazvin
There are frequent buses to and from Tehran (3 hours), Hamedan (4 hours), Rasht (3 hours), Esfahan (6 hours) & Kermanshah (7 hours).
You can check the bus times and book your bus tickets on the 1stQuest booking system.
Disclaimer: This travel guide about the best things to do in Qazvin Iran contains affiliate links. If you buy any service through any of my links, I will get a small commission at no extra cost to you. These earnings help me to keep Backpack Adventures alive! Thanks for your support!
---
---