Masuleh Iran: the beautiful mountains of Gilan
This post is a travel guide about Masuleh Iran. A small mountain village in the northern province of Gilan. The village is famous for its unique architecture and stunning natural beauty. Masuleh is built on the steep side of a mountain, and the houses are forming a stepped structure. The roofs of the lower houses serve as the courtyards for the upper houses.
While planning for my trip to Iran I was immediately inspired by stories about the mountains of Gilan and the traditional rooftop village of Masuleh. Gilan has a mediterannean climate close to the Caspian sea and is therefore one of the few places where rice grows.
Unfortunately Masuleh and Gilan are also one of the wettest parts of Iran. When I travelled from Qazvin to Masuleh it started raining. The green rolling hills and paddy fields were hidden behind thick clouds of mist. Luckily I stayed for a couple of days and after rain comes sunshine.
Why visit Masuleh Iran?
Most people travel from Tehran to Masuleh in a single day. This is very well possible, but slow travel can be very rewarding in the province of Gilan. Not only are your chances high to see some sunshine coming through the clouds, but you will also be surprised by the variety of things to do in and around Masuleh Iran.
Gilan is not a place to rush through, but deserves your time to take in the bazaars on your way and the delicious local specialities like klucheh fuman and mirzah gasemi. While Persian food in general isn't necessarily vegetarian friendly, Gilan has a number of meat free dishes such as bean and eggplant stews.
The green rolling hills and rice paddies are also a very different landscape from the desert in the southern provinces of Iran. This area is often overlooked by foreign travellers, but for good reasons very beloved as a tourist destination among those from Tehran. After my visit it is not hard to understand why and I will for sure include more time in Gilan on my next trip to Iran.
A journey to Masuleh Iran
First stop in Rasht
My first stop on my way to Masuleh in Iran was Rasht. Rasht was one of the most liberal cities I visited in Iran. The black chador was in the minority and instead tight manteau's and colourful headscarves were in fashion. The center felt almost european with a modern shopping street where girls and families roamed the street.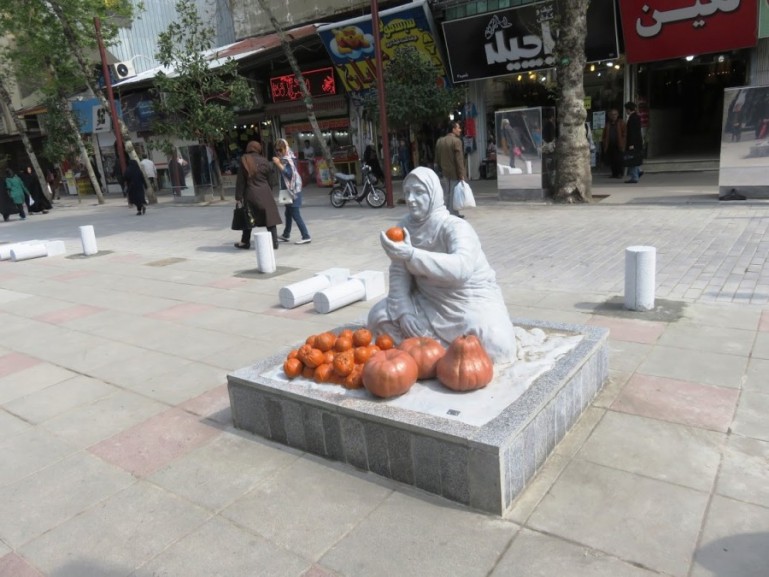 Rasht bazaar
One of my favourite things to do in any city in Iran is a visit to the bazaar. The bazaar in Rasht was a lively affair and the products on offer reveal that we are close to the Caspian sea. The amount of fish was impressive and I also saw a lot of vendors selling ducks.
I was soon invited in a liver kebab shop where the owner made me taste a greasy mixture of intestines. Honestly, not my favourite. The grilled liver kebab that I ended up ordering was superb though.
Rasht is definetly worth a day of your time. Check this post from Travestyle for a more comprehensive guide on Rasht.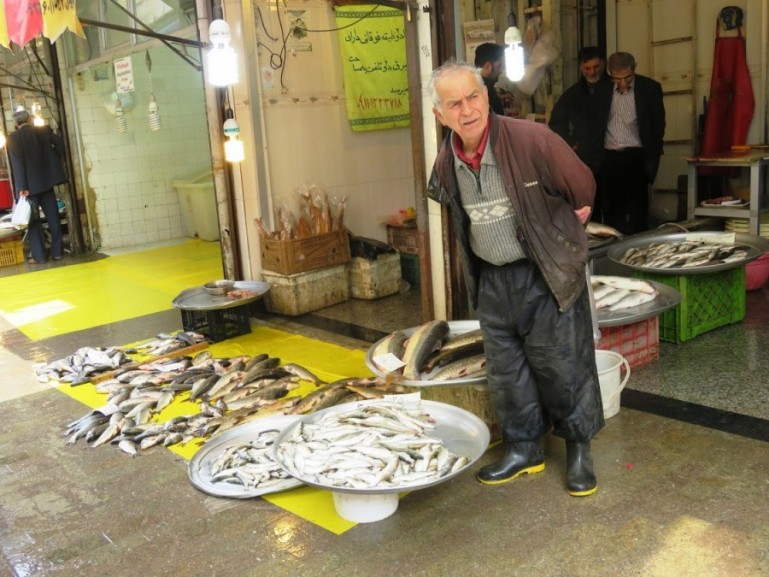 Second stop in Fuman
After a good night of sleep in Rasht I was ready for my next destination. I took a shared taxi to Fuman. The rain was back in full force and on the road I could see a lone tourist on a cycle. Rather impressed we left him behind us.
In Fuman I had to walk through town to get to the taxi stand for Masuleh. Fuman is not so big and a few hours is enough to see the bazaar and try the local delicacy they are famous for. Every bakery in town sells Klucheh Fuman. Cookies filled with a warm walnut paste. Take some with you, but also have one fresh from the oven.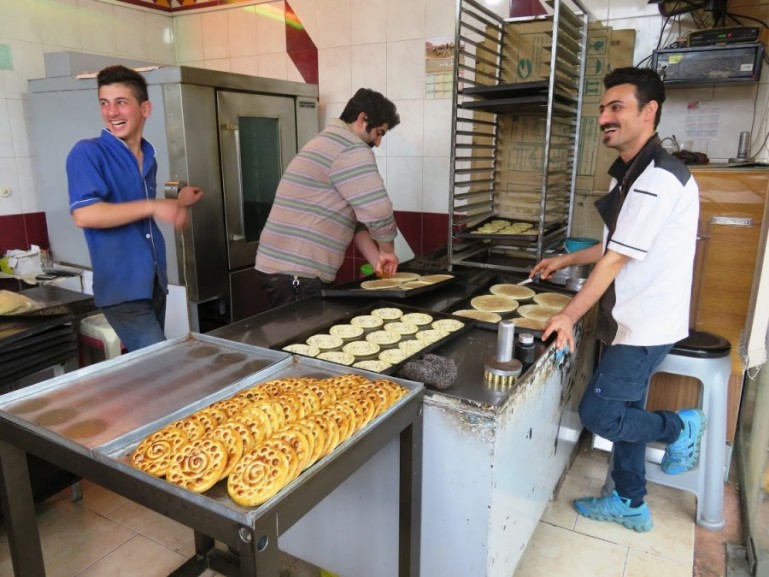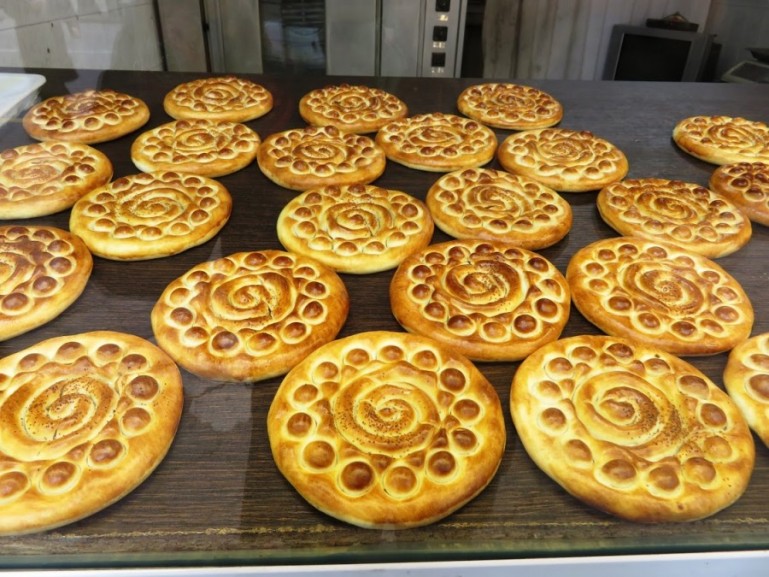 Final stop in Masuleh
Once I arrived in Masuleh it stopped raining. I got a nice room in town with a beautiful view on the mountains. Masuleh is an old village, but had to change its location, because of earthquakes and plagues. There is not much left of Old Masuleh that is six kilometers from new Masuleh.
The new location is the result of careful planning. Lower and there would have been floods. Higher and it would have been too cold in winter. The ochre brown buildings follow the slope of the mountain and are unique in that in most cases the roof of the houses serve as the street for the houses above them. With the natural rocks as a foundation the village is now believed to be earthquake resistant.
My experience in Masuleh Iran
Masuleh is advertised as a so called traditional stepped village, but it lost its rural essence long ago. Yes, it is remote and yes, it is in the mountains, but it is also a very popular tourist destination for people from Tehran.
Expect lots of Iranian families with their selfie sticks. One of the popular things to do in Masuleh was taking pictures in traditional clothes. Especially in summer, Masuleh is full with local tourists. Luckily, I was still early in the season and it was more quiet now.
My feelings about Masuleh were a bit mixed. It wasn't the dreamy place I had expected it to be. Masuleh is far removed from being an authentic rural village. If that is what you are looking for, it is better to visit Palangan in Kurdistan or Gazor Khan in the Alamut Valley.
That said, the journey to Masuleh through the Gilan province was quite spectacular. If I return to Iran I am sure that I will include Gilan in my itinerary again, but then visit some other places like Lahijan and Ramsar.
Hiking in Masuleh
Masuleh also has a spectacular location with incredible mountain sceneries. Even the rain makes it more beautiful when the mist and clouds play their games and the sun is trying to shine through.
Masuleh is prime hiking territory and because few tourists actually go out of Masuleh it is not too difficult to escape the crowds. Just follow some of the paths up the mountains and you will be all alone with a few sheeps and maybe a herder.
Hiking is one reason to come to Masuleh and the friendly people are another. A sense of community does survive and the rooftops do not only serve as streets. It's where children play and people meet to discuss the latest gossips. Foreign tourists are still in the minority and you will likely attract some friendly attention.
People told me that there was one other dutch tourist in town. It turned out to be the lone cyclist I met on the road to Fuman. He had some interesting stories to tell about his experiences cycling in China. Now he is cycling through Iran and his plan for the next day was to cycle up the mountain towards the Caspian sea. My plan was to head to Tehran.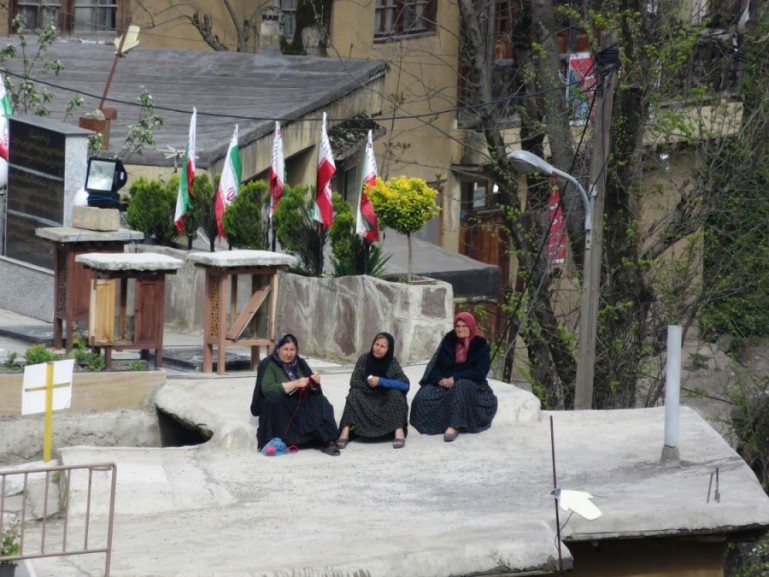 Masuleh Iran Travel Tips
Where to eat in Masuleh Iran
Because Masuleh is such a popular tourist destination, hotels and restaurants tend to be a bit overpriced. There are plenty of restaurants serving kebab and rice.
If you are on a budget your best bet are the teahouses. Some of them serve Asht-e Reshteh. A filling noodle soup with herbs that makes a perfect lunch or dinner.
You can read more in my Persian food guide about what to eat in Iran.
Accomodation in Masuleh Iran
Booking hostels in Iran online is rather difficult. Because of the sanctions, most regular sites like Booking.com or Airbnb won't work.
To book your hotel beforehand you either need to contact them directly or use 1stQuest
They are one of the few companies where you can plan most of your trip to Iran beforehand. They can book hotels online, arrange airport pick ups, domestic flight tickets and bus tickets.
Rasht: I stayed at the basic Hotel Kenareh (clean place with good WiFi).
Masuleh: Masuleh has plenty of accomodation. It will not be difficult to find anything, but you will have to negotiate. A man approached me at the bus station and gave me a good offer. They will show their most expensive rooms first, but if you negotiate they will show you the cheaper rooms they have. I had a clean and nice room with kitchen and bathroom for 400,000 rials.
When to visit Masuleh Iran
The best time to visit Masuleh Iran is in late spring and early autumn. Do keep in mind that spring is also one of the wettest time of the year. Expect a lot of rain, but also a lush green landscape. Autumn brings beautiful colours in the trees and has more stable weather.
While most places in Iran sees soaring temperatures in summer, Masuleh offers some cooler air. This is the best time for hiking in the mountains. Winters will be cold with lots of snow. It might be difficult to reach Masuleh at that time.
Safety in Masuleh
Iran, including Masuleh, is generally a safe destination for travelers, and millions of tourists visit Iran each year. The city has low crime levels. However, it is always important to exercise caution and take necessary safety precautions while traveling.
Update 2023: A wave of protests erupted throughout Iran in 2022 and 2023. Although this is not a reason to avoid Iran, it is good to know that these protests can become violent. Due to the political situation, it is even more important to be aware of your surroundings. Avoid political demonstrations, expressing strong political opinions and respect the local rules of law. As a foreigner it is better to be safe than sorry.
For solo female travellers I wrote a post with tips and advice about traveling as a woman in Iran.
How to get to Masuleh Iran
Tehran to Masuleh: The quickest way to get to Masuleh from Tehran is by taking a bus to Fuman (5 hours) or Rasht (4 hours).
Qazvin to Masuleh: If you travel from Qazvin to Masuleh you should take a bus to Rasht (3 hours). From Rasht you have to take a shared taxi to Fuman (1 hour) that are leaving from Yakhsazi square. When you arrive in Fuman you can take a private taxi or walk the 2 kilometer to the shared taxi stand for Masuleh (30 minutes).
You can check the bus times and book your bus tickets on the 1stQuest booking system.
Disclaimer: This post about Masuleh Iran contains affiliate links. If you buy any service through any of my links, I will get a small commission at no extra cost to you. These earnings help me to keep Backpack Adventures alive! Thanks for your support!
---
---