Russia's Golden Ring Cities: the best 10 day itinerary
Due to the current situation I advice against travel to Russia at the moment. All affiliated links related to Russia have been removed. But I have decided to keep my posts about Russia as it remains a beautiful country. I hope that circumstances change and that travel is possible again in the near future.
In this post about Russia's Golden Ring cities I will share the ultimate golden ring itinerary. One of the most picturesque and historic parts of Russia. This is the Russia you imagine, with rural villages, wooden houses and onion domed churches set amidst picturesque landscapes.
Russia's Golden Ring cities are a world away from Moscow. The capital is there to impress you. Sometimes in a good way and sometimes less so. However, Moscow is only one face of Russia.
Around Moscow you will find Russia's Golden Ring. A circle of ancient towns from the medieval period that played an important role in the development of the Russian state and the Russian orthodox church. Most of them are on the UNESCO world heritage list because of their ancient monasteries, cathedrals and kremlins.
Some of Russia's Golden ring cities are possible to visit as a day trip from Moscow. Others are a destination in itself. They are all connected by public transport and traveling in between them is pretty straightforward and easy.
This Golden Ring itinerary will be a highlight of your trip to Russia and will bring you to the most beautiful Golden ring cities.
Russia's Golden Ring cities
There has been a big debate which cities are included within Russia's Golden Ring. Therefore the Soviets made an official list with Sergiev Posad, Pereslavl Zalessky, Rostov Veliky, Yaroslavl, Kostroma, Ivanovo, Vladimir and Suzdal.
Some Golden ring itineraries also include smaller towns like Uglich with its ancient Kremlin or Alexandrov, the former residence of Russian princes.
Although each Golden Ring city has its own charms, the architecture is somewhat similar. You will see colorful onion domes, intricate frescoes, and ornate decorations, showcasing the unique Russian style. Therefore it would not make sense to include all of them in your Golden ring itinerary.
After some background research I decided to focus my own Golden Ring itinerary on the Golden Ring cities of Sergiev Posad, Yaroslavl, Vladimir and Suzdal.
Russia's Golden Ring itinerary
Day 1 – 4: Moscow
Any Golden ring itinerary starts in Moscow. Russia's crazy and chaotic capital. Personally, I didn't particularly like Moscow, yet it is fascinating and has lots of interesting things to do. 4 days in Moscow would be enough to see its major attractions like the Moscow metro, the Red square and the Kremlin.
Moscow offers a great introduction to Russia and it is a good way to start your Golden Ring itinerary.
Day 5: Sergiev Posad
Sergiev Posad is either an easy day trip from Moscow or a stop over on your way to Rostov Veliky and Yaroslavl.
Sergiev Posad is probably one of the most important Golden Ring cities, because it is the seat of the Russian orthodox church. In other words, it's like the Vatican of Russia. It all started with Saint Sergius. He was a hermit that lived in the forests around Sergiev Posad.
Other monks joined him and soon Saint Sergius became their spiritual leader. He built a small wooden church in 1337 and this is how the holy Trinity monastery started. Later Saint Sergius was declared the patron saint of Russia. After that the monastery grew into one of the most important monasteries of Russia.
The complex has several churches and cathedrals. Each with beautiful and ancient frescoes. It still is an active place of worship and even if you are not religious, watching a Russian orthodox mass is an enchanting experience.
Although this is not included in this Golden Ring itinerary, Sergiev Posad is also a good place from where you can make day trips to the other Golden Ring cities of Alexandrov and Pereslavl Zalessky.
Alexandrov is where tsar Ivan the terrible lived for 16 years and has an ancient Kremlin with a dark history. It was the center of Ivan's state policy to repress the elite. Pereslavl Zalessky also has some ancient churches and monasteries. Both are connected by train or bus from Sergiev Posad within an hour.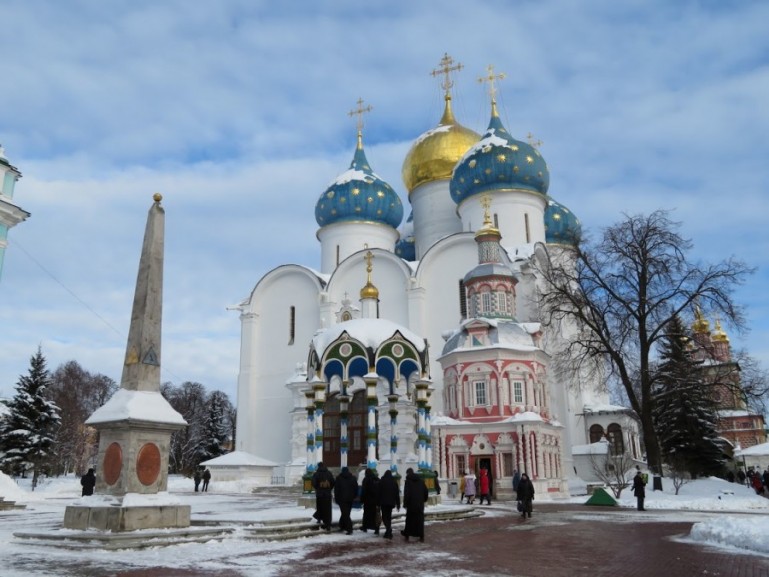 Logistics
How to get there: The easiest way to get from Moscow to Sergiev Posad is by train. I recommend taking one of the frequent local trains that leave almost every hour from Moscow's Yaroslavsky train station. The journey takes 1.5 hours.
You can continue continue from Sergiev Posad by train to Pereslavl Zalessky (1 hrs), Rostov Veliky (2 hrs) or Yaroslavl (3 hrs) or return to Moscow on a day trip.
Day trips: Alexandrov, Pereslavl Zalessky
Where to eat: Varenichnaya 9
Day 6 – 7: Yaroslav
Yaroslavl is a rather big town with a scenic location on the Volga river. It's history goes far back to the 11th century when it was an important economic center in the region. Ivan the Great loved Yaroslavl and the town joined the Moscow state in 1463.
It's historic center is on the UNESCO world heritage list, because it is a good example of the city reform plans of Catherine the Great. Although some of its churches and monasteries are older, most buildings are from the 18th and 19th century.
Therefore Yaroslavl is an interesting mix reflecting different time periods. Most important, it has a variety of things to do that go beyond its ancient churches and monasteries. Although they are well worth a visit, you might by now, already suffer from an overdose of religious monuments on your Golden Ring itinerary.
Highlights of Yaroslavl include the scenic walks you can take along the Volga river embankment, feasting on dumplings in the first Soviet pelmeni restaurant (Podbelka) and filling your stomach with delicious Russian pies at Shtolle. For Soviet enthusiasts, there is also an impressive House of Soviets, a Lenin statue and a small monument to Tereshkova, the first woman in space.
Yaroslavl is also a great base to make some day trips to the more scenic and rural Golden Ring cities. Rostov Veliky and Kostroma with its picturesque ancient kremlins are about an hour away by train or bus. A bit further is Uglich.
Logistics
Sights: Walking along the embankment, Church of Elijah the prophet, House of the Soviets, Annunciation cathedral, Saint john the baptist church, Tereshkova monument, Lenin statue, Monastery
How to get there: Yaroslavl and Moscow are connected by train in 3 to 4 hours.
Day trips: Rostov veliky, Kostroma, Uglich
Where to eat: Buffet number 1, Shtolle, Podbelka
Day 8: day trip to Rostov Veliky
My time was limited and therefore I could only make one day trip from Yaroslavl. I chose Rostov Veliky.
Together with Suzdal it was one of the most picturesque places on my Golden Ring itinerary. Even better, it lacks the touristy atmosphere from Suzdal and its Kremlin was one of the most beautiful I have seen. Add the scenic location on the Nero lake and the picture perfect image of Rostov Veliky is complete.
Rostov Veliky is small though. Outside of its Kremlin and the nearby Spaso-Yakovlevsky Monastery there isn't much else to do. Which makes it perfect as a day trip from Yaroslavl or even Moscow (3+ hours by train).
The 16th century Kremlin is somewhat of an anomaly. Most Kremlins were built to protect the city's most important buildings. Rostov's impressive Kremlin walls were made more for show than anything else. The wide gates would allow any enemy to enter easily.
The kremlin has several ancient cathedrals, a courtyard and a peaceful garden. From the Kremlin it's a scenic walk along lake Nero to the Spaso-Yakovlevsky Monastery
Logistics
How to get there: From Yaroslavl it is about 1 hour by train or bus to get to Rostov Veliky. From Moscow it will take more than 3 hours to get there.
Where to eat: Alyosha Popovich near the Kremlin serves delicious traditional Russian food for reasonable prices.
Day 9 – 10: Vladimir and Suzdal
Vladimir and Suzdal both developed in the 13th century. Vladimir as an administrative and economic center and Suzdal as the religious heart of the region. Together they are on the UNESCO World Heritage list as the white monuments of Vladimir and Suzdal.
Vladimir is one of the oldest cities in Russia's golden ring and was founded by prince Vladimir. It soon became the capital of Russia and enjoyed great wealth and prosperity. It was a golden age in which most of Vladimirs white stone cathedrals and palaces were built. That was until the Mongols destroyed Vladimir in 1238.
Nearby Suzdal is slightly older, but lost its political power to nearby Vladimir. It remained an important religious center though with more monasteries and churches than any other town near Moscow.
Personally, I found it to be one of the most picturesque places in Russia's Golden Ring. There is a rural rustic atmosphere that makes it feel like you are travelling back in time.
However, something needs to be noted here. It's partly a Soviet creation. As they wanted to focus on Suzdal's tourist potential the Soviets did not allow the construction of new or high rise buildings. They even moved wooden structures from other parts of Russia to Suzdal.
The result is that Suzdal is very touristic, but also very pretty. Furthermore, the historical significance of its 11th century Kremlin and 16th century monasteries is no less. Suzdal's Kremlin is even older than the Moscow kremlin.
Suzdal has enough things to see and do for a full day trip from Vladimir or Moscow. A lot of people skip Vladimir, but its historic center is also well worth a visit. Some of its ancient cathedrals survived the Mongol invasion.
Logistics Vladimir
How to get there: From Yaroslavl to Vladimir there is no direct train connection. You could either take two fast trains (Yaroslavl – Moscow, Moscow – Vladimir) or a direct bus. There are only a few direct buses and the journey takes 5 hours.
From Moscow to Vladimir there is a high speed train to Vladimir that takes less than 2 hours.
What to see: Golden gate, Old Vladimir museum (water tower), Borodin blacksmith workshop, Annunciation church, Demetrius cathedral
Where to eat: Mint owl, Pelmenj
Day trips from Vladimir: Suzdal
Logistics Suzdal
How to get there: To get from Moscow to Suzdal you first need to get to Vladimir. In Vladimir you can go to the bus station that is conveniently located across the train station. There is a bus to Suzdal every 30 minutes and the journey is little less than an hour
What to see: Deposition of the robe convent, Alexander male monastery,Monastery of Saint Euthymius, Pokrovski monastery, Kremlin
Where to eat: Chaynaya, Gostiny dvor
After Russia's Golden Ring cities
This Golden ring itinerary of Russia stops in Vladimir. After that you can either return to Moscow or continue your journey in Russia.
From Vladimir it is only 3 hours to Nizhny Novgorod. It is not part of Russia's Golden Ring cities, but also has an old Kremlin and is nice to visit.
Russia's Golden Ring cities Travel Tips
When to visit
Russia's Golden Ring cities are so scenic that every season has it's own charms. I was there in winter and the thick blanket of snow only made it more like a fairytale.
Obviously spring is lovely with its blooming flowers and autumn brings beautiful colors in the trees. Summer is the peak tourist season in the Golden Ring cities, as the weather is generally warm and pleasant. However, it can get crowded, especially in July and August. This is also when many festivals and events take place, providing an opportunity to witness traditional celebrations and cultural performances.
Accommodation in Russia's Golden Ring cities
Where to stay in Moscow
Hostels Rus: Hostels Rus stand for clean and professional hostels with a mix of dormitories and a limited number of double rooms for good prices. They are often located close to one of the Moscow metro stations making travel in Moscow easy. There is one near Kurskaya and one near Paveletskaya (dorms only).
Vinegret hostel: Vinegret hostel is a clean and nice budget hostel with an excellent location in the heart of Moscow. It is right near Arbatskaya metro station on the famous arbat street. From there you can walk to the red square in only 30 minutes.
Axel hostel: Axel hostel has great budget dormitories with lots of privacy. It has a central location within walking distance of Kitay Gorod.
Where to stay in Sergiev Posad
Hostels Rus: Hostels Rus is one of the few hostels in Sergiev Posad. It has clean dormitories and double rooms. It's a great budget option, but a bit far from everything. That said, it is still within walking distance from the center.
Guest house Shishkina: If you have a bit more money I can recommend the central Guest house Shishkina. The double rooms are lovely and still in the budget category.
Where to stay in Yaroslavl
City hostel: I stayed at City hostel. It's a great budget place that is centrally located. The rooms were clean and the people were very helpful, despite the language barriers
Zolotoye Koltso: Zolotoye Koltso hostel has great reviews for its small, but clean and cheap rooms and dormitories in the centre of Yaroslavl.
Where to stay in Vladimir
Hostel Belyy Topol: I stayed in hostel Belyy topol. Although the staff didn't really speak english, they were very helpful. The rooms were clean and the location was very convenient near the train station and in walking distance of the historic sights.
Hostel Vishnya: Hostel Vishnya is another hostel with good reviews near the train and bus station. It has both dormitories and private rooms for reasonable prices.
Samovar hostel: Samovar hostel has a scenic location within Vladimirs historic center. It has good reviews because of their clean and spacious dorms and private rooms.
Where to stay in Suzdal
Suzdal has lots of accommodation options. There are no real backpacker hostels, but you will find some budget guesthouses.
Patchwork guesthouse: Patchwork guesthouse is a simple guesthouse with a couple of small, but clean double rooms. It is within walking distance of the main sights and has a very friendly and helpful owner
Viktoria Guest house : Viktoria guesthouse is a good budget option not far from the center with clean rooms
Disclaimer: This post about Russia Golden ring cities with a Russia Golden Ring itinerary contains affiliate links. If you buy any service through any of my links, I will get a small commission at no extra cost to you. These earnings help me to keep Backpack Adventures alive! Thanks for your support!
Due to the current situation in Ukraine all affiliated links related to Russia have been removed
---
---