The best restaurants in Sarajevo: Bosnian food on a budget
This post is about the best restaurants in Sarajevo on a budget. Sarajevo is one of my favourite cities in Europe and one of the reasons is its delicious Bosnian food on offer. In this post I like to introduce you to the best restaurants in Sarajevo and where to go for cheap eats in the city.
Have you ever heard of Bosnian cuisine? I hadn't and wasn't sure what to expect. I was positively surprised about the restaurants in Sarajevo and the traditional food they serve.
Bosnian recipies are hearty, delicious and flavourful with fresh ingredients and a moderate use of herbs and spices. If you know where the best restaurants in Sarajevo are, you will find homemade food cooked by perfection like only grandmothers can do.
After several visits, some restaurants in Sarajevo kept me coming back for more. Through them I discovered a lot of local dishes that I think are worth trying. This list of the best restaurants in Sarajevo is based on my own experiences and I haven't received any favours for making this post.
Restaurants in Sarajevo – Old town
1. Inat Kuca
Inat Kuca translates as house of spite and is my number one among the best restaurants in Sarajevo. Not only is the food great, but it also has an interesting history.
At the end of the 20th century Sarajevo wanted to built the City Hall next to the river, but got into trouble with the property owners. One of them refused to move and requested his house to be rebuilt stone by stone in its original form opposite the river.
Since then it has become a symbol for Bosnian stubborness, defiance and perseverance. Nowadays, it is a restaurant with the best traditional food in Sarajevo.
Recommended dish: you should try the starter of Bosnian meats and the mućkalica, a meat stew with vegetables. The dolma (grape leaves filled with meat) is good too.
Location: Inat kuca is opposite the City Hall at Veliki Alifakovac 1
2. Zara iz duvara
Zara iz duvara is another great restaurant in Sarajevo for traditional food. However, they give their own twist to their recipies by using local herbs from the mountains.
Nettle is their trademark, because of its healing properties. They have a creative and original menu that makes you regret you only have one stomach. The house specialities we tried were all delicious.
Recommended dish: I can really recommend the nettle juice, the homemade bread with nettle and the ravioli with nettle pesto.
Location: Zara iz duvara lies around the corner from the Sarajevo market at Dzenetica cikma
3. Dveri
Dveri is a nice restaurant in the bascarsija serving some of the best meat dishes in Sarajevo. The interior has nice decorations and people are very friendly.
Recommended dish: The sopska salad makes a great starter before you fill yourself with delicious chunks of well grilled meat.
Location: Prote Bakovice 12
4. Ascinica hadzibajric
The cheapest way to eat in Sarajevo is to visit an ascinica, which basically means a place to eat. They don't offer high cuisine and have basic services. However, locals come here for simple, traditional and filling meals.
Ascinica Hadzibajric is one of the oldest ascinica's in Sarajevo. Even though, they are in the middle of the Bascarsija it is easy to miss the small entrance.
Recommended dish: There is no menu, but you can choose from the pots and pans on display.
Location: curciluk veliki 59
5. Cevabdzinica Zeljo
Cevapcici is the balkan version of kebab and probably the most popular snack in sarajevo. It is eaten in greasy pita bread with raw onions, some tomatoes and coleslaw. If you like a quick and cheap lunch, cevapi is the way to go. There are plenty of places to eat them, but Cevabdzinica Zeljo offers some of the best and it is right in the bascarsija.
Recommended dish: Cevapcici is their speciality and although you can get other grilled meats, such as pleskavica, I would recommend you to take cevapcici.
Location: Zeljo has two restaurants in the bascarsija
6. Apetit
Apetit is not the cheapest restaurant in this list and the food is not necessarily Bosnian. However, when I was in Sarajevo it was the number 1 restaurant on TripAdvisor so I wanted to try it out at least once.
They have a rather unique approach and there is no menu. They will ask what kind of meat you prefer or whether you are vegetarian. The chef then prepares a dish for you using a mix of different cooking skills.
The food was of good quality and if you want to treat yourself in Sarajevo, Apetit is a good choice. It is a very small restaurant and places are limited so it is best to make reservations. You can do this online on Apetit's website.
Location: Gazi Huzrev Begova 61
7. Dzirlo's cajdzinica
The best place to have tea is at Dzirlo's cajdzinica. It will be hard to choose from the extensive menu of herbal teas. The owner that looks like a wizard from Harry potter can advise you on the best tea for you.
Location: Dzirlo's cajdzinica is near the bascarsija on the road towards the yellow fortress
8. Morica han
Morica han is the best place if you want to have something sweet with your tea or coffee. This teahouse is not only nicely decorated with an ambient courtyard, but also has some of the best Bosnian coffee and a good selection of Bosnian sweets
Recommended dish: Bosnian coffee is very strong and similar to Turkish coffee. Morica han is a good place to try it.
Another recommended dish is the Bosnian national desert called tufahija. Apple with walnuts and cream in sugar syrup.
Location: Saraci 77
9. Rahatlook
Rahatlook is another great teahouse in the bascarsija, because of its huge mugs of herbal tea. In addition they have delicious homemade cookies and cakes. Rahat is a specific bosnian word that is difficult to translate, but means something like feeling pleasant and comfortable with its surrounding. This place does justice to its name, because it is the perfect cafe to chill out.
Location: Ferhadija 41
Restaurants in Sarajevo – Suburbs
10. Park Princeva
I was in doubt whether to include Park princeva among the best restaurants in Sarajevo. To be honest, park princeva is not the cheapest option and the food is forgettable.
However, they do offer the best view over the city. In addition, if you consider the location and the excellent service, the prices are still reasonable.
Recommended dish: I can recommend the palacinke with walnuts and honey for desert.
Location: Park Princeva is up the hills at Iza Hidra 7. Because it is difficult to find it is better to take a taxi.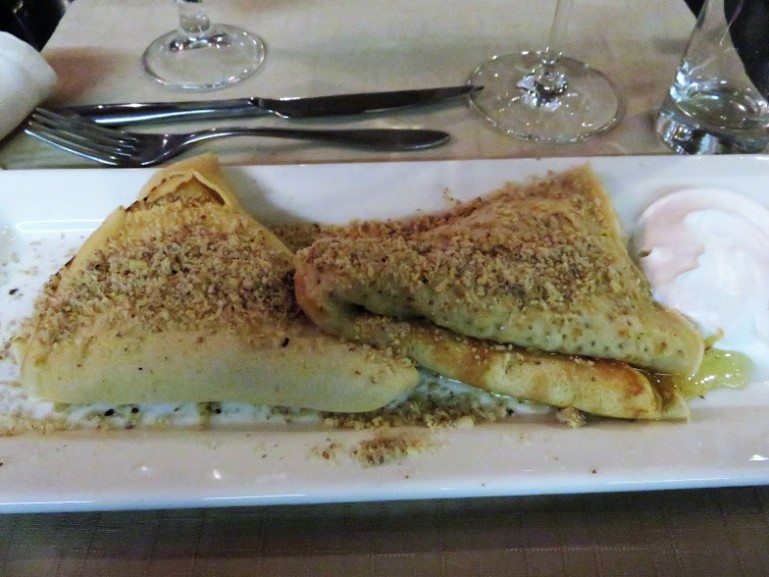 11. Café Tito
For everything about Tito head to café Tito near the history museum. The cafe is almost a museum in itself and will let you travel back in time. Some will say the good old times. For now it is the place to have a good cup of coffee or tea after you visited the history museum.
Location: Café Tito is next to the history museum.
12. Slasticarna Palma
Last, but not least is slasticarna Palma. It's a bit far from the centre, but it has a huge variety of mouth watering pastries and huge cups of Lipton tea. Slasticarna Palma is a local secret and you are likely to be the only foreigner around.
Location: Porodice Ribar 5
Last updated: August 2022
Disclaimer: This post about the best restaurants in Sarajevo contains affiliate links. If you buy any service through any of my links, I will get a small commission at no extra cost to you. These earnings help me to keep Backpack Adventures alive! Thanks for your support!
---
---