The Best Things to do in Shiraz: Iran's cultural capital
This post is about the best things to do in Shiraz. Shiraz is Iran's fifth biggest city and known for a good number of things. Poetry, literature, flowers, gardens and surprisingly, wine. Before the Islamic revolution, the Mediterranean climate helped produce the best wine in the country.
Shiraz is a city where people enjoy life whether it comes in the form of good food or in the fine arts. The city is at the heart of Persian culture and an embodiment of its soul. It's not for nothing that the capital of the ancient Persian empire was near Shiraz, that Shiraz itself became the capital during the Zand dynasty and that two if its most famous poets were born in this city.
It's also no surprise that there are a lot of things to do in Shiraz for those that appreciate the beauty of the Persian arts. Shirazi crafts include fine mosaic works, silver ware and carpet weaving. Shiraz is an ancient city with a rich history and culture that is reflected in its numerous historical and cultural landmarks. Some of the most famous landmarks include the UNESCO World Heritage Site of Persepolis, the Tomb of Hafez, and the Nasir al-Mulk Mosque.
One Iranian friend told me Shirazi's are also famous for being lazy. I wasn't there long enough to know if he was right, but with all the things to do in Shiraz I doubt it is true. One thing is for sure. Like anywhere in Iran, the people are extremely friendly and welcoming and they make a visit to Shiraz into a great experience.
The best things to do in Shiraz
Vakil Bazaar
In every city in Iran you will find that the bazaar is where everything happens. From the ordinary groceries, to political discussions and the production of local crafts. The bazaar in Shiraz is particularly colourful and for tourists it is among the top things to do in Shiraz.
One reason that the bazaar in Shiraz is so lively is the influence of the Qashqai nomads that live in the surrounding mountains. In the bazaar you will not only find the colourful dresses the Qashqai women wear, you will also find their unique traditional carpets.
Even if you have already visited other bazaars in Iran, Shiraz has its own charms and will offer something new. The bazaar has been around since the 11th century and it is a place where its fun to get lost in its beautiful courtyards and narrow alleyways.
Vakil mosque
One of my favourite mosques in Shiraz was the Vakil mosque with its colorful mosaic tilings from the Qajar era. The intricate floral patterns are beautiful and the peaceful courtyard is a great place to take them in.
The mosque is in the middle of the Vakil bazaar and the courtyard also provides a quiet break from the markets chaos.
Vakil hammam
When you are in the bazaar, don't miss the nearby Vakil hammam. It is quite similar to the hammams open to visitors in Kashan and Esfahan. The historical buildings are worth taking a look inside for the beautiful architecture. Very few are still active tough and they are more like a museum. I recommend you to visit at least one hammam in Iran and the Vakil hammam in Shiraz is a fine example.
Madraseh – ye Khan
The Madraseh-ye Khan theological college has some beautiful intricate mosaic tilings, a nice courtyard and a garden. Apparently it is not always open, but if it is closed the caretaker might let you in for a tip.
The Karim Khan fortress
Among the top things to do in Shiraz for history lovers is a visit to the Karim Khan fortress. The castle was built to be the living quarters for Kharim Khan, the founder of the Zand dynasty. It was Karim Khan that made Shiraz the capital of Iran untill his dynasty was taken over by the Qajars.
The exteriors are still impressive with its thick walls and defensive towers. The fortress is close to the bazaar and very much worth the small detour to see, if only from the outside.
Shah-e Cheragh Shrine
Shah-e Cheragh is the third most important religious shrine in Iran after the shrines in Qom and Mashad. It is a large complex with mosques, religious schools, prayer halls and tombs, but it is most famous for its mausoleum where the sons of the 7th Imam were buried.
The interior of the main shrine is a stunning world of glitter and glamour with mirrors and pieces of glass covering every inch of the building. This is where people come to pay their respects.
The Shah-e Cheragh complex is a popular pilgrimage site for Shia muslims and an active place of worship. As a foreigner you are not allowed to visit the shrine on your own, but don't be discouraged by this. It remains one of the best things to do in Shiraz.
You have to leave your bags at the entrance and then you will get a guide for free. They will show you around, for better or for worse. Mine was a friendly young girl eager to practice her english and I actually enjoyed her company.
Imamzadeh-ye Ali Ebn-e Hamze
The Shah-e Cheragh shrine is not the only shrine in Shiraz. When I was walking around I found two other shrines. They had the same peculiar mirror mosaics as the Shah-e Cheragh shrine, but were much smaller and more quiet.
The 19th century Ali ebn Hamzeh shrine over the tomb of Emir Ali, was one of the friendliest shrines I visited. Not only was I allowed to enter without a guide, I was also invited for a cup of tea.
Nasir Al Molk (pink mosque)
People say Nasir al Molk is the most beautiful mosque in Iran and it is not hard to agree with that if you come early morning. When the sun is rising and the light shines through the colored mosaic windows, giving a free spectacular light show.
Unfortunately it is therefore also very crowded at that time. Even though it is one of the most photographed buildings of Iran, it will be a challenge to make a picture without other people in it. Still, this is a must thing to do in Shiraz.
Don't miss the beautiful mosaic tilings on its exterior either. It's why people also call it the pink mosque. You can read more tips and advice for your visit to this mosque in this excellent post on the Nasir Al-Mulk mosque.
Alaudeen Hussain shrine
I found the Alaudeen Hussain Ibn-e Mussa Kazem shrine in a back street near the Nasir Al Molk mosque. A hidden gem that was not in any of the guidebooks, but was one of the most interesting experiences I had in Shiraz.
The shrine was very local and I did not see any other tourists here. However, I was welcome to come inside and free to wander around on my own. It almost felt too intimate to see the women praying and crying while touching the tomb. Some even held their baby's up against the shrine.
So far I haven't been able to find any information about this shrine, but it was obviously quite important for the people that were there.
In my post I mentioned the most important and beautiful mosques and shrines in Shiraz. If you are interested in religious buildings I can recommend the Fantastic mosques of Shiraz tour that includes even more off the beaten path places
Qavan house & Narenjestan garden
The Qavam house is an old traditional home of the 19th century family of Mohammad Qavam. The rich merchants came originally from Qazvin, but choose to built their upper class home in Shiraz.
It is most famous for the Narenjestan garden and the beautiful mosaics. It might remind you of the traditional homes in Kashan.
The tomb of Hafez
No visit to Shiraz is complete without a visit to the tomb of Hafez. One of the most famous poets in Iran. It is said most Iranian people have at least two books at home. The Quran and a book with Hafez's poetry.
Iranians even believe the book of Hafez can be used as a sort of divine fortune-telling. Whenever one faces a difficult decision one can open the book and it is believed that the first sentence upon which the eyes of the reader falls gives the answer. Outside of the tomb men are selling Hafez fortunetelling cards. Sentences from Hafez's poetry picked out by a parakeet especially for you.
Eram gardens
With so many things to do in Shiraz I didn't find the time to visit the Eram gardens. A pity because they are one of the most beautiful gardens in Shiraz.
The gardens were built in the thirteenth century by the leaders of the Qashqai tribes, but became property of the Qavam family who also owned the Narenjestan gardens. Throughout its history the gardens have been modified and restored to its current beauty.
Quran gate
The Quran gate is where most people enter Shiraz. Two old Qurans used to be in a room on top of the gate and they say that everyone passing underneath will receive the holy blessings of the books.
It is a great place to visit in the afternoon or during sunset. Not only to receive your blessings, but also to enjoy some of the best views over Shiraz.
It is a popular spot for locals and the nearby park with the tomb of famous poet Khawju Kermani is full with Shirazi's that come for a picknick.
Update: On 25 march 2019 a flash flood raged down the Quran gate towards Shiraz killing an unknown number of people. The quran gate now also stands as a sad memorial to the victims of the deadly floodings in Shiraz.
The best things to do near Shiraz
Persepolis & Pasargadae
Under Cyrus the great the Persian empire became the largest empire the world had ever seen stretching from Eastern Europe all the way to central Asia and India. Cyrus chose the site of Persepolis to become the capital and the city developed until Alexander the Great took it and ruined it.
The ruins at Persepolis are still there and a highlight for anyone that loves history. Besides Perepolis you can also visit the tomb of Cyrus the Great at Pasargadae and the tombs of other kings at Naqsh-e Rustam.
Persepolis is an easy daytrip from Shiraz. Read my post on how to visit Persepolis: Iran's glorious past.
Zagros mountains and Qashqai nomads
Iran is a multicultural country that is ethnically very diverse and many ethnic minorities still live a nomadic lifestyle. The Turkic Qashqai tribe is one of the largest nomadic groups left in Iran and they live in the Zagros mountains near Shiraz.
The Qashqai people are herders moving with their animals to the warmer lowlands in the winter and the higher altitude pastures in summer. It is a though existence and while some settle down in the cities, most continue the traditional lifestyle.
How to get there:Several tour agencies can arrange a homestay experience in the Zagros mountains where you will stay with a nomad family. It's a unique experience that gives you an insight into the daily routine of the nomads.
Ghalat mountains
Only 30 kilometers out of Shiraz is the historical village of Ghalat in the Ghalat mountains. It's an off the beaten path destination that still sees few visitors, but it is a nice place to escape the city.
The village is quite scenic with its narrow lanes and there are some nice hiking opportunities in the surrounding mountains with two waterfalls that you can visit.
How to get there: Ghalat is easy to reach by public transport. Buses leave throughout the day from the Qashrdasht terminal. It takes about an hour to reach Ghalat.
Pink lake (Maharloo lake)
Maharloo lake is a seasonal salt lake 27 kilometers south of Shiraz. In the summer as the water evaporates it turns pinkish red. Together with the white salt patches it creates an out of this world landscape full of colours
How to get there: There is no public transport to the lake, but several tour agencies can arrange a tour. Check if there is any water, the lake frequently dries up completely. The desert landscape with all its colours remains beautiful though.
Shiraz Travel tips
The best places to eat in Shiraz
Shiraz is a great place for Persian food. Local specialities include the simple, but delicious Shirazi salad and Kalam polo. A rice dish with cabbage and meat balls that is much better than it sounds.
Niayesh boutique hostel: Niayesh boutique hostel has its own restaurant that serves decent food. The menu consists of Iranian classics and once a week they make kalam polo. They also have a nice rooftop terrace that is a nice place to have a cup of tea while watching the sunset.
Saray-e Mehr: One of the nicest restaurants I visited was Saray-e Mehr in the bazaar. I had a delicious stew with eggplant. As with most Iranian stews it doesn't look too great, but it tastes really good.
The best places to stay in Shiraz
Booking hostels in Iran online is rather difficult. Because of the sanctions, most regular sites like Booking.com or Airbnb won't work. To book your hotel beforehand you either need to contact them directly or use 1stQuest
They are one of the few companies where you can plan most of your trip to Iran beforehand. They can book hotels online, arrange airport pick ups, domestic flight tickets and bus tickets.
Niayesh Boutique hostel: Niayesh boutique hostel is a scenic hostel with rooms and dorms. Service is a bit mixed. Some people are very friendly, others not so, but it is good value and the breakfast buffet is wonderful. It was one of my favorite hostels in Iran.
Other budget minded hostels in Shiraz are Mahmonir traditional house & Taha hostel
How long to visit Shiraz
There are enough things to do in Shiraz that you need at least two days to see the city. This is excluding possible day trips to the things to do near Shiraz.
Add at least one day for the trip to Persepolis. A must when in Shiraz. Maharloo lake is another half day visit.
If you want to explore the Zagros mountains or the Ghalat mountains add at least two days. I can recommend you to stay overnight to make the most oit of your time and experience either the life of the Qashqai nomads or the village in Ghalat.
The best time to visit Shiraz
The best time to visit Shiraz is during the spring and fall seasons, which are from March to May and from September to November respectively. During these seasons, the weather is mild, and the temperature is generally pleasant, making it perfect for outdoor activities and sightseeing.
During the spring, the city is covered in blossoming flowers, and the gardens are at their most beautiful. In the fall, the weather is also pleasant, and the city's parks and gardens are covered in colorful autumn leaves.
Summer in Shiraz can be very hot, with temperatures sometimes exceeding 40 degrees Celsius (104 degrees Fahrenheit). However, if you do choose to visit during the summer, it is recommended to plan your activities for early morning or late afternoon when temperatures are cooler.
Winters can get quite chilly and even though it rarely snows in Shiraz, the Zagros and Ghalat mountains might have snow and are difficult to travel to in this time.
Money matters in Shiraz
Due to the sanctions, Iran has been cut off from the international money transfer system. There are no ATM's in Shiraz that will work with a foreign bank card. You will have to bring all your money in cash (euro's or dollars).
Safety in Shiraz
Iran, including Nain, is generally a safe destination for travelers, and millions of tourists visit Iran each year. The city has low crime levels. However, it is always important to exercise caution and take necessary safety precautions while traveling.
Update 2023: A wave of protests erupted throughout Iran in 2022 and 2023. Although this is not a reason to avoid Iran, it is good to know that these protests can become violent. Due to the political situation, it is even more important to be aware of your surroundings. Avoid political demonstrations, expressing strong political opinions and respect the local rules of law. As a foreigner it is better to be safe than sorry.
For solo female travellers I wrote a post with tips and advice about traveling as a woman in Iran.
How to get around in Shiraz
Shiraz on foot: Most of the things to do in Shiraz are in the area around the Vakil bazaar and can be explored on foot. Shiraz is a pleasant city to walk in and I rarely used taxi's.
Taxi's in Shiraz: Taxi's are not expensive in Shiraz and like anywhere in Iran you have shared taxi's and taxi's dar bast (door closed).Shared taxi's are the cheapest way to travel around the city if you have enough time, but you can always expect interesting things to happen.
My first taxi from the bus station to my hotel was shared. It had no windows and the rear tailgate could not close. As we were stuck in traffic the driver started to warn me about the dangers of the city. I was to take extremely good care of my stuff as Shiraz was full of thieves. Apparently he was unaware of the fact that my luggage was now in the back of his car with the rear tailgate wide open for anyone to grab.
Both me and my bags arrived safe and well at my destination. Then it turned out that one of the other passengers had already paid for my fare and all she wanted in return was a selfie with me so she could show her mother she met someone from the Netherlands. If you want to get somewhere quick it is best to take a taxi dar bast (private). Always negotiate the price beforehand.
How to get to Shiraz
By bus: There are frequent buses to and from Tehran (13 hours), Esfahan (8 hours), Yazd (7 hours) & Bandar Abbas (11 hours). You can check the bus times and book your bus tickets on the 1stQuest booking system.
by train: Shiraz also has a train station. There are comfortable overnight trains between Tehran and Shiraz (25-45$, 15 hours). In April 2016 Iran railways has started a luxurious 5 star trainline, called Fadak between Tehran and Shiraz. You can check the latest timetables at Iranrail. If you plan to travel by train it is best to book your tickets as soon as possible.
Disclaimer: This post about the best things to do in Shiraz Iran contains affiliate links. If you buy any service through any of my links, I will get a small commission at no extra cost to you. These earnings help me to keep Backpack Adventures alive! Thanks for your support!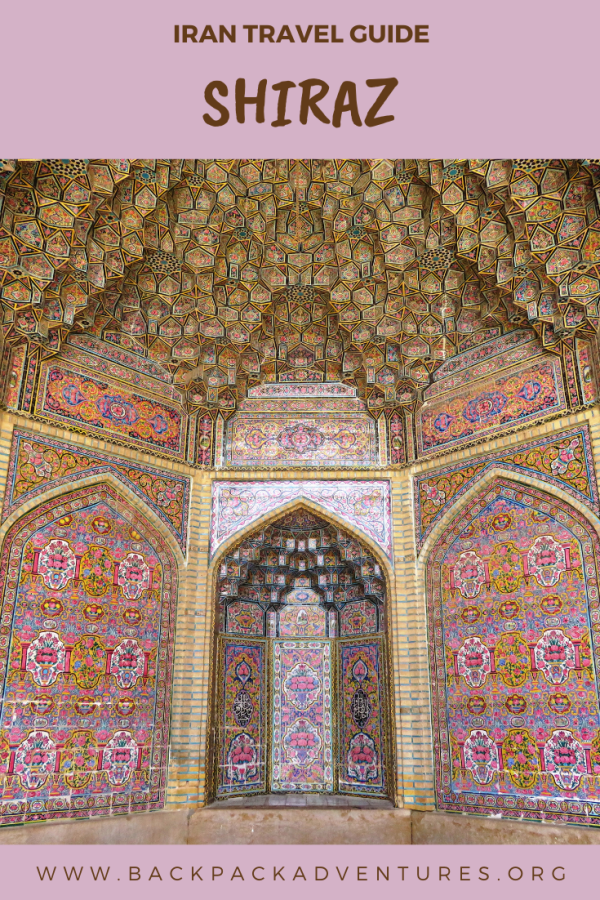 ---
---