The Best Things to do in Shymkent, Kazakhstan
This post is a travelguide about the best things to do in Shymkent. A city in the south of Kazakhstan that was once part of Kazakhstan's silk road.
There is actually not one silk road. The famous trading route from China to Europe, that Marco polo travelled on, knows many ways through central asia. One of these ways went through Turkestan, Shymkent and Taraz in southern Kazakhstan. The bustling bazaars in these cities still give a taste of its rich trading history.
Nowadays it is not silk on offer in Shymkent, but cheap chinese products such as clothes, shoes, electronics and toys. The only truly central asian twist left on the bazaars are the sections of dried fruits and the great street food such as hot samsa's straight from the tandoor oven.
That doesn't mean Shymkent is not worth a visit. Shymkent is the main city in the South of Kazakhstan and serves as the gateway to some very interesting things to do in the area.
Besides the bazaars there are many other remnants of the silk road left, such as mosques and mausoleums. Then there is the spectacular nature of Kazakhstan that lies at Shymkents doorsteps.
In shirt, there are enough things to do in Shymkent for history and nature lovers that makes it a worthwhile destination.
The best things to do in Shymkent
1. Shymkent bazaar
The bazaar in Shymkent is one of the liveliest in Kazakhstan and one of the top things to do in Shymkent. There is an abundance of cheap Chinese goods, but also large sections with dried fruits and vegetables.
There are in fact several bazaars in Shymkent. The most convenient is the central bazaar in the middle of town. There is another larger bazaar, called Samal bazaar 4 kilometers from the center.
2. Alley of Glory & War memorial
More than 140,000 people from the Shymkent region lost their lives while fighting in the Soviet army during the second World War. Alleya Slavy is Shymkent's War memorial with plaques bearing all their names. It shows the massive scale of loss in the Soviet Union during the Second World War.
It's a sober monument and there are some smaller memorials with the names of lives lost of soldiers fighting in the war with Afghanistan. Shymkent was one of the most important cities in Kazakhstan during the second World War when 17 factories were built to produce spare parts for tanks, shells and metal lead.
3.Museum of Victims of Political Repression
Opposite the War memorial is the very small museum of victims of political repression. Another emphasize on Kazakhs complex history during the Soviet Union.
Unfortunately the two rooms showing the pictures and names of victims have no explanations in english, but you will be given a brochure translated by the British Council with some background information.
4. Central Park
Shymkent is a city full of parks and this makes it a very nice to walk around in. As a center of education, there are many young students eager to practice their english. Therefore, the parks are a great place to meet Kazakh people.
5. Ken Baba Park
Another park, but more for families with children, is the Ken Baba Park. There is an entertainment area and some nice restaurants such as the Bar Karavan.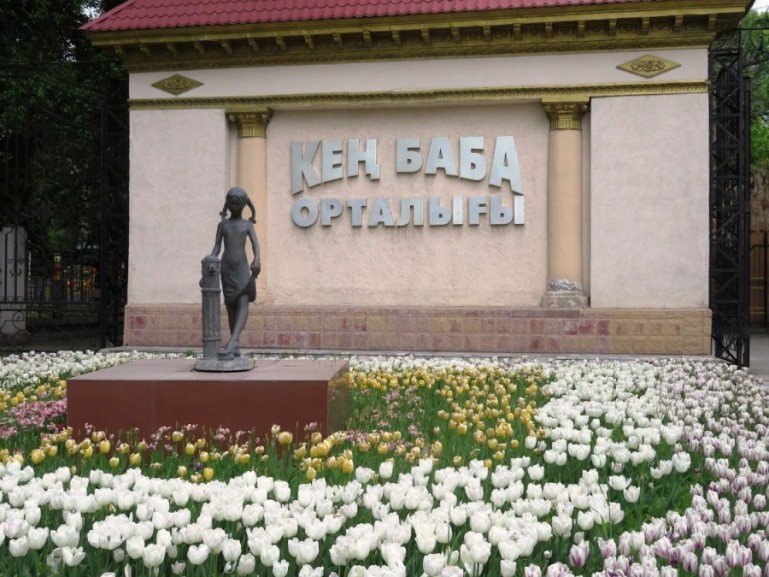 6. Koshkar Ata river
The Koshkar Ata river starts in Shymkent not far from the train station. For locals this is a spiritual place and the waters are believed to have healing properties.
People come to the origins of the river to bathe, to pray or to fill their bottles. It is a peaceful green space in the city and a nice 2 kilometer walk along the embankment between the river spring and the Ordabasy Square
Every year with Nauruz there is the Koshkar Ata Sail with local performances, handicrafts and food.
7. Independence park
The most popular park in Shymkent is the independence park that was built on the 20th anniversary of the independence of Kazakhstan in 2011.
The central monument has 137 steel pillars that represent the 137 nationalities in the country. This park also has a musical fountain show in summer.
The best things to do near Shymkent
8. Turkestan
Turkestan is at the heart of Kazakhstan's silk road and one of the best places to see silk road architecture. The mausoleum with its blue tiles is one of the most beautiful buildings I have seen in Kazakhstan and equals those in Uzbekistan and Iran. It is an easy day trip and one of the top things to do near Shymkent.
How to get there: Getting to Turkestan on your own is very easy with frequent minibuses plying the route between Shymkent and Turkestan. From Samal busstation there are frequent marshrutka's to Turkestan. Ask the bus driver to drop you at the mausoleum once it comes into sight rather than going all the way to the centre.
Read more about Turkestan in my Turkestan travel guide.
9. Sayram
Sayram is another small silk road city 10 kilometers south of Shymkent and is nowadays more like a suburb. There is a mausoleum and some minarets, but they are not as impressive as in Turkestan. Its not a must visit, but if you still have time left it is an easy half day trip from Shymkent.
How to get there: From Aina bus station there are frequent minibuses to Sayram (less than 30 minutes). They stop at the market square in Sayram next to all the sights.
10. Aksu Zabaghly National Park
The mountainous Aksu Zhabagly Park is among the top things to do near Shymkent for nature lovers. In spring this is the best national park in Kazakhstan to see wild tulips. Not many people know that tulips actually come from Kazakhstan, but they are in fact coming from this region. The park is also very famous among birdwatchers for the different species of birds.
I stayed in the mountain guesthouse of Ruslan and I can really recommend it. It has a spectacular location and is right besides the park. He organises jeep tours, horse riding and hiking trips into the park. We hiked to a waterfall and it was absolutely beautiful.
Zhenya and Ludia are a good alternative in the village of Zhabagly.
How to get there: From Shymkent's Aina bazaar there is a daily marshrutka to Jabagly at 11 AM. It may or may not run depending on demand. If the bus is not running you can take one of the frequent marshrutkas to either Tulkibas or Turar Ryskulov (Turarkent) that are also leaving from Aina bazaar. From there you can take a shared taxi to Zhabagly.
Read more about this park in my travel guide on Aksu Zhabagly National Park
11. Sairam Ugham Nature Park
Sairam Ugham is less known then Aksu Zhabagly, but offers similar nature beauty near Shymkent,but doesn't charge the high park fees that Aksu Zhabagly does and is therefore cheaper.
There is a community tourism programme with some nice homestays and guesthouses in the villages of Lenger, Dikankol, Kaskasu and Tonkeris.
How to get there: From Shymkent (Voenkomat bus stop on Tole Bi) you can take a marshrutka or shared taxi to Lenger. For Dikankol, Kaskasu and Tonkeris public transport leaves from Tashenov near Shymkent's Central Bazaar.
The Ugam Public Association can also help with transport and accommodation.
Shymkent Travel Tips
The best budget restaurants in Shymkent
Blinchiki (Tauke Khan 72): Blinchiki was one of my favourite restaurants in Shymkent for cheap and good russian food. As you can guess from the name they have excellent Russian pancake's called blini's. I can recommend the blini with honey and walnuts. Besides pancakes they also serve other Russian dishes such as borsht and beef stroganoff.
Bar Karavan: Bar Karavan is not the cheapest budget option, but prices are still reasonable. They serve excellent central asian dishes such as plov and shaslyck.
Madlen: A very popular cafe with young Shymkent and a great place for coffee and Western style breakfasts.
Bazaar: Your cheapest option for eating out in Shymkent is the bazaar. The bazaar in Shymkent has several stolovaya's and restaurants. A stolovaya is a russian invention, a canteen offering cheap food for the common man. In Kazakhstan they serve central asian dishes such as shaslik, lagman, plov, beshbarmak, samsa or manti. A lot of them are based on horse or mutton meat and often washed away with a glass of kymyz or shubat. Fermented mare's or camels milk. Honestly, the latter is not my cup of tea.
Best budget hostels in Shymkent
Art House Sweet home: Art House Sweet home lies in a quiet neighbourhood of Shymkent. It is a bit far from the centre, but with easy bus connections and excellent facilities it is still worth staying here. We actually got an upgrade to their apartment during our stay and we can recommend both.
Shymcity Hostel: Shymcity is a very friendly hostel in Shymkent with a friendly Russian owner. It's a bit difficult to find, because it is in a sidestreet rather than the main street called Tauke Khan. If you walk on Tauke Khan then continue towards Gogol street. Turn left into Gogol street and then take the first unpaved sidestreet to the left. The hostel will be at your ridehand side.
How to travel in Shymkent
Shymkent has an excellent network of buses that make it very easy travel around in the city. The routes are not yet on Google Maps, but 2Gis allows you to download the map of Shymkent offline and will tell you exactly which bus you need to take.
If you prefer to travel by taxi you can use Yandex. The Russian version of Uber.
How to travel to Shymkent
It's best to travel to Shymkent by train. There are overnight trains to most cities in Kazakhstan including Nur-sultan (20 hours high speed) and Almaty (13 hours high speed). From Astana there is a daily nighttrain leaving at 23:35 and arriving 15:30 the next day. Read more about Backpacking Kazakhstan by train or read my Kazakhstan itinerary.
I travelled to Tashkent by Kaznetwork bus from Shymkent in Kazakhstan. There are daily buses between Shymkent and Tashkent and the journey takes 5 hours. The border is easy nowadays without too much hassle.
The best time to visit Shymkent
Spring is a great time to visit Shymkent. At the end of march Kazakhstan celebrates the spring festival of Nowruz. Shymkent has the biggest celebrations in the country with traditional horse games at the Hippodrome. In April and May it might rain, but this is also the time when Aksu Zhabagly is in bloom and you can see the wild tulips.
Summers can get hot, but autumn is another great time to visit and see the beautiful autumn colours in the trees. Winters are cold and it will be difficult to visit the nature parks.
Sustainable Travel in Shymkent
Kazakhstan is just opening up to tourism. Traveling sustainably in Shymkent, involves conscious choices that minimize your environmental impact and support the local community.
Stay in small scale sustainable hotels: It is better to stay in locally-owned guesthouses or homestays to support the local economy directly. These accommodations often have a more positive impact on the environment compared to large hotels. Where possible, I can recommend staying in a homestay for an authentic cultural experience. You might want to bring a small book with pictures of your family to break the ice.
You can also look for guesthouses or homestays that prioritizes sustainable practices. That said, environmental awareness is still low. It's up to you to use water sparsely, turn off lights, air conditioning, and heating when leaving your accommodation.
Use public transport: Shymkent has a well-developed public transportation system with buses and marshrutkas. Opt for public transport, whenever possible, instead of taxis or private cars to reduce carbon emissions. Even better is exploring the city by foot.
Leave no trace principle: When exploring the nearby National Parks, stick to designated trails when they are there and leave no trace of your presence. Ensure you take all your trash back with you and dispose of it responsibly. To avoid single-use plastics, invest in reusable items.
Respect the culture: Besides environmental concerns it is also important to respect the culture. Kazakhstan is an Islamic country that is just opening up to tourism. Therefore, learn about the local customs and traditions beforehand and be mindful of your behavior.
People will appreciate it, if you dress modestly, especially at religious sites. Learning a few basic phrases in Kazakh or Russian, can go a long way in building meaningful connections.
Disclaimer: This post about the best things to do in Shymkent contains affiliate links. If you buy any service through any of my links, I will get a small commission at no extra cost to you. These earnings help me to keep Backpack Adventures alive! Thanks for your support!
---
---